Carrot and Zucchini Cupcakes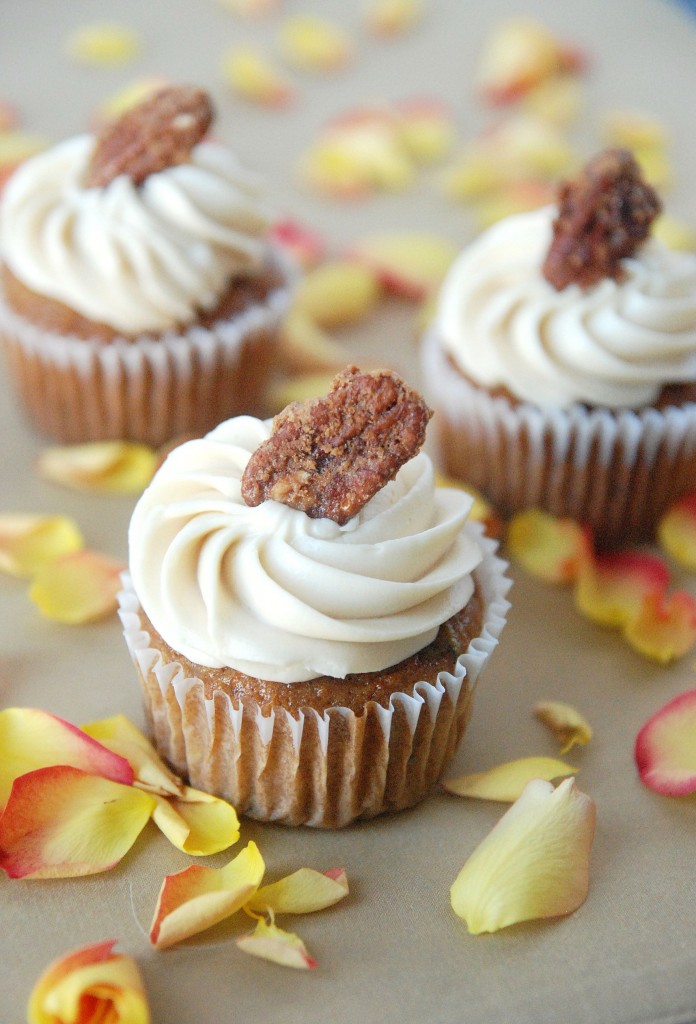 Lately I have been seeing people start hatin' on Cupcakes. And I am here to stand up for them, because you know I am all for equality of all things involving sugar. So let's talk out why you should love cupcakes…and also why people don't love cupcakes.
5 reasons I love Cupcakes:
1. They are cake with frosting. I mean, duh.
2. They almost always come with some decoration on top.
3. They are individual. No one else touches it or licks off a corner of the icing.
4. Beautiful swirls of buttercream. Need I say more?
5. They are mini cakes and anything mini is adorable.
5 reasons I can come up with to hate cupcakes:
1. People think it's ok to call them Cuppys or Cuppy Cakes. It's not, FYI. Unless you are 3.
2. Cupcake Wars. One of the dumbest shows on Food Network.
3. That a good number of people/bakeries serve up some dry cupcakes. Dry Cake = Felony Offense
4. I'm running out of reasons… and being distracted by the photos of these cupcakes above and below…
5. Oh ya! And also because Katy Perry tried to make Cupcakes into something sexy. When we all know she doesn't actually eat cupcakes.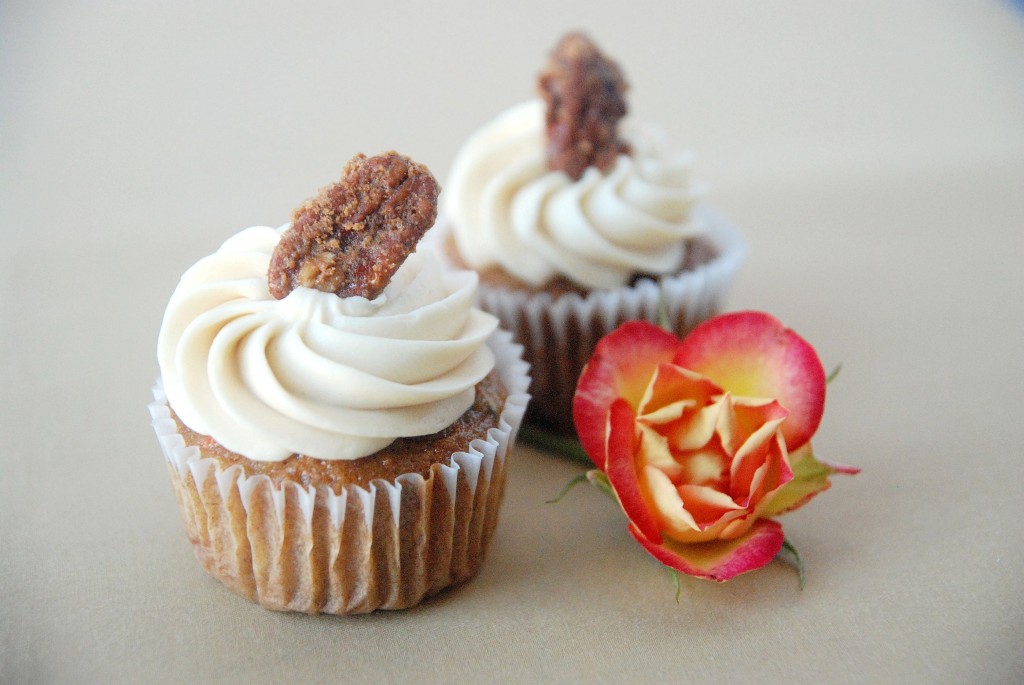 So no matter which camp you fall in, love or hate, I know these Carrot, Zucchini Cupcakes with Maple & Brown Sugar Cream Cheese Frosting topped with a Candied Pecan (holy run on title batman!) were a winner here! The flavor combination is amazing and the zucchini really helps to add some moisture to the cake. Jorge took these into the office and he showed up that afternoon with an empty cupcake container…so I will take that as a good sign! 🙂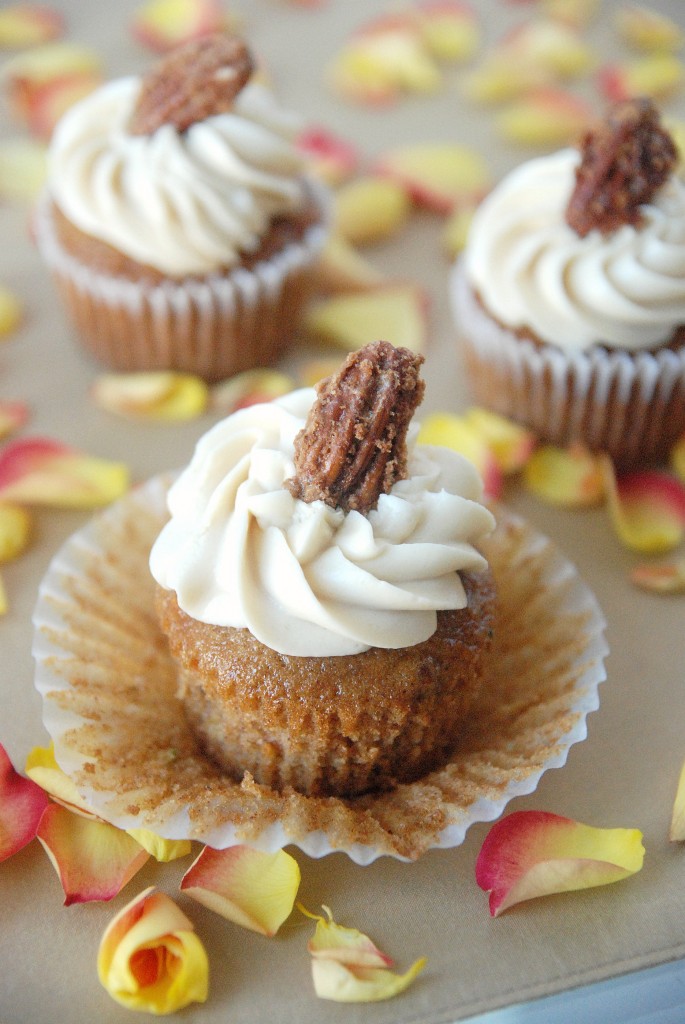 Carrot, Zucchini Cupcakes with Maple & Cream Cheese Brown Sugar Frosting topped with a Candied Pecan
Ingredients:
For the Carrot Zucchini Cupcake:
2 cups sugar
1 1/3 cup canola oil
3 eggs
1 tsp vanilla
2 1/2 cups flour, plus 1 T
2 tsp baking soda
2 tsp cinnamon
1/4 tsp ginger
1/4 tsp garam masala
1/4 tsp nutmeg
1/2 tsp salt
1/2 cup black raisins
1/2 cup golden raisins
1 cup chopped pecans
2 cups carrots
2 cups zucchini
1 8 oz can crushed pineapple, drained
For the Maple & Brown Sugar Cream Cheese Frosting:
1 stick butter, room temperature
1 8oz cream cheese, room temperature
1/3 cup brown sugar
1 tsp vanilla
3 tablespoons maple syrup
2 cups powdered sugar
For the Candied Pecans:
1 egg white
1 tablespoon vanilla
1 pound pecan halves
1/2 cup sugar
1/2 cup light brown sugar
3/4 teaspoon salt
1 teaspoon cinnamon
Directions:
For the cupcakes:
Preheat oven to 350 F and line muffin pans with cupcake holders.
Beat the sugar, oil, and eggs together in the bowl of an electric mixer fitted with the paddle attachment until light yellow. Add the vanilla. In another bowl, sift together 2 1/2 cups flour, baking soda, cinnamon, ginger, garam masala, nutmeg and salt.
Add the dry ingredients to the wet ingredients. Toss the golden raisins, black raisins, and walnuts with 1 tablespoon flour. Fold in the carrots, zucchini, and pineapple. Add to the batter and mix well.
Divide batter among cupcake tins, filling 3/4 full. Bake for 18-20 minutes and then cool on wire rack. Frost with your favorite frosting.

For the frosting:
Cream together butter and cream cheese. Add brown sugar, vanilla, and maple syrup; mix on medium until fully incorporated. Slowly add powdered sugar, 1/2 cup at a time. Pop the frosting in the fridge for about 30 minutes until it hardens up. Pipe onto cupcakes with your favorite tip and then refrigerate cupcakes until 10 minutes before serving.
For the Candied Pecans:
Preheat oven to 250 degrees F. Line a baking sheet with parchment paper.
In a mixing bowl with the wire whip attachment, combine the egg white and vanilla until frothy. In a medium-sized bowl, mix together the sugars, salt and cinnamon. Add pecans to egg whites, and stir to coat the nuts. Toss nuts in sugar mixture.
Spread the nuts on the baking sheet. Bake 1 hour, stirring every 15 minutes.