100 Grand Cupcakes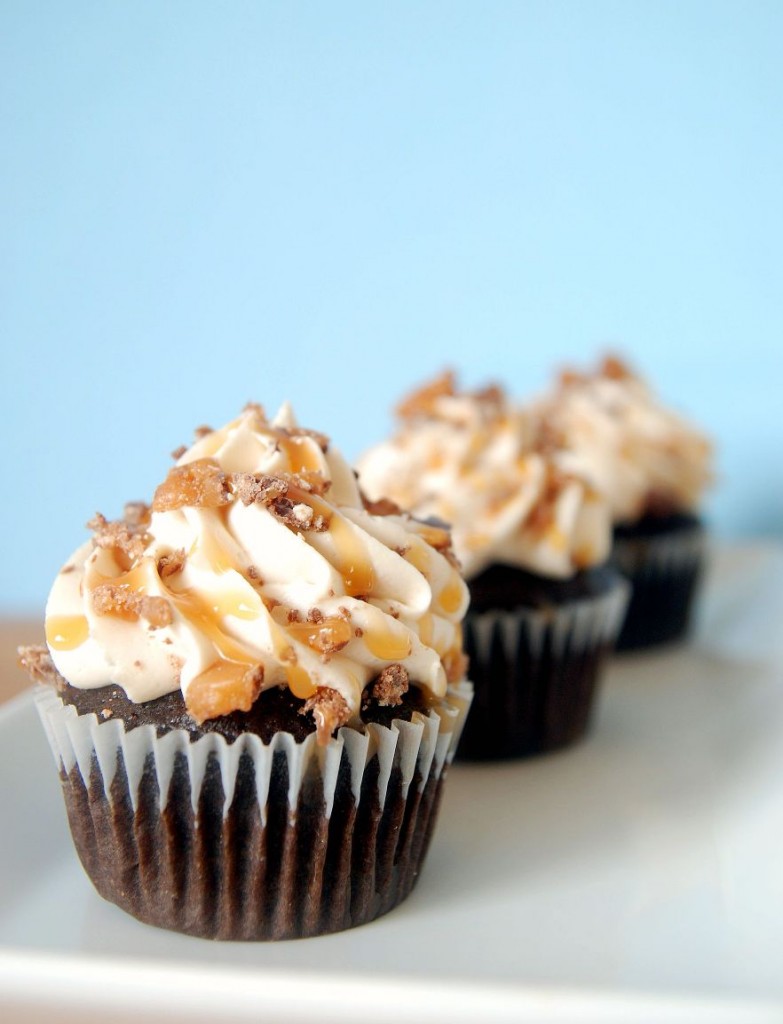 Apparently the entire world is missing out on the amazingness of 100 Grand candy bars! And when I say the whole world….I may be talking about a total of 6 people…but to me that is the ENTIRE WORLD! I was checking out at the grocery store with my 4 packages of 100 Grand fun size candy bars (stop judging, they were buy one get one free), and the check out guy asked me what they were. Well I informed him that they are only the best candy bar ever! These are what made Halloween for me. Well, these and Kit Kat bars…but we won't get into that now. Every Halloween I would hope and pray for these. And when I got older, I would raid my sisters candy for these brightly colored packages. Not only is the packing red (my favorite color), but they are worth 100 Grand! They are delicious milk chocolate, with the crunchy little nuggets inside like a Nestle Crunch…except they are also filled with delicious caramel! So being the kind, wonderful girl that I am, after checking out I opened one of the packages and gave the cashier one of these little babies to try.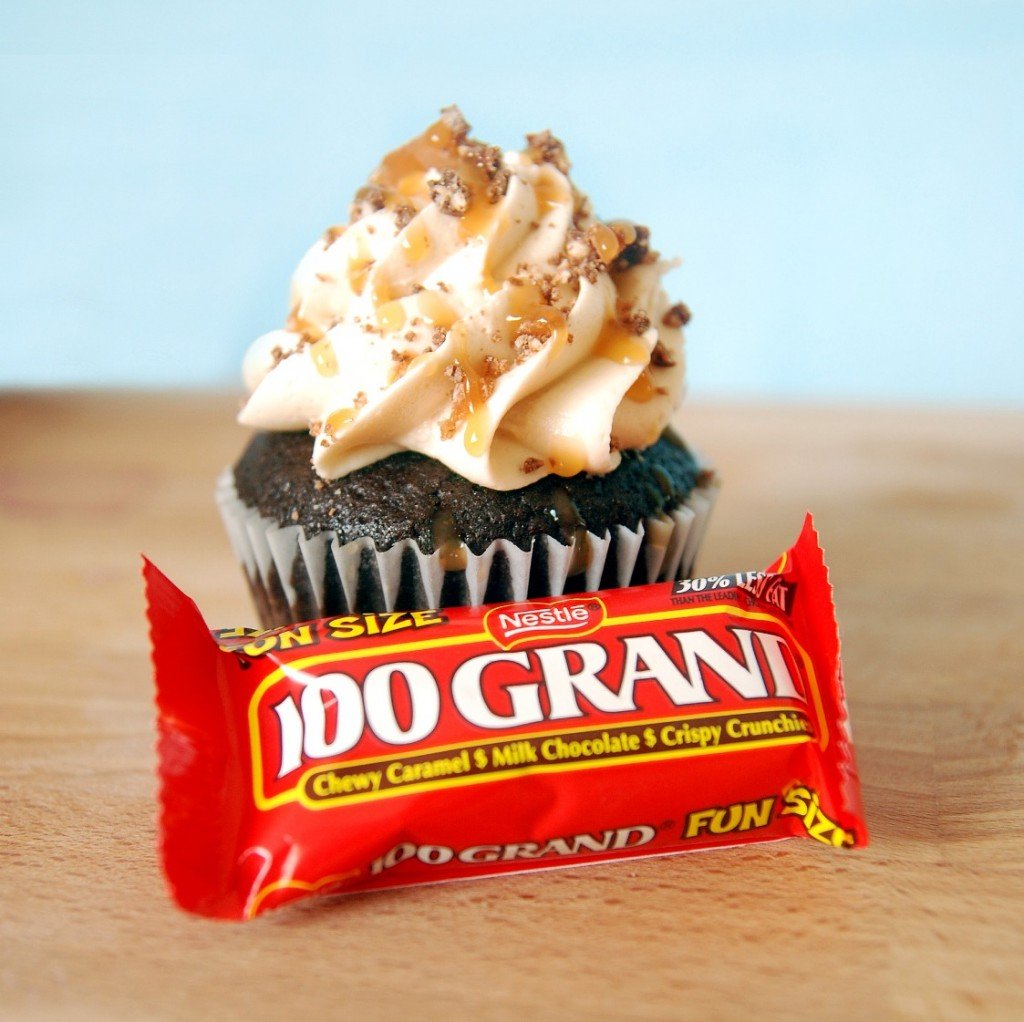 But I didn't stick around to see how he liked it. I wish I could have, but I had places to go, people to see, and cupcakes to bake! So my next stop was to go buy myself a cupcake carrier because I have had way too many cupcakes meet an early death because of ill packaging. I went to Home Goods, I went to Kohls, I went to Target, and finally I went to Ross. And guess what I found there? A $6 double decker red (remember it's my favorite color) cupcake carrier! And while I have the subject of Ross brought up…if you are ever in the market for anything kitchen related, check their first! I can not even being to tell you how many kitchen utensils and what nots I have bought there! They are cheaper then any other place, including Target, and they are a much better brand! I have tons of Kitchen Aid spatulas that I have collected from there (at $2 a pop….instead of $8 at other stores).
After I bought my fancy new cupcake carrier, it was back to the house to whip up a batch of these. I made my first batch for my Mom and learned a couple mistakes from it. First, I followed the recipe for Snickers Cupcakes found on My Baking Addiction. I followed her recipe of dressing up a boxed cake mix…but the cupcakes never rose to make a pretty dome on top and thus ended up having to much icing on them because of that. Also I went against my better judgment and followed her recipe and added the shortening to the buttercream frosting. But the next time I made these, I got it just right! I used my favorite chocolate cupcake recipe and I added a little more salt to the icing…and skipped the shortening. And it all paid off! These cupcakes were nothing short of phenomenal. I took 24 cupcakes over to a get together of 6 people…and I came home with 3. So you know they were good…actually they were perfect!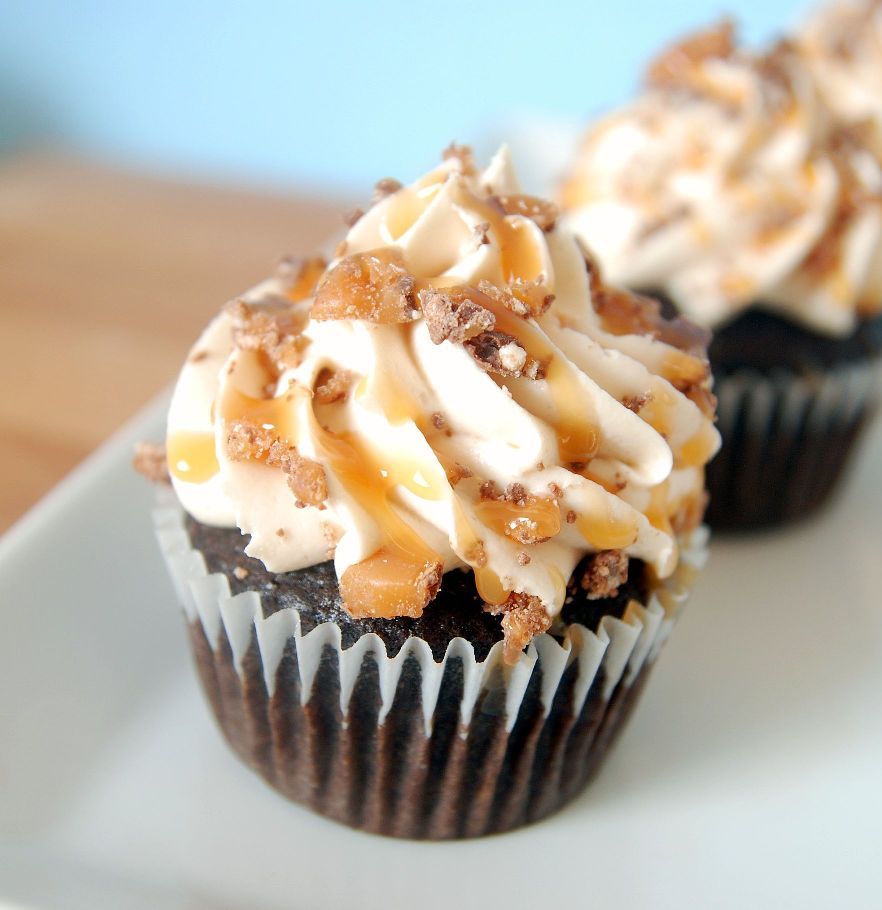 100 Grand Cupcakes
Recipe Note: Make sure and follow the directions and freeze which ever candy bar you choose to place inside of the cupcake. If you do not freeze them, they will melt to quickly and fall to the bottom of the cupcakes. And these cupcakes do not need to refrigerated like some buttercreams. Butter of course can stay out and the caramel also does not need refrigeration.
Ingredients:
Chocolate Cupcakes:
2 cups sugar
1-3/4 cups all-purpose flour
3/4 cup HERSHEY'S Cocoa
1-1/2 teaspoons baking powder
1-1/2 teaspoons baking soda
1 teaspoon salt
2 eggs
1 cup milk
1/2 cup vegetable oil
2 teaspoons vanilla extract
1 cup boiling water
8 frozen 100 Grand snack size candy bars, cut into thirds
Salted Caramel Frosting:
2 sticks unsalted butter; room temperature
2 teaspoons pure vanilla extract
1 pound confectioners' sugar
1/3 cup caramel topping; plus more for drizzling
1 teaspoon salt
Directions:
Chocolate Cupcakes:
Heat oven to 350°F.
Stir together sugar, flour, cocoa, baking powder, baking soda and salt in large bowl. Add eggs, milk, oil and vanilla; beat on medium speed of mixer 2 minutes. Stir in boiling water (batter will be thin).
Line muffin cups (2-1/2 inches in diameter) with paper bake cups.Fill cups 2/3 full with batter. Add in one piece of frozen 100 Grand bar. Add an additional tablespoon batter on top to ensure the candy bar is covered. Bake 22 to 25 minutes.
Salted Caramel Frosting:
Cream the butter in the bowl of an electric or stand mixer. Add the vanilla extract, salt and caramel syrup and combine well.
Begin adding in the sugar and mixing thoroughly after each addition. After all of the sugar has been added and mixed thoroughly, give it a taste and decide if you want to add in more caramel syrup. For thicker frosting you can gradually add in a little more sugar.
Garnish with chopped 100 Grand bars and a drizzle of caramel of caramel syrup.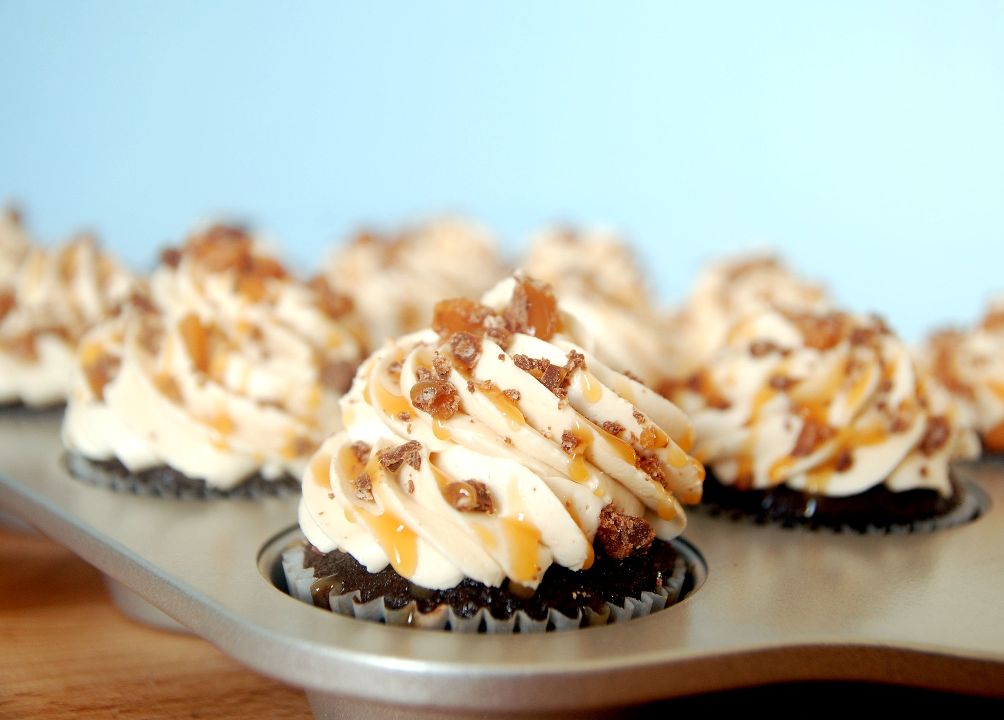 SaveSave