November 14, 2010
Video: Veggie Spring Rolls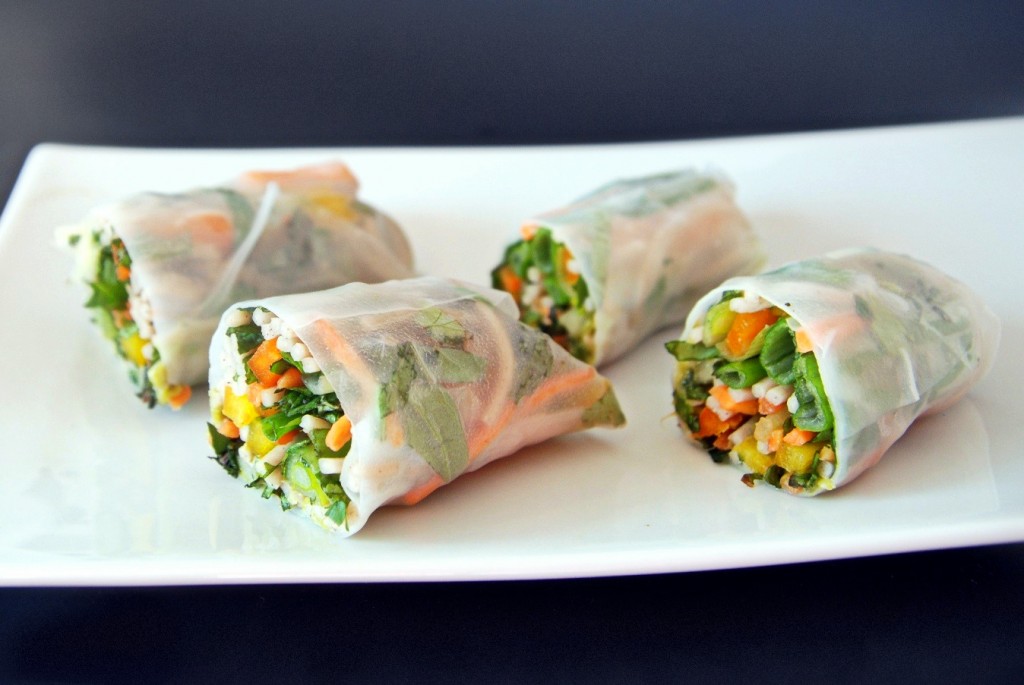 Guess who made it to Round 7 of Project Food Blog?! ME! ME! ME! …and as you can see I am totally playing it cool!
I was so thrilled to have made it to Round 7 until I remembered that Round 7 is the video challenge, which means that I had to learn to use the Sony Bloggie (little hand held video camera like The Flip) that my parents got me for my birthday. I also had to learn how to speak in front of the camera AND how to edit video. Considering this was my first time, ever, I am proud of what I did! My video may not be as beautiful as some of the bloggers who hired videographers or had professional editors, but it has heart and good food! And I'm totally proud of it!
I knew this would be a difficult challenge for me, so when I was choosing a recipe, I choose the Veggie Spring Rolls from my archives! I knew these were something that any novice can make, which means they are prefect to be on camera! Spring Rolls are like riding a bike, once you get the hang of it, you will never forget. The hardest part is using the rice paper, but I promise it's not hard! As you will see in the video, rice paper is actually a dream to work with. These spring rolls make an amazing snack, lunch, or appetizer for a party! They keep extremely well in the fridge and are ready to go in a moments notice.
So without further ado, please poke fun at me enjoy the video!
If you enjoyed my video, please do not forget to vote! Voting opens on Monday, Nov 15th at 9am and closes Thursday, Nov 19th. This round they are going from 48 contestants to 24 contestants, and I REALLY want to stick around! So please vote! 🙂
Veggie Spring Rolls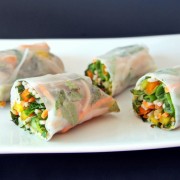 Ingredients:
2 oz dry black bean spaghetti or buckwheat soba noodles cooked according to package. Drained and reserved.
½ cup cilantro, loosely packed and roughly chopped
½ cup scallions, thinly sliced
10 basil leaves, chiffonade or minced if necessary
20 mint leaves, chiffonade or minced if necessary
½ cup purple or regular carrot, grated
½ cucumber, peeled and thinly sliced, about 2″ long
½ orange bell pepper, thinly sliced, about 2″ long
½ yellow bell pepper, thinly sliced, about 2″ long
1 firm avocado, halved and pit removed
1 package spring roll wrappers
Directions:
Toss first 9 ingredients together and set aside.
Find an undamaged sheet of rice paper and hold it under warm water for about 10 seconds or until the sheet is pliable. By holding it in your hand, you will be able to feel when it gets to the right consistency and it is easier to move to a plate to fill.
Place the sheet onto a wooden cutting board or large ceramic plate. Place about one ounce of filling onto the rice paper, off-center, closest to you. Using a spoon, scoop out a ¼-inch thick wedge of avocado and set it onto the filling.
Pull the bottom of the rice paper over the top of the filling then fold both sides over toward the center (like a burrito). Gently pulling toward you, roll the spring roll up toward the top.
Cut spring rolls in half and serve with dipping sauce.
Dipping Sauce
You will need:
The juice of 1 lemon, 1 lime, and 2 tangerines
1 tablespoon rice wine vinegar
¾ cup reduced sodium soy sauce
Whisk all ingredients in a bowl and refrigerate until ready to serve.