Day 5: Almond & Honey-Butter Cookies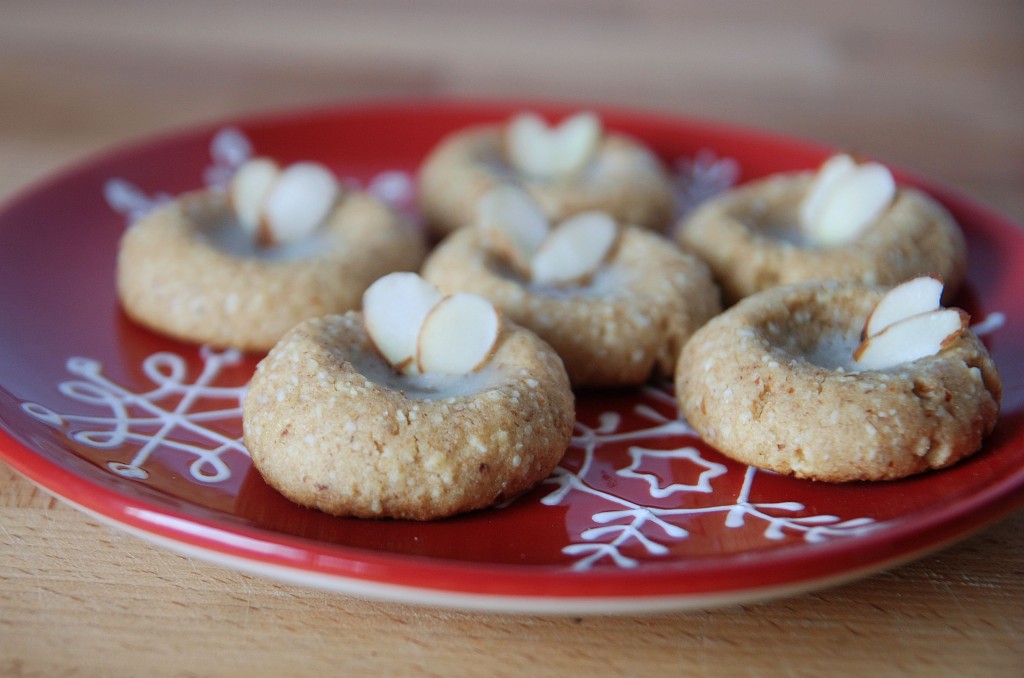 I am not the greatest when it comes to Cookies or Chips. And no, not like potato chips or chips ahoy chips…but casino chips. I have only been gambling in a casino two times in my whole life. The first time I don't remember because I was so drunk I fell into the fountain leaving the casino a little under the weather, but there are some pictures, somewhere, to prove it. I also woke up with way more money then I had started the night out with so I can only assume good things happened. The second time I have ever been in a casino was on my honeymoon with Jorge and we were in the cruise ship casino. He gave me my room card and explained how the games worked and then he went off to grab a beer. My first and only stop was the Roulette table where they handed me a large stack of chips. It was me in my swim suit cover up, some chain smoking cougar in a neon orange dress, and the fattest Asian guy I have ever seen wearing a polka dotted wife beater (and yes, you too can find this kind of class on any Carnival cruise). So anyways, here I am betting on whatever looked good at the time and laying down a chip here and a chip there. Well apparently a chip here and a chip there adds up…to the amount of $300 dollars! And this is what casino chips and cookies have in common…a cookie here or a cookie there adds up too. And before you know it 350 calories are gone and you don't know what happened to all the damn chips cookies.
Almond & Honey-Butter Cookies
Recipe Note: I found these cookies to taste MUCH better after they sat for 24 hours.
Ingredients:
1 cup whole almonds, toasted
1 1/4 cups whole-wheat pastry flour
1 cup all-purpose flour
1 teaspoon baking powder
1/2 teaspoon salt
2/3 cup plus 1/4 cup honey, divided
1/3 cup canola oil
4 tablespoons unsalted butter, at room temperature, divided
1 large egg
1 teaspoon vanilla extract
3 tablespoons toasted sliced almonds, for garnish
Directions:
Process whole almonds in a food processor or blender until finely ground (you will have about 1 1/4 cups ground). Transfer to a large bowl and add whole-wheat flour, all-purpose flour, baking powder and salt; stir until just combined. Beat 2/3 cup honey, oil and 3 tablespoons butter in a mixing bowl with an electric mixer on medium speed until well combined. Add egg and vanilla and beat until blended. Add the wet ingredients to the dry ingredients; stir to combine. Refrigerate the dough for 1 hour.
Preheat oven to 350°F. Coat 2 baking sheets with cooking spray or line with parchment paper or nonstick baking mats.
Roll tablespoons of dough into 1-inch balls and place on the prepared baking sheets about 2 inches apart. Press the tip of your index finger in the center of each cookie to make an indentation. Bake the cookies, in batches, until set and barely golden on the bottom, 13 to 15 minutes. Transfer to a wire rack; let cool for 30 minutes.
Combine the remaining 1/4 cup honey and 1 tablespoon butter in a small bowl until creamy. Use about 1/4 teaspoon to fill each cookie and top with 2 sliced almonds, if desired.