February 22, 2011
Clementine Macarons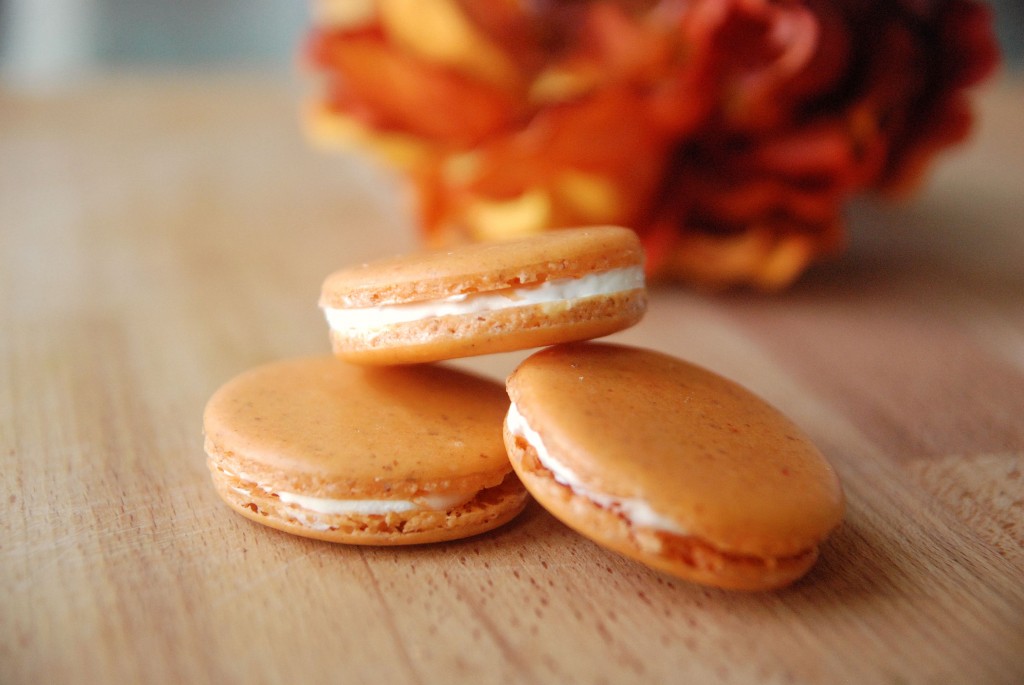 Can you tell I have lots of clementines laying around? That's the problem with clementines! I love them, but I am the only one that eats them and that crate is huge! Why don't they sell little cuties any other way? Despite eating at least 1 clementine a day, I still have them starting to go bad faster then I can eat or use them. So with my very last two Clementines, I decided to take a stab at a batch of Clementine Macarons.
I am so glad I did! As is usual with French Macarons, they were fabulous, even in spite of me over whipping the batter. They may not have had the perfect feet, but in true Macaron style, 24 hours later they were delicious.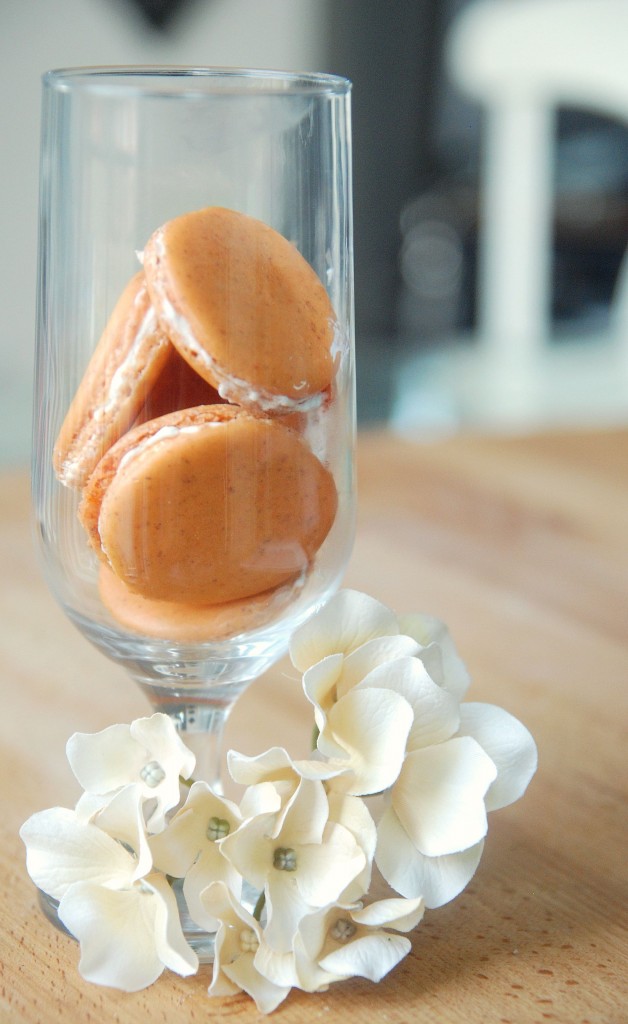 Clementine Macarons
Ingredients:
For the shells:
90 gr egg whites (preferably aged overnight in the fridge or on your counter top if the kitchen is relatively cool)
30 gr granulated sugar
200 gr powdered sugar
110 gr almonds
zest of 1 clementine
powdered orange food coloring, optional, they will be slightly green form the pistachios
For the Clementine Buttercream:
100g unsalted butter
250g icing sugar
2 teaspoons lemon juice (adjust levels according depending on personal taste)
3 teaspoons clementine juice (adjust levels according depending on personal taste)
2/3 teaspoon grated clementine zest
2 tablespoons milk
Directions:
For the shells:
In a stand mixer fitted with the whisk attachment, whip the egg whites to a foam, (think bubble bath foam) gradually add the sugar until you obtain a glossy meringue (think shaving cream). Do not overbeat your meringue or it will be too dry. Place the powdered sugar and almonds in a food processor and give them a good pulse until the nuts are finely ground. Add them to the meringue along with clementine zest and some food coloring if using, give it a quick fold to break some of the air and then fold the mass carefully until you obtain a batter that falls back on itself after counting to 10. Give quick strokes at first to break the mass and slow down. The whole process should not take more than 50 strokes. Test a small amount on a plate: if the tops flattens on its own you are good to go. If there is a small beak, give the batter a couple of turns.
Fill a pastry bag fitted with a plain tip (Ateco #807 or #809) with the batter and pipe small rounds (1.5 inches in diameter) onto parchment paper or silicone mats lined baking sheets. Let the macarons sit out for 30 minutes to an hour to harden their shells a bit. In the meantime, preheat the oven to 280F. When ready, bake for 15 to 20 minutes, depending on their size. Let cool. If you have trouble removing the shells, pour a couple of drops of water under the parchment paper while the sheet is still a bit warm and the macarons will lift up more easily do to the moisture. Don't let them sit there in it too long or they will become soggy. Once baked and if you are not using them right away, store them in an airtight container out of the fridge for a couple of days or in the freezer. To fill: pipe or spoon about 1 big tablespoon of butterceam in the center of one shell and top with another one.
For the buttercream:
Beat butter and icing sugar together till creamy. Add juices and zest and beat till smooth. Add milk and beat till combined. If this is too runny, chill buttercream before piping onto shells.
Fill cooled macaron shells with buttercream and sandwich.