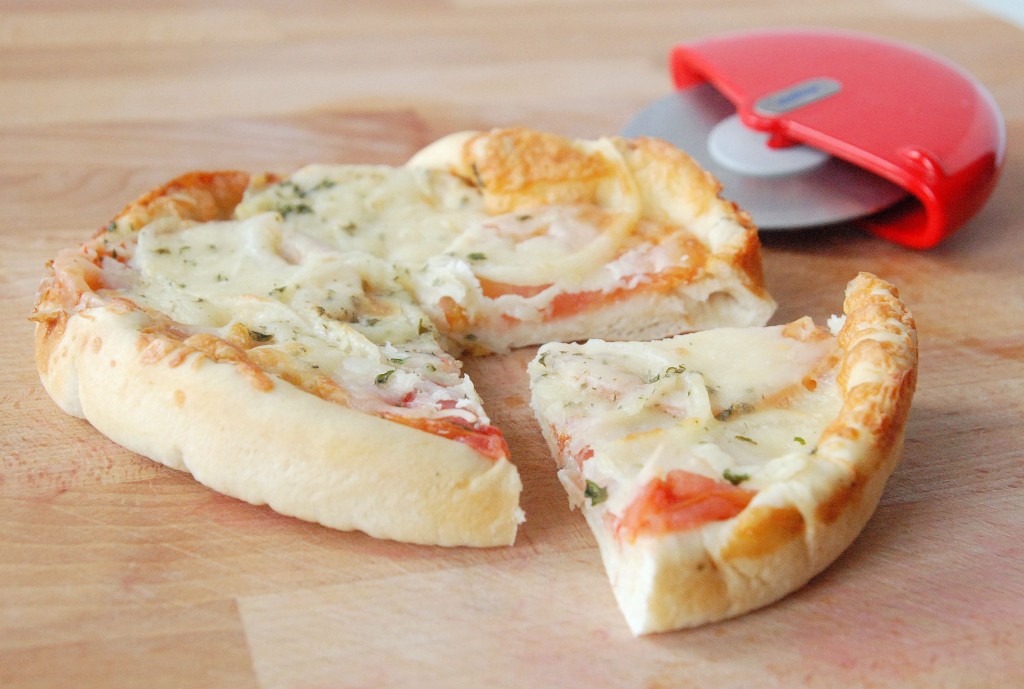 I used to never be a planner. Everything I did was by the seat of my pants. In high school I never did homework and was an A-B student…but if I had done my homework and planned out my time smartly I could have been an A student. Then I got married. And now I plan everything. From what day I will do the laundry to what we are eating next Friday.  And lately I have found myself worrying about what I am going to wear to things that are still days or weeks away…in other words, I am turning into my mother my planning is becoming a little obsessive. However I dropped the ball last week. And we somehow ended up having pizza 3 days in a row. Once, for an appetizer at Biscottis. The next day Jorge had it for lunch with some coworkers. And then I had it on the menu again in the form of this Sacchia.
But I made it anyways and I am so glad I did! Now, I will admit that we LOVE pizza…so that is probably part of the reason why it didn't matter that it was the third day of pizza. In case you are wondering, Sacchia in Italian means 'little pizza'. Really this is just a regular pizza, but on focaccia bread instead of regular pizza dough. And then I skipped the sauce and instead brushed the bread with olive oil infused with garlic and laid down a layer of fresh from the farm tomatoes! Then I topped it with yellow onions, fresh mozzarella, and basil. To say the least, it was heavenly! One of my new favorite pizzas!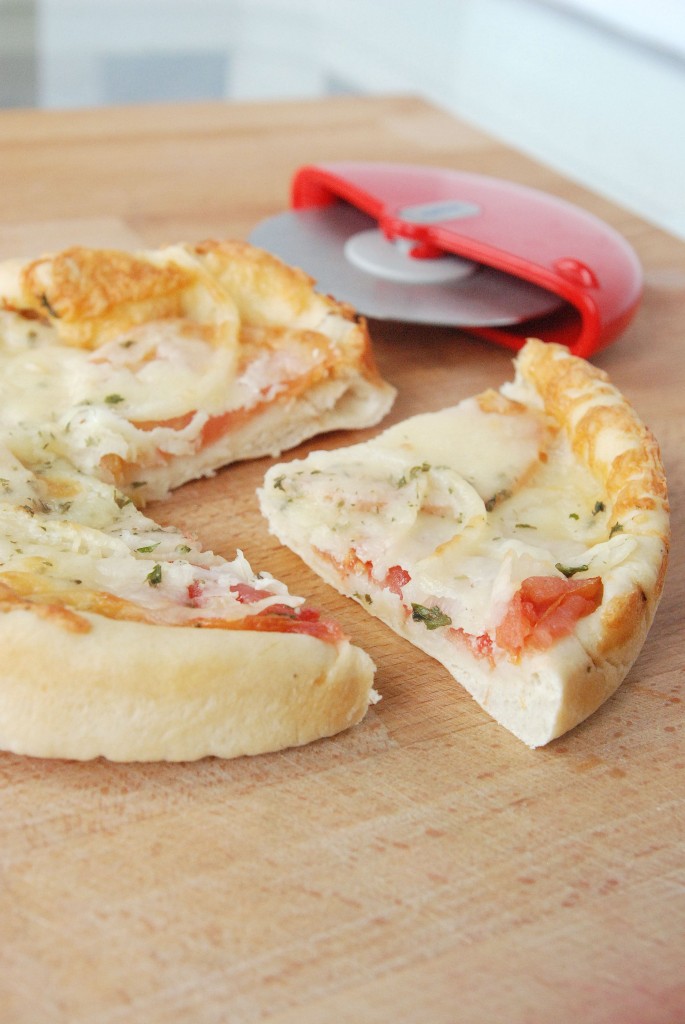 Sacchia

Recipe Note: I made individual pizzas. They were great hot and later at room temperature!
Ingredients:
For Dough:
2 1/2 cups bread flour
1 cup white whole wheat flour
1 tsp salt
1/2 tsp garlic powder
1 tsp instant yeast
3 TBSP olive oil
3/4 cup plus 2 TBSP to 1 cup room temperature water
For Toppings:
2 tablespoons garlic infused olive oil
1 large tomato, sliced
1/2 medium yellow onion, sliced
2 cups fresh mozzarella, shredded
2 tablespoons fresh basil, minced
salt and pepper, to taste
Directions:
Insert the plastic dough blade into the work bowl of your food processor. Add flours, salt and yeast. Pulse 3-4 times to mix dry ingredients. Add olive oil and pulse 3-4 times to combine.
With machine running, slowly pour water through feed hole until a shaggy dough comes together. You may or may not need all of the water, but you'll want the dough to be on the stickier side.
Let dough rest for 5 minutes so it can become fully hydrated. Then turn processor on and process dough for 45 seconds. Do not over-process. The dough should be quite soft and sticky.
Sprinkle flour on your counter and using a spatula dipped in water, scrape the dough out of the processor bowl and onto the bed of flour. Dust liberally with flour and pat the dough down into a circle. Let dough rest for 5 minutes.
Flour your hands and stretch dough from both ends to elongate to about twice the size of the original dough length. Fold the left side over to the middle then fold the right side over the top, like an envelope. Spray the dough with cooking spray and cover loosely with plastic wrap.
After 30 minutes repeat the folding process again. Spray with cooking spray and cover with plastic wrap. After 30 more minutes repeat the folding process one final time. Spray again with cooking spray and cover with plastic wrap. Allow the dough to ferment on the counter for one hour.
Coat 14" pizza pan with 2 TBSP olive oil. Lightly oil your hands and place fermented dough on pizza pan. Drizzle a few teaspoons of olive oil over top of the dough. Using only your fingertips, dimple the dough and gently nudge the dough to fill the pan. If it resists, allow to rest for a few minutes before trying again. Don't worry if you can't get it to perfectly fill the pan as it will do this on its own during the proofing stage.
Loosely cover the pan with plastic wrap and refrigerate overnight and for up to three days. On the day you wish to make the pizza, remove pan from the refrigerator and allow dough to proof (covered) in pan for three hours at room temperature.
Preheat oven to 500 degrees. While oven is preheating, brush dough with garlic infused olive oil.
Place pan in oven and reduce oven temperature to 450 degrees. Bake for 5 minutes then remove from oven. Place tomato on bottom level of dough, followed by the onion, then top with mozzarella. Return pizza to oven and bake for an additional 10-12 minutes, or until golden brown and cheese is melted. Remove from oven and transfer pizza from pan to a cooling rack. Sprinkle with minced basil, salt and pepper. Allow to cool for 5-10 minutes before cutting and serving.