October 27, 2011
Brown Butter Cushaw Mini Cakes with Brown Butter Buttercream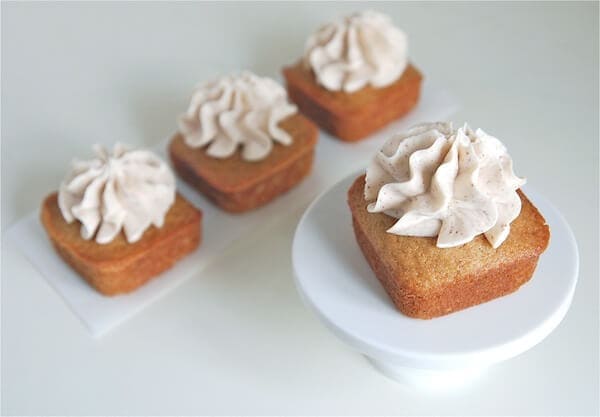 There are some things in life that are just meant to be.
Milk and Oreos.
Lindsay HoHan and Jail.
Tequila and Limes.
Flip Flops and Pedicures.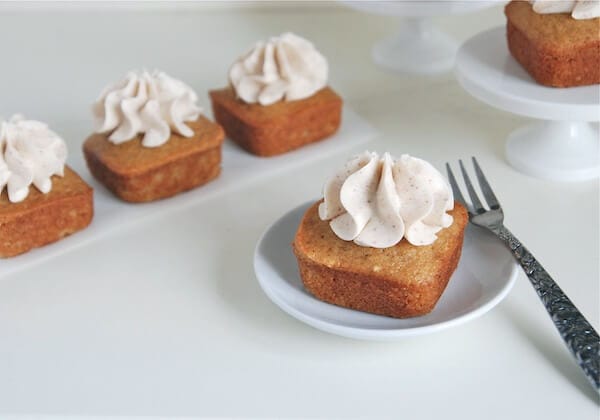 Chocolate and PMS.
Carrie and Big.
Orange Juice and Champagne.
Other People's Kids and Benadryl.
Me and Brown Butter.
It's a Brown Butter palooza up in here today! For the last Cushaw post, I just had to pull out the big guns. First, I made the cakes into mini cakes. It is a proven fact that almost anything smaller is cuter. Then I topped those adorable square cakes with a big swirl of buttercream. And to really seal the deal, I added brown butter to both the cake and frosting. Are you swooning yet?  You should be.
I wish I had a scratch and sniff sticker for your screen. Wouldn't that be awesome? I think whoever is in charge of the iPhone 5 needs to go ahead and get started on that technology. Scratch & Sniff Screens! It's totally the way of the future.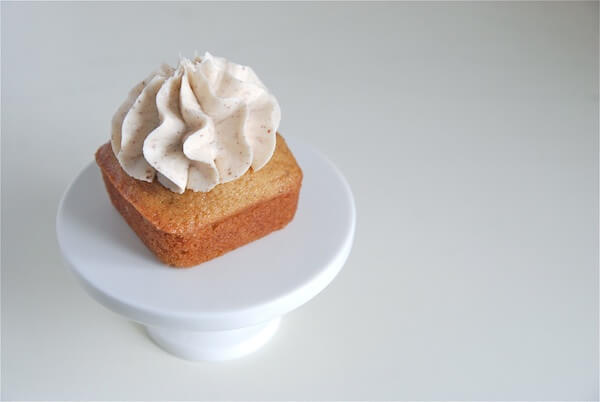 I am going to say something that might be quite shocking. This very well might be my favorite cupcake/cake combination…ever. Seriously, ever. It took me 4 tries to get the cake recipe right, but it was so worth it in the end!
The Brown Butter Cushaw Mini Cakes were perfectly spongy while still staying moist. The cushaw flavor is light and adds to the overall flavor instead of being overpowering. And the Brown Butter Buttercream? Heaven. Pure heaven. If you are a brown butter fan — and really who isn't?? — you must try this out immediately. I am not joking, do it. Now. 😀
Brown Butter Cushaw Mini Cakes with Brown Butter Buttercream
Recipe Note: If you haven't been able to find a cushaw yet, don't fret! You can still try out this recipe! Just swap out the cushaw for canned pumpkin or pureed sweet potatoes and add an extra 2 tablespoons of buttermilk!
Ingredients:
5 tablespoons butter
1 cup all purpose flour
1/4 cup granulated sugar
1 teaspoon baking powder
1/2 teaspoon baking soda
1/2 teaspoon cinnamon
1/2 teaspoon ginger
1/4 teaspoon freshly ground nutmeg
pinch of cloves
1/4 teaspoon salt
pinch black pepper
1/2 cup packed brown sugar
1 egg
1/2 cup pureed cushaw
1/2 teaspoon vanilla extract
1/4 cup buttermilk
3/4 cup (1 1/2 sticks) unsalted butter
1 teaspoon vanilla extract
1/2 teaspoon cinnamon
pinch of salt
2 cups powdered sugar
Directions:
For the Brown Butter Cushaw Mini Cakes: Melt butter in a small saucepan over medium heat. Cook, swirling pan occasionally, until butter turns golden brown. Transfer to a bowl and let cool until no longer warm to the touch, about 20 minutes. Preheat oven to 350 degrees and prepare mini cake pan by spraying with Baker's Joy or rubbing with butter. In a medium bowl, whisk all dry ingredients (flour, sugar, baking powder, baking soda, cinnamon, ginger, nutmeg, cloves, salt, and pepper) until well combined. Set aside. In large bowl, whisk together browned butter, brown sugar, and egg. Add cushaw and vanilla extract, whisk until well combined. Slowly whisk in the flour mixture, alternating with the buttermilk, until there are no lumps. Divide batter evenly among mini cake tins. Bake for 14-16 minutes, until a toothpick comes out clean. Let rest for 5 minutes and then transfer to a metal cooling rack. Once cool, frost with Brown Butter Buttercream. For the Brown Butter Buttercream: Melt butter in a small saucepan over medium heat. Cook, swirling pan occasionally, until butter turns golden brown. Transfer to a bowl and let cool until the butter has come to room temperature and solidified again. To speed it up, you can pop it in the fridge...just watch it so it doesn't get too cold and become hard (if it does, just let it sit on the counter till it becomes room temperature). Cream the browned butter in the bowl of an electric or stand mixer. Add the vanilla extract, cinnamon, and pinch of salt. Slowly add the powdered sugar and scraping down the sides and bottom of the bowl thoroughly after each addition. Pipe onto mini cakes using your favorite tip. Store in an airtight container until ready to serve.
TNCB original