July 16, 2018
Sheet Pan Roasted Lemon Herb Chicken & Green Beans
Sheet Pan Roasted Lemon Herb Chicken & Green Beans: our favorite weeknight dinner can be prepped ahead for a super easy one-pan dinner or made fresh in minutes!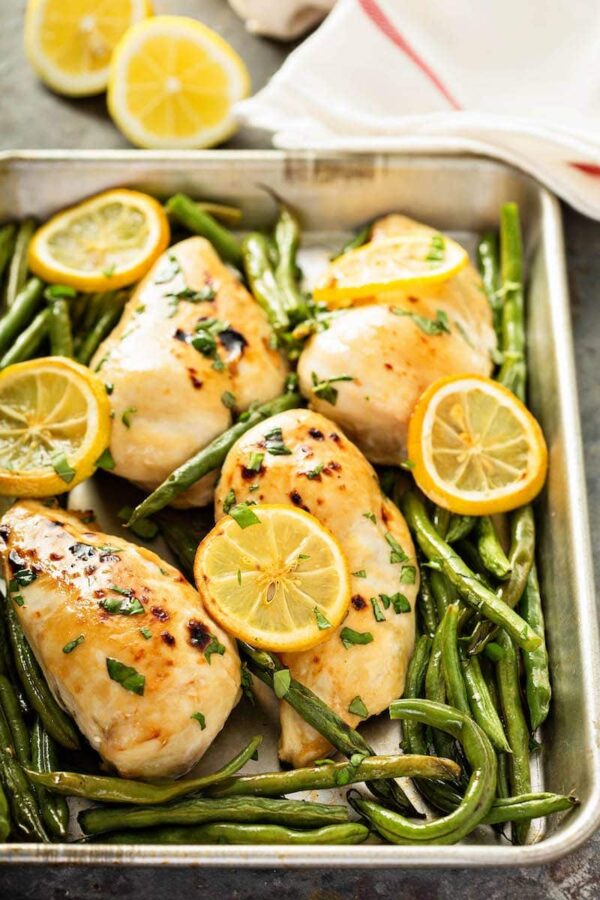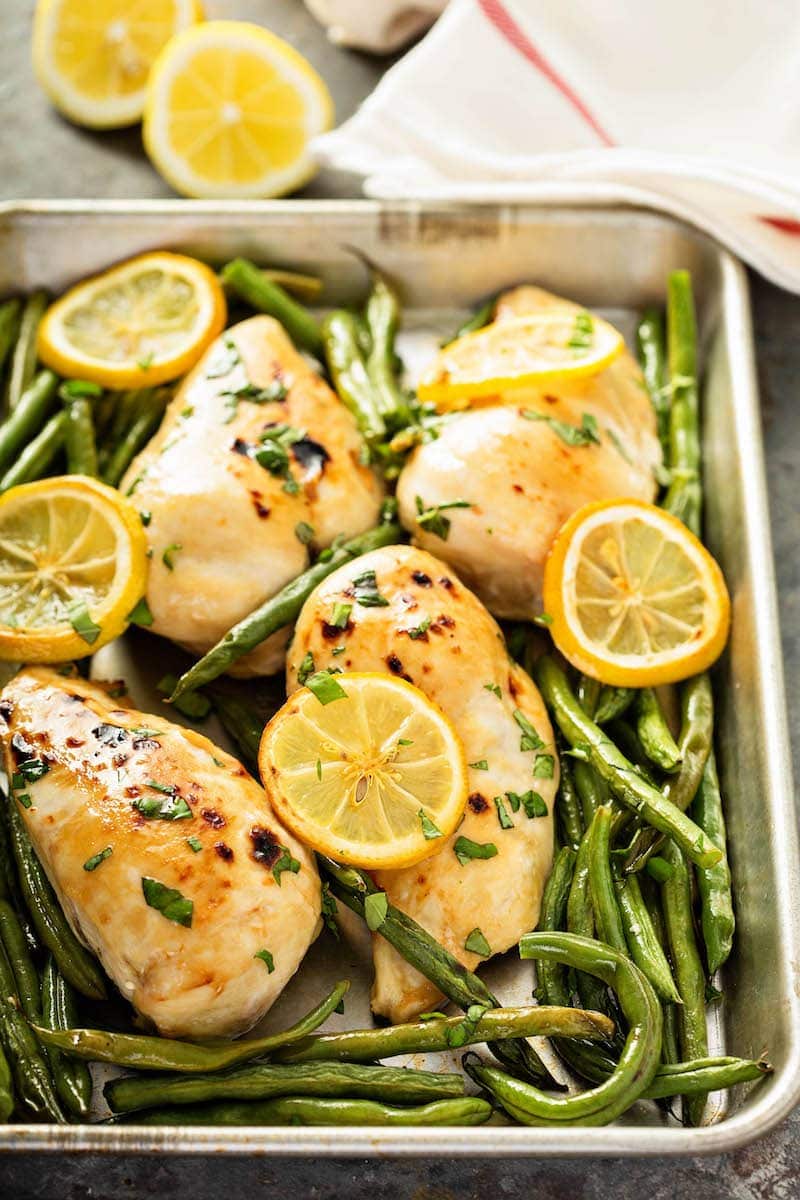 Winner Winner, EASY Chicken Dinner!
This Sheet Pan Roasted Lemon Herb Chicken & Green Beans may have a long name, but it couldn't be any easier to whip up.
Plus, it's Low Carb and you can use whatever veggies you have on hand, it does not have to be green beans.
We have used brussels sprouts, broccoli, fingerling potatoes and even chunky diced onions.
All the other ingredients I usually always have on hand, so this cheap easy one pan dinner is a rockstar at our house.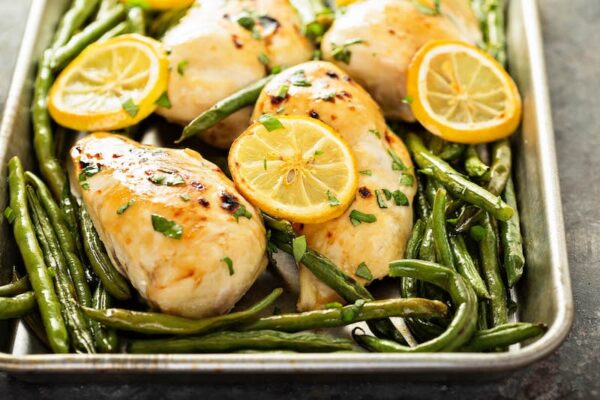 For the photos and video, I didn't want to use foil because it looks prettier without.
However, in real life I cover my sheet pan with a big piece of foil so cleanup becomes an absolute breeze.
Also, I often make this Sheet Pan Roasted Lemon Herb Chicken & Green Beans ahead and let it marinate for those nights where I know we aren't going to have a lot of time.
So on Sunday before a busy week, I will clean my chicken, cut the ends off my green beans and then toss everything into a gallon sized ziplock baggie.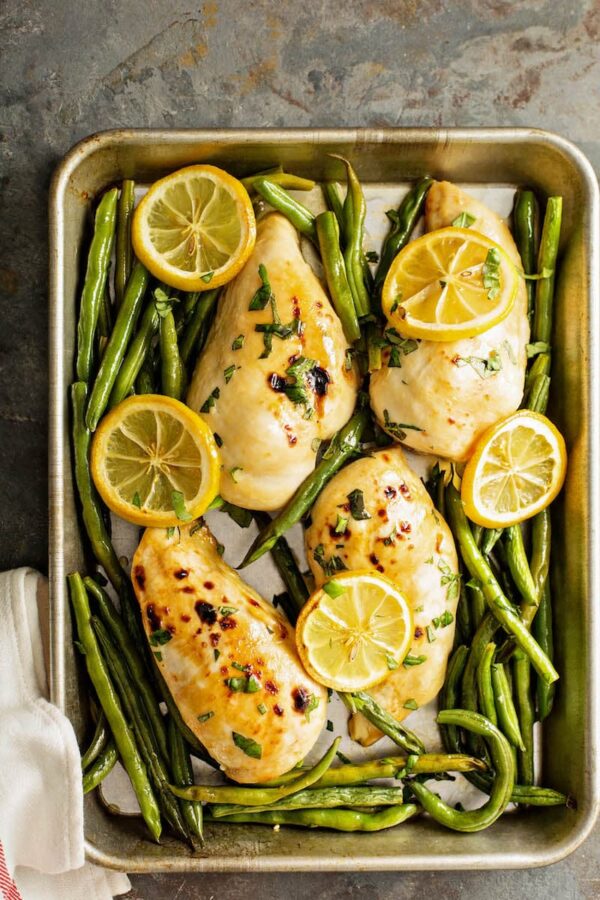 Then come Tuesday night when life is hectic and I am trying to get the kids ready for the next day, all I have to do is dump it all on a  sheet pan and toss it into the oven!
In the photos you will see I used skinless chicken breasts and in the video I used skin on chicken pieces.
Either way is totally fine, it's absolutely a personal preference. You can use light or dark meat, skin on or skin off.
But, those crispy pieces of roasted chicken skin on top are kind of my favorite.
And because I know some of you super prepared people are going to ask – yes you can prep and freeze this Sheet Pan Roasted Lemon Herb Chicken & Green Beans ahead of time!
However, I find it best to add fresh veggies and fresh slices of lemon.
So I mix the butter mixture and add my chicken to it in a freezer safe ziplock bag. Make sure you get all the air out and seal it shut. Then you can freeze it for up to 3 months.
Thaw it out in the fridge for 2 days before you are ready to cook it. Then toss your fresh veggies in and add some fresh lemon slices on top. And roast it! Dinner is done!
I plan on doing a few packages like this before the baby comes in December so we have a healthy, low carb, dinner ready to go!
Sheet Pan Roasted Lemon Herb Chicken & Green Beans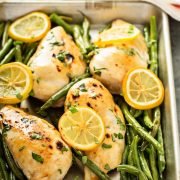 Ingredients:
1 lb, skin on, chicken pieces (or boneless skinless chicken breasts)
1 stick butter, melted
3 tablespoons olive oil
3 lemons, divided
2 tablespoons fresh rosemary
2 tablespoons fresh thyme
1 garlic clove, minced
1 teaspoon kosher salt
1⁄2 teaspoon freshly cracked pepper
1 lb green beans, ends trimmed
Directions:
Preheat oven to 400°F.
In a large bowl, mix butter, olive oil, juice from 2 lemons, rosemary, thyme, garlic, salt and pepper.
Toss chicken and green beans in butter mixture.
Place the chicken and green beans on a large rimmed baking sheet. Spread into an even layer.
Slice remaining lemon in thin slices and arrange on top of chicken and green beans.
Roast for 25 minutes -- until the chicken reaches an internal temperature of 165°F.
 Serve immediately!