Almond & Dark Chocolate Pomegranate Cookies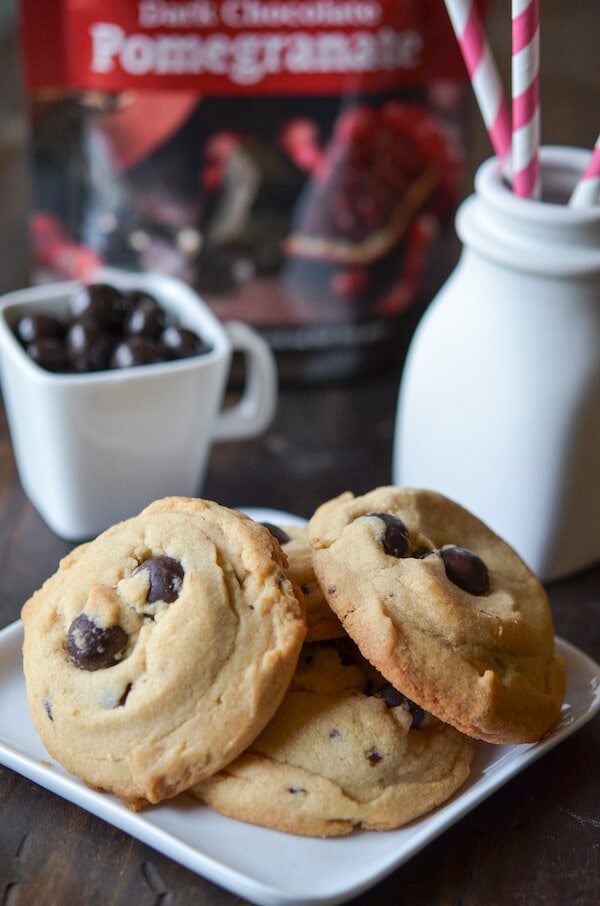 I was really excited when Brookside® reached out to me about trying out some of their amazing dark chocolate stuffed with exotic fruit juices. I had heard mention of the famous flavors like Acai with Blueberry and Goji with Raspberry, but had not been lucky enough to try them myself. So when I got the email to get one of their awesome tasting kits (and give one away to one of you), I of course immediately wrote back with a Heck Yes!
Not going to lie, I ate my first two bags straight up. The Acai/Blueberry flavor being my absolute new favorite companion to a glass of wine. By the time I realized I should try baking with them, I only had one flavor left — Pomegranate. I tossed around a few ideas, but ended up settling on a classic Almond flavored cookie as the base and letting the Brookside® Dark Chocolate Pomegranate be the star.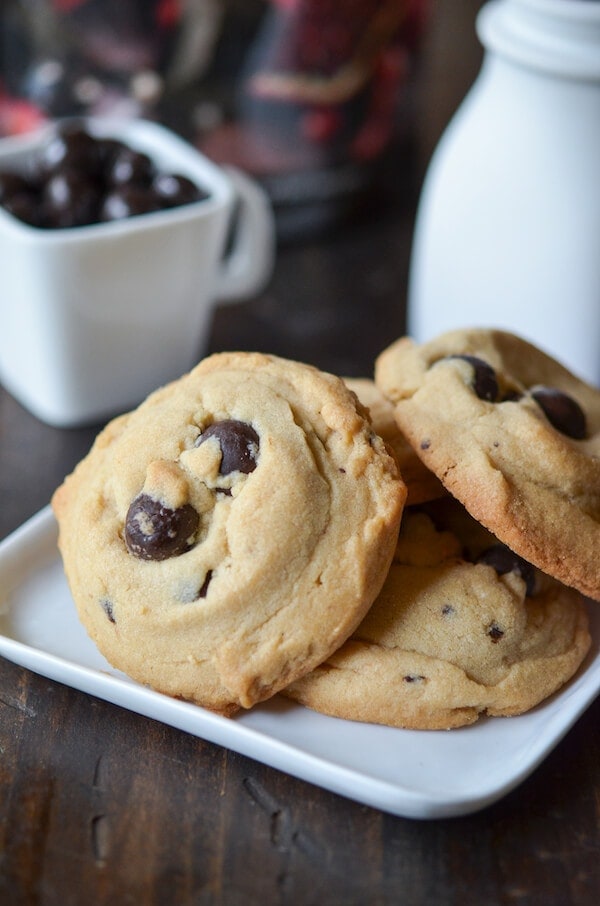 And while these cookies were great, I still like prefer my Brookside® Dark Chocolates just as they come out of the bag. The flavors are unusual and the dark chocolate is really satisfying. Plus, as I said before, they go great with a glass of wine! 🙂
Almond & Dark Chocolate Pomegranate Cookies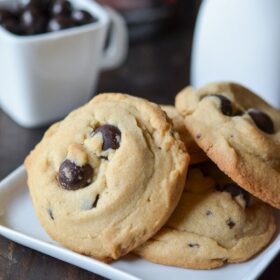 Ingredients:
2 1/2 cup all-purpose flour
3/4 teaspoon baking powder
1/4 teaspoon baking soda
1 teaspoon salt
2 sticks unsalted butter, melted & cooled
1 cup packed brown sugar
1/4 cup regular sugar
1 large egg
2 teaspoons almond extract
1 teaspoon vanilla extract
1 (7 oz) package Brookside® Dark Chocolate Pomegranate
Directions:
Preheat oven to 350°F. Line 2 baking sheets with parchment paper or a silpat. Set aside.
Combine the flour, baking powder, baking soda and salt in a medium bowl. Set aside.
In the bowl of a stand mixer, combine the butter, brown sugar and regular sugar. Add in the egg, almond extract and vanilla extract.
Gradually add in the flour mixture on low speed. Stir until dough forms. Then stir in Brookside® Dark Chocolate Pomegranate by hand.
Using a large cookie scoop, drop rounded balls of dough onto prepared cookie sheet. Leaving space for spreading. Bake cookies for 13-15 minutes, or until golden brown.
Let cool on baking sheet for 5 minutes, then transfer to a cooling rack to cool completely. Store cookies in an airtight container for up to 5 days.
Giveaway closed.
I received a Brookside® Tasting Kit…however I was not compensated to write this post. As always, all opinions are 100% my own!