Bacon Beer Bread
You guys. Look. Look at all that bacon-y goodness on top of that bread! Those dark flakes are from the bacon grease that you pour on top of this bread before baking. That's right, I said you POUR warm bacon grease on top of your dough. Holy moly this bread is amazing.
I have been craving beer since I found out I was pregnant. It's like as soon as it is restricted, I want it. Every time I head over to my parents,  my Dad is drinking my favorite — Modelo — it's pure torture. Add to that a craving for anything meat lately (steak, bacon or dried jerky type meats are constantly on my mind) and you can understand where the idea for this bread came from.
P.S. Pretty sure I have at least one boy baking in there. Beer & Meat?? Those are serious boy cravings.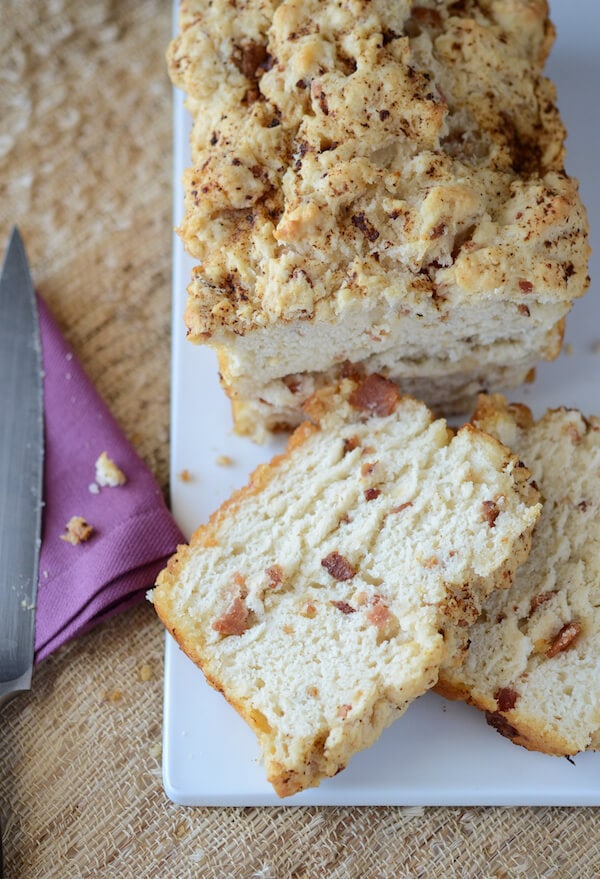 This past Sunday, Jorge and I had brunch at home. We had biscuits & gravy and we cooked up some delicious Smithfield Applewood Thick Cut Bacon. I saved our leftover bacon (I know — how did we even have leftover bacon??) and a little bit of bacon grease for this bread. It goes perfect as a side to a soup/chili/chowder or with something like steaks. Or you can eat it standing over the sink for a late night snack. Not that I have any experience with that.
This bread is a quick bread (no yeast!) and is easy to put together. The most involved part is cooking the bacon and we all know how easy that is! Between the chopped up bacon and the bacon grease on top, bacon is the big star in this bread. And since Smithfield conducted a survey and found 53% of women love bacon more than Valentine's Day…well I know y'all are going to love this bread. 😉
Bacon Beer Bread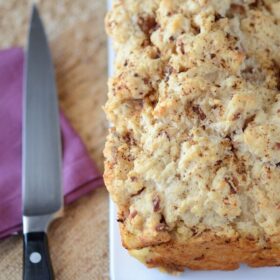 Ingredients:
5 strips Smithfield Applewood Thick Cut Bacon
3 cups all-purpose flour
1/4 cup sugar
1 tablespoon baking powder
1 teaspoon salt
1 bottle (12 ounces) beer
4 tablespoons unsalted butter, melted
Directions:
Cook bacon in a large skillet over medium heat until crisp, about 5 minutes. Transfer to a paper towel-lined plate. Remove skillet from heat and let bacon grease cool. Once bacon is cool enough to touch, chop it in small pieces. Set aside.
Preheat the oven to 350°F. Grease a 9x5 inch loaf pan. Line with parchment paper for easy removal (optional).
In a large bowl, whisk together the flour, sugar, baking powder and salt. Add chopped bacon. Using a wooden spoon, stir the beer into the dry ingredients until just mixed.
Pour the melted butter into the bottom of the loaf pan. Then spoon the batter into the pan. Pour the cooled bacon grease on top of the batter.
Bake for 50 to 60 minutes, until golden brown and a toothpick inserted in the center comes out clean. Serve immediately with a smear of more butter, or reheat in the microwave for 20 seconds.
This post is sponsored by Smithfield Foods. However as always, all opinions are my own.