Bacon, Egg & Cheese Rollups: crispy bacon, creamy scrambled eggs & sharp cheddar cheese are baked in a buttery crescent to make the best handheld breakfast!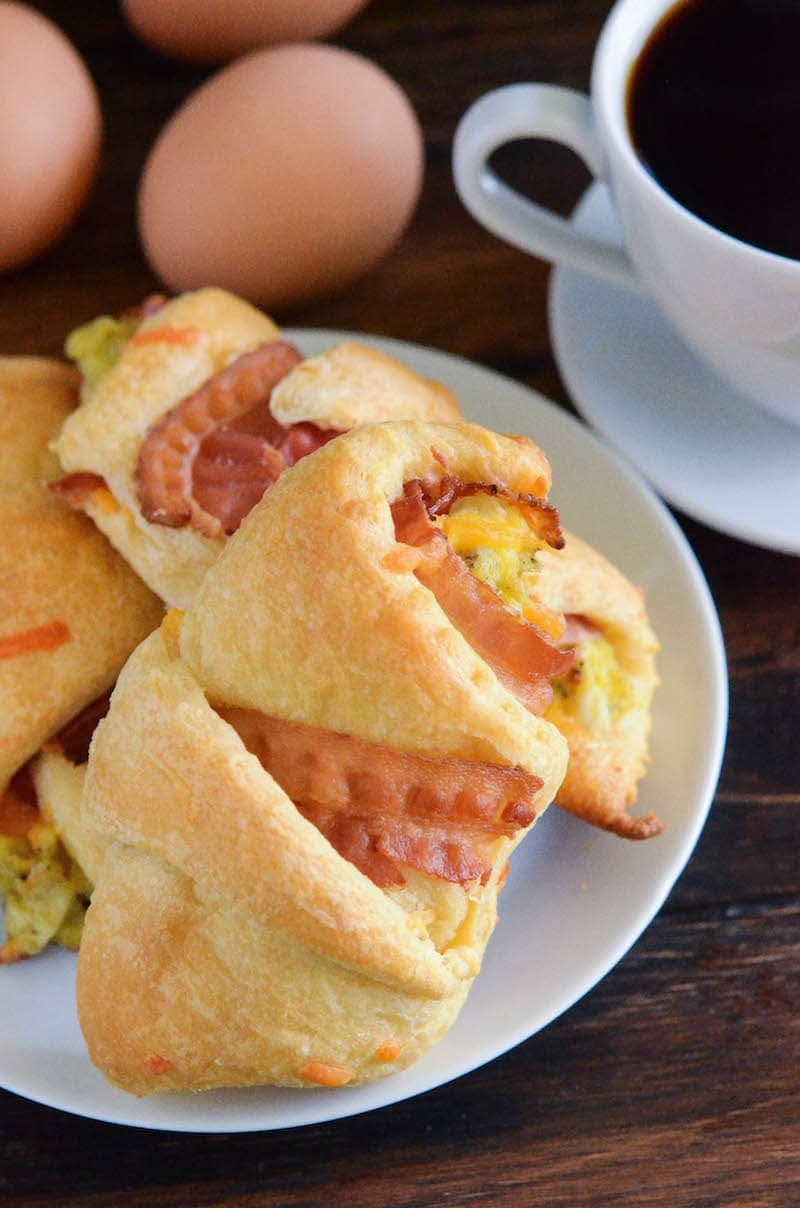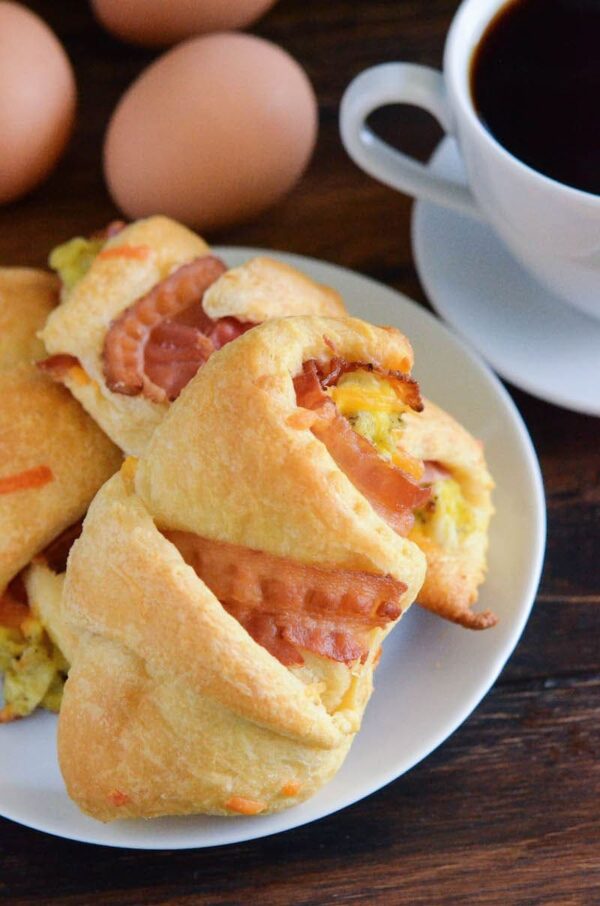 I have partnered with Handsome Brook Farm to bring you these awesome Bacon, Egg & Cheese Rollups! They are so good, we made them three times in just the last week.
Ellie and Lyla can each eat two in one sitting — yay for a savory breakfast hit with the toddlers. That doesn't happen too often around here! But seriously, who wouldn't love bacon, egg, and cheese wrapped up in crescent rolls??
Jorge and I are big egg fans and eat them almost every single day for breakfast. When he is out of town for work, I will usually also eat them for an easy healthy dinner. Fried, scrambled, hard boiled, or even deviled — I'm your girl!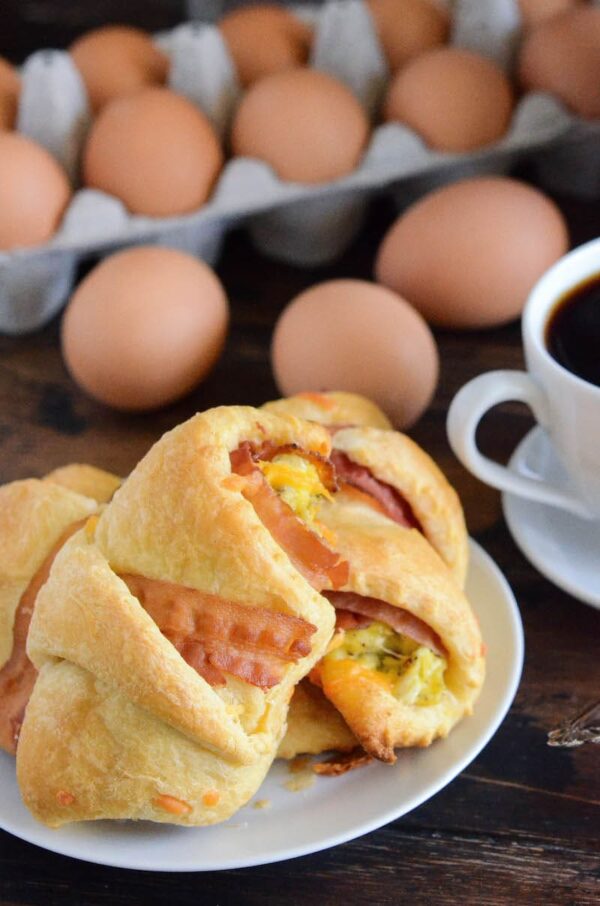 Growing up in Texas, I was used to fresh eggs from my grandparent's chickens. Somewhere along the way, we started buying regular store bought generic eggs and those eggs became what I was used to having.
Then I moved out, got married and had babies of my own and started becoming much more interested in my food and where it came from. So I started buying cage free organic eggs, thinking it was so much better for us and the chickens. Little did I know, cage free didn't mean what I thought it meant.
A few years later, I was rushing and did not realize that I grabbed a carton of pasture raised eggs vs cage free eggs. When I cracked the eggs into my bowl, I was shocked to see the big dark golden orange yolks looking back at me. They looked just like the eggs I grew up eating from the chickens at my grandparents house!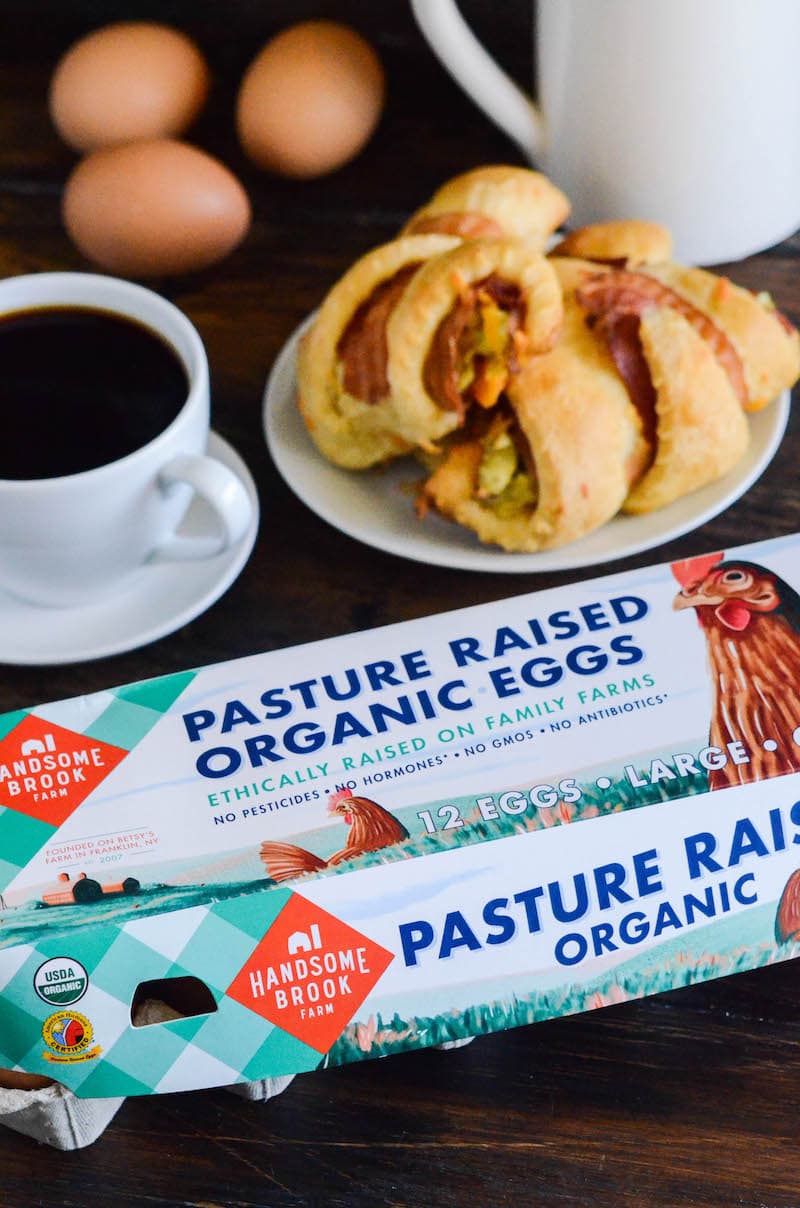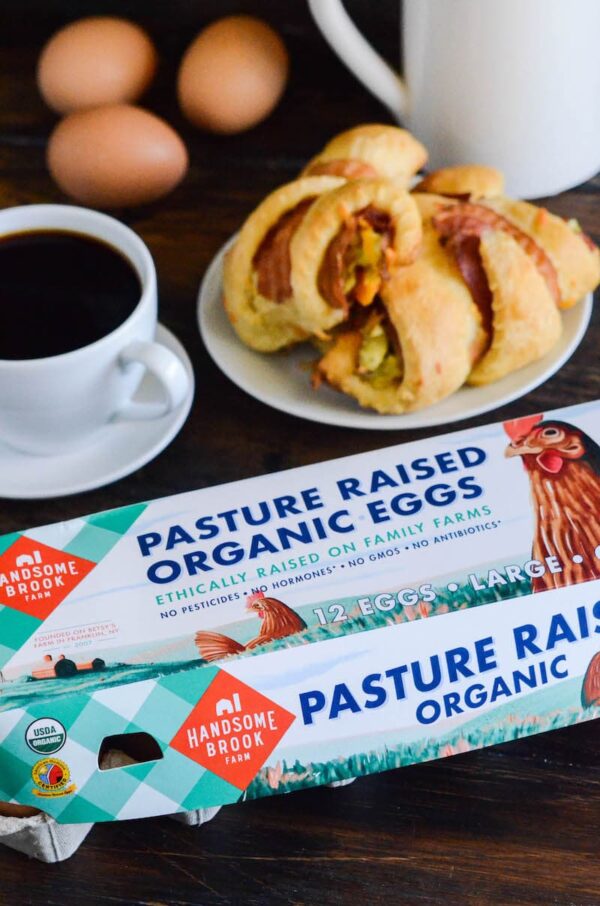 It was then that I started some real research on eggs, the egg industry and what the labels on egg cartons actually meant. I'm not here to scare you, or tell you horror stories, but there is a lot of that information out there if you wish to educate yourself.
However, what I will tell you, you want to buy Organic Pasture Raised Eggs. 'Pasture Raised' means that the chicken lives like a chicken should live. Free to move around in an open pasture, eat what chickens naturally eat (worms & bugs!), and thus producing the gorgeous nutrient rich eggs we should all be enjoying.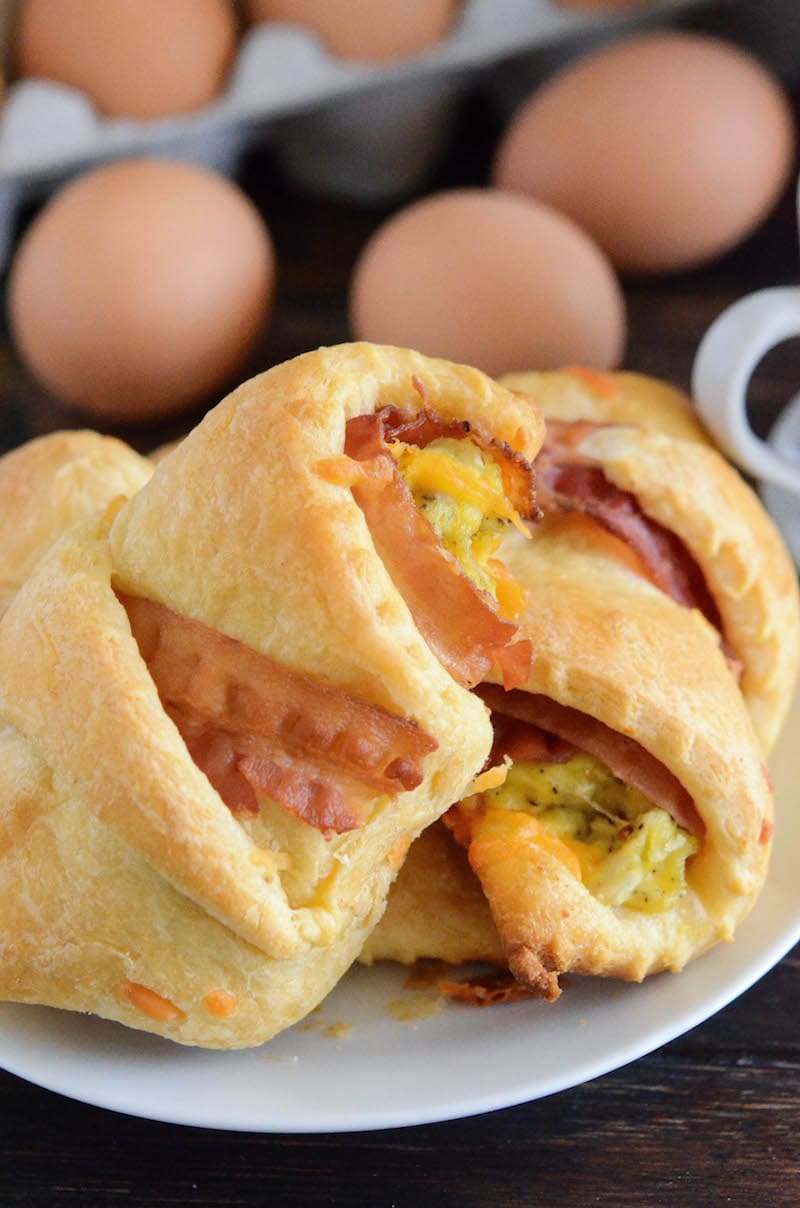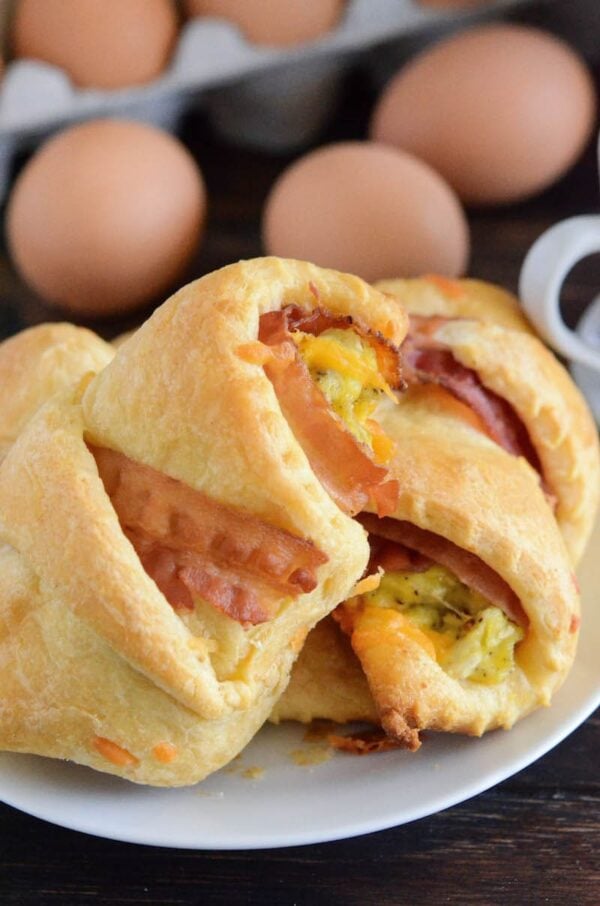 Handsome Brook Farm are pioneers in organic pasture raised eggs. The American Humane certifies that their hens get at least 108 square feet per chicken (which is 50x more space than a "free range" chicken) and their pastures are rotated.
Handsome Brook Farm eggs are USDA Certified Organic, American Humane Certified, pasture raised, have no pesticides, no hormones, no GMOS and no antibiotics. Ever.
And one of my favorite parts about Handsome Brook Farm? They are not a large factory farm. Handsome Brook Farm is a unique supply network made up of small, organic family farms. No wonder their eggs remind me of the eggs I grew up eating!
Click here to find out where you can buy Handsome Brook Farm eggs near you!
These Bacon, Egg & Cheese Rollups are exactly what you want for a weekend breakfast or brunch. You can completely customize them to your tastes, such as swapping the bacon for breakfast sausage or roasted potatoes for a vegetarian option.
Watch the video above to see how EASY these come together!
Bacon, Egg & Cheese Rollups
Bacon, Egg & Cheese Rollups: crispy bacon, creamy scrambled eggs & sharp cheddar cheese are baked in a buttery crescent to make the best handheld breakfast!
Ingredients
4

large Handsome Brook Farm's Pasture Raised Organic Eggs

1

tablespoon

milk

salt and pepper

,

to taste

1

tablespoon

butter

1

12 oz can crescent rolls

8

slices

cooked bacon

1 ½

cups

shredded cheddar cheese
Instructions
Preheat oven to 350°F. Line a baking sheet with parchment paper or a silicone baking mat, set aside.

In a small bowl, whisk together Handsome Brook Farm's Pasture Raised Organic Eggs, milk, salt and pepper.

Heat a large sauté pan over medium-high heat. Add the butter and let it melt.

Add the eggs and scramble them: use your spatula to push the eggs from one side of the skillet to the other in slow motions until cooked. Remove eggs immediately from heat and transfer to a cool bowl to stop the cooking process.

Separate dough into 8 triangles. Lay one piece of bacon inside each triangle of dough. Divide scrambled eggs and cheddar cheese evenly onto the shortest side of each triangle.

Loosely roll up each crescent, starting at shortest side, rolling to opposite point. Place on prepared cookie sheet.

Bake for 12 to 14 minutes, until golden. Remove from oven and serve immediately!
Nutrition
Serving:
1
,
Calories:
175
kcal
,
Carbohydrates:
2
g
,
Protein:
10
g
,
Fat:
14
g
,
Saturated Fat:
7
g
,
Polyunsaturated Fat:
6
g
,
Cholesterol:
62
mg
,
Sodium:
405
mg
Categories:
This post is sponsored by Handsome Brook Farm. All opinions are, as always, 100% my own. Thank you for supporting the brands that I love!

This post may contain affiliate links. Read my disclosure policy.