Banana Cinnamon Swirl Pancakes are a delicious and healthy breakfast recipe that is so easy to make! The whole family will enjoy these homemade banana pancakes!
If you like these banana pancakes you should also try my easy Banana Chocolate Chip Pancakes!
I Love Making Homemade Pancakes On Sunday Mornings
If I haven't said it enough already, there is just something about pancakes. Sunday mornings should always start with sleeping in and a pancake as big as your face. Because of my obsession, I have tried more pancake flavors than most normal people. It always starts Saturday night as I am falling asleep. Most people would think about their day, or their plans for the next week, but not me.
I lay there planning out breakfast in the morning…what do I have on hand? Do I have buttermilk to make Sweet Hoecakes? Do I have sour cream to make the Sour Cream Jam Stacked Pancakes? The answer to both, no. So I started thinking…what can I use to make my pancakes flavorful and moist if I am out of buttermilk and sour cream. …Oh I know, those two over ripe bananas I have sitting on the counter! Sure I was going to make those Nutella Swirl Muffins, but hey — as I already told you — every Sunday should start with pancakes! 🙂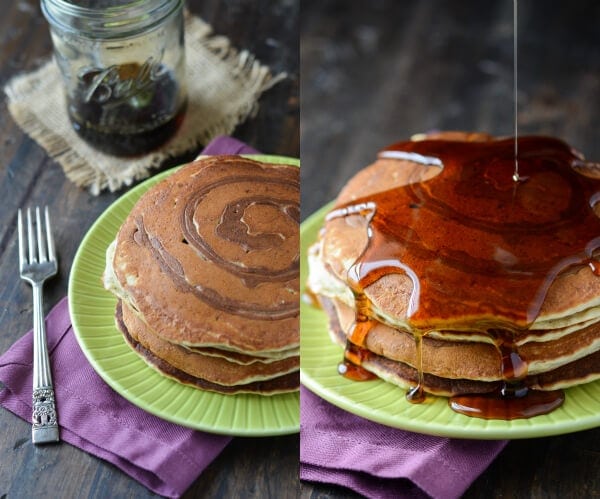 The Cinnamon Swirl On These Pancakes Is Easy To Make
I love the swirl on top of these pancakes! Isn't it fun?? I got the idea to swirl in the cinnamon from Recipe Girl. She did a cinnamon sugared filling, which I am sure is absolutely amazing, however I was trying to cut back a little on the total sugar in the recipe. …not that you could tell that by the enormous amount of syrup being poured on top of those pancakes!
What Do Banana Cinnamon Pancakes Taste Like?
The overall flavor of these Banana Cinnamon Swirl Pancakes is the perfect balance between banana and pancake. The banana is not overwhelming, but is still there. It is kind of reminiscent of banana bread, just not as banana-y. If you didn't want to go through the effort of swirling in the cinnamon, just add it into the regular batter. It will all taste the same in the end!
Yield: 6 large pancakes
Banana Cinnamon Swirl Pancakes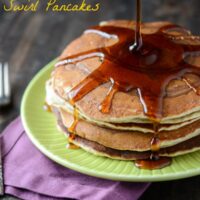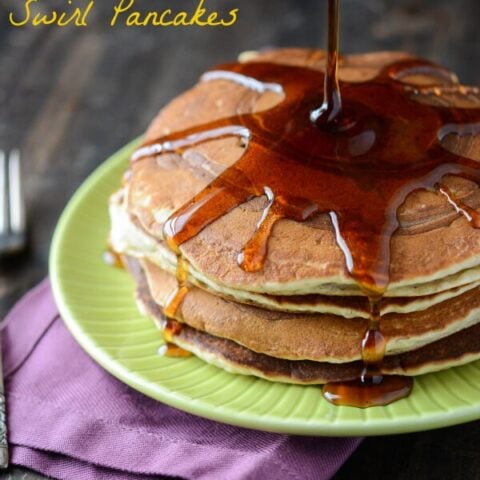 Banana Cinnamon Swirl Pancakes are a delicious and healthy breakfast recipe that is so easy to make! The whole family will enjoy these homemade banana pancakes! 
Ingredients
1 1/2 cups all purpose flour
1 tablespoon baking powder
1/4 teaspoon salt
2 over ripe bananas, mashed
1/4 cup sugar
1 large egg
2 tablespoons vegetable oil
1 cup plus 2 tablespoons milk
1 teaspoon cinnamon
maple syrup & butter for serving
Instructions
In a small mixing bowl, whisk together flour, baking powder, and salt. Set aside.
In a large mixing bowl, whip mashed bananas, sugar, egg and vegetable oil together until smooth. Add flour mixture, alternating with milk and stir until combined.
Transfer 1/3 cup batter to a small bowl. Whisk in cinnamon until combined. Transfer to a piping bag or a ziplock bag with the tip cut off.
Pour 1/4 cup of the regular batter onto a heated griddle. Immediately, pipe a swirl design onto the top of the pancake using the cinnamon batter.
Once little bubbles have started popping up, flip pancake and cook through. Continue process with all pancake batter. Serve warm with maple syrup and butter!
Nutrition Information:
Yield:
6
Serving Size:
1
Amount Per Serving:
Calories:

263
Total Fat:

8g
Saturated Fat:

2g
Trans Fat:

0g
Unsaturated Fat:

5g
Cholesterol:

37mg
Sodium:

363mg
Carbohydrates:

45g
Fiber:

2g
Sugar:

15g
Protein:

5g
This post may contain affiliate links. Read my disclosure policy.