This Homemade Banana Nut Bread Granola is so easy to make and perfect for using up overripe bananas. It makes for a tasty quick breakfast and it's gluten free!
Try adding this homemade granola to my Honey Almond Yoghurt Breakfast Bowl recipe for a delicious breakfast idea!
Homemade Banana Nut Bread Granola
In our old rental house, my office/photo room was all the way upstairs. It probably doesn't sound like a big deal to you, but that actually meant I had to drag everything up stairs whenever I wanted to photograph it. I cursed so much going up those stairs, with hot pans, that I am pretty sure I came up with new curse words.
As you all know, since it is all I can talk about, we moved last weekend. And my new office/photo room/prop room is literally right off the kitchen. There is a big french door that leads right from my kitchen into where I photograph food. It is spectacular and makes me excited again to be photographing! Not only do I not have to load myself up like a pack mule and climb the stairs with food and props in my hands, but it also gets glorious afternoon lighting.
The new kitchen and new office have totally re-energized me about cooking again. I was feeling a little BLAH in the old house. I am sure you all noticed, my recipes just weren't up to par anymore lately. But don't worry, I am so pumped to start breaking out new recipes now! :-)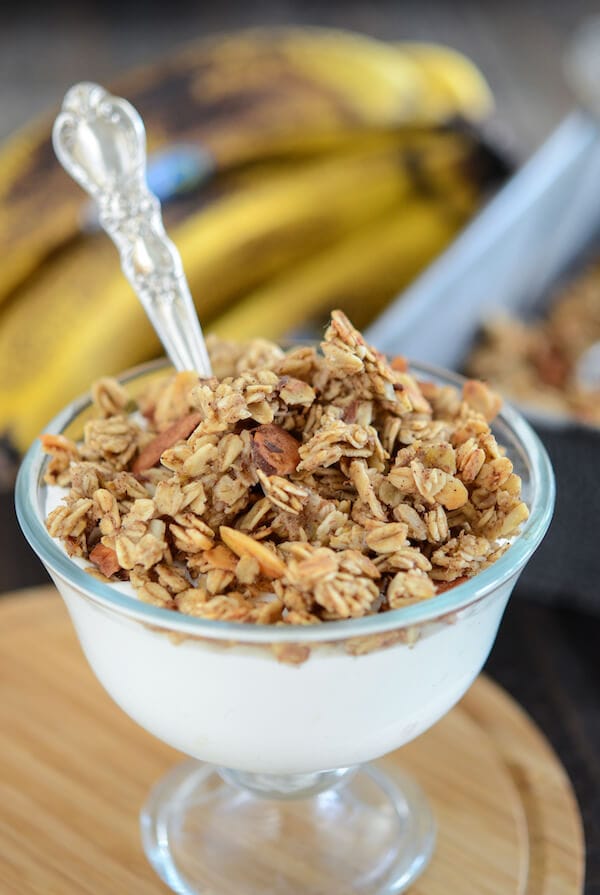 This Granola Recipe Is Great For Using Up Overripe Bananas
I have had this idea for Banana Nut Bread Granola for some time now. It was jotted down in the notebook where I keep ideas for later…and I kept forgetting to try it out. I knew it was meant to be when I saw I had some bananas that weren't looking so hot anymore. This recipe is the perfect way to use up a banana that has gotten a little too mushy to eat on it's own.
Sure you could make actual banana bread (or this Peanut Butter Banana Chocolate Chip Bread!!), but I sometimes get tired of making banana bread. As we have talked about before, Jorge eats A LOT of bananas…and we always have one or two that fall through the cracks.
Is Homemade Granola Easy To Make?
If you haven't made granola before, please don't be scared. You know how people say "It's as easy as Pie!". Well, I don't know about you, but I don't actually think pie is easy. Pie is a bitch…and a ton of things can go wrong. The saying should be: "It's as easy as Granola!", because granola is super easy.
Yield: 2 Cups
Homemade Banana Nut Bread Granola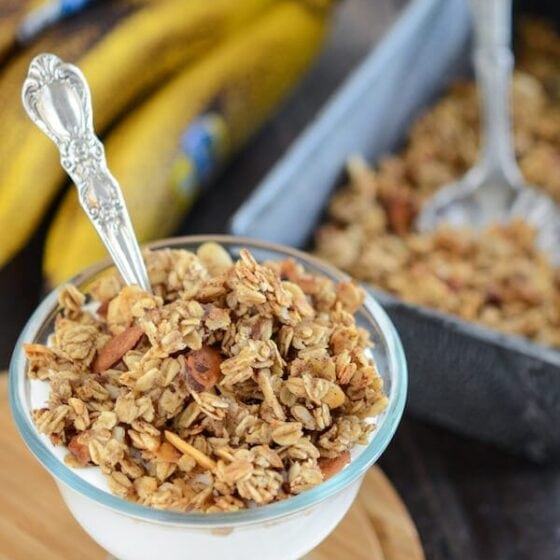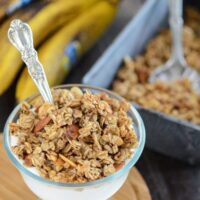 This granola is absolutely delicious and uses maple syrup instead of sugar. It is perfect on top of some vanilla greek yogurt in the morning...or for a snack straight out of the bag.
Ingredients
1 large over ripe banana, mashed
1 tablespoon cinnamon
1/4 teaspoon nutmeg
1/4 teaspoon salt
2 tablespoons butter, melted
1 teaspoon vanilla extract
1/4 cup pure maple syrup
2 cups old fashioned oats (also sometimes known as rolled oats)
1/2 cup roughly chopped nuts (walnuts, almonds, or pecans)
Instructions
Preheat oven to 325°F. Line a large baking sheet with parchment paper, set aside.
In a large bowl, combine banana, cinnamon, nutmeg, salt, butter, vanilla extract and maple syrup. I do this with a fork, just making sure I completely mashed the banana.
Fold in oats and nuts, stirring until well combined. You want to make sure the liquids are evenly distributed. Spread mixture evenly onto prepared baking sheet.
Bake for 25-30 minutes, stirring half way through baking, or until it turns slightly golden in color. You won't notice a huge color change, but it will darken slightly.
Allow to cool completely at room temperature. It will harden up as it cools. Store in an airtight container for up to a week.
Nutrition Information:
Yield:
4
Serving Size:
1
Amount Per Serving:
Calories:

398
Total Fat:

18g
Saturated Fat:

6g
Trans Fat:

0g
Unsaturated Fat:

11g
Cholesterol:

15mg
Sodium:

229mg
Carbohydrates:

54g
Fiber:

7g
Sugar:

18g
Protein:

9g
This post may contain affiliate links. Read my disclosure policy.