Berry Meyer Lemon Pancakes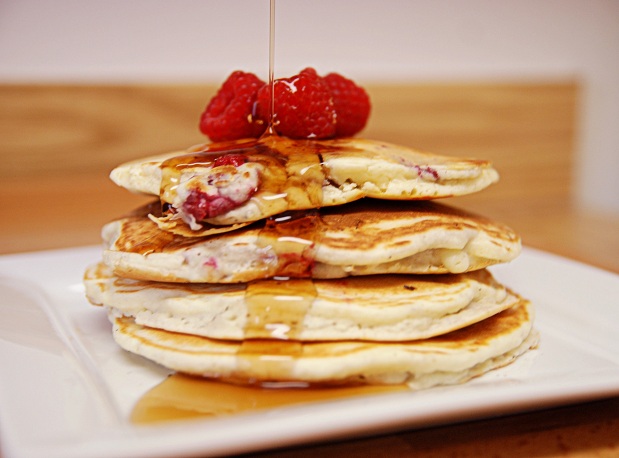 HAPPY BREAKFAST SUNDAY!
I must admit that breakfast is my favorite meal of the day. I have professed my love of breakfast on here before, but for good measure I thought I should tell you again. I have an obsessive, irrational, over the top love for breakfast. In highschool my family would always go to church on Sunday mornings followed by a family breakfast at a local Mexican restaurant. It was a huge buffet and they would make American breakfast classics along with some phenomenal Mexican breakfast dishes. It was one of my favorite days of the week; my parents probably didn't know it, since it was so uncool to enjoy spending time with your parents…and I thought I was that cool. Growing up I also loved to have breakfast for dinner. As a teenager I was extremely picky (even more so then now) and most of the time I didn't want what my Mom would cook, so I would eat cereal. Now as an adult, not much has changed! I could eat breakfast for breakfast, lunch, and dinner. Sadly I married a man who believes breakfast is for breakfast and no other time. I have tried bringing him over to the dark side but he refuses and will only eat breakfast…for well, breakfast. Which bring Sundays back into the running for my favorite day of the week because I wake up and make us a tasty breakfast. These pancakes were delicious and perfect for one of our lazy Sunday mornings. I loved the flavor of the lemon and raspberries. Perfect way to bring Spring into your kitchen, despite the fact that it hasn't shown up outside yet!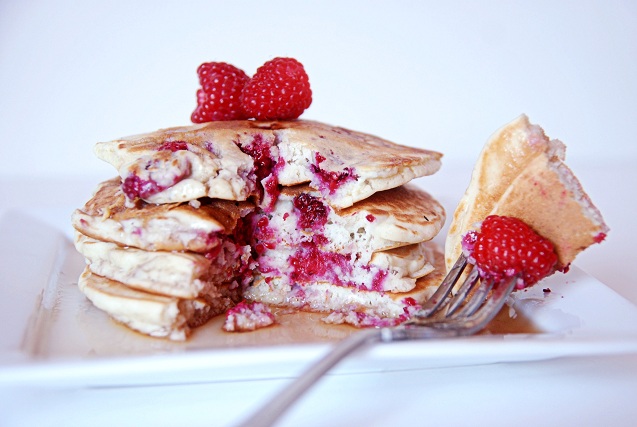 Berry Meyer Lemon Pancakes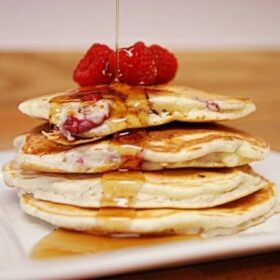 Ingredients:
1 egg
1 cup flour
1 Tablespoon sugar
zest of 1 Meyer lemon
1 teaspoon baking powder
1/2 teaspoon baking soda
1/2 teaspoon salt
1 cup buttermilk
2 Tablespoons butter, melted and cooled slightly
1 cup fresh raspberries
oil or butter for cooking
Directions:
In a small bowl rub the lemon zest into the granulated sugar until pale yellow and fragrant.
In a large bowl, whisk together the egg, buttermilk and butter. Add the flour, sugar, baking powder, baking soda and salt. Stir until just combined. The batter may be a bit lumpy. That's better than over-mixing the batter. Fold in the berries with a few strokes. Not much stirring necessary.
Heat a griddle pan or a cast iron skillet over medium heat. Add a teaspoon of oil or a dab of butter and heat through. Add 2 heaping tablespoons of batter to the pan. Heat until bubbles form and start to pop. Carefully flip over and cook through. Place cooked pancakes on an oven proof plate and let rest in a 200 degree F oven while you fry the rest of the pancakes.
Top pancakes with maple syrup.