Brown Butter Cinnabon Cinnamon Rolls
What's that? I haven't blogged in over a week? Ya…it's been bad around here. Really bad. I am staying at my Mom's, for the week, while she is off in Texas visiting our family. That means that I have been hanging out with my baby sister every night and watching wayyyy too many youtube videos. P.S. If you haven't yet, you MUST watch this video NOW. I could watch it 20 times a day and still love it. 
Yesterday we had Teddy Grahams for dinner. The day before we had the best cuban sandwiches in all of FL from Larry's Deli.  And the day before that we had cereal for dinner…and tonight I am eating frozen jalapeno poppers from deep in my mama's freezer. I'm pretty sure they are from 2007…but I'm sure they are still good. I mean, cream cheese doesn't go bad if it's frozen for 5 years…right?? Especially if it's wrapped up in breadcrumbs. Plus, it's gotta be healthy with Jalapenos technically being a vegetable. Look at that, I just reasoned myself into eating 4 more. I seriously have a gift.
So if it isn't obvious, it was time for something homemade. Something that didn't come from the freezer and required real ingredients. And by that, notice I didn't say healthy. 🙂 In comes the Brown Butter Cinnabon Cinnamon Roll. These babies are the Foxxy Cleopatra (come on, any Austin Powers fans out there besides me?!?!) of cinnamon rolls. I'm not even sure what that is supposed to mean, but it should mean they are seriously bad ass cinnamon rolls.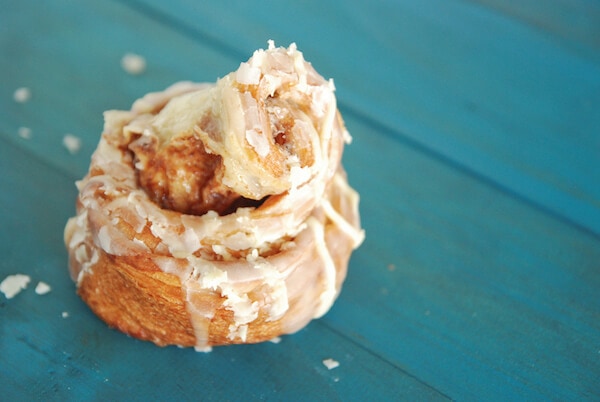 When I saw the fabulous Lauren of Lauren's Latest claim that she had finally made a cinnamon roll that was equivalent to a Cinnabon cinnamon roll, I cried and then I printed out the recipe and put it in my purse. Because, obviously, you never know when you are going to need your handy dandy cinnamon roll recipe.
But because I have an obsession, I made these darling little sugar bombs with browned butter. It's literally the best thing that has ever happened to a cinnamon roll. The nutty flavor without the nuts? And all that glorious browned butter frosting on top…it's like totally Shazam! …told you these were the Foxxy Cleopatra of cinnamon rolls.
Brown Butter Cinnabon Cinnamon Rolls
Ingredients:
3/4 cup warm water
2 1/4 teaspoons fast acting dry yeast
1/2 cup granulated sugar
1 teaspoon salt
1/4 cup buttermilk, at room temperature
1 egg
1/3 cup canola or vegetable oil
4 1/2-5 cups all purpose unbleached flour
1/2 cup (1 stick – 8 tablespoons) butter
1 1/4 cups packed light brown sugar
2 1/2 tablespoons ground cinnamon
2 tablespoons cornstarch
1/4 cup (1/2 stick – 4 tablespoons) butter
2 oz. cream cheese, at room temperature
1 teaspoon vanilla extract
1/2 tablespoon corn syrup
1 teaspoon fresh lemon juice
1 1/4 cups powdered sugar
Directions:
Making the Dough:
In a small bowl, combine buttermilk, oil and egg. Set aside.
In the bowl of a stand mixer fitted with paddle attachment, pour in water, yeast and 1 tablespoon of the granulated sugar. Whisk and let sit for 5 minutes. Once mixture looks bubbly and frothy, pour in remaining sugar and salt. Mix on low for 15-20 seconds. Add buttermilk mixture and mix till combined.
Switch to the dough hook on the stand mixer and pour 2 cups of flour into mixer and mix on low until incorporated. Then sprinkle flour in 1/4 cup at a time, mixing until dough forms a ball and no longer sticks to the sides of the bowl. Dough should be sticky, but not sticky enough to stick to your hands when touched. Once it has reached this stage, turn mixer on medium-high and knead for 5 minutes. Remove dough from bowl, grease with butter and replace back into same mixing bowl. Cover with plastic wrap and a dish towel. Rise 1-2 hours or until dough has doubled in size.
Filling and Cutting Rolls:
Preheat oven to 350°F and grease two 8×8 pans with butter or Baker's Joy spray.
Melt butter in a small saucepan over medium heat. Cook, swirling pan occasionally, until butter turns a deep golden color and you see dark flecks. Transfer to a bowl and let cool until no longer warm to the touch, about 20 minutes. (You can speed up this process by cooling it in the fridge.)
In a medium size bowl, stir brown sugar, cinnamon and cornstarch together until combined. Set aside.
Punch down dough and flour a large clean table liberally with flour. Lightly flour rolling pin as well. Roll dough out to be a 20×30 rectangle, while moving dough around to ensure it's not sticking to your work surface. Spread cooled brown butter over dough, being sure to go right to the edges leaving a 1-inch strip untouched on on the edges of dough.
Evenly sprinkle the brown sugar mixture onto the top of the brown sugar layer. Lightly press the sugar mixture into the browned butter layer using your hands. Roll the dough up into a tight log; sealing the edges with a little water and your finger. Cut log into 2 inch slices using dental floss (much easier and cleaner than a knife!).
Place in two greased 8×8 pans, leaving room for dough to rise/spread. Cover pans with plastic wrap and dish towels. Let rise another 1-2 hours or until they have risen almost double in size. Bake in a preheated 350°F for 14-16 minutes, or until tops start to brown. Watch them carefully!
For the Frosting:
While the rolls are baking, melt butter in a small saucepan over medium heat. Cook, swirling pan occasionally, until butter turns a deep golden color and you see dark flecks. Transfer to a bowl and let cool until no longer warm to the touch, about 20 minutes. (You can speed up this process by cooling it in the fridge.)
Then in a stand mixer, whip cream cheese and browned butter together. Stir in vanilla, corn syrup and lemon juice. Scrape sides and mix again. Pour in powdered sugar and stir slowly until it starts to incorporate. Then mix on high for 5 minutes or until frosting starts to lighten in color. Scrape sides and mix again briefly.
Once rolls have been removed from the oven, frost using half the amount made. Then after they have cooled a few more minutes, frost again with remaining frosting. The first frosting will melt down into the rolls and the second layer should stay put. Serve warm.