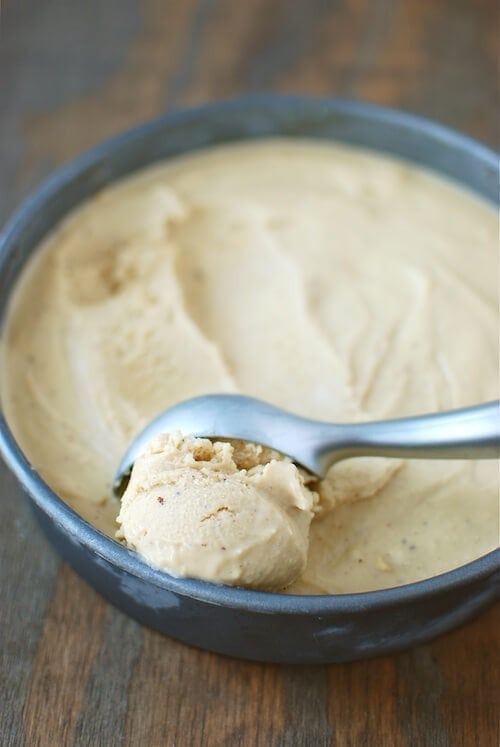 I have this problem where I get started on something and I just can't stop. I think most people would call it obsessive, but for me it's just normal. Once I get started on something, I can eat it for the next 5 days and not care. That Fontina Grilled Cheese with Arugula & Truffle Oil? Ya, you remember that one…who could forget?! Well, I ate that exact sandwich for lunch for 4 days. I could have gone longer, but I ran out of Fontina cheese. In this month alone, I have also been having a love affair with those candy apple suckers and diet cherry limeades from Sonic.
But nothing compares to my absolute dedication to Brown Butter. I think I could start a religion where we would worship Brown Butter, eat it at every meal and writhe around naked in it on a full moon. Uhh, did I go to far? ::sigh:: You just can't understand my obsession until you have had it yourself.
Long story short: I can't stop eating anything with Brown Butter. I'll take it anyway I can get it….cake, cookies, or straight out of the pot. So I put it into ice cream. Thick, real cream, ice cream.
It's nutty. It's creamy. It's rich. It's 'effing amazing. And I am not sharing mine with anyone. :-D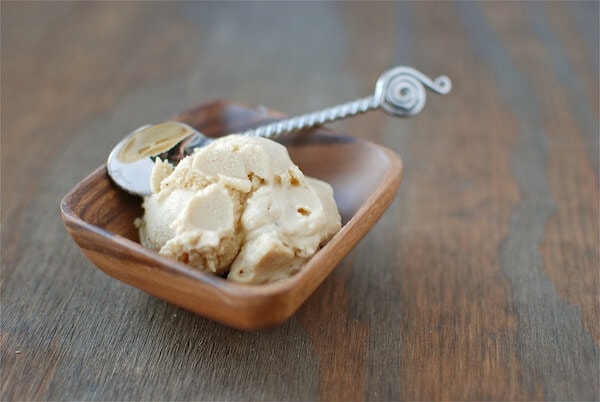 This ice cream comes with warnings:
1. Be Prepared: Don't make it unless you are totally prepared to have your significant other start rolling you around the house. Once you eat your weight in ice cream, I don't think your legs will work anymore.
2. Brown That Butter: Don't wimp out and take your butter off the stove too soon. You want it dark and golden brown with lots of flecks swirling around the pan. Otherwise you won't have that delicious nutty quality…and instead will have Butter flavored Ice Cream.
3. Soft Serve: This recipe makes ice cream my way. That means instead of the traditional hard ice cream, this creates a softer ice cream like Soft Serve. I hate hard ice cream. Anytime I eat it, I swirl it around my bowl with my spoon till it becomes more like traditional soft serve. So this recipe makes delicious soft serve ice cream right out of the freezer. You're welcome Soft Serve Lovers!
4. Ice Cream Maker: Yes you need one. I have this one. You can also watch to see if the older version of that one goes on sale. Or you can buy the one that hooks up to your stand mixer. You seriously must have one of these before Summer, so go ahead and add it to all your wishlists.
5. Make Two Batches: Go ahead and buy enough ingredients to make two batches. You will eat the entire first batch before you even realize what has happened. And when your husband figures out there is none left, that old excuse of "I was just taste testing it" won't fly. Trust me, I tried it.
You have been warned. Proceed with caution.
Yield:
8
normal-sized servings
Brown Butter Ice Cream
Brown Butter Ice Cream is a sweet, homemade ice cream recipe that you can cool down with on a hot day! If you're a fan of soft serve ice cream, you'll love this brown butter dessert masterpiece.
Ingredients
1

stick

,

8 tablespoons unsalted butter

1

cup

packed brown sugar

½

teaspoon

salt

8

egg yolks

1

tablespoon

vanilla extract

2 ½

cups

heavy cream

½

cup

whole milk
Instructions
Melt butter in a small saucepan over medium heat. Cook, swirling pan occasionally, until butter turns a deep golden color and you see dark flecks. Transfer to a bowl and let cool until no longer warm to the touch, about 20 minutes.

Cream together browned butter, brown sugar and salt until light and fluffy. Add egg yolks and vanilla extract, whisk till combined. Slowly pour in the heavy cream and milk, whisking the entire time, until their are no lumps.

Transfer mixture to a large saucepan over medium high heat and bring to a boil, stirring occasionally. Once boiling, lower heat to medium. Let mixture simmer, stirring as needed, until thickened. When thickened, the custard will lightly coat the back of a metal spoon.

Pour into a glass bowl and allow to chill completely, about 2 to 3 hours in the fridge. Once cooled, transfer mixture to your ice cream maker and mix according to manufacture instructions. Then place in an airtight container and freeze for at least 6 hours to let it fully set up. Stores for up to 3 months in the freezer!
Nutrition
Serving:
1
,
Calories:
421
kcal
,
Carbohydrates:
26
g
,
Protein:
5
g
,
Fat:
33
g
,
Saturated Fat:
20
g
,
Polyunsaturated Fat:
11
g
,
Trans Fat:
1
g
,
Cholesterol:
274
mg
,
Sodium:
185
mg
,
Sugar:
25
g
Key Lime Pie Frozen Yogurt from TNCB
Cookie Ice Cream Sandwiches from Formal Fringe
Toasted Almond and Candied Cherry Ice Cream by Brown Eyed Baker
Key Lime & Vanilla Bean Buttermilk Ice Cream by Guilty Kitchen
BlackBerry Ice Cream Pie from Dessert For Two
Chocolate Sea Salt Cookie & Dulce De Leche Ice Cream Sandwiches by TNCB
This post may contain affiliate links. Read my disclosure policy.