This Brown Butter Bourbon Almond Financier is so delicious served with fresh fruit and whipped cream. This French almond cake is full of flavor and perfect for a light after dinner dessert.
Looking for more almond dessert recipes? Try this White Texas Almond Sheet Cake or this Almond Amaretto Pound Cake!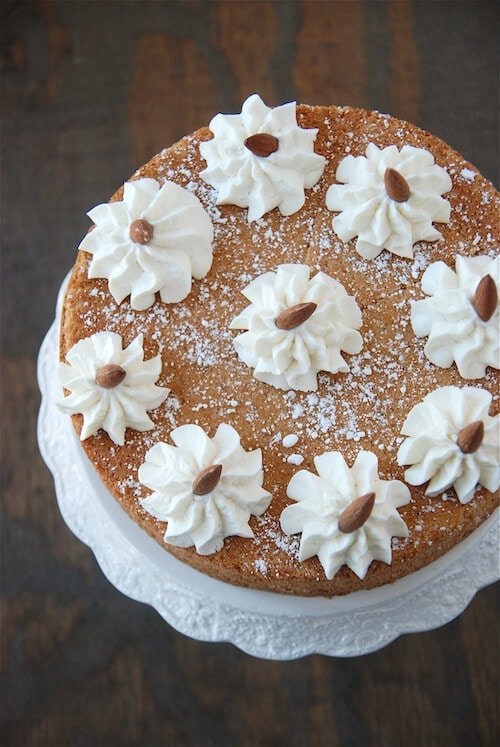 Brown Butter Bourbon Almond Financier
I know. You don't have to tell me, I have no excuse. You are all going to join together to send me to brown butter rehab, aren't you? Please try to send me to a nice facility where there might be sexy famous people…it will make the detox pains a little more tolerable.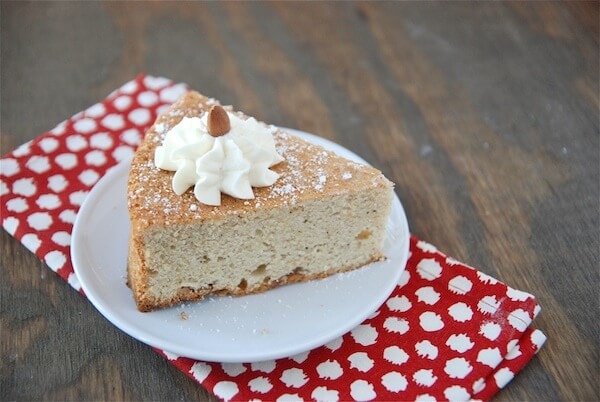 Brown Butter And Bourbon Make This Almond Cake Delicious
This week I found myself with what felt like a gallon of leftover egg whites. I made egg white omelets. I made fruity pebble macarons. And I made meringues till I was blue in the face. But I still had a whole cup of egg whites left…and I just couldn't face another stinkin' egg white omelette.
So I knew what I had to do. I had to make one of those fancy schmamcy French Financiers. The English serve them with fresh fruit at high tea. I serve them filled with bourbon and brown butter, at midnight, standing over the sink.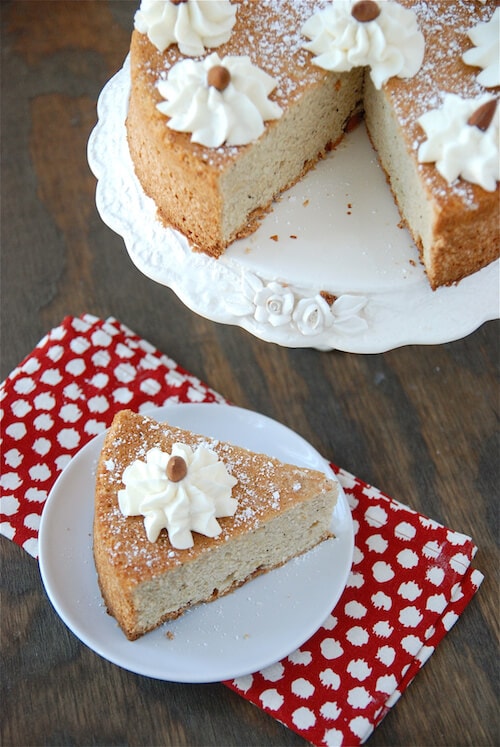 A Financier may typically be straight almond, but the French sure don't know what they are missing! The nuttiness from the brown butter really helps to intensify and deepen the flavor from the almonds. And on top of that, the bourbon helps to give the cake a warmth…like a giant cake hug. 🙂
Yield: 1 cake
Brown Butter Bourbon Almond Financier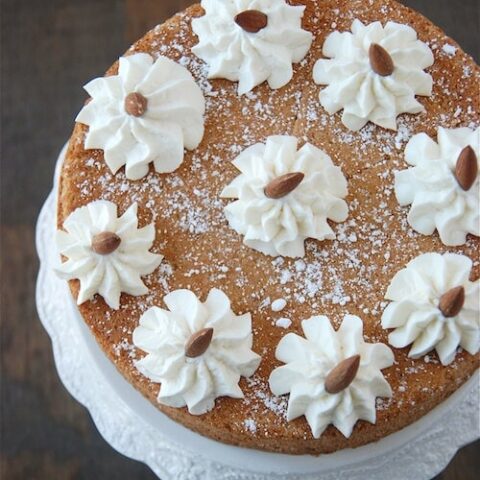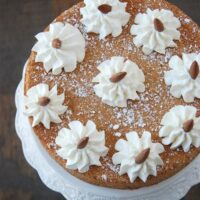 This French almond cake is full of flavor and perfect for a light dessert. It's a Brown Butter Bourbon Almond Financier that is absolutely delicious served with fresh fruit and whipped cream!
Total Time
1 hour
8 minutes
Ingredients
1 1/4 stick (10 tablespoons) unsalted butter
2 tablespoons bourbon
2 teaspoons vanilla extract
4.5 oz almond meal (about 1 cup, minus 2 tablespoons)
1 cup all purpose flour
1 1/2 cup granulated sugar, divided
1/2 teaspoon salt
1 cup egg whites (about 8 large eggs)
Instructions
Melt butter in a small saucepan over medium heat. Cook, swirling pan occasionally, until butter turns a deep golden color and you see dark flecks. Transfer to a bowl and let cool until no longer warm to the touch, about 20 minutes. Then stir in bourbon and vanilla and set aside.
Preheat oven to 350 degrees. Grease a 10-inch springform pan and line the bottom with a round of parchment paper.
In a medium bowl, whisk together almond meal, flour, 1 cup granulated sugar and salt. Make sure there are no lumps from the almond meal. Set aside.
In a stand mixer, begin whisking egg whites on medium speed. Once you start to see a white foam form, slowly add the remaining 1/2 cup granulated sugar. Bump speed up to high and continue beating until stiff white peaks form.
Alternately fold the almond mixture & browned butter mixture into the egg whites, a third at a time, starting with the almond mixture & ending with the butter.
Pour into the prepared pan and smooth the top with a spatula. Bake for 40-45 minutes, or until golden & well risen and the center feels firm when pressed.
Remove from oven & allow to cool on a wire cooling rack in the pan for 5 minutes. Remove the sides & bottom of the pan and the paper and allow to cool completely on the rack.
Serve with fresh fruit (like strawberries) & homemade whipped cream. It is best fresh the first day, but can also be stored in an airtight container for up to 2 days.
Nutrition Information:
Yield:
8
Serving Size:
1
Amount Per Serving:
Calories:

335
Total Fat:

10g
Saturated Fat:

2g
Trans Fat:

0g
Unsaturated Fat:

8g
Cholesterol:

5mg
Sodium:

198mg
Carbohydrates:

53g
Fiber:

2g
Sugar:

39g
Protein:

8g
Want to Save This Recipe?
This post may contain affiliate links. Read my disclosure policy.