Browned Butter Toffee Blondies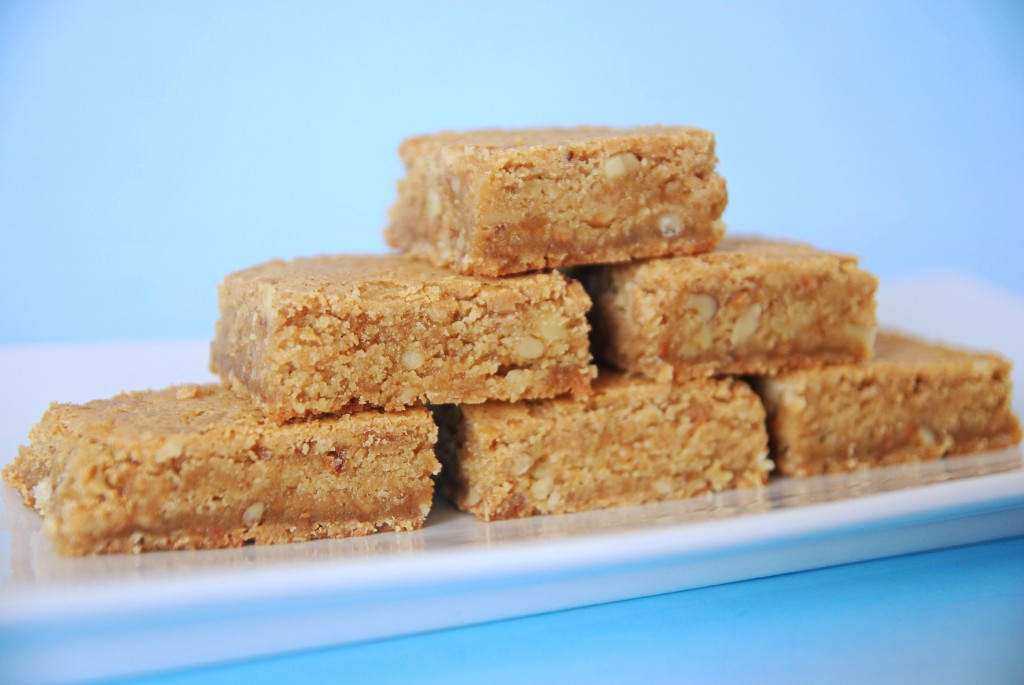 Do you ever see comedians on Comedy Central and it is just awkward? You watch them tell their jokes…and you can actually here the audience doing the "polite" laugh? Or even worse the nervous laugh? Tonight I was watching True Blood on the DVR and when it ended I got up and left the room. After a few minutes, the DVR then switched to whatever channel I was watching before, which happened to be Comedy Central. They had a guy on there…that I can not for the life of me figure out how he got his own 30 minute spot. The guy was horrendous. He was sweating like crazy, telling horrible sexiest/racist jokes, and you could really tell the audience was not feeling it. And I found myself still watching it, feeling bad for the guy.
I do that with blogs too, because blogging is a lot like being a performer. Except here we don't get to read the crowd and see if you are laughing, and you can not hear our tone of voice. Instead, we write it all out, and hope you got what we were saying…and cross our fingers that we didn't make some major spelling error that we didn't catch. I read some of what people write on blogs sometimes and I wonder why they even bothered because it really didn't make any sense or when they were trying to be funny it came off awkward. Or there are the other people who don't bother to write anything except "This was good" and I think that might be even worse since they did not even give it a shot. And then you have the ones like me that ramble on and on and on and on and …well you get the point.
Either way, I hope I never end up like that guy on stage tonight. If I do, please grab the cane and pull me off of this stage because I don't want to go down with nervous laughter and buckets of sweat like he did…I would much rather go down with these Browned Butter Toffee Blondies instead! I actually made this recipe a couple weeks ago to send with Jorge to the office before he left for a new job. All of the guys loved these and some asked for the recipe (I am sure they plan on passing it on to their wives and not planning on strapping on an apron themselves)! I really loved the flavor of these and I think browning the butter really helps to add a depth of flavor!
Browned Butter Toffee Blondies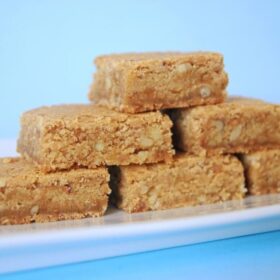 Ingredients:
1 1/4 cups (2 1/2 sticks) unsalted butter, plus more for pan
2 1/4 cups all-purpose flour, plus more for pan
1 1/2 teaspoons baking powder
1 1/2 teaspoons salt
2 cups packed light-brown sugar
1/2 cup granulated sugar
3 large eggs
2 1/2 teaspoons pure vanilla extract
1 cup chopped walnuts (about 4 ounces)
1 cup toffee bits
Directions:
Preheat oven to 350 degrees. Butter a 9-by-13-inch baking pan. Line bottom of pan with parchment paper; butter and flour parchment paper.
In a saucepan over medium heat, cook the butter until it turns golden brown; remove from heat, and let cool. Whisk together flour, baking powder, and salt.
In the bowl of an electric mixer, combine browned butter and both sugars; stir with a wooden spoon until combined. Attach bowl to mixer; add eggs. Using the paddle attachment, beat on medium-high speed until light and fluffy, about 3 minutes. Add vanilla, and beat to combine. Add flour mixture, walnuts, and toffee bits. Mix until thoroughly combined, and pour into prepared pan.
Bake until a cake tester inserted in the center comes out clean, 35 to 40 minutes (do not overbake). Transfer to a wire rack to cool completely before turning out of pan onto a cutting board. Peel off parchment paper; cut blondies into 3-inch squares. Blondies can be stored in an airtight container at room temperature up to 3 days.