Buffalo Chicken Poppers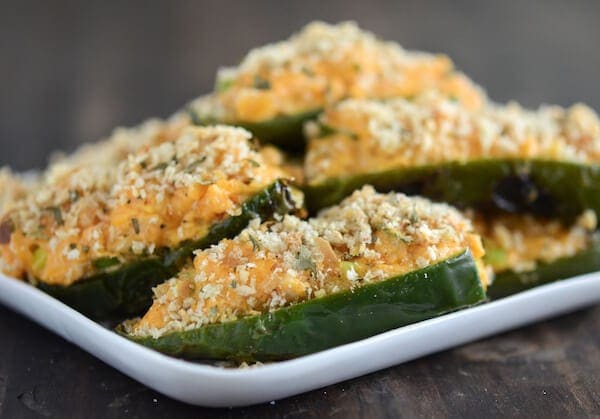 My mom and I are both huge jalapeño popper fans. BIG TIME. Since Jorge had his first work trip out of town, my mom has been staying with me to help take care of the girls. We pretty much do nothing else besides feed babies and change diapers, but occasionally we remember to eat. 😉
A couple of nights ago we roasted some chicken and we had some leftover chicken to use up the next day. So I went with what we had in the fridge already, and these Jalapeño Poppers were whipped up. We weren't expecting too much, but after our first bite we shoved at least 2 more in our mouths. These are my new favorite way to eat jalapeño poppers!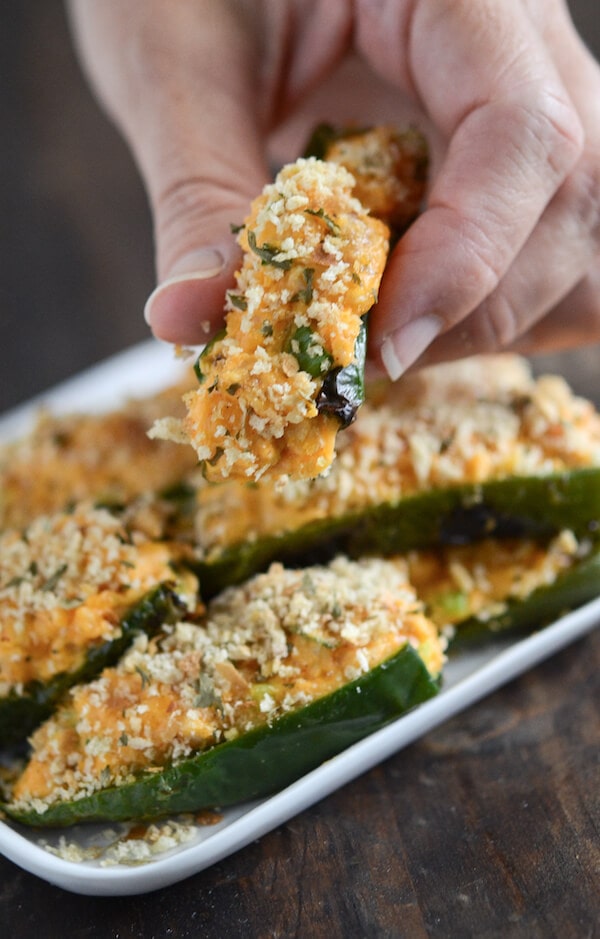 This recipe features PHILADELPHIA Cream Cheese and Frank's RedHot Buffalo Sauce. PHILADELPHIA Cream Cheese and Frank's RedHot have partnered together on a ton of recipes (like these Bacon Wrapped Buffalo Chicken Bites or these Buffalo Chicken Won Ton Cups) and now I see why! They truly pair perfectly together between the cool creaminess of PHILADELPHIA Cream Cheese and the bold spicy flavors of Frank's RedHot.
I use PHILADELPHIA Cream Cheese for many reasons, but the most important reason is quality. PHILADELPHIA has been around since 1872 and uses all real fresh ingredients in their cream cheese. It's all real, fresh, local milk from farms nearby the creameries and is made into cream cheese in just six days. You will find ZERO preservatives in the Original PHILADELPHIA Cream Cheese variety!
Buffalo Chicken Poppers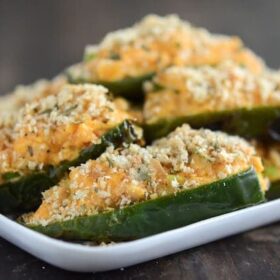 Ingredients:
6 large jalapeños, seeded and sliced in half lengthwise
4 oz PHILADELPHIA Cream Cheese, softened
3/4 cup shredded chicken
1/3 cup shredded sharp cheddar cheese
2 green onions, minced
1 1/2 teaspoons Frank's RedHot Buffalo Sauce
1/4 teaspoon salt
1/3 cup seasoned breadcrumbs
Directions:
Turn oven on to broil. Cover a large baking sheet with foil and spray with non-stick spray. Place peppers on prepared pan, skin side facing up. Cook for 5 to 7 minutes, until the skin is starting to blister and blacken in places. Remove from oven.
While peppers are broiling, in a medium size bowl, combine cream cheese, chicken, cheddar cheese, green onion, buffalo sauce and salt.
Preheat oven to 375°F.
Let jalapeños cool for a couple of minutes, or until you can touch them without burning yourself. Once peppers are manageable, stuff with chicken mixture and place back on prepared pan. Sprinkle tops with breadcrumbs and lightly press breadcrumbs so they stick.
Bake poppers for 8 to 10 minutes, or until bread crumbs start to slightly brown. Serve immediately.
This year I am happy to be an ambassador for PHILADELPHIA. While I have been compensated for my time, my opinions are my own.