Buffalo Hasselback Potatoes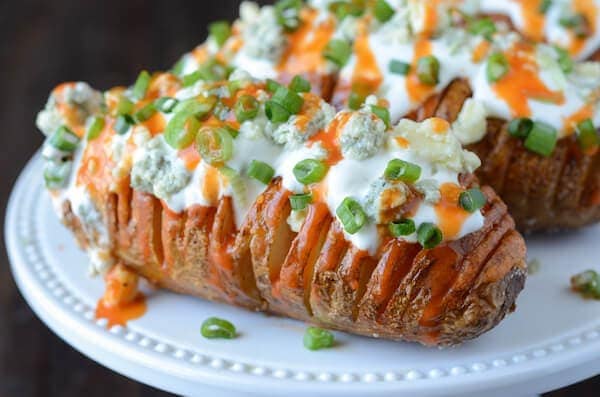 Tell me you are as into hasselback style potatoes as I am. If you are one of the few who hasn't had one yet — imagine a regular potato but 50 times better. They actually kind of remind me of an Outback potato if you have ever had one, because of the flavorful crispy skin and soft inside…but they are better because of the insane toppings you can add.
Sure you could add these toppings to a regularly cooked potato, but since these fan out with tons of tiny openings — all the deliciousness falls to the insides. It's absolutely divine.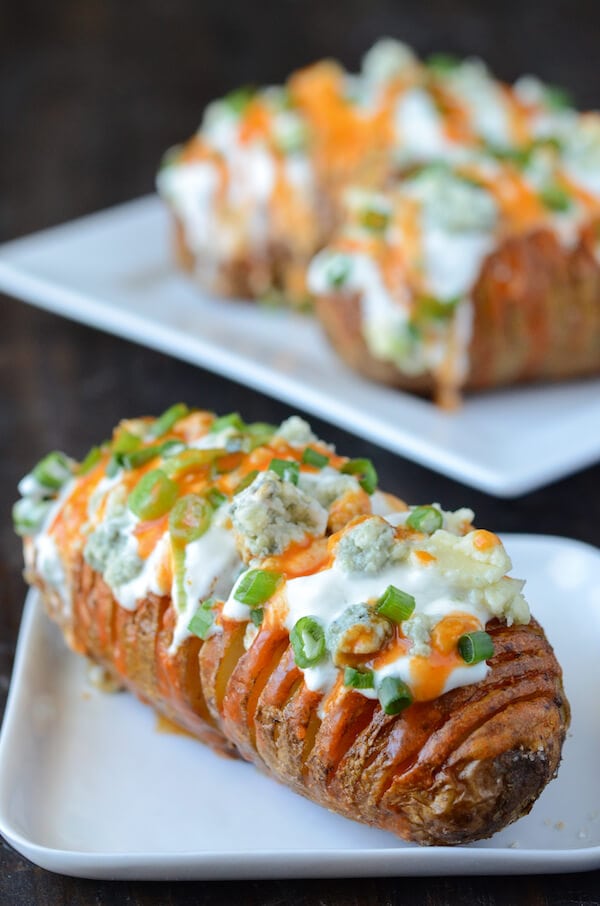 Since February is national Potato Lover's Month, the Idaho Potato Commission challenged six food bloggers from around the country to make a recipe featuring Idaho Potatoes. I was so happy to participate since I actually went to Idaho a few years ago and got to visit some of their farms.
This is one of my absolute favorite ways to make potatoes and I promise it will be yours too!
Buffalo Hasselback Potatoes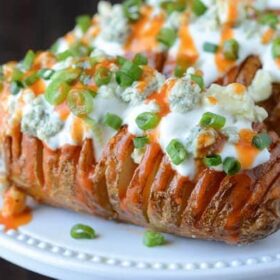 Ingredients:
4 Idaho® russet potatoes
1 tablespoon olive oil
1 teaspoon kosher salt
1 teaspoon freshly ground black pepper
1 tablespoon butter, melted
2 tablespoons buffalo sauce
½ cup sour cream
⅓ cup crumbled blue cheese
3 green onions, chopped
buffalo sauce for topping, optional
Directions:
Preheat oven to 400°F.
Create thin slices down the length of each potato (approximately ⅛ inch apart), stopping about ¼ inch from the bottom. Rub each potato with olive oil, salt and pepper.
Place potatoes on a baking sheet. Bake potatoes until crispy on the top and tender in the center, about 1 hour. The potatoes will fan out during cooking.
Whisk together melted butter and buffalo sauce. Once cooked, remove potatoes from oven and brush the tops with buffalo sauce mixture. Return to oven and cook 5 minutes more.
Remove potatoes from oven and top them with sour cream, blue cheese, green onions and an additional drizzle of buffalo sauce. Serve immediately.
This post may contain affiliate links. Read my disclosure policy.