This Buttermilk Pumpkin Pie is the most incredible combo of two American favorites! Traditional flavors of pumpkin and spice come together with velvety buttermilk filling in this unexpected take on classic Thanksgiving desserts. Top with whipped cream for a slice of heaven that's truly the best of both worlds!
Homemade Buttermilk Pumpkin Pie
Are you ready for a pumpkin pie game-changer? This Thanksgiving, it's time to introduce buttermilk into the mix! This recipe is a perfect combination of two classic American desserts— pumpkin pie and buttermilk pie. After such great success with the combination of pumpkin pie and cheesecake with my Easy Pumpkin Pie Cheesecake recipe, I can say with certainty that mixing up the classics is my new favorite thing!
This recipe is simply amazing for two reasons: first, it has all the beloved, familiar flavors of a traditional pumpkin pie (cinnamon, nutmeg, clove); enough to satisfy any purist. Secondly, it has that indescribably tangy, silky quality that only comes with buttermilk pie, that takes this combo to the next level!
It starts with a traditional pastry pie crust (you can use store bought or my favorite homemade pie crust), and the delicious pumpkin and buttermilk filling comes together in no time at all. You'll see why this pie has instant fans at any Thanksgiving function!
What is Buttermilk Pie? Why Add Pumpkin?
I can't be the only one who feels that there's something sacred about a traditional pie. Right? A Buttermilk Pie is a classic Southern dessert and one of the "desperation pies", meaning it's made using simple, staple ingredients (sugar, butter, eggs, buttermilk, and wheat flour). It's similar to a custard pie, or creme brûlée in flavor; deliciously sweet and tangy with a buttery texture.
Given that Buttermilk Pies have stood the test of time through the likes of the Great Depression, you might wonder, why add Pumpkin? Both Pumpkin and Buttermilk pies are classics, and let me tell you, remixing such tried and true favorites, especially at Thanksgiving, always feels just a little bit risky!
Let me put your mind at ease with this recipe for a spicy, silky, buttery, pumpkin-packed dessert that is only possible by combining the two! This Buttermilk Pumpkin Pie is so good and just as easy to make for Thanksgiving dessert, it begs the question, "Why not add pumpkin to buttermilk pie?!" Wherever this pie ends up, it doesn't last long!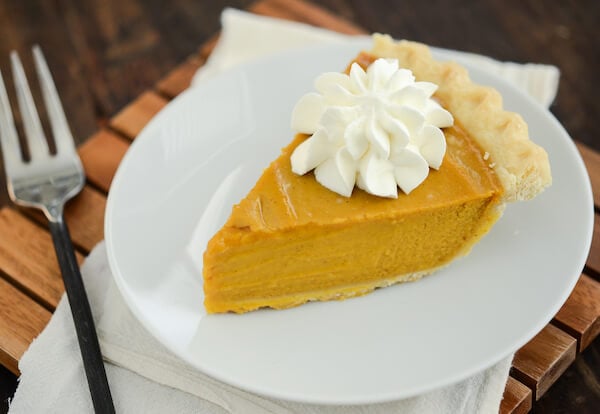 What You'll Need
While this recipe combines two classic pies, it doesn't completely throw tradition out the window. In keeping with its history of simplicity, Buttermilk Pumpkin Pie uses staple ingredients from a buttermilk pie recipe – plus some extra fall favorites!
Pie Dough: You can make your own dough or use a prepared pie pastry or crust from your local grocery store.
Pumpkin Puree: Be sure to get one can of pure pumpkin puree, and not pie filling.
Eggs: Free range or any large eggs.
Buttermilk: You can find buttermilk in the dairy aisle.
Light Brown Sugar: Gives a nice lighter flavor than dark brown sugar.
Pure Maple Syrup: A healthy splash of maple syrup punches up the fall flavors.
Vanilla Extract: Pure extract has the best flavor.
Spices: You'll need classic Pumpkin Pie spices, so cinnamon, nutmeg, and cloves.
Salt: Balances out the sugar.
Whipped Topping: Whipped cream or Crème Chantilly to top your pie when serving.
How to Make Buttermilk Pumpkin Pie
Just like a classic Buttermilk or Pumpkin Pie, I love how easy this combination pie is to make. It's basically only four simple steps! So not only is this a delicious Thanksgiving dessert option, but it's a time saver, too.
Step 1: While your oven is preheating to 350°F, roll out your dough. Place the flattened pie dough into a 9-inch pie plate, firmly pressing the dough into the bottom and up the side. Fold the extra dough under itself and crimp with a fork – in a pinch, just use your fingers (pun intended)!
Step 2: Once the dough is prepared, line the pie shell with aluminum foil, enough to cover edges. Fill the shell with pie beads (if you don't have pie beads, uncooked beans do the trick!) and bake for 25 minutes. Baking the shell helps set the pie crust and prevents it from becoming soggy.
Step 3: While the shell is baking, in a large bowl, whisk together the filling ingredients: pumpkin puree, eggs, buttermilk, brown sugar, maple syrup, vanilla extract, cinnamon, nutmeg, cloves and salt.
Step 4: When the pie shell is ready, pour in the filling and bake your pie for one hour, or until the filling has set and a skewer or toothpick comes out clean.
Allow your pie to cool, then either store it for later or serve it up with a spoonful of fresh whipped cream!
Tips for Success
Bake The Shell First: Adding buttermilk to the pie filling can thin it a bit and cause the dough to become soggy while baking. Avoid this by pre-baking your pie shell before filling it to keep the texture. I often like to pre-bake my pie shells a little anyway!
Avoid Separation: As an extra precaution against your filling separating when mixing, try adding the dry ingredients to the eggs first followed by the buttermilk.
Let It Cool Enough: For the very best results, allow your pie to reach room temperature or lower for serving. This way it doesn't risk being runny!
Serving Suggestions
Serve your Buttermilk Pumpkin Pie when it's warm from the oven, cooled in the fridge, or at room temperature depending on your preference. If you're looking for some added sweetness and luxury, top the slices with Chantilly cream instead of regular whipped cream!
Likewise, you can get creative with different toppings like berries and fruits, caramel or chocolate sauces, or crumbled nuts.
How to Store this Pie
To store your pie, cover or wrap any leftover pie to keep in the refrigerator for up to 3 days. Reheat your pie by warming it in the oven at 325°F until it's heated through.
Can I Freeze This Recipe?
Otherwise, you can freeze your Buttermilk Pumpkin Pie by wrapping it well or storing it in a freezer-safe container. Your pie will keep for up to 2 months when frozen! Just remove it from the freezer to thaw overnight in the fridge before you serve it.
More Pumpkin Desserts
Try out these other delicious holiday dessert recipes featuring my favorite fall ingredient: Pumpkin!
I just know you'll love this pie as much as I do! Head on over to Dixie Crystals for the full recipe for this Buttermilk Pumpkin Pie.
This post may contain affiliate links. Read my disclosure policy.