Last week I was out having drinks with some girlfriends at a new swanky restaurant/bar. And before we start, yes I am the type of girl that enjoys those $12 ridiculous drinks -judge away. I like the fun colors and the fancy alcohols…but I really love the creativity the bartenders (or as they now call themselves, mixologists) put behind the drinks. I started off with a Watermelon Punch Mojito, dove into a Passion Pop Rock Martini and then was checking the menu for my next conquest. I was consulting the bartender on my next choice, when told me he had something really special just for me. First I thought maybe he was giving me his number -calm down Jorge, I would have pointed out my ring- but instead a pure white martini was placed in front of me.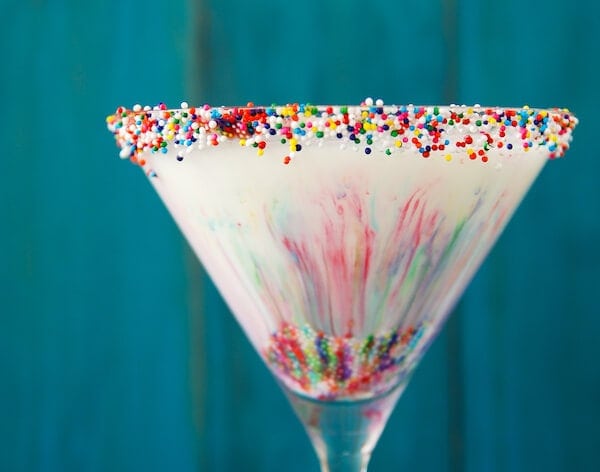 I wasn't quite sure about it…hello? Where are the colors and the cool garnishes? But then I took a sip… CAKE BATTER! Seriously, it was like the coolest birthday party, but in my mouth. I was hooked and proceeded to have another. I knew I could make one myself and even asked the bartender for his recipe. He told me no way, it was his secret. I handed him my card and told him to check here in a week. I promised I would make his Cake Batter Martini, but I would make it better.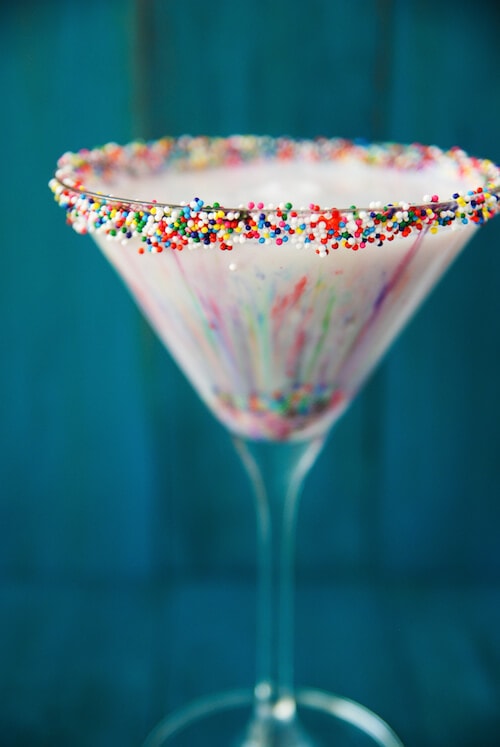 So Aiden, if you are here, I made it…and with the addition of sprinkles, I definitely made it better!
After a quick google session, I found this baby over on How Sweet Eats. Big surprise, homegirl thinks of everything! I used the Cake Vodka by Three Olives (Pinnacle also makes it) and used heavy cream to stick the sprinkles to the edges. To get the color drizzle effect, I just dropped some sprinkles around the edge right after pouring the martini.
Yield: 2 Martinis (or 1 BIG one!)
Cake Batter Martini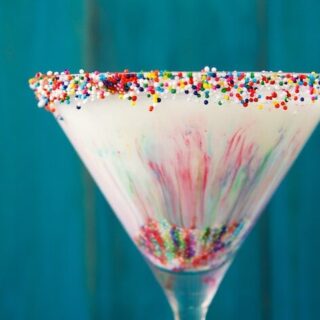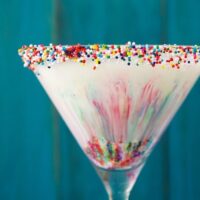 This Cake Batter Martini is absolutely the drink to celebrate your (or someone else's) birthday with--just look at those beautiful colors! Make this cake batter cocktail with vodka, amaretto, and more!
Ingredients
3 ounces Three Olives Cake Vodka
3 ounces white/clear creme de cacao
2 ounces amaretto
2 ounces heavy whipping cream
1 ounce Godiva white chocolate liqueur
sprinkles (I used nonpareils)
Instructions
Place sprinkles on a shallow plate that is a little larger than the mouth of your martini glass. Dampen a paper towel with whipping cream (or water) and wet the rims of the martini glasses. Dip glass into sprinkles to coat the edges.
Combine all ingredients in a cocktail shaker with ice and shake for about 30 seconds. Strain into martini glasses and drink!
Make ahead: For a big party, mix up a big bath of these martinis and store in a large pitcher in the fridge. Shake a glass at a time over ice whenever ready to serve!
Nutrition Information:
Yield:
2
Serving Size:
1
Amount Per Serving:
Calories:

549
Total Fat:

18g
Saturated Fat:

8g
Trans Fat:

0g
Unsaturated Fat:

9g
Cholesterol:

59mg
Sodium:

144mg
Carbohydrates:

52g
Fiber:

0g
Sugar:

47g
Protein:

2g
This post may contain affiliate links. Read my disclosure policy.