Ginger Peach Cupcakes
How do you know that you married the right man?
1. He buys you shoes. Expensive, beautiful, kickass shoes.
2. He watches horrible reality shows like Love In The Wild with you. And not so secretly enjoys them even more than you do.
3. He goes to the grocery store at 11pm to buy more butter, for buttercream, because you were not happy with the last 3 batches.
4. He eats the 4 cupcakes that you took tiny test bites out of because you already had 2 popsicles that day and your hips can't take anymore.
5. He doesn't make fun of the fact that you pick crumbs out of cupcake liners and pretend like those calories don't count. Seriously, CRUMBS DON'T COUNT PEOPLE!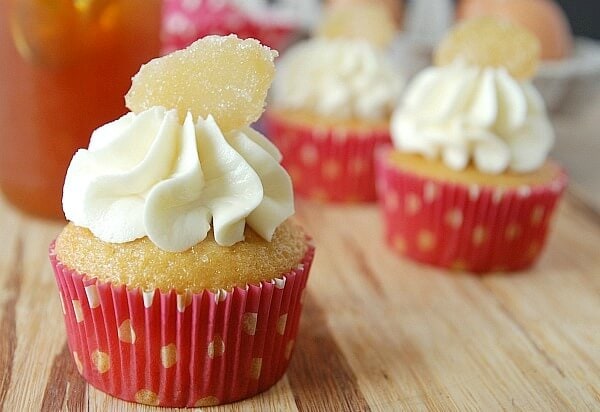 Ok maybe when I say "that you married the right man" I mean "that I married the right man". I have been working on this flavor of cupcake for quite some time. Ginger Peach Cupcakes are hard y'all. So I was thankful to finally have Jorge home to taste test for me. The cake for these is so light, clean, and wonderfully perfect that every buttercream I tried just over powered it. I tried a peach buttercream, a peach ginger buttercream, and even a bourbon buttercream. They all overpowered the light flavor of the Ginger Peach cake. There was only one thing left to try, Vanilla Swiss Meringue Buttercream. It's classic and not half as heavy as traditional buttercream.
The actual cake for this cupcake is amazing. It has taken me quite some time to get it perfect…but in my opinion, it is. I could totally see adding a crumb to it, baking it in a bundt pan, and calling it a Ginger Peach Coffee Cake. I could also see rolling around naked in it. But then again…I have probably gone too far.
Ginger Peach Cupcakes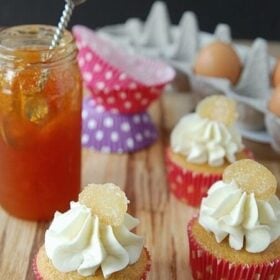 Ingredients:
1 1/2 cups all purpose flour
1/2 teaspoon salt
1/2 teaspoon baking soda
1 1/4 teaspoons baking powder
2 eggs
3/4 cup sugar
1 1/2 teaspoons ground ginger
2/3 cup peach preserves
1 1/2 teaspoons pure vanilla extract
1/2 cup vegetable oil
1/2 cup buttermilk
1/3 cup minced crystalized ginger
Directions:
Preheat oven to 350 degrees. Line a muffin tin with cupcake liners.
In a medium size bowl combine dry ingredients (flour, salt, baking soda, and baking powder). Set aside.
In stand mixer, beat eggs, sugar, ground ginger, peach preserves, vanilla extract, and vegetable oil.
With the mixer on low, alternate dry ingredients and buttermilk, until fully combined. Remove from stand mixer and gently stir in crystalized ginger.
Fill cupcake liners 3/4 full and bake for 16-18 minutes, rotating halfway through, until a toothpick inserted in the center comes out clean.
Cool and frost with Vanilla Swiss Meringue Buttercream.
Novice Chef Blog Original Recipe