Homemade buttermilk and chocolate Cherry Coke Cupcakes are glazed with cherry coke and topped with sweet whipped cream and a cherry on top!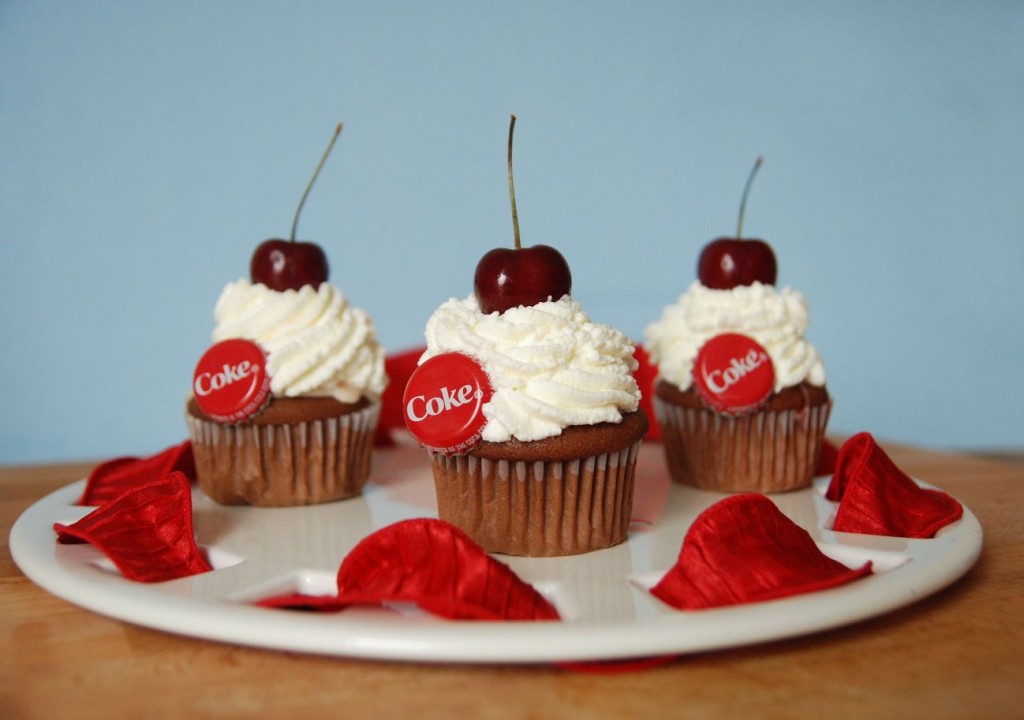 These cupcakes were fabulous! I really, really liked the actual cake part of the cupcakes. Then again, I am a self proclaimed Coke-A-Holic! Growing up I would beg my Dad to take me to the gas station and buy me a bottle of Mexico Coke. And what is Mexico Coke?
Well…it is coke, in the glass bottle, made in Mexico. Apparently the USDA came out and told people not to drink it because they found some bad stuff in it…something like lead, or lighter fluid, or anthrax. Whatever it was, it made for DELICIOUS Coke. Like honest to God crack (Let me just say I have no idea what actual crack is like, but if I would guess, I would say it is the equivalent of Mexico Coke).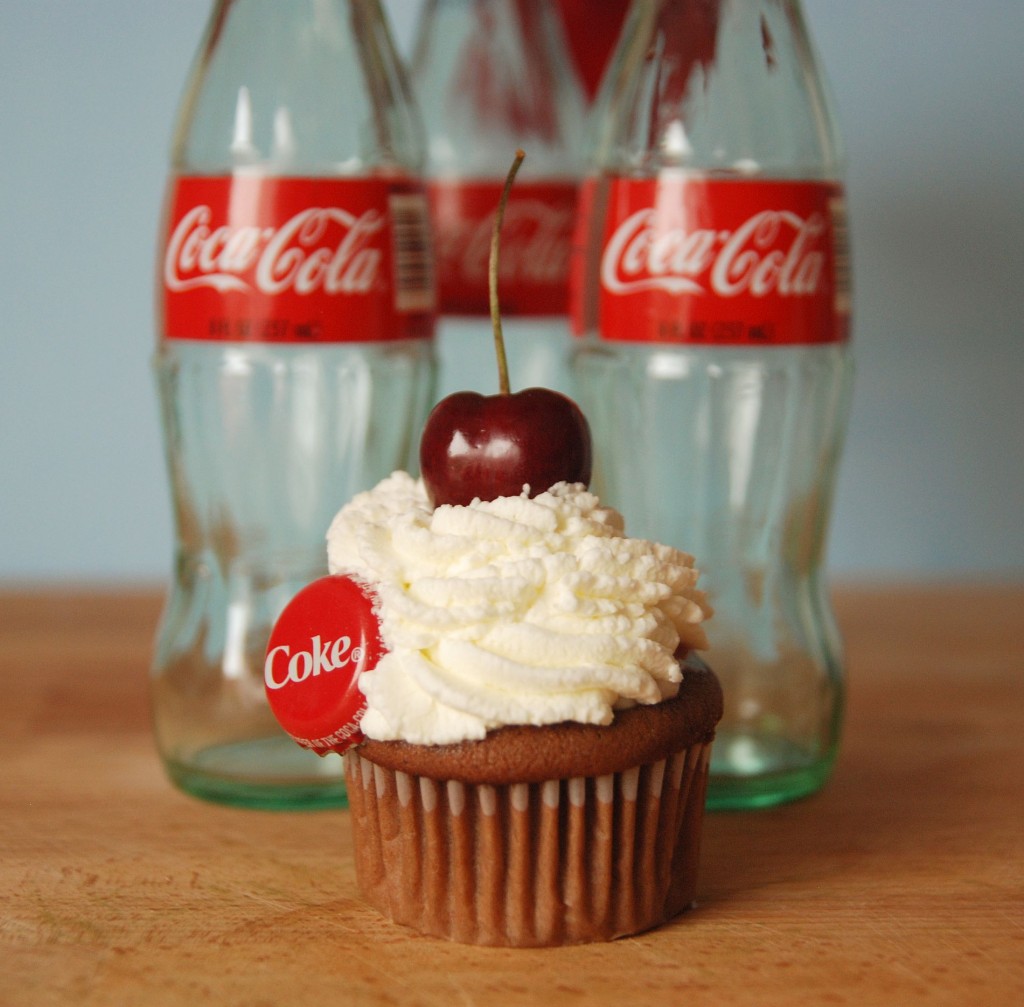 So to make these cupcakes, I knew I just had to go find some of the real Mexico Coke. In Texas, it was really, REALLY easy to find. Here in Florida….not as easy. However I drove on down to one of the Spanish stores around here and picked up a hundred couple bottles to make these cupcakes.
I think it really put the edge on the cupcakes. Coke in a glass bottle has a lot stronger flavor then regular coke, so it gave it that extra bit. The cake was moist, delicious, and with a great hint of Coke. When filled with the cherries, topped with the glaze and whip cream frosting…they really take on a Coke Float likeliness! I was really happy with how these turned out and plan on making these again!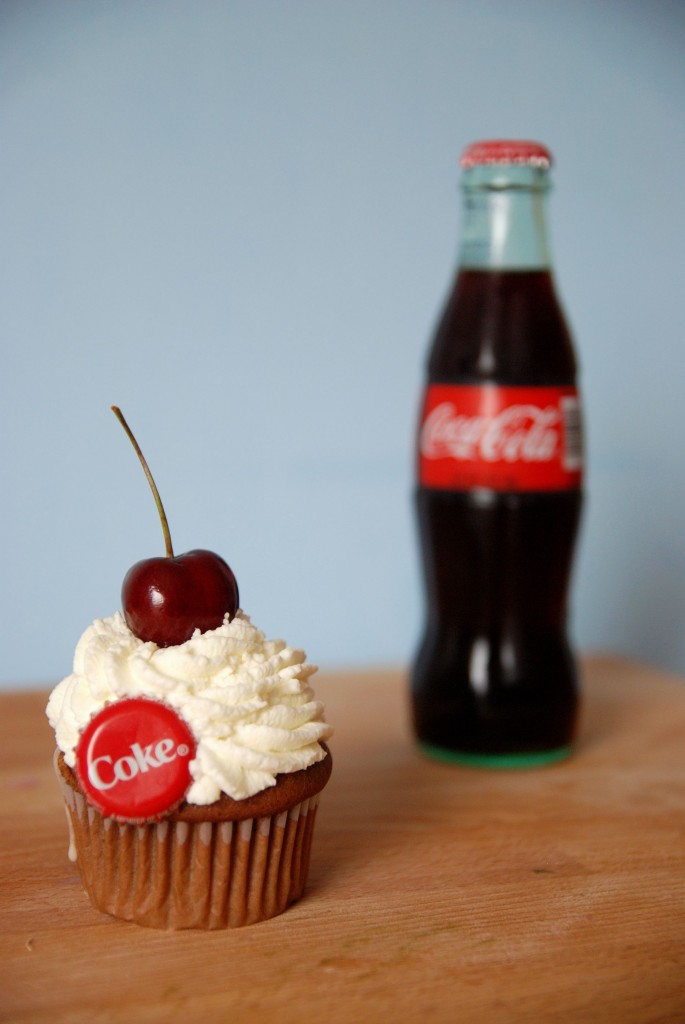 Yield: 24 Cupcakes
Cherry Coke Float Cupcakes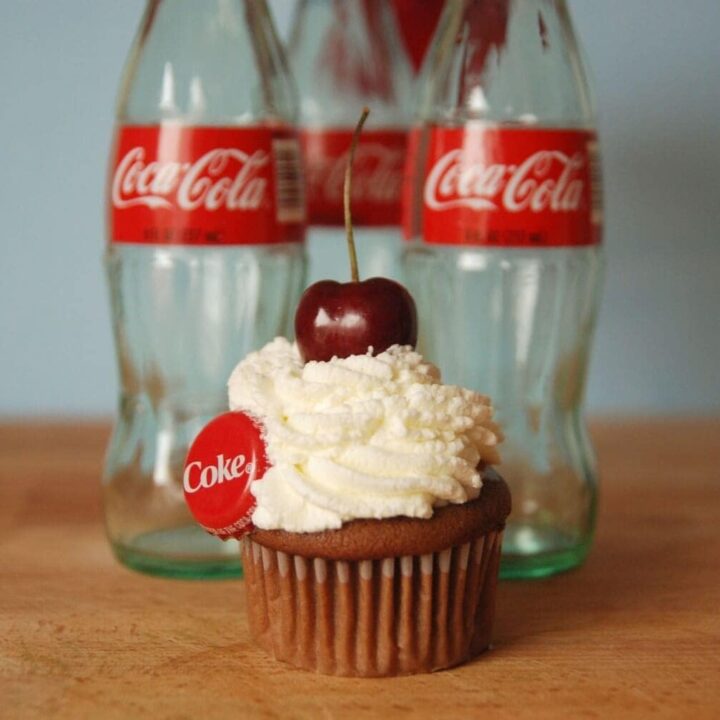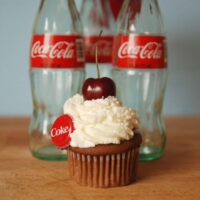 Homemade buttermilk and chocolate Cherry Coke Cupcakes are glazed with cherry coke and topped with sweet whipped cream and a cherry on top!
Additional Time
20 minutes
Ingredients
Cupcakes:
3 cups all purpose flour
6 tablespoons cocoa powder
1 teaspoon baking soda
1/2 teaspoon salt
1 1/2 cups sugar
1 cup unsalted butter, room temperature
2 large eggs
1 cup buttermilk
1 1/2 cups Coke
1 tablespoons vanilla extract
1 can cherry pie filling
Glaze:
1 1/2 cups powdered sugar
3-4 tablespoons Coke
Whipped Cream:
1 1/2 cups heavy cream
6 tablespoons powdered sugar
Maraschino Cherries for garnish
Instructions
Cupcakes: Preheat the oven to 350°F and line cupcake pans with paper liners. Sift together flour, baking soda, salt and cocoa in a bowl and set aside.
With a hand mixer or stand mixer, combine sugar and butter and beat until light and creamy. Mix in the eggs one at a time.
In a large mixing cup or small bowl, combine buttermilk, Coke and vanilla extract. (Make sure you wait for the foam to go down when measuring the Coke and don't worry if your mixture looks curdled when you add the buttermilk.)
Add half the dry flour mixture followed by half of the buttermilk mixture. Repeat, making sure to beat well after each addition just mixed.
Fill each cupcake tin 3/4 of the way full and bake for 18 to 20 minutes, until a toothpick inserted in the center comes out clean. Cool about 5 minutes in the pan and then transfer to a wire rack to cool completely.
Once cooled, use a paring knife to cut out a cone shape in the middle of each cupcake. Add a spoonful of cherry mixture (2-3 cherries) to the well.
Glaze: Mix together with a whisk in a small bowl. The mixture should run slowly off a spoon so you can drizzle the cupcakes but it won't run all over the place.
Whipped Cream: Beat cream in a chilled bowl with whisk attachment or hand mixer on low speed. Begin adding sugar, 1 spoonful at a time, increasing speed as the cream comes together. Whip the cream until it holds stiff peaks, if you dip a spoon in it, the whipped cream should stay on the spoon when you turn it upside down. Pipe the whipped cream onto cupcakes as desired and top with maraschino cherries for garnish.
Nutrition Information:
Yield:
24 cupcakes
Serving Size:
1
Amount Per Serving:
Calories:

312
Total Fat:

14g
Saturated Fat:

8g
Trans Fat:

0g
Unsaturated Fat:

4g
Cholesterol:

53mg
Sodium:

133mg
Carbohydrates:

44g
Fiber:

1g
Sugar:

24g
Protein:

3g
Want to Save This Recipe?
This post may contain affiliate links. Read my disclosure policy.