Chicken and Waffle Cupcakes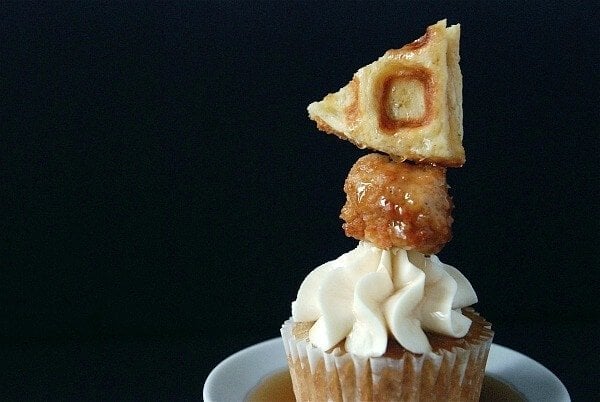 You know how most people see the line & stop? I run wayyy past it. I am so far gone, I can't even see the line anymore.
This cupcake is going to split all of us into two groups. People who think this is outrageous and love it…and people who just don't get it. And I understand not getting it. I really do! I mean…Chicken, Waffles, and a Cupcake? How on earth does that go together? It breaks all the rules and is just plain ridiculous. Who the hell would do that?
Me — I would do it. The wife of a man who ate a Krispy Kreme Burger. The girl who loves outrageous cupcakes.
Jorge and I are both huge fans of the Southern classic Chicken & Waffles. We order it just about any time we see it on the menu because we are determined to find the best version. So when I stumbled upon the idea of these Chicken & Waffle cupcakes on Formal Fringe, I knew I would have to make them. So I ran with the idea and made a Maple Cinnamon Scented Cupcake with Maple Buttercream and topped it with a Chick-Fil-A nugget, a piece of waffle and a drizzle of maple syrup…all held together with a toothpick.
Verdict? An amazing, one time treat. Would I make these all the time? No, it's a novelty thing…plus my jeans couldn't handle it. But what an amazing novelty it was! The soft cupcake, creamy maple buttercream, chicken and waffle is amazing when drizzled with a splash of maple syrup.
The only difficulty with this cupcake is how the hell do you eat it? If you are Jorge, you shove it all in your mouth at once. When you are 6'4 and have ginormous hands, it doesn't look so bad and you can get away with it. But if you are a normal sized human being, like me, just use a fork and knife! 😀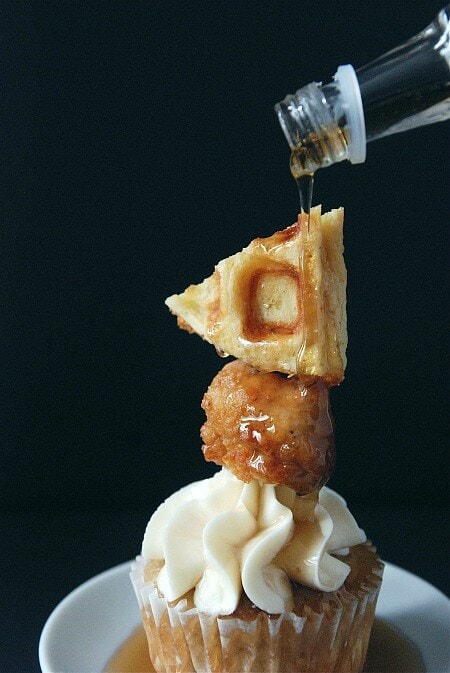 Chicken & Waffle Cupcakes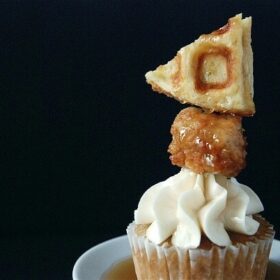 Ingredients:
Maple Cinnamon Scented Cupcake:
1 1/4 cup all purpose flour
1/2 teaspoon cinnamon
1/4 teaspoon salt
1/4 teaspoon baking soda
3/4 teaspoon baking powder
1 egg
1/2 cup sugar
1/2 cup (4 oz) unsweetened applesauce
1 teaspoon vanilla extract
3 tablespoons pure maple syrup
1/4 cup vegetable oil
1/4 cup buttermilk
Maple Buttercream:
1 stick butter, room temperature
1/2 pound powdered sugar
1 teaspoon vanilla extract
3 tablespoons maple syrup, plus more for drizzling
pinch of salt
12 pieces fried chicken (such as Chick-Fil-A nuggets)
1 Waffle, cut into 12 pieces
Directions:
Maple Cinnamon Scented Cupcake:
Preheat oven to 350 degrees. Line a muffin tin with cupcake liners.
In a medium size bowl combine dry ingredients (flour, cinnamon, salt, baking soda, and baking powder). Set aside.
In stand mixer, beat eggs, sugar, applesauce, vanilla extract, maple syrup and vegetable oil.
With the mixer on low, alternate dry ingredients and buttermilk, until fully combined.
Fill cupcake liners 3/4 full and bake for 16-18 minutes, until a toothpick inserted in the center comes out clean. Cool on cooling rack before frosting.
Maple Buttercream:
Cream the butter in the bowl of an electric or stand mixer. Add the vanilla extract, salt and pure maple syrup and combine well.
Begin adding in the sugar and mixing thoroughly after each addition. After all of the sugar has been added and mixed thoroughly, give it a taste and decide if you want to add in more maple syrup. For thicker frosting you can gradually add in a little more sugar.
Pipe buttercream onto cooled cupcakes. Skewer a piece of waffle and fried chicken with a toothpick and stick on top of buttercream. Before serving, drizzle maple syrup on top!
Maple Cinnamon Scented Cupcake: Novice Chef Blog Original
Maple Buttercream: Originally posted in September 2010