Chipotle Chicken Zoodle Salad
This Chipotle Chicken Zoodle Salad is the perfect recipe for a healthy lunch or dinner. The zucchini noodles are so easy to make and the chipotle chicken adds so much flavor.
If you love making zoodles as much as I do, you should also try this recipe for Zucchini Noodles In A Lemon Cream Sauce.
Chipotle Chicken Zoodle Salad
I'm a zoodler. I make oodles of zoodles. If you are still here, I commend you. I just can't help it – zoodles is such a fun name! In case you are still in the dark ages, zoodles are zucchini noodles and they are an awesome way to cut the carbs.
It's been about two years since I blogged my only other Zoodle recipe (Zoodles in a Lemon Cream Sauce) and I figured it was time to share another one!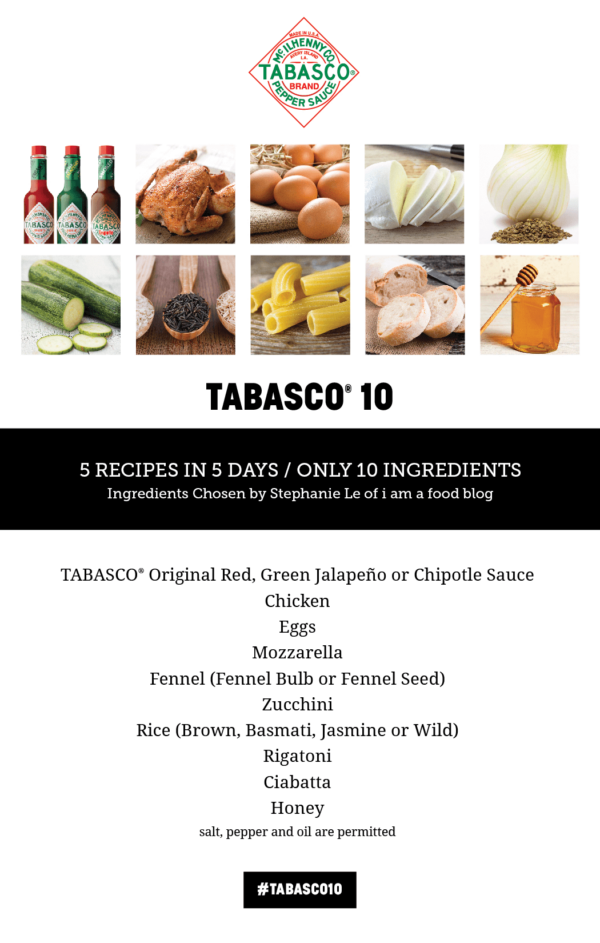 I am partnering this week with TABASCO and took their #TABASCO10 challenge. I am really excited to have partnered with TABASCO because it is a brand that I grew up using and always seeing on the table when we had my Granny's Gumbo.
But you guys — this challenge was way harder than I thought it was going to be. First off, no garlic or onion…that about killed me. And then no butter? Let's just say it wasn't easy and I am so thankful that TABASCO sauce has so much flavor.
How Do You Make Zucchini Noodles For This Recipe?
However, I am really proud of the recipes I did come up with and they are all healthy!
First up, this Chipotle Chicken Zoodle Salad. Previously, I had only used a julienne peeler to make my zoodles. It worked just fine..however I borrowed my neighbor's sprializer for this recipe and there is officially no going back. That thing takes just seconds and the noodles are so perfect and curly!
Do You Cook The Zucchini Noodles?
Now on to the recipe – You can cook your noodles or leave them raw as I did. It's completely up to you and your personal preference. Then you toss in some chipotle chicken and fresh mozzarella pearls and it's divine!
If you leave your noodles raw, this makes the perfect make ahead lunch to take to work. You can even be super cool and bring it in a mason jar. 😉 Enjoy!
Chipotle Chicken Zoodle Salad
Yield: 2 servings

Prep Time: 15 minutes

Cook Time: 11 minutes

Total Time: 26 minutes

This Chipotle Chicken Zoodle Salad is the perfect recipe for a healthy lunch or dinner. The zucchini noodles are so easy to make and the chipotle chicken adds so much flavor.
Ingredients
1 1/2 tablespoons olive oil
2 teaspoons TABASCO Chipotle Sauce
1 teaspoon salt
1/2 teaspoon freshly ground black pepper
2 boneless & skinless chicken breasts
2 medium zucchinis, zoodled (with a spiralizer or julienne peeler)
1 cup mini fresh mozzarella pearls
additional salt & pepper, to taste
Instructions
In a small bowl, whisk together olive oil, TABASCO Chipotle Sauce, 1 teaspoon salt and 1/2 teaspoon freshly ground black pepper. Coat chicken breasts with sauce.

Heat a large non-stick skillet over medium-high heat. Place chicken breasts top side down. Let cook for 5 minutes without moving. Lower the heat just a smidge to medium heat and flip the chicken breasts. Insert your thermometer and cover pan with lid. Let cook until the internal temperature reaches 165°F. This takes about 6-8 minutes depending on the thickness of your chicken breasts. 

Remove from the pan and let the chicken cool for about 5 minutes. Shred or chop.

Toss zoodles, chicken, and mozzarella pearls all together. Season with salt and pepper and serve!
Notes
Note: If you like your zoodles cooked, you can blanch them in boiling water or even microwave them for about 3 minutes in a microwave safe bowl tossed in a little olive oil!
Recommended Products
I am an Amazon affiliate member and I earn a small percentage from qualifying purchases. Thank you!
Nutrition Information:
Yield: 2 Serving Size: 1
Amount Per Serving: Calories: 631Total Fat: 37gSaturated Fat: 15gTrans Fat: 0gUnsaturated Fat: 19gCholesterol: 176mgSodium: 2292mgCarbohydrates: 13gFiber: 4gSugar: 8gProtein: 61g

This post is sponsored by TABASCO, however all opinions are – as always – all my own! Thank you for supporting the brands that I love!