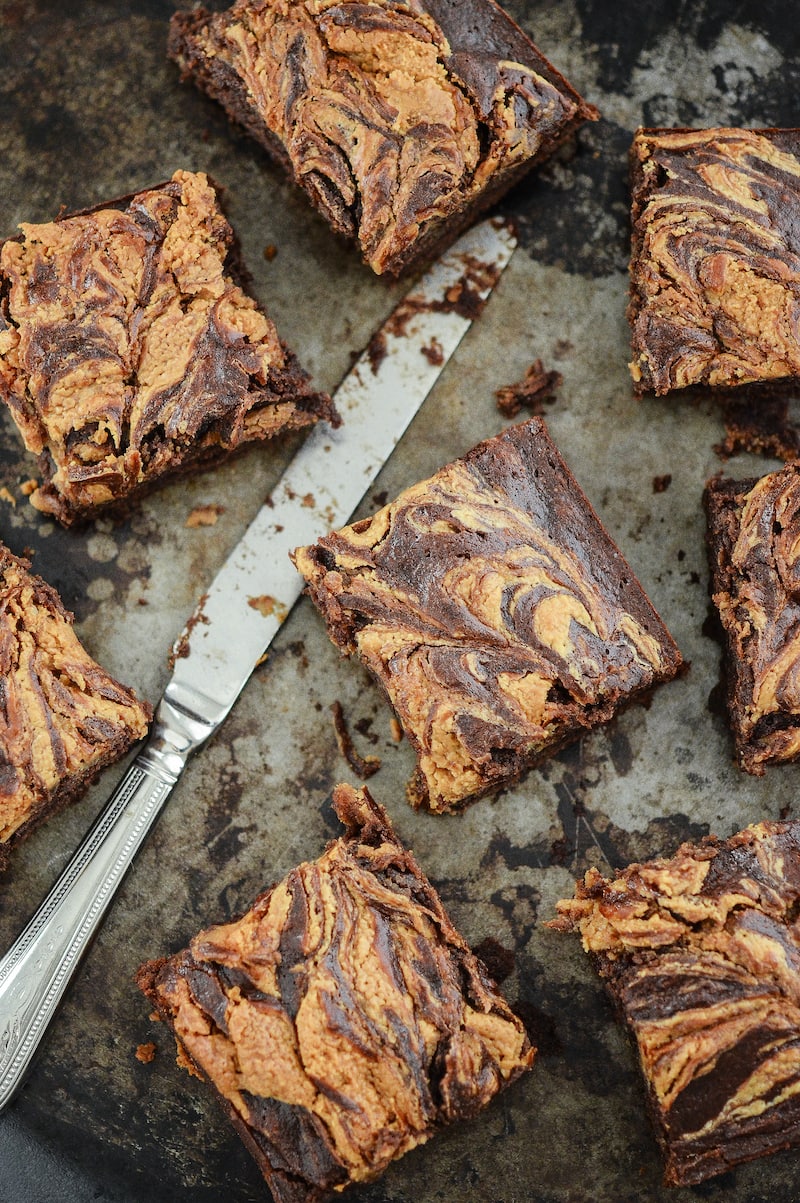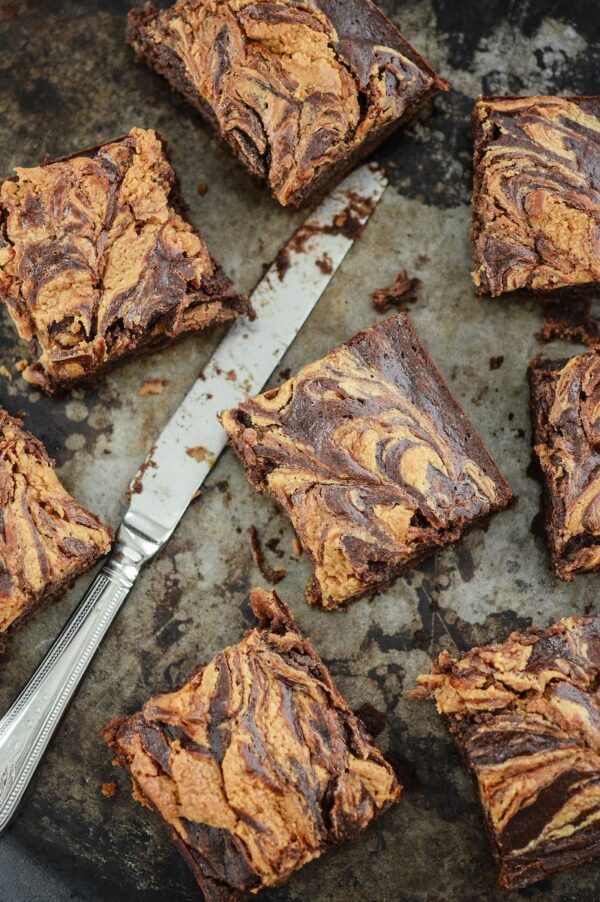 I know chocolate and peanut butter is a constant running theme on this blog. I won't even try to pretend like it's not one of my all time favorite dessert combinations. After our 6 years together, I think it's pretty obvious.
So to be able to blog yet another peanut butter and chocolate recipe, I knew I would have to do something new and different. Enter the BANANA. (And some of you probably are shaking your heads at me now since I kind of already did that too in the Peanut Butter Banana Chocolate Chip Bread).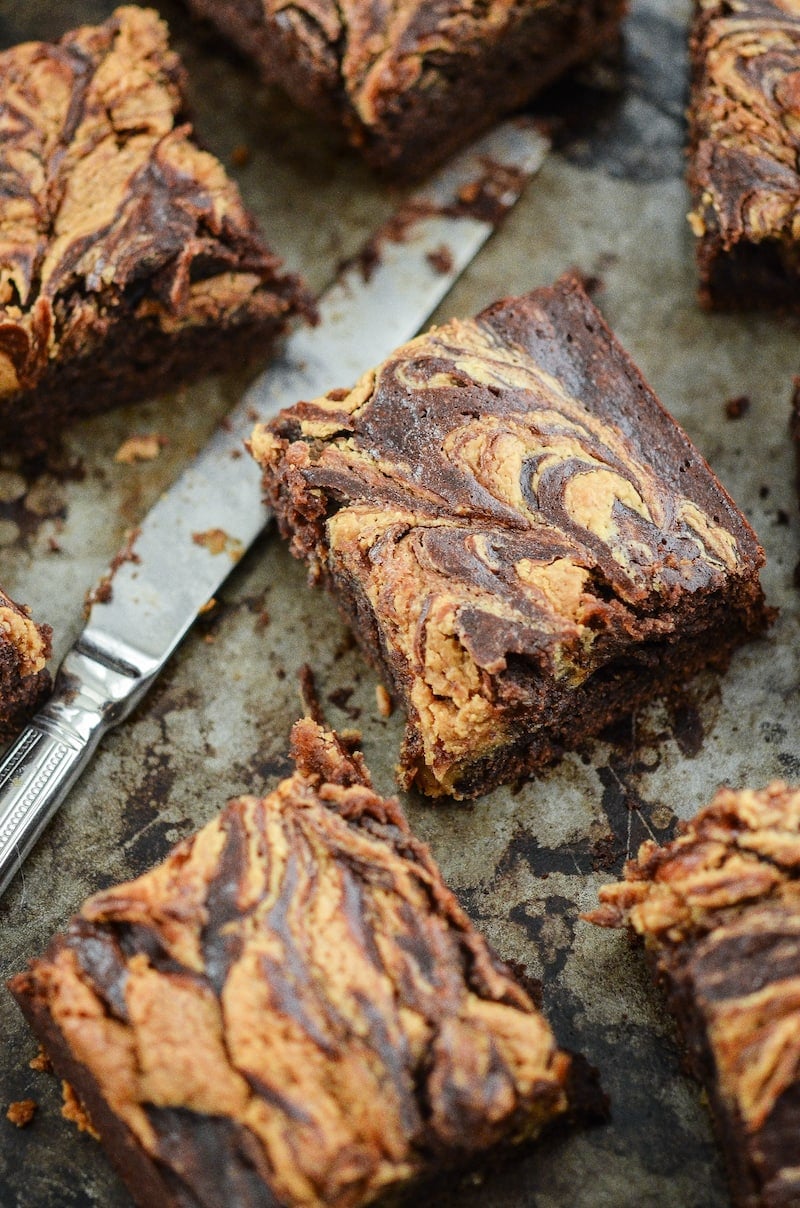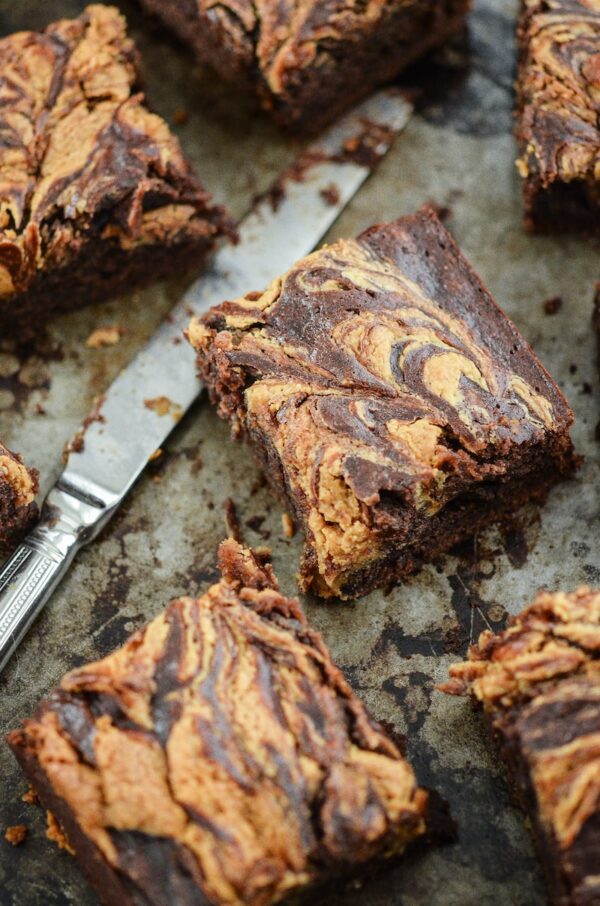 But this is different for three big reasons. 1st – It's a brownie. And brownies can never be confused for bread. 2nd – It uses a box brownie mix! Hellloooo EASY. 3rd – I don't really have a third reason…I just said I did because 3 reasons sounds better than 2.
Long story short, you need to make these. I was sick of making banana breads with our leftover bananas and had a box of brownie mix sitting in the pantry. I figured I would give it a shot and see what happened. Divine and so very easy to make!
If you aren't a peanut butter fan or are just being super lazy, skip the peanut butter step and they are even easier to make. Just add a handful of chocolate chips to the batter to give it a little something extra. 😉
Can we all say YAY for another great way to use up old over ripe bananas that is not another version of banana bread or muffins!
Yield: 16 brownies
Peanut Butter Banana Brownies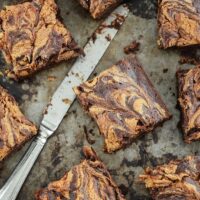 Peanut Butter Banana Brownies - a quick and easy brownie mix recipe. These peanut butter and chocolate brownies are sure to be a hit with your kiddos!
Ingredients
1 box brownie mix (I use Ghirardelli)
1 cup mashed overripe bananas (about 2)
1 large egg
2 tablespoons vegetable/canola oil
for the peanut butter swirl:
1/2 cup creamy peanut butter
4 tablespoons unsalted butter, softened
1/3 cup powdered sugar
1 teaspoon vanilla extract
pinch of salt
Instructions
Preheat oven to baking temperature on back of brownie box. Grease 9 x 9 baking pan.
Combine bananas, egg, and vegetable oil. Then fold in brownie mix. Pour brownie batter into prepared pan.
For the peanut butter swirl, combine peanut butter, butter, powdered sugar, vanilla extract and salt in a bowl and stir until smooth.
Drop spoonfuls of peanut butter mixture on top. Use a butter knife to gently swirl the peanut butter mixture into the batter. The peanut butter mixture will not look perfect, but will look better after baking. Just do your best to swirl the peanut butter evenly.
Bake according to brownie package directions, or until a toothpick inserted into the center comes out clean. Transfer to a wire rack to cool to room temperature and store in an airtight container for up to 3 days.
Nutrition Information:
Yield:
16
Serving Size:
1
Amount Per Serving:
Calories:

124
Total Fat:

9g
Saturated Fat:

3g
Trans Fat:

0g
Unsaturated Fat:

5g
Cholesterol:

19mg
Sodium:

66mg
Carbohydrates:

9g
Fiber:

1g
Sugar:

4g
Protein:

3g
Want to Save This Recipe?
This post may contain affiliate links. Read my disclosure policy.