Chocolate Banana Cake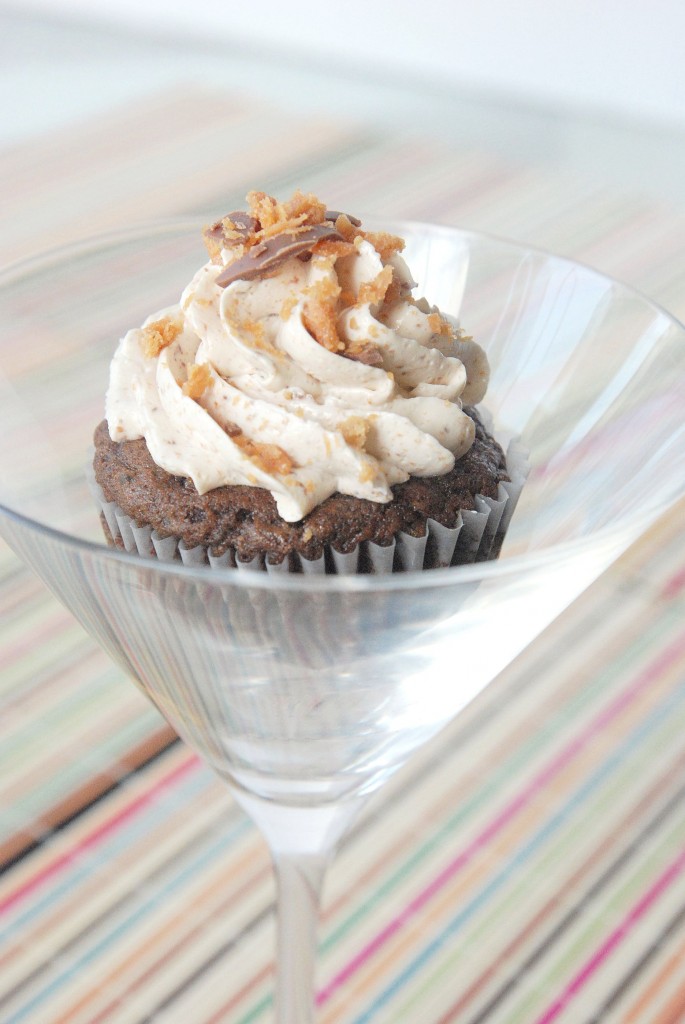 I don't like to admit when I am wrong you can just ask Jorge. But when I decided to combine this Chocolate Banana Cupcake with Butterfinger Swiss Meringue Buttercream I thought it was going to be a fabulous combination! I didn't do it blindly either, I did some research and found that many people have made Butterfinger Cupcakes with this type of flavor combination before with great success. But for some reason it did not work for me. The cupcake was heavenly. Really it was! And for a vegan cupcake (just the cake, not the frosting) it was incredibly moist and you did not feel like you were missing anything. But the actual banana flavor came through strong enough that it tried to overpower the Butterfinger flavor. And the fighting of flavors was not pretty.
However what was pretty, were the two flavors separately. The Butterfinger Swiss Meringue Buttercream itself is fabulous and I will be posting it for you next week. I decided to post the two recipes in separate posts to ensure no one accidentally made them together and then got upset with me. 😛  And as for the actual Chocolate Banana Cake? Yum! Like I said it's surprisingly vegan and in the future I think I might make it as an actual cake. No frosting needed! Maybe just a glaze of some sort. Or it would also be great as a cupcake with a light peanut butter frosting. Either way, it is a cake that I plan on making again…just without the Butterfinger frosting! 😉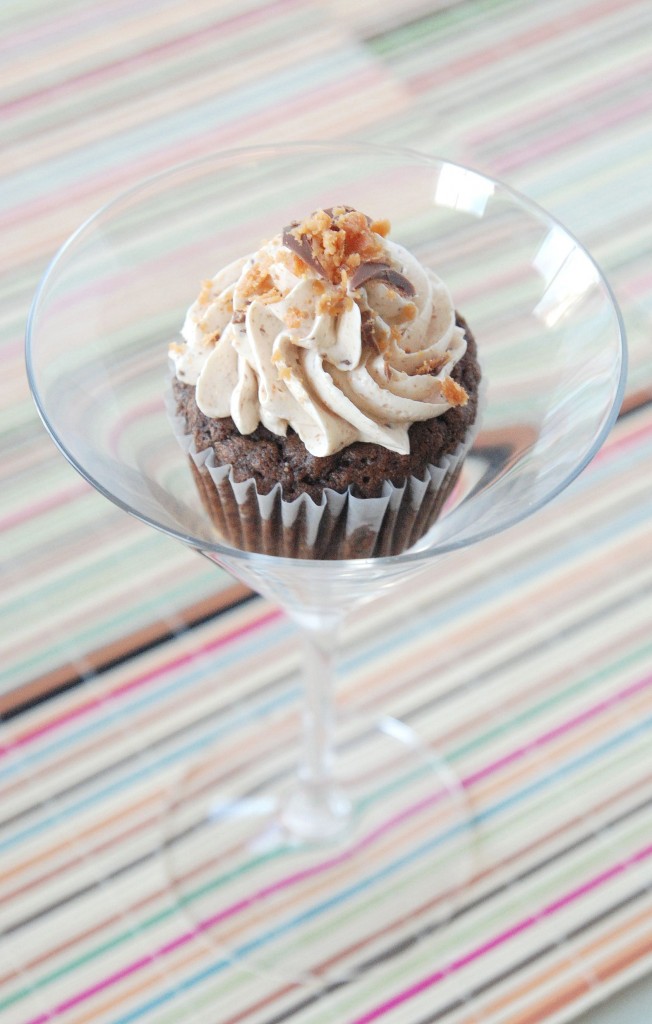 Chocolate Banana Cake
Recipe note: below is the directions to bake as cupcakes. But as I mentioned above, this would also be a fabulous bundt cake!
Ingredients:
1/2 cup coconut milk
1/2 cup ripe banana (about 1 banana)
1/3 cup canola oil
1 teaspoon vanilla extract
3/4 cup sugar
1 cup all-purpose flour
1/3 cup cocoa powder
3/4 teaspoon baking soda
1/2 teaspoon baking powder
1/4 teaspoon salt
1/8 teaspoon cinnamon
Directions:
Preheat oven to 350 degrees F. Line muffin pan with paper liners.
In a small bowl, mash the banana with a fork. Whisk in the coconut milk, sugar, oil, and vanilla extract until incorporated. Mixture will still be a little lumpy because of the nature of the banana, but whisk out as many large lumps as you can. In a separate bowl, sift together the flour, cocoa powder, baking soda, baking powder, cinnamon, and salt. Make a well in the center of dry ingredients and pour in banana mixture. Stir until just smooth (do not overmix).
Pour into liners, filling each with 3 tablespoons of batter (cups should be no more than 2/3 full). Bake 18-20 minutes, or until a toothpick inserted into the center comes out clean. Transfer to a cooling rack and let cool completely.
Frost as desired.