There are so many delicious macaron cookie recipe combinations. If you love macarons you'll love these Pistachio Macarons and Red Velvet Macarons.
Chocolate Biscoff Macarons
Today officially marks 400 posts. That translates into A LOT of dirty dishes!! Someone recently told me they are surprised that I am still blogging after so many years. But I am not surprised — I have loved this blog since I first hit Publish. Sure there are things I wish I could change (like the name), but I am hooked to the feeling of community that I feel when sharing recipes with all of y'all. When I open my email to ideas, thoughts or old family recipes — I immediately know that I will be doing this forever.
Well, maybe not forever. Who knows where blogging will be in 25 years! I might be virtually cooking in your kitchens…or you might be able to reach into the screen and grab a cookie by then. Heck, if the Jetsons were right we might not even be living on Earth anymore. To think of how far technology has come in such a short time…well let's just say there is no long term job security in blogging….however I plan on being here for as long as blogging is still a thing. ;-)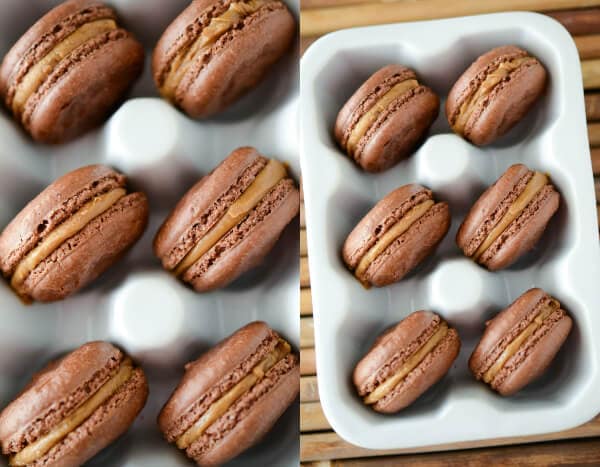 How To Make Chocolate Macarons
I couldn't think of a better way to celebrate 400 posts than with macarons. I have a giant soft spot in my heart for these fickle cookies! And I have been known to purchase them for outrageous prices, just so I didn't have to make them myself. However, it's really not that hard if you have the right equipment and some patience.
Almond Meal is one of the main ingredients and can be found in the "Gluten Free" section of some stores. I buy my Almond Meal from Amazon because I have Prime so it actually costs me less than at Publix. You will also need a kitchen scale (I have this one for $16 and it works great). I know it sucks, but these really have to be weighed out to turn out correctly.
These Chocolate Biscoff Macarons are pretty fabulous and I loved the flavor combination. You can make a Biscoff Buttercream for the filling, or you can just smear in straight Biscoff. It's totally up to you and how Biscoff-y you want them to be. :-)
Thanks for sticking around for 400 posts — let's see if I can make it 400 more!
Chocolate Biscoff Macarons
This easy Chocolate Biscoff Macarons recipe is light, fluffy, and delicate. These little cookies will have you craving macarons all day! They are great for sweet treat or gifting to friends.
Ingredients
120

grams

almond meal

,

sifted

30

grams

cocoa powder,

sifted

200

grams

powdered sugar

,

sifted

100

grams

aged egg whites

28

grams

granulated sugar

a pinch of cream of tartar

½

cup

unsalted butter

,

room temperature

½

cup

Biscoff Spread

2

cups

powdered sugar

1-2

tablespoons

milk
Instructions
For the chocolate shells:
Line two large baking sheets with parchment paper or a silpat.

In a medium bowl, sift together almond meal, cocoa powder and powdered sugar. Set aside.

In a stand mixer, whisk egg whites at medium-low speed until it starts to foam. Begin slowly sprinkling in the granulated sugar and cream of tartar as you beat. Then increase the speed to medium and beat until a firm meringue forms.

Remove meringue from stand mixer, and gently fold in the dry ingredients with a rubber spatula. You will have to break the meringue to do this, but be careful not to overmix. To test the batter: Place a small amount of the batter on a plate. If the tops flattens on its own you are good to go. If there is a small beak, give the batter a couple more folds.

Using a pastry bag with a plain round tip, pipe small rounds onto prepared baking sheets. Leave an inch between macarons to allow for the batter to spread.

Once all the macarons have been piped, pick up the baking sheet with both hands, and holding it level, tap it firmly onto the counter several times. This will bring up any air bubbles in the cookies.

Then let the cookies sit for 30 minutes to an hour, depending on the humidity levels. You will know they are ready to go into the oven when you can touch the tops without it sticking to your finger.

Once the macarons are ready, preheat the oven to 290 degrees. Bake for 18-20 minutes, or until they easily pop off the parchment paper (or silpat). Remove macaron shells immediately from baking sheet and cool on a wire rack. Once cooled, fill with desired filling and store in an airtight container, in the refrigerator, for 24 hours. Then let warm to room temperature before eating.
For the biscoff buttercream filling:
Place the butter and Biscoff in the bowl of an electric mixer fitted with a paddle attachment. Mix on medium-low speed until creamy, scraping down the bowl with a rubber spatula as you work. Gradually add the powdered sugar and mix at low speed until combined. To achieve the desired consistency, gradually add milk to thin frosting to desired consistency.

Pipe onto a cooled macaron shell and sandwich with another shell, repeat until all shells are used. Store in an airtight container, in the refrigerator, for 24 hours. Then let warm to room temperature before eating.
Notes
Depending on your preference, you can also just use straight up Biscoff Spread as the filling!
Nutrition
Serving:
1
,
Calories:
174
kcal
,
Carbohydrates:
23
g
,
Protein:
2
g
,
Fat:
9
g
,
Saturated Fat:
3
g
,
Polyunsaturated Fat:
5
g
,
Cholesterol:
10
mg
,
Sodium:
21
mg
,
Fiber:
1
g
,
Sugar:
20
g
This post may contain affiliate links. Read my disclosure policy.