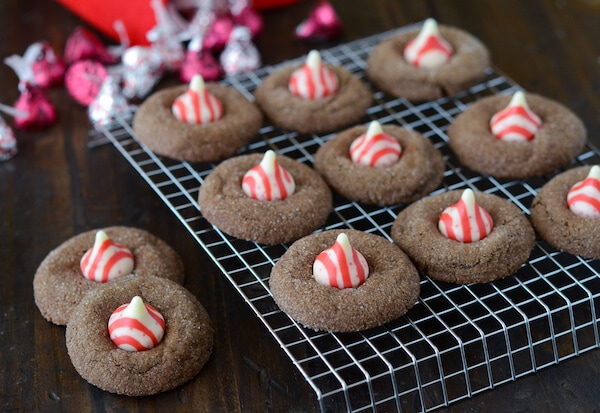 "So tonight we gonna party like it's 1999 12-21-12."
Congratulations! If you are reading this, the Mayans were thankfully drunk off tequila when they decided the world was going to end on 12-21-12. It's like 2000 all over again, except I'm old enough to celebrate with a drink this time around.
Sometimes I get into things a little bit too much. Like theme parties or celebrating my birthday for an entire month. Same goes for the worlds gonna end events. New Years Eve 1999 and 12-20-12 were both spent with me enjoying it like it could actually possibly be my last day. Sure I didn't believe the world would end on either day, but that didn't stop me from eating like calories didn't count, shopping at Target like I had someone else's credit card and drinking wine before 5pm. :)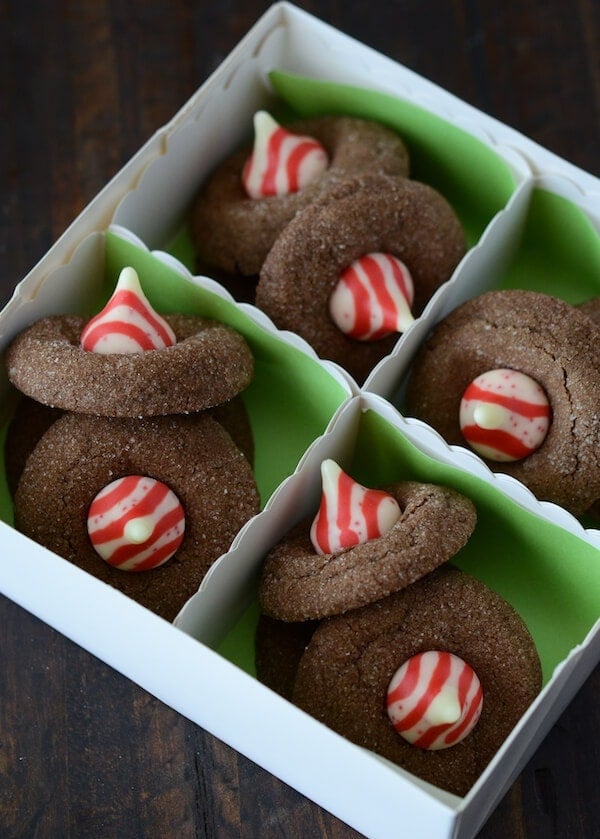 I wanted to share the fun of eating like the calories don't count, so I took these Chocolate Candy Cane Blossoms around to our friends and family. We are leaving tomorrow to spend Christmas in Texas with all of my family, so I wanted the chance to spread a little Christmas cheer before I left.
These Chocolate Candy Cane Blossoms are exactly that – Christmas Cheer. The chocolate cookie is scrumptious all on it's own, but the added bit of white chocolate and peppermint on top really sends it over the top. This cookie is also great with the Hershey's Cordial Cherry Creme Kisses. I actually preferred it with the Cherry Kisses over the Candy Cane ones! Use whichever your family likes better!
Merry Christmas!! (…or Happy Hanukah…Happy Kwanzaa…or just plain Happy Holidays!)
Chocolate Candy Cane Blossoms
These Chocolate Candy Cane Blossoms are some very festive Christmas cookies! Chocolate cookies are great all by themselves but, when you top them with Hershey's Candy Cane Kisses, magic happens.
Ingredients
1 ½

cups

all purpose flour

¼

cup

Hershey's cocoa powder

½

teaspoon

baking soda

¼

teaspoon

salt

½

cup

1 stick unsalted butter, room temperature

¾

cup

packed light brown sugar

1

large egg

1

teaspoon

vanilla extract

appx 32 Hershey's Candy Cane Kisses

,

unwrapped
Instructions
Preheat oven to 375°F. Line two baking sheets with parchment paper.

Combine the flour, Hershey's cocoa powder, baking soda and salt in a medium bowl. Set aside.

In the bowl of a stand mixer, beat the butter and brown sugar, until light and fluffy. Add in the egg and vanilla.

Gradually add in the flour mixture on low speed. Stir until dough forms.

Using your hands, form balls of dough with 1 tablespoon of dough and place on prepared baking sheets.

Bake for 8-10 minutes, or until cookies begin to crack. Remove from oven and press a Hershey's Candy Cane Kiss into the center of each cookie.

Let cool for a 2 minutes, then transfer cookies to a wire rack to cool completely.

Store in an airtight container for up to 5 days.
Notes
I have made these cookies a few times now and they are also the perfect compliment to the Hershey's Cordial Cherry Creme Kisses!
Nutrition
Serving:
1
,
Calories:
272
kcal
,
Carbohydrates:
36
g
,
Protein:
4
g
,
Fat:
14
g
,
Saturated Fat:
8
g
,
Cholesterol:
17
mg
,
Sodium:
77
mg
,
Fiber:
1
g
,
Sugar:
29
g
Disclaimer: I'm happy to be a part of the Hershey's 'Baker's Dozen'. I love their products and love getting to share fun ways to use them! All opinions expressed are my own.
SaveSave
SaveSave
This post may contain affiliate links. Read my disclosure policy.