Chocolate Passion Bowl (Or more commonly known as crack)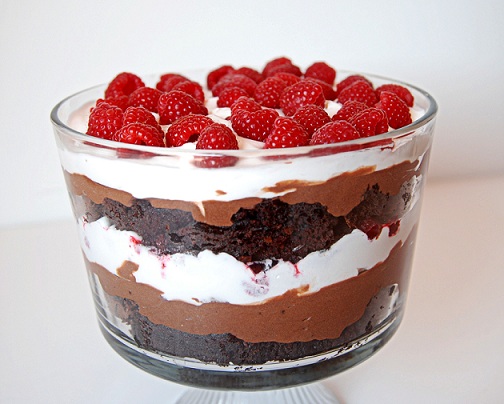 WARNING: Make this when you will be taking it somewhere and make sure and give it all away. Otherwise you will find yourself standing over it with a big spoon stuffing your face. Maybe you have more will power then me, but I love this thing so much I want to take it into the coat closet and whisper sweet nothings to it. No, I am not exaggerating. This was first introduced to me a couple weeks ago by a good friend of mine, Kerri. She brought it over for dinner one night and I was hooked. This is my crack. And because of it Kerri and I can no longer be friends, well at least my ass and Kerri can not be friends. Make this soon, or more like now. And plan a trip…or 5 trips to the gym ASAP.
Chocolate Passion Bowl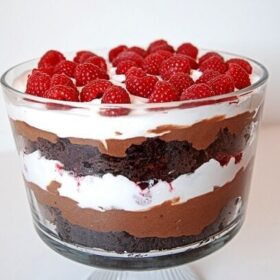 Ingredients:
3 cups cold milk
2 pkg. (3.9 oz each) Jell-O Chocolate Instant Pudding
1 tub (11 oz.) Cool Whip , thawed, divided
1 baked 9-inch square brownie layer, cooled, cut into 1-inch cubes (about 5-1/2 cups)
1 pt. (2 cups) raspberries
Directions:
Beat milk and pudding mixes with whisk 2 min. Stir in 1 cup Cool Whip.
Place 1/2 of brownies in 2-qt. bowl; top with layers of 1/2 each pudding mixture, remaining Cool Whip and raspberries. Repeat all layers.
Refridgerate 1 hour.
This post may contain affiliate links. Read my disclosure policy.