Want to make your own Dulce De Leche ice cream for this dessert? Try my easy Dulce De Leche No Churn Ice Cream recipe!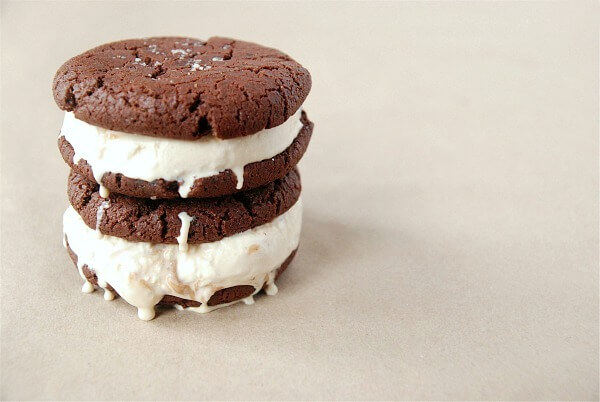 The niece and nephew were coming over. And of course my first thought was, What the heck do I make for them? My niece Ana, only eats sugar, peanut butter, and sometimes I have seen her eat Jello. So I decided on a frozen cheese pizza and ice cream sandwiches. I want to be the cool aunt, not the aunt that gives them quinoa. But to be perfectly honest, I am also the lazy aunt who doesn't want to go to the grocery store. So I started pouring over recipes online to find something that I had all the ingredients for…and surprise surprise the lovely Jaclyn had something that fit exactly what I was looking for. Out of laziness, desperation, and a freezer full of Häagen-Dazs, the Chocolate Sea Salt Cookie & Dulce De Leche Ice Cream Sandwiches were born.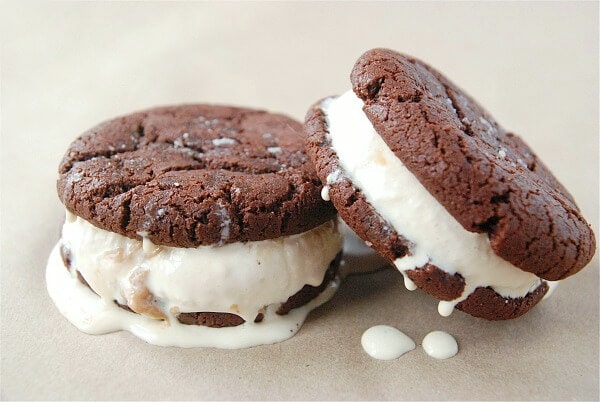 These Ice Cream Sandwiches Are The Perfect Combo Of Salty And Sweet
Perfection. I mean it. I could eat these every day for the rest of my life and be 600 pounds happy. If you are a salty-sweet person, these are for you. The dark chocolate combined with sea salt and dulce de leche ice cream? You couldn't find a better combination. While you could make your own ice cream, I personally believe that you can not make a better version than Häagen-Dazs' Dulce De Leche. I have tried. Twice. And both times I wished I had spent the money on a pint of Häagen-Dazs instead of all the cream for homemade. It's just so good.
And if you wanted to top them with some more Dulce De Leche…I would totally understand.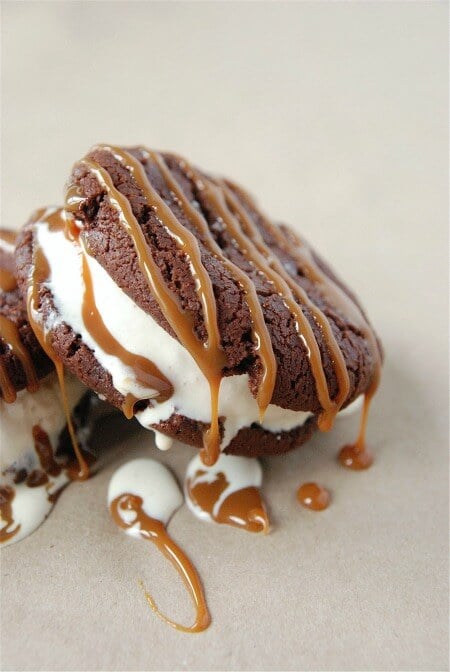 Yield: 4 Large Ice Cream Sandwiches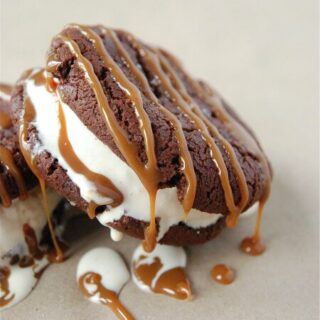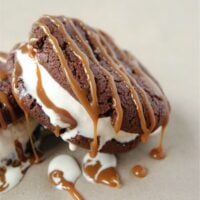 This recipe for Chocolate Sea Salt Cookie & Dulce De Leche Ice Cream Sandwiches is the perfect combination of salty and sweet. The homemade chocolate cookies for the ice cream sandwiches are soft and delicious!
Total Time
1 hour
33 minutes
Ingredients
1/2 stick unsalted butter
4 ounces 70% chocolate, chopped
1/2 cup all-purpose flour
1/4 cup dutch process cocoa powder
1/4 teaspoon baking soda
1/4 teaspoon kosher salt
3/4 cup granulated sugar
1 large egg
1/2 teaspoon instant espresso powder
large-flake sea salt for topping
1 pint Häagen-Dazs Dulce De Leche ice cream
Instructions
Preheat oven to 325 degrees F.
Line a baking sheet with parchment paper, set aside. In a microwave-safe bowl, combine the chocolate and butter. Microwave in 20 second increments until chocolate and butter are melted, and stir to combine. Transfer chocolate mixture to the bowl of an electric mixer fitted with the paddle attachment. Add sugar, eggs, and vanilla; mix on medium speed until combined. Reduce speed to low; gradually mix in flour mixture.
Roll 2 (heaping) tablespoons worth of dough between hands to create dough balls that are 2 1/2 inches in diameter. Place cookie dough balls two inches apart on baking sheet. Sprinkle tops of cookies with large-flake sea salt.
Bake cookies for 13-15 minutes, or until tops are crackled and cookies have spread out a bit. Allow to cool on cookie sheet for 5 minutes before moving to a wire rack to cool completely.
Once cooled, place a heaping amount of Dulce De Leche Ice Cream in the center of one cookie. Using a spatula (or back of a spoon) flatten the ice cream to reach the edges. Place another cookie on top. Once all cookies are assembled, place in freezer for an hour to firm up. At this point, either eat them, or wrap them individually with saran wrap and then place in an airtight container. They will keep in the freezer up to 1 month.
Nutrition Information:
Yield:
4
Serving Size:
1 sandwich
Amount Per Serving:
Calories:

885
Total Fat:

45g
Saturated Fat:

27g
Trans Fat:

0g
Unsaturated Fat:

14g
Cholesterol:

204mg
Sodium:

539mg
Carbohydrates:

111g
Fiber:

3g
Sugar:

91g
Protein:

12g
Want to Save This Recipe?
This post may contain affiliate links. Read my disclosure policy.