Chocolate Spiced Cupcakes with Clementine Cream Cheese Frosting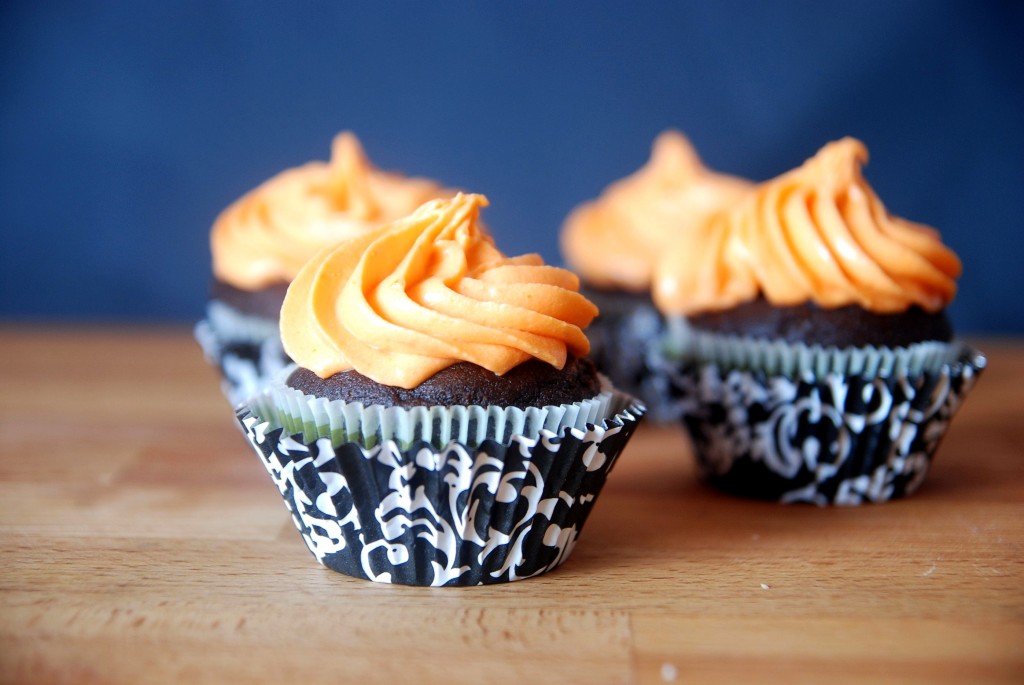 Do you ever wonder why we eat or drink certain things or think about who did it first? Or am I the only one? Sometimes also known as all the time I let my brain run off on little tangents. Like why are we the only species that drinks milk from another animal? Or for that matter, why are we the only ones that drink milk all our lives? But then again, I'm really not looking to start going to the store and buying human milk…so I guess I'll let that one go. But what about coffee? Who took the coffee bean off the tree and thought, Hey! If you boil this in some water, it will make a delicious drink! Or who reached into the earth, pulled out a potato, and ate it? Because you know there is no way they knew to boil it before eating it. And, seriously, who got stuck with the job of taste testing things? Someone had to be in charge of figuring out what you had to cook and what you ate raw. Or what, like a coconut, you had to break into before you could actually eat it? I'm pretty sure if we were all a caveman tribe and it were up to me to figure out what we could eat, we would probably die of starvation.
I usually straw away from subbing odd ingredients into cake mixes. And when I first made these cupcakes, I followed the recipe step for step. The original recipe calls for pumpkin and actually calls them Chocolate Pumpkin Cupcakes with Orange Pumpkin Cream Cheese Frosting. But everyone agreed…they tasted nothing like pumpkin. Not even a little bit. Despite not being what I expected, they were however delicious! The pumpkin made for a really moist cake and combined with the orange frosting…well lets just say I wasn't able to just have one. The second time I made them, I figured I would skip the pumpkin and use applesauce instead. I have seen many times where people have used applesauce to reduce the fat/calorie content of a cake and to create a extra most cake, so I figured why not? It was perfect! I also used clementine zest instead of a regular orange zest for the frosting and found them to give it a better flavor. If you are a chocolate/orange fan these are definitely the cupcakes for you!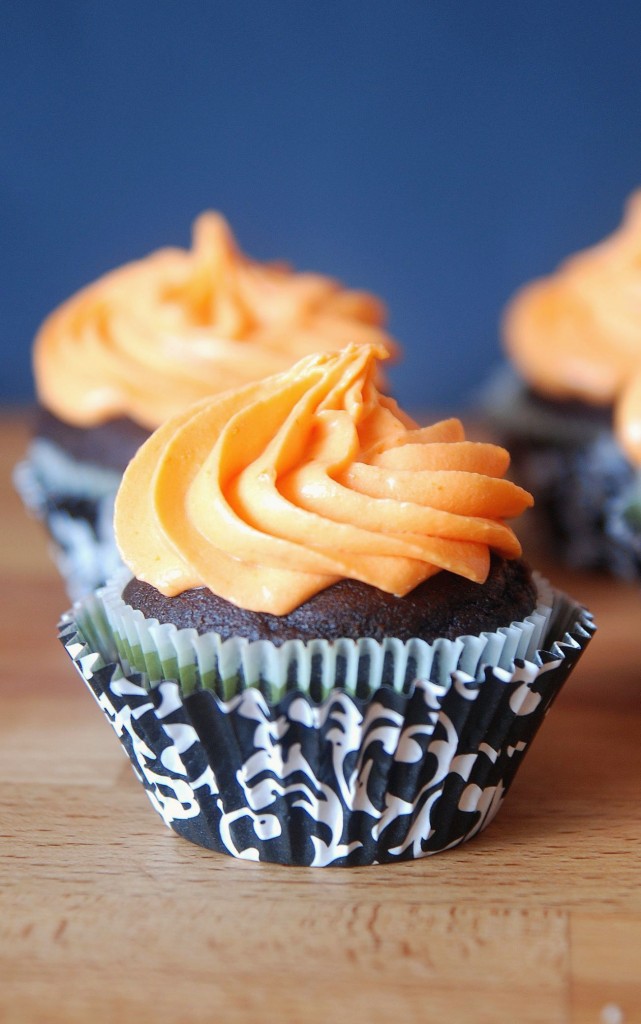 Chocolate Spiced Cupcakes with Clementine Cream Cheese Frosting
Recipe Note: You may substitute back in the pumpkin puree instead of the applesauce if you have it on hand. Both ways are truly delicious...but do not expect the cupcakes to taste like pumpkin. It will just make for a very moist cupcake!
Ingredients:
Chocolate Spiced Cupcakes:
1 1/3 cups flour
1/2 cup plus 2 tablespoons cocoa powder
1 1/2 teaspoons baking powder
3/4 teaspoon baking soda
1 teaspoon cinnamon
1/2 teaspoon fresh grated nutmeg
1/4 teaspoon allspice
a pinch of cardamom
1/3 cup buttermilk
12 ounces applesauce
1 teaspoon vanilla bean paste (or extract)
5 ounces unsalted butter, softened
3/4 cup (firmly packed) dark brown sugar
3/4 cup grandulated sugar
3 large eggs
Clementine Cream Cheese Frosting:
8 oz cream cheese, softened
1/4 cup unsalted butter, softened
1 tablespoon grated clementine zest
1/2 teaspoon vanilla bean paste (or extract)
4 cups confectioners' sugar
orange food coloring if desired
Directions:
For the cupcake:
Heat oven to 375 degrees F. Line the pans with cupcake liners. Set aside.
Sift the flour, cocoa, baking powder, baking soda, cinnamon, nutmeg, allspice and cardamom in a large bowl and set aside. Combine the buttermilk, applesauce, and vanilla in a medium bowl and set aside. Beat the butter and sugar together in a stand mixer, set on medium speed, until fluffy. Add the eggs, one at a time, beating well after each addition, until the mixture is smooth and light. Alternately add the flour mixture and buttermilk mixture, blending well after each addition.
Divide the batter among the cupcake liners (about 1/4 cup batter per cupcake) and bake until a toothpick inserted into the middle comes out clean -- about 18-22 minutes. Cool the cakes in the pan for 7 minutes. Remove cupcakes and allow to cool completely on wire racks before frosting.
For the frosting:
Blend the cream cheese, butter, orange zest, and vanilla in a large bowl, using an electric mixer set at medium speed, until smooth. Add the sugar and continue to beat until light and creamy -- about 3 more minutes.
Add the food coloring and gently stir until the color is uniform. Then refrigerate frosting for at 30 minutes to an hour. You want the frosting to be pretty stiff to actually pipe onto the cupcakes. Then using your favorite piping bag and tip, work fast to frost each cupcake. Store cupcakes in refrigerator until serving time. Allow cupcakes to warm up for about 10 minutes before serving.