Chocolate Whoopie Pies with Marshmallow Filling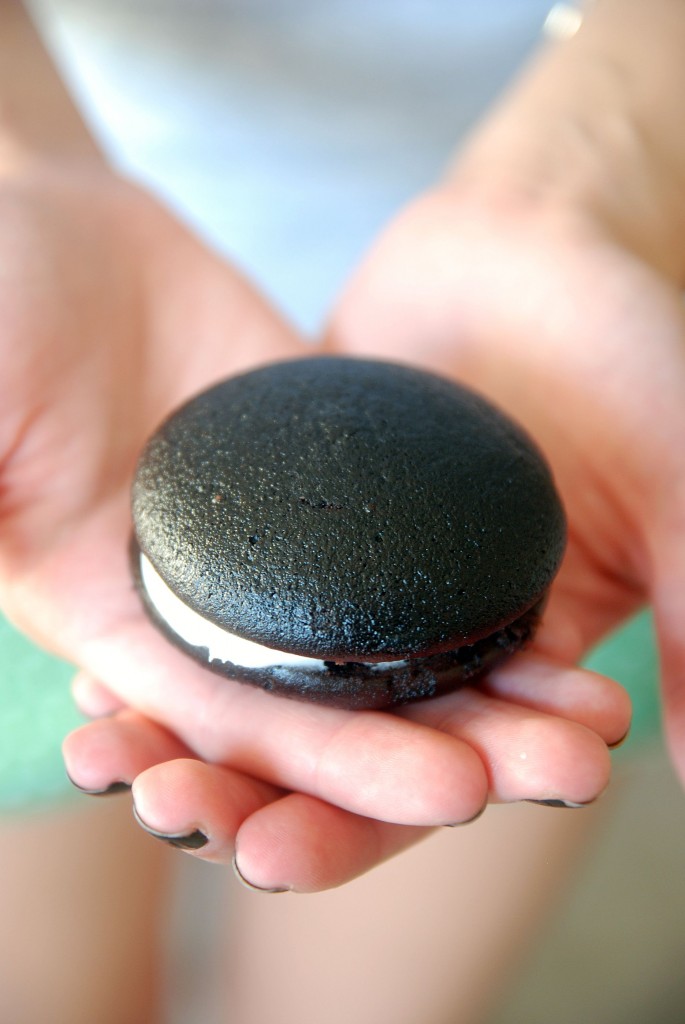 I have been wanting to make Whoopie Pies ever since I found out that "Makin' Whoopie" meant doing the horizontal macarena. I mean how funny is that?! Apparently, it is not as funny as I thought it was. I told multiple people that I was "Makin Whoopie!…..Pies!" and umm no one but me laughed. And then I explained why that was funny…and still no one laughed. But I did, and I still do because it really is funny I have the sense of humor of a 13 year old boy.
But then again I think any euphemism is almost always worth a good laugh. Like a few years ago, I was having a drink or two with my Yankee friend Linda and she made a comment about Wee Wee Boom. And she said that and just kept on going. So I stopped her and asked…Uhhh Excuse me, but what the heck is Wee Wee Boom. Apparently it is what her mom called going #2 when she was a kid and it just stuck! I find that, and the fact that she actually calls her mom Mother (is that a Yankee thing?), hysterical! But then again, like I said, I have a pretty odd sense of humor.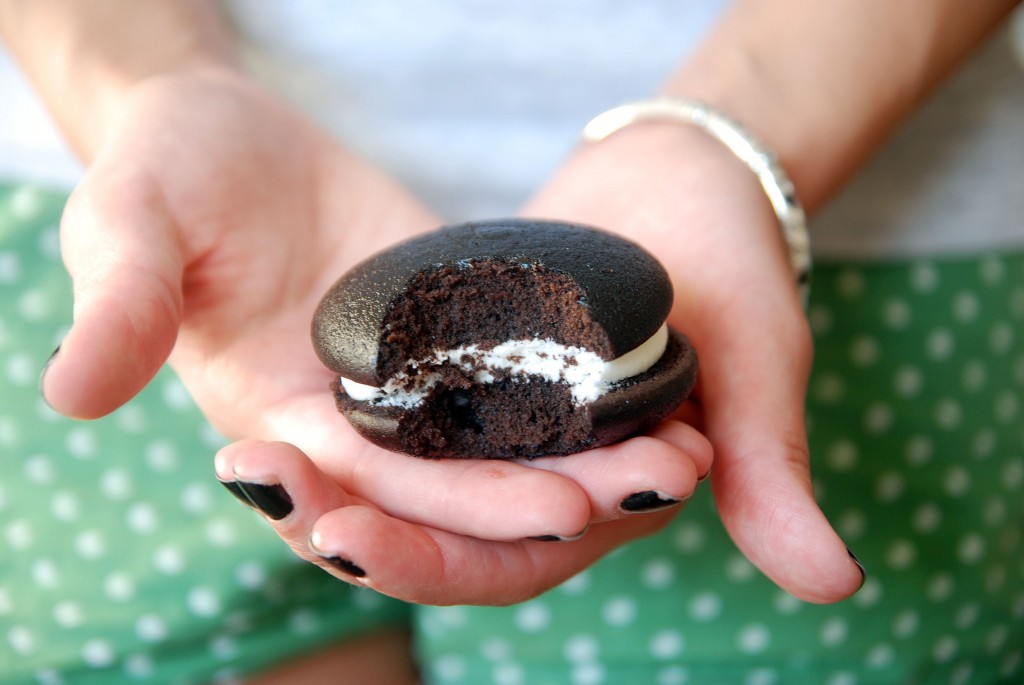 Funny euphemism or not, I can't believe I waited so long to make Whoopie Pies! They were so good! I loved the lightness of the cookie and the combination of the cream. It is nothing like an oreo, despite what some people told me, and I definitely would not want it dunked in milk…but I would want about 50 of them and a dark empty room, because as we all know…if no one sees you eat it, then the calories don't count!
Chocolate Whoopie Pies
Ingredients:
For the whoopie pie:
1 2/3 cups all-purpose flour
2/3 cup unsweetened cocoa powder
1 1/2 teaspoons baking soda
1/2 teaspoon salt
4 tablespoons unsalted butter, room temperature
4 tablespoons vegetable shortening
1 cup packed dark brown sugar
1 egg
1 teaspoon vanilla
1 cup milk

For the filling:
1/2 cup vegetable shortening
1/2 cup butter, room temperature
1 cup confectioners' sugar or glazing sugar
1 1/3 cups Marshmallow Fluff or marshmallow creme
1/4 teaspoon salt dissolved in 1 tablespoon water
1 1/2 teaspoons vanilla extract
Directions:
For the whoopie pie:
Preheat oven to 375 degrees. Line baking sheets with parchment paper.
In a bowl, sift together, flour, cocoa, baking soda, and salt. In another bowl, beat butter, shortening and sugar with a mixer on low until just combined. Increase speed to medium and beat for about 3 minutes.
Add egg and vanilla and beat for two more minutes. Add half of the flour mixture and half of the milk and beat on low until incorporated. Repeat with remaining flour and milk and beat until combined.
Using a tablespoon, drop batter on baking sheet two inches apart. Bake for about 10 minutes each or until pies spring back when pressed gently.
Remove from oven and cool for about five minutes before transferring them to a rack to cool completely.
1 Tbsp of batter should make about 48 two-inch cakes or 24 pies.
2 Tbsp of batter should make about 30 four-inch cakes or 15 pies.
For the filling:
Beat together the butter, shortening, sugar, and marshmallow till well combined.
Dissolve the salt in the water, and add to the marshmallow mixture. Add the vanilla, and beat till smooth.
Spread the flat side of half the cakes with the filling. Top with the remaining cakes, flat side towards the filling. Wrap individually, in plastic wrap, till ready to serve.