Dark chocolate. Zucchini. Cinnamon. Walnuts. You in? I thought so. These Chocolate Zucchini Walnut Brownies are absolutely magical. They're moist with a sweet crunchy top that sets them apart from all other brownies out there.
And even though these are some of my favorite brownies, I still also highly these classic Fudge Brownies.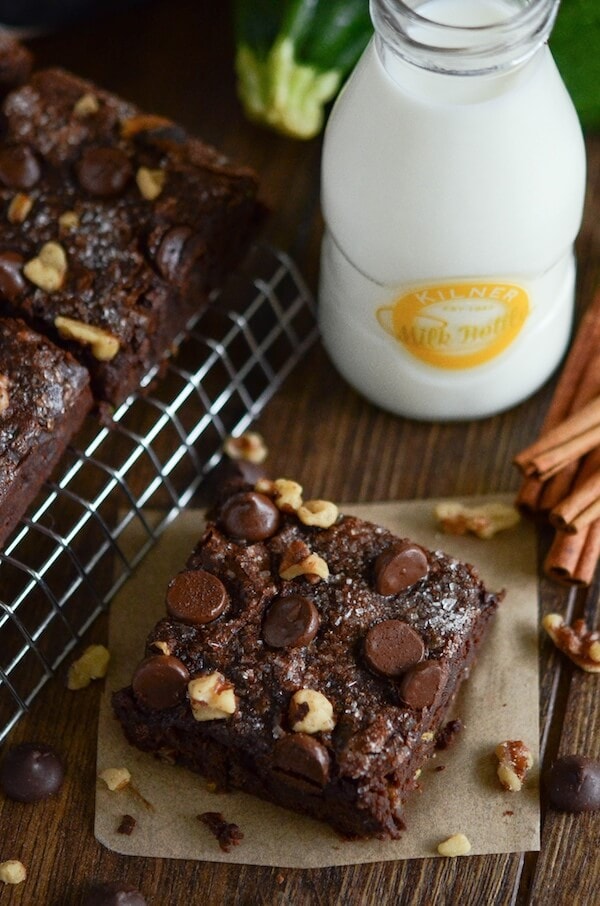 The Best Zucchini Brownies You'll Ever Try
These brownies also have a secret, besides their hidden zucchini, these brownies are gluten free and diary free! Think you could tell? Well, I fed them to 6 adults and 4 kids and no one had a clue. When I told everyone that they were filled with zucchini and gluten free and diary free…well, they were shocked. And then they promptly grabbed another brownie.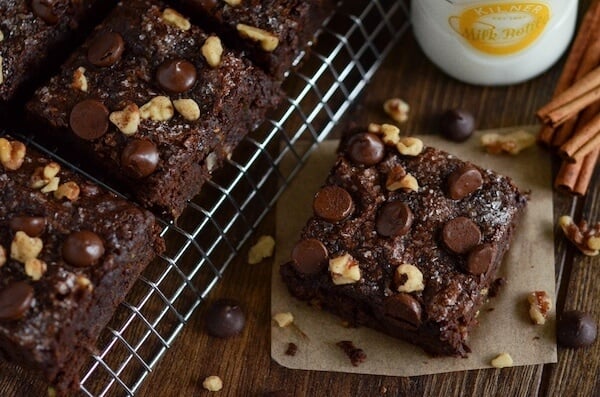 You'll Never Know These Brownies Are Gluten And Dairy Free
I love to feed people. It's a big reason why I started this blog. I like to cook, bake and shake up cocktails for everyone who walks in my door. It's what makes me feel good. It's how I show love.
Two of my girlfriends have dietary restrictions that make that hard sometimes. One is gluten free and the other has to be diary free (she even carries an epi-pen). When they come over, I like to make sure I have at least a few options for both of them.
When they stopped by earlier this month for a little catch up chat, I was scrambling for what to make. I ended up pulling out some hummus, my Fully Loaded Guacamole and I whipped up a batch of these brownies.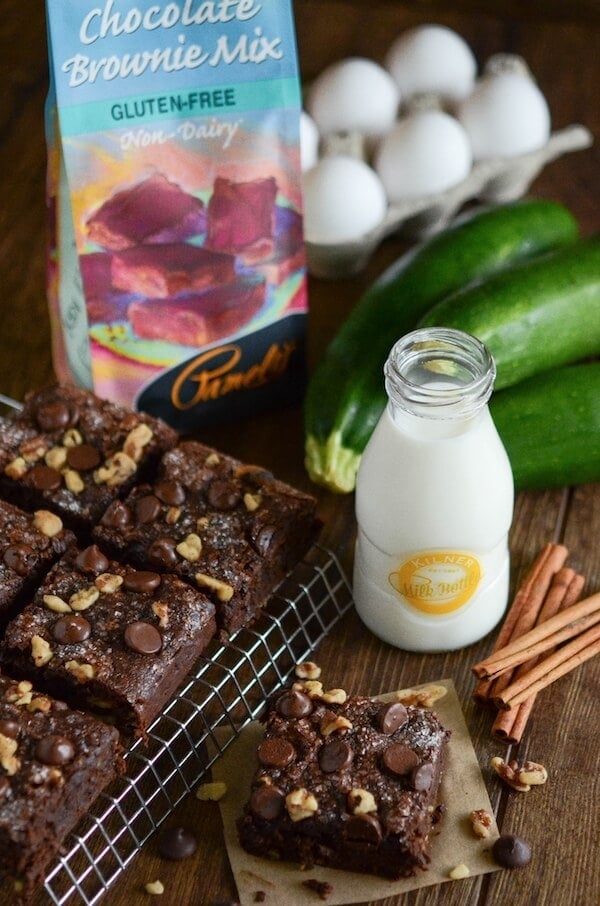 What Kind Of Brownie Mix Does This Recipe Use?
I had actually never made gluten free brownies before and was pretty nervous. I have had wonderful success with using Pamela's Chocolate Brownie Mix previously and was trusting her not to let me down. I used Pamela's Chocolate Brownie Mix and I am so glad that I did. They were even better than I could have imagined and they baked so quickly — only 20 minutes in the oven!
When I pulled these out of the oven, I knew I would have to wait until the next day for them to really be "ready" to eat. Anytime you bake with chocolate and zucchini, it is ALWAYS best if you let them rest overnight. So I let them cool and wrapped them with foil and let them sit. The smell was killing me, but I waited and waited…until breakfast.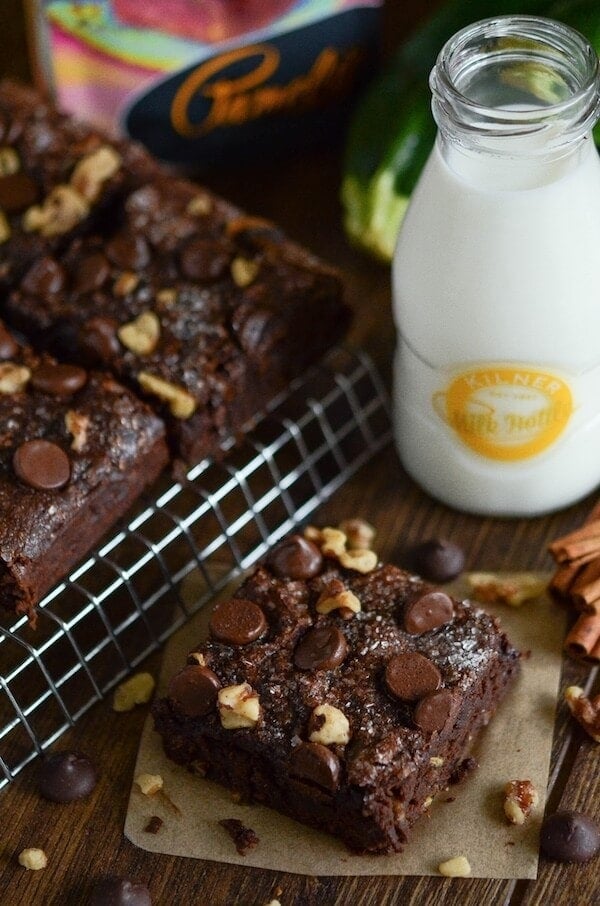 These Chocolate Zucchini Walnut Brownies were so worth the overnight wait. Jorge came in while I was inhaling a brownie with my coffee and quickly stole one off the tray.
He loved them so much that he could not stop talking about them. He was telling everyone about the best brownies I had ever made…little did he know that I used a gluten-free mix…and that they had a ton of zucchini stuffed inside! Yay for hidden veggies!
Please try these brownies, even if you don't have to eat gluten-free, they are seriously some of the best brownies I have ever made. For real.
Yield: 9 Brownies
Chocolate Zucchini Walnut Brownies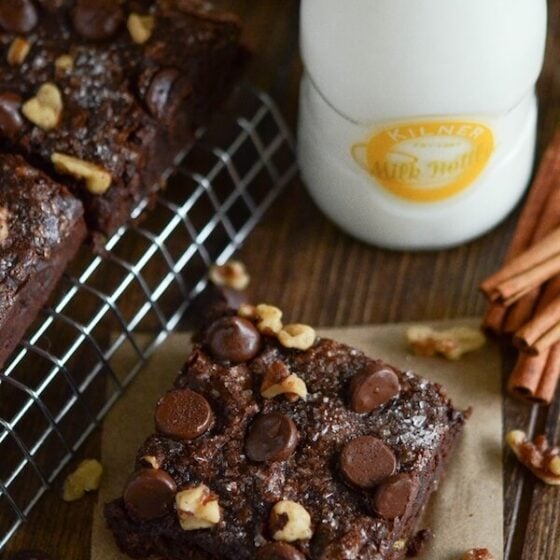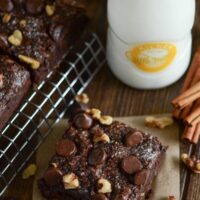 Dark chocolate. Zucchini. Cinnamon. Walnuts. These Chocolate Zucchini Walnut Brownies are absolutely magical. They are crazy moist with a sweet crunchy top!
Ingredients
1 bag Pamela's Chocolate Brownie Mix
1/2 teaspoon cinnamon, divided
1/2 cup vegetable oil
2 tablespoons water
1 large egg
1.5 cups shredded zucchini, strained to remove excess moisture
1/3 cup dark chocolate chips
1/3 cup chopped walnuts
2 tablespoons granulated sugar
Instructions
Preheat oven to 350°F. Grease a 8x8 inch square pan with non-stick spray and line with parchment paper. Set aside.
In a large bowl, whisk together Pamela's Chocolate Brownie Mix, 1/4 teaspoon cinnamon, vegetable oil, water and egg. Fold in zucchini, chocolate chips and walnuts.
Pour brownie batter into prepared pan and spread into an even layer.
Sprinkle top of brownie batter with remaining cinnamon and granulated sugar. If you would like, you can add extra walnuts and dark chocolate chips on top too.
Bake for 20 to 22 minutes, until a toothpick inserted in the center comes out clean. Let cool completely.
Brownies are best if you let them rest for 24 hours before eating, but can absolutely be eaten as soon as they cool! Store brownies in an airtight container for up to 4 days.
Nutrition Information:
Yield:
9
Serving Size:
1
Amount Per Serving:
Calories:

220
Total Fat:

19g
Saturated Fat:

3g
Trans Fat:

0g
Unsaturated Fat:

15g
Cholesterol:

25mg
Sodium:

30mg
Carbohydrates:

11g
Fiber:

1g
Sugar:

6g
Protein:

2g
Categories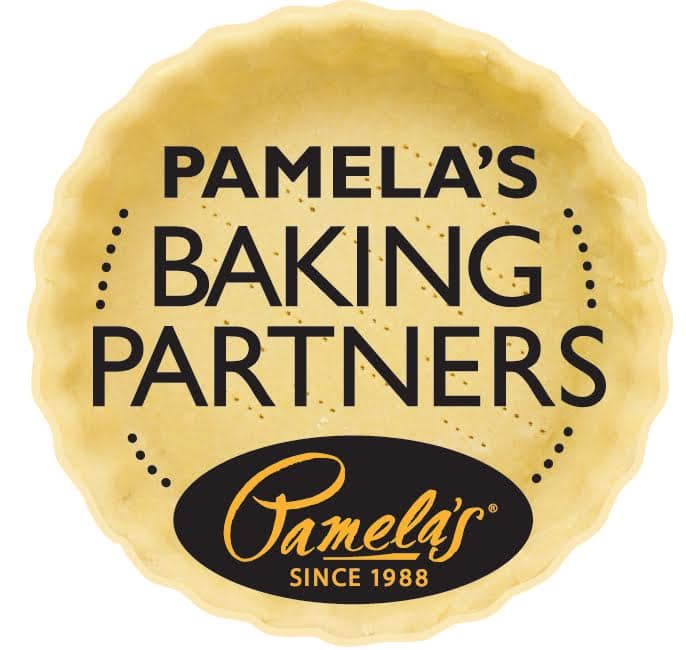 This post is sponsored by Pamela's Products. All opinions are, as always, 100% my own. Thank you for supporting the brands that I love and that keep The Novice Chef running!

This post may contain affiliate links. Read my disclosure policy.