Churro Cupcakes with Cinnamon Cream Cheese Frosting are the perfect after dinner dessert to go with a cup of coffee. The cupcake is light and fluffy and the homemade cinnamon cream cheese frosting is absolutely delicious!
Love churros for dessert? Then you'll love my Churro Twists with a Cinnamon Cream Cheese Dip recipe and these Churros with Salted Caramel Sauce.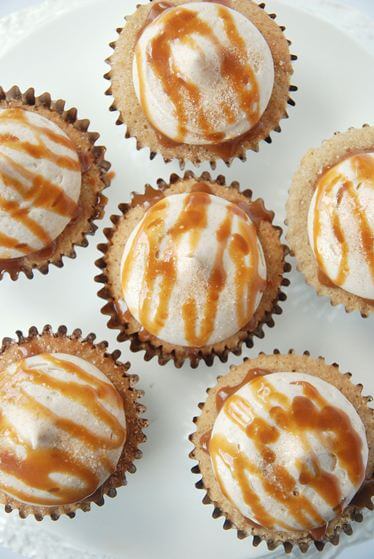 Churro Cupcakes with Cinnamon Cream Cheese Frosting
Trump is no longer running for president.
Ashton Kutcher is taking over for Charlie Sheen. #Winning
Osama Bin Wankin' Laden apparently had a ginormous stash of porn.
And I am currently addicted to Cinnamon Sugar things.
You are now caught up on all the world news. In 4 sentences. Don't you wish it was always that easy? Once I came across these Churro Cupcakes I knew I was done for. I just had to count down the days until I had an excuse to make them. When I finally had time, it was the weekend…and having cupcakes trapped in the house with me is never a smart move. So I held off till Sunday. Sunday we had some family over for a late lunch and I thought these would be the perfect treat. But then Jorge asked me to double the recipe and send some in to the office with him Monday for a group of students they had coming in…..all of this is leading up to telling you I had 36 cupcakes staring me in the face on a Sunday afternoon. It was horrible, it was glorious, it was the best Sunday I have had in a long time.
These Churro Cupcakes Have The Best Homemade Cream Cheese Frosting
These cupcakes were delicious. The cake was the perfect vessel for the Cinnamon Cream Cheese Frosting on top. They were perfectly light, while still staying moist. I added oil, alongside the butter, to get this consistency. I knew with the frosting, the cupcake itself could not be too heavy…but I also did not want too light or dry of a cupcake. These were perfect with a cup of coffee or standing over the sink. I am sure they will be showing up again soon!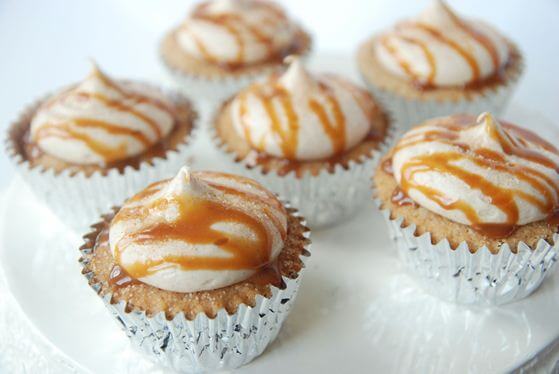 Yield: 18 cupcakes
Churro Cupcakes with Cinnamon Cream Cheese Frosting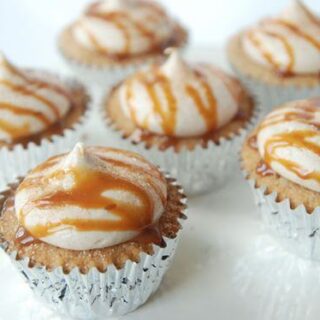 Churro Cupcakes with Cinnamon Cream Cheese Frosting are the perfect after dinner dessert. The homemade cinnamon cream cheese frosting is delicious!
Ingredients
For the cupcakes
1 1/2 cups all-purpose flour
1 1/2 teaspoons cinnamon
1 1/2 teaspoons baking powder
1/2 teaspoon salt
1/2 (1 stick) cup unsalted butter, at room temperature
1 cup sugar
2 eggs
2 teaspoons vanilla extract
1/4 cup vegetable oil
1/2 cup milk
For the frosting
4 ounces cream cheese, at room temperature
4 tablespoons unsalted butter, at room temperature
2 cups confectioners' sugar
1 teaspoon vanilla extract
1 teaspoon cinnamon
Instructions
To make the cupcakes:
Preheat the oven to 350 degrees. Line a muffin pan with cupcake liners; set aside.
In a medium bowl, combine the flour, cinnamon, baking powder, and salt; set aside.
In a large bowl, or the bowl of a standing mixer, cream the butter and sugar together until light and fluffy. Add the eggs, one at a time, until just combined then stir in the vanilla and oil. Sprinkle 1/3 of the flour mixture over the butter mixture and gently stir in until barely combined. Add half of the milk, mixing until just combined. Repeat these steps with the remaining flour mixture and milk, ending with the flour. Do not over mix.
Fill each cupcake tin with 2 tablespoons of batter, or until the cupcake tin is filled half way. Bake the cupcakes for 14 to 16 minutes, or until a toothpick inserted in the center comes out with one or two crumbs clinging to it. Allow the cupcakes to cool completely before frosting.
To make the frosting:
Cream the butter and cream cheese together in a large bowl. Add the sugar, one cup at a time, beating well between each addition. Stir in the cinnamon until thoroughly combined. Then stir in the vanilla. Beat the mixture well, until light and fluffy.
Pipe onto cupcakes, sprinkle with a little cinnamon sugar and top with a drizzle of Dulce De Leche if desired.
Notes
Recipe note: When it says to only fill your cupcake tins half way, I mean it. These cupcakes do not make a dome on top. Instead they are flat. If they rise over the tin, they are not pretty!
Adapted from My Baking Dom
Nutrition Information:
Yield:
18
Serving Size:
1
Amount Per Serving:
Calories:

260
Total Fat:

14g
Saturated Fat:

7g
Trans Fat:

0g
Unsaturated Fat:

6g
Cholesterol:

48mg
Sodium:

132mg
Carbohydrates:

32g
Fiber:

0g
Sugar:

23g
Protein:

3g
This post may contain affiliate links. Read my disclosure policy.