These Churro Pancakes are easy and extra fluffy cinnamon pancakes brushed with butter, sprinkled with cinnamon sugar and then drizzled with a sweet salted caramel sauce on top. Everyone will be begging for more!
Churro Pancakes
Churros are easily one of my family's favorite desserts when we go out for Mexican food or to a theme park. The sweet cinnamon sugar coating and caramel or chocolate dip always seals the deal! These fluffy Churro Pancakes are the perfect solution to a churro craving that just needs to be satisfied!
Fluffy, soft, homemade cinnamon pancakes are brushed with butter and topped with sweet cinnamon sugar. Then drizzled with a gooey salted caramel sauce or homemade chocolate sauce on top.
It is going to be really hard to resist eating every last one of these Churro Pancakes and saving enough to share with anyone else! Serve these sweet pancakes as dessert or serve them as breakfast… I won't tell.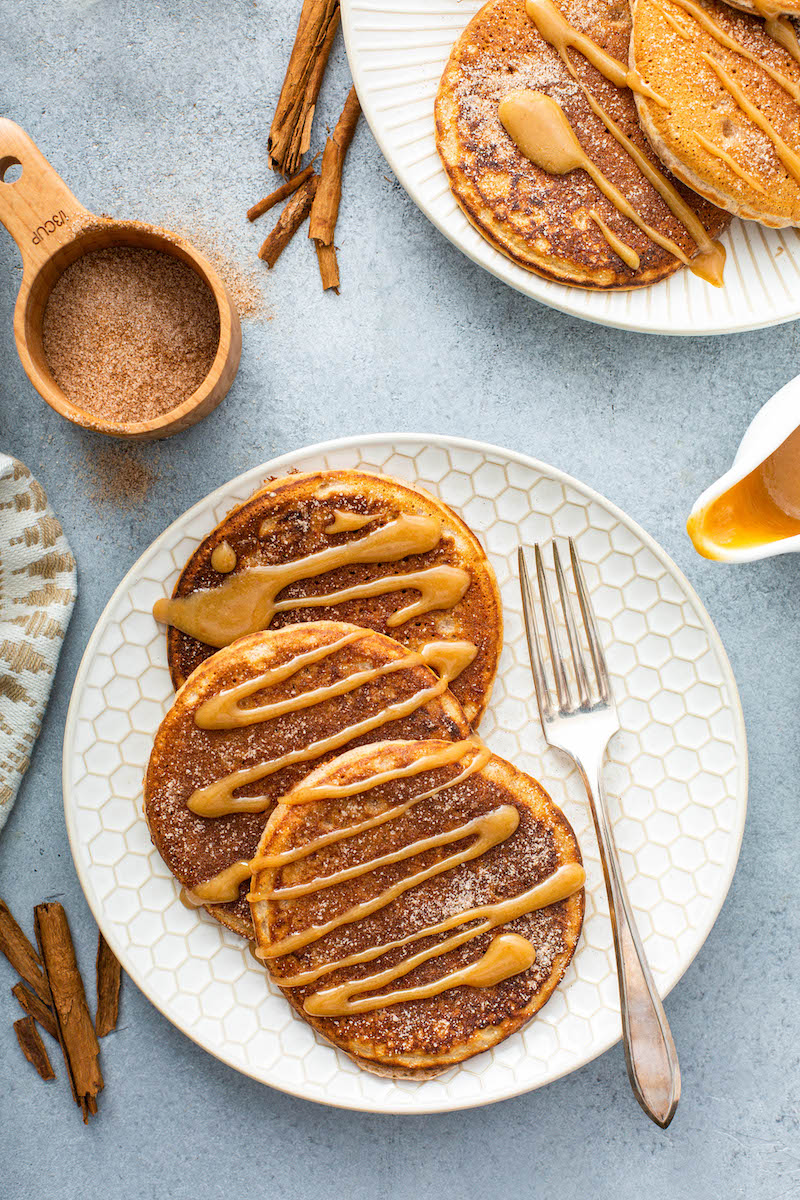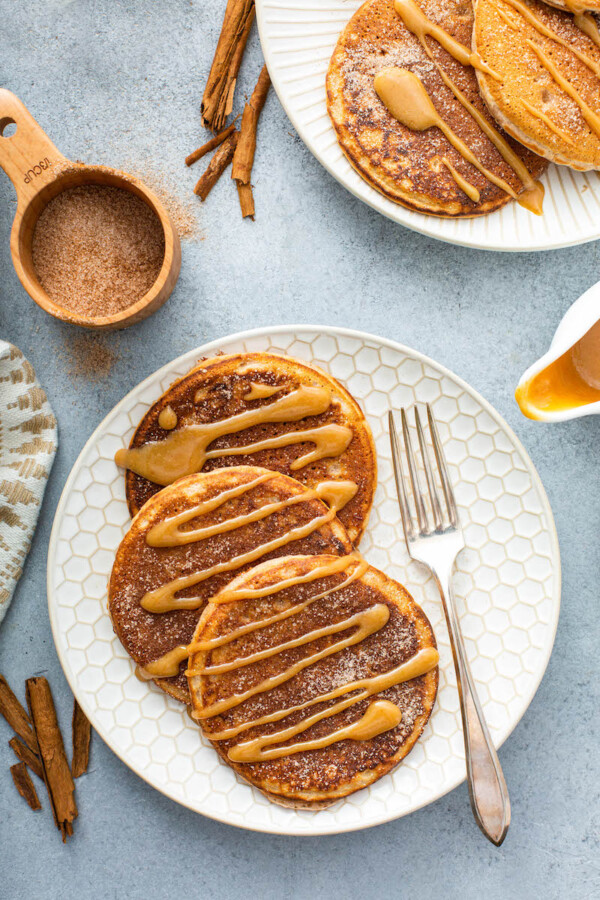 Chocolate Sauce or Caramel Sauce?
This was a really hard choice for me to make! Both chocolate and caramel sauces are commonly served with classic Churros.
The more traditional sauce is probably the chocolate sauce, but a delicious caramel sauce is my personal favorite and the one I ultimately decided to go with!
However, I also have an amazing and easy homemade Chocolate Sauce recipe that you can whip up instead. Drizzle it over your churro pancakes for a fun chocolate-y twist!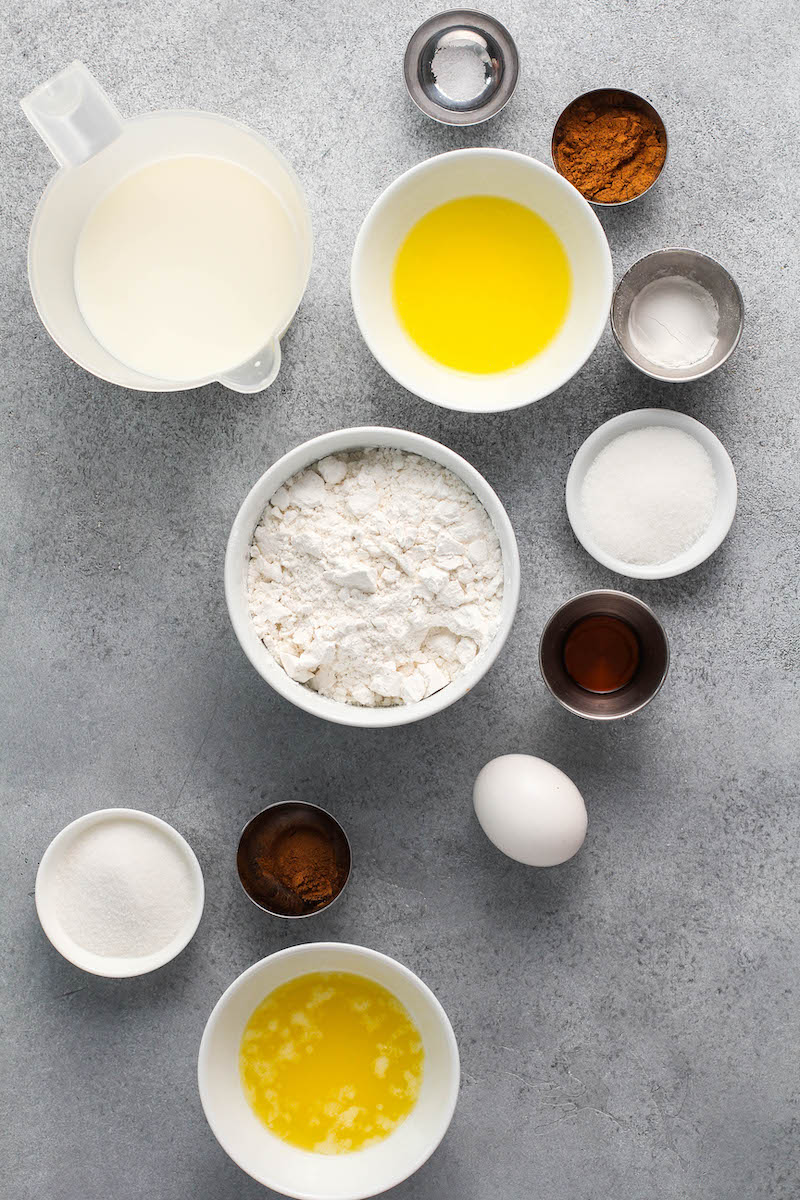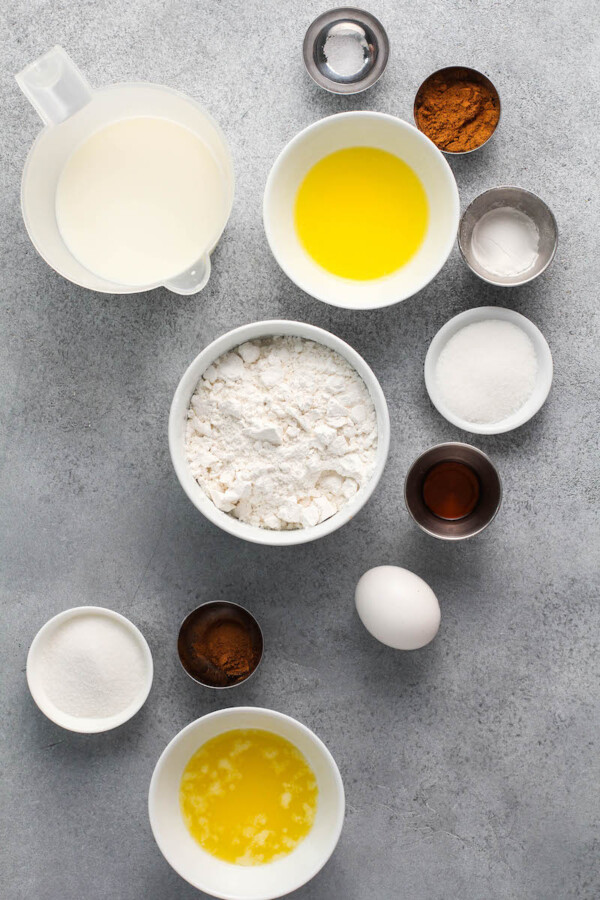 Ingredients Needed
You should be able to find most of the ingredients you'll need at home without needing to go to the store. But if not, here is what you'll need to make churro pancakes at home:
All Purpose Flour
Butter
Granulated Sugar
Baking Powder
Cinnamon
Salt
Whole Milk
Vanilla Extract
Egg
Cinnamon
To make the amazing salted caramel topping, you'll need these ingredients on hand:
Vanilla Extract
Kosher Salt
Evaporated Milk
Butter
Brown Sugar
For the cinnamon sugar dusting, you'll need:
Melted Butter
Granulated Sugar
Powdered Sugar
Cinnamon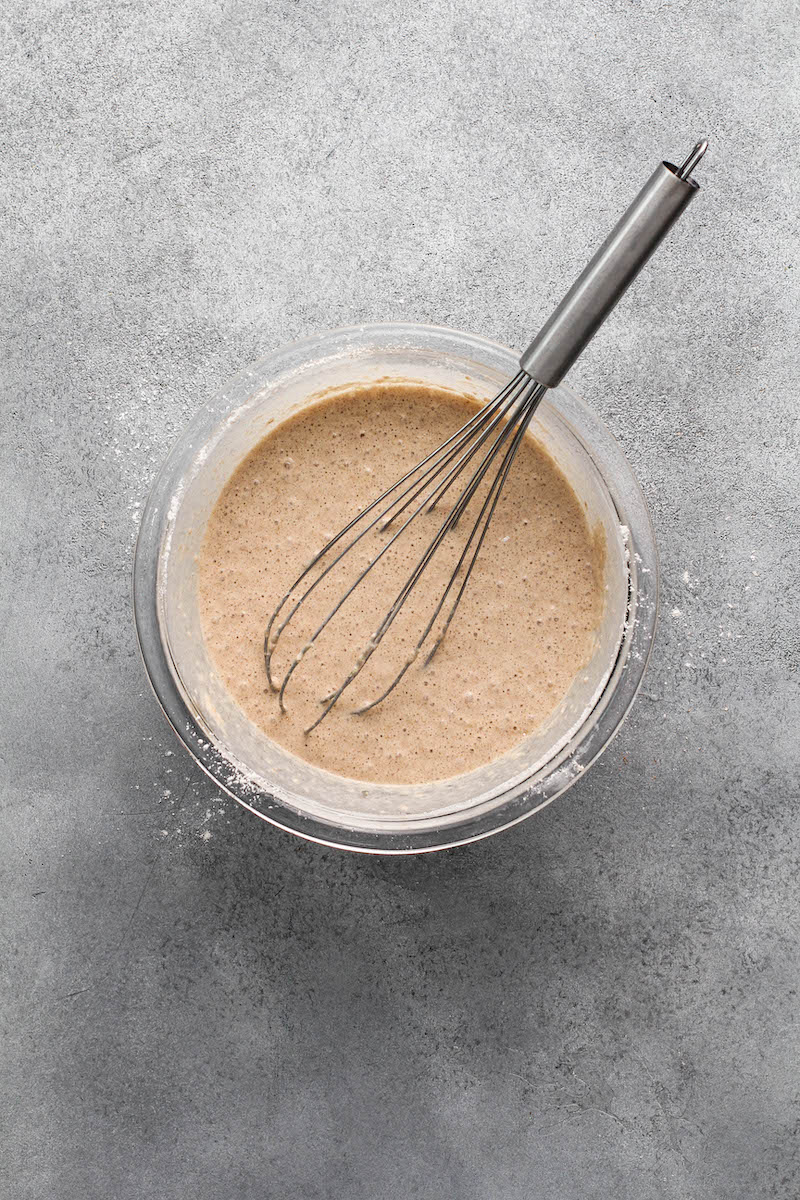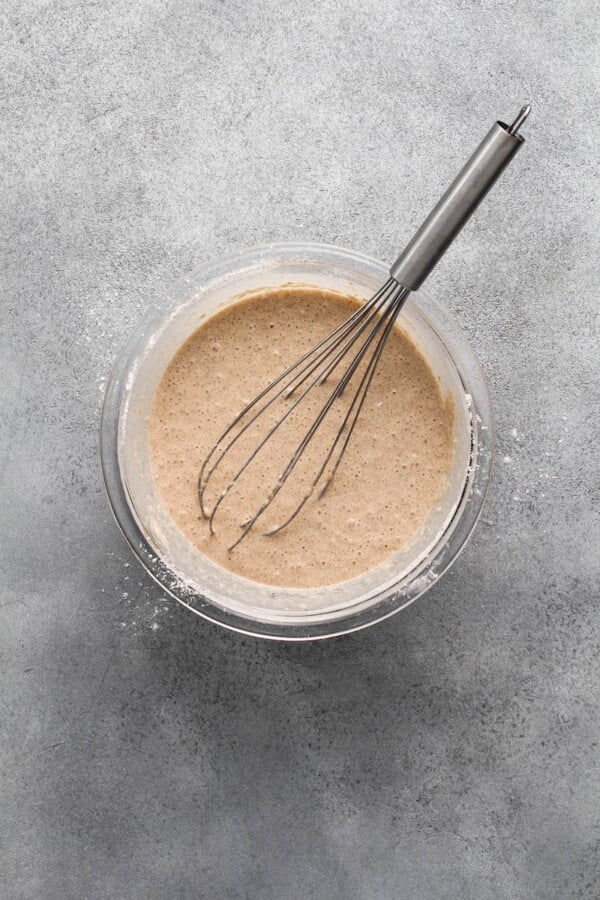 How to Make Churro Pancakes
These pancakes are just as easy as regular pancakes to make, so why not spice up your life just a bit? Here's how to make these delicious pancakes so that you can delight your family or friends:
Sift the dry ingredients – flour, baking powder, sugar, salt, and cinnamon – into a large bowl.
Make a well in the ingredients and add the melted butter, milk, egg, and vanilla. Whisk the ingredients until they form a mostly smooth batter with only a few lumps. Don't over mix it!
Heat the griddle or pan over medium heat and add butter, oil, or non-stick spray. Once the pan is hot, pour about a 1/4 cup of batter onto the griddle to make one pancake. Put as many pancakes as you can on the griddle, but make sure you leave a little room so you can fit a spatula under them to flip them.
Flip the pancakes when they start to bubble. Cook the second side until the edges start to brown up a bit and then remove from heat.
In a small bowl, mix the granulated sugar and cinnamon. As you remove each pancake, brush each with the melted butter and sprinkle a generous amount of the mixture on top.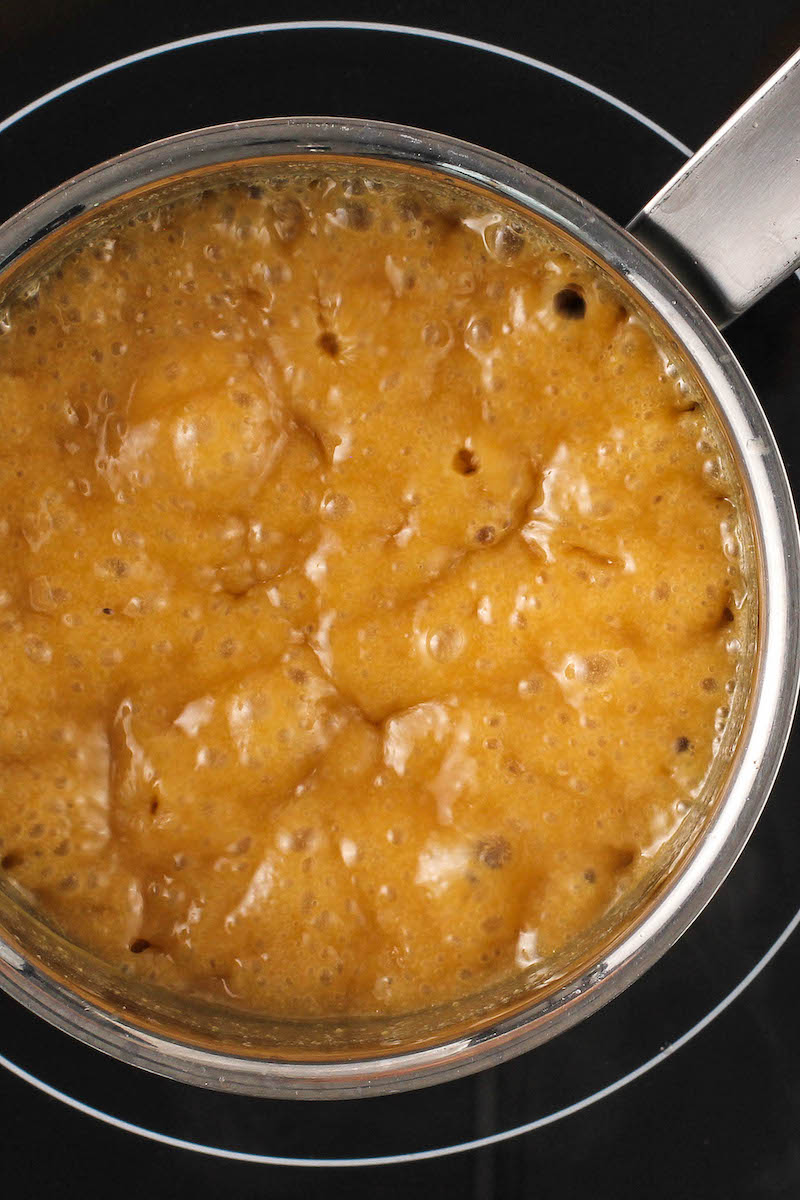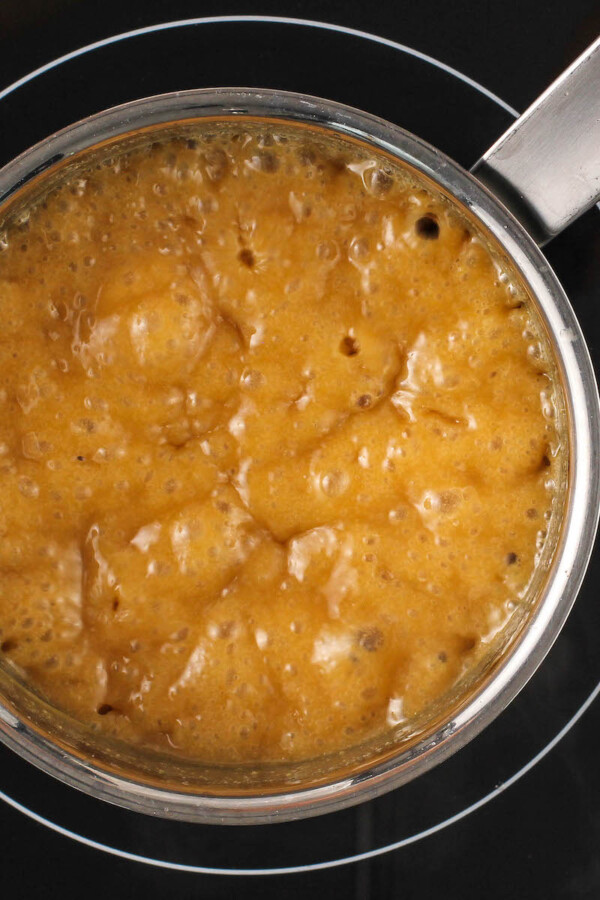 Make the salted caramel sauce by heating the brown sugar, evaporated milk, and butter over medium heat in a small or medium saucepan. Bring the ingredients to a boil and cook for about 5 to 7 minutes or until it has thickened nicely. Remove the thickened sauce from the heat and stir in the vanilla extract and salt.
Drizzle the caramel sauce over the pancakes and serve while warm.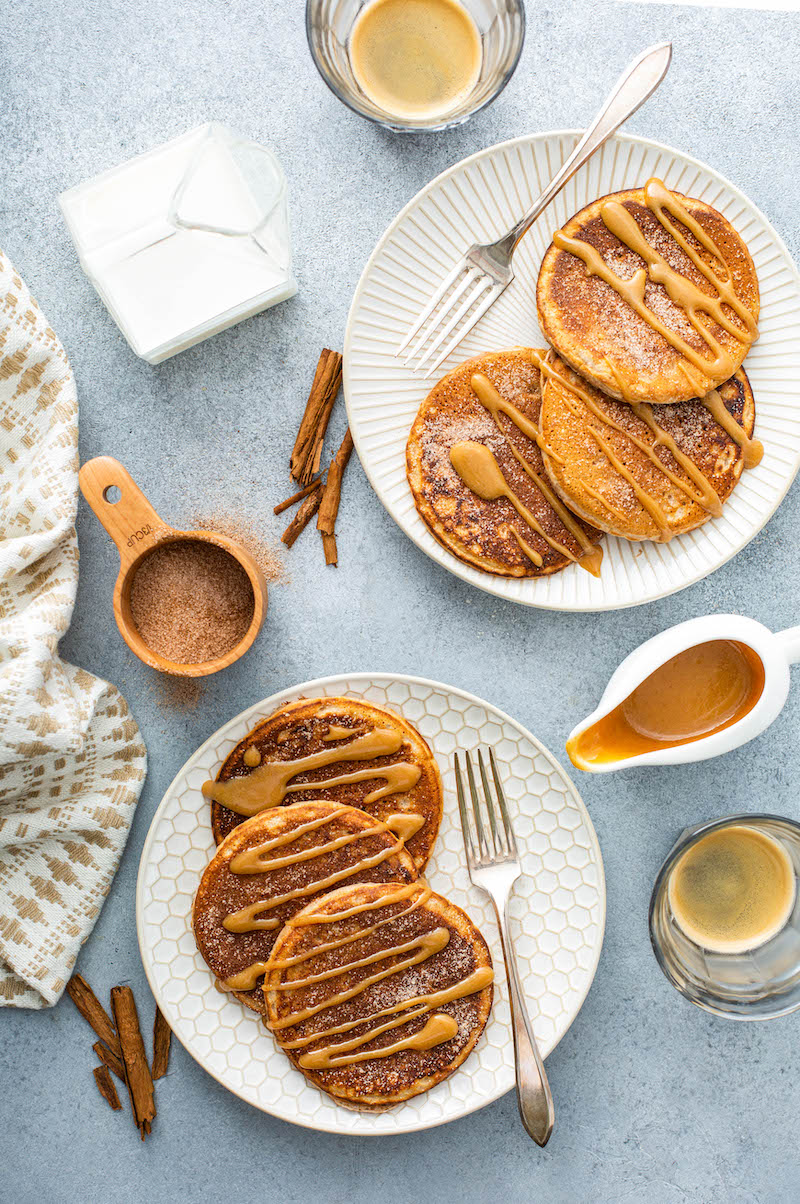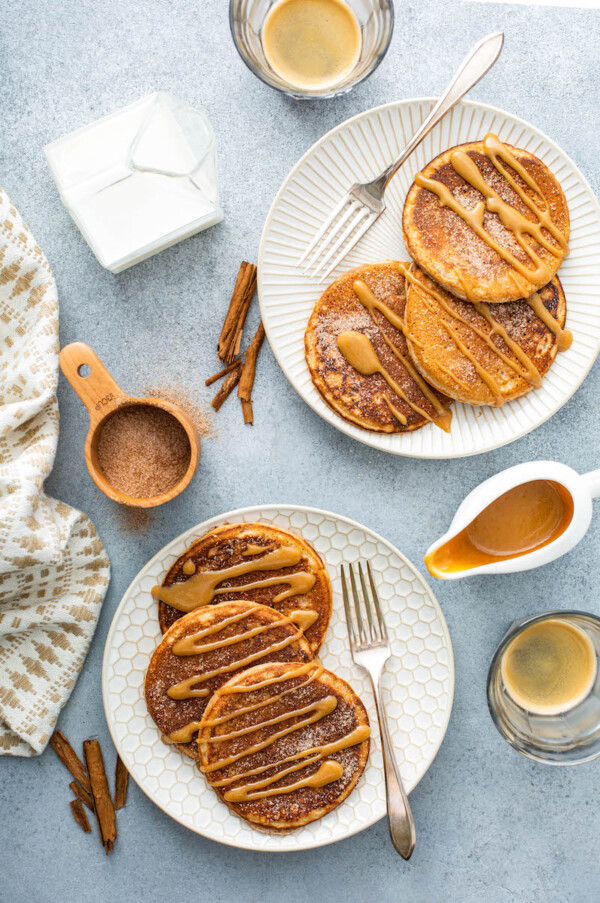 Serving Ideas
These churro pancakes are a super sweet treat. Of course you can serve these for breakfast on a lazy weekend day, but you could also serve these as a fun, unusual dessert. Top them with vanilla ice cream and whipped cream for a tasty take on waffles and ice cream.
For best results
Tips for Best Churro Pancakes
Medium heat is a great temperature to cook the pancakes. If you use too hot a flame, you'll likely burn the outsides and leave the insides raw.
If your batter is too thin and watery, you can add about 1 teaspoon of flour at a time until the batter thickens – just don't over mix it!
If your batter is too thick and doesn't pour well, add about 1 teaspoon of milk at a time until it is easier to pour and a better consistency.
Sift the dry ingredients to give the pancakes extra fluffiness.
If you prefer plain caramel sauce, skip adding the salt.
Use whole milk, the fat adds more flavor and a better texture.
Add butter to the griddle or pan to prevent sticking and add extra flavor to pancakes.
Keep cooked pancakes warm on a baking sheet

 

in your oven set to warm.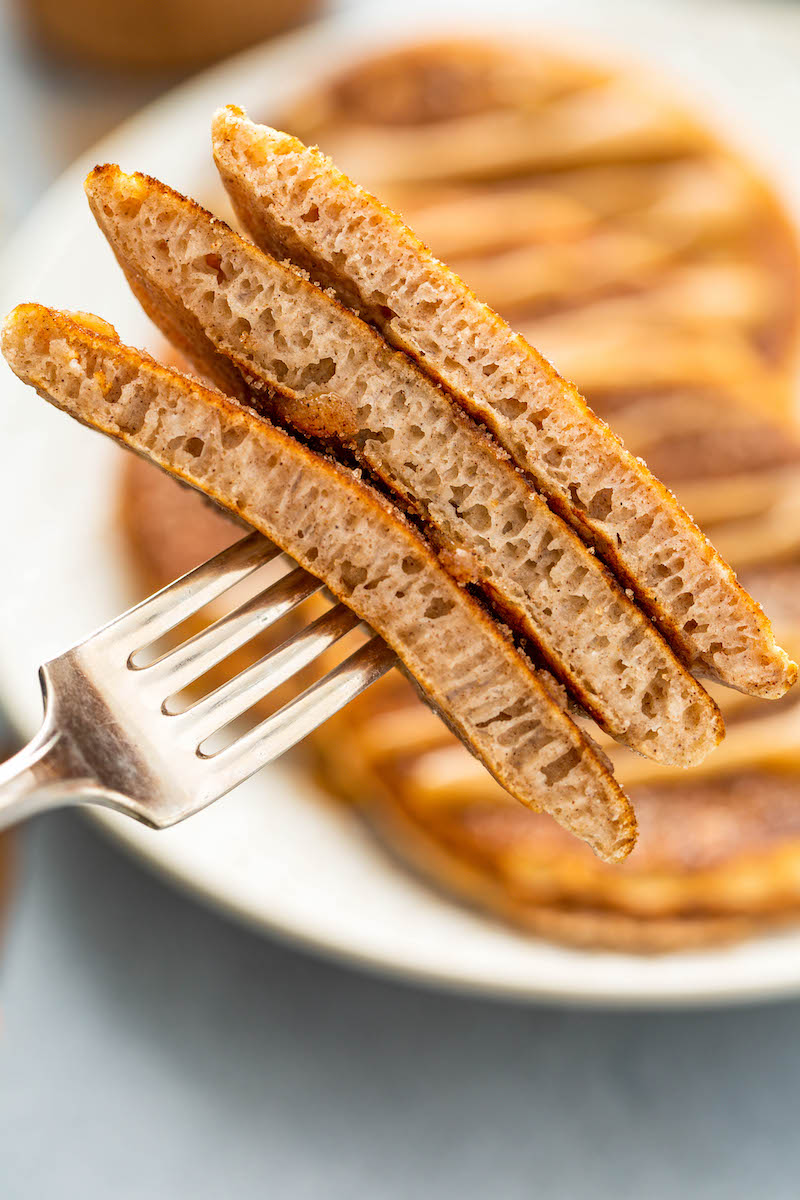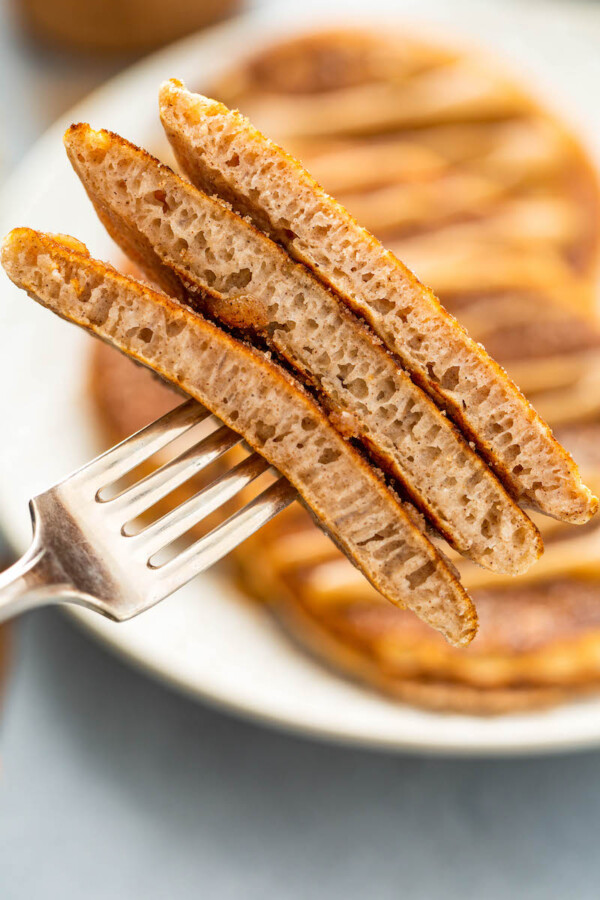 Storing Leftovers
Leftover pancakes are easy to store. Just don't brush the pancakes with butter/cinnamon/sugar or pour the caramel sauce over the ones you think you won't eat. Otherwise, those pancakes will get soggy if you try to store them.
To store plain pancakes, let the pancakes cool to room temperature and then place in an air tight container. Store in the refrigerator for up to 3 days. I like to wrap them individually with saran wrap!
Can I freeze these pancakes?
If you want, you can freeze the pancakes too. Place a sheet of parchment paper between the cakes and place them in a freezer safe container or bag for up to 6 months.
To serve them, you can either thaw them overnight in the refrigerator (if frozen) or just heat the pancakes in the microwave or toaster on its lowest setting.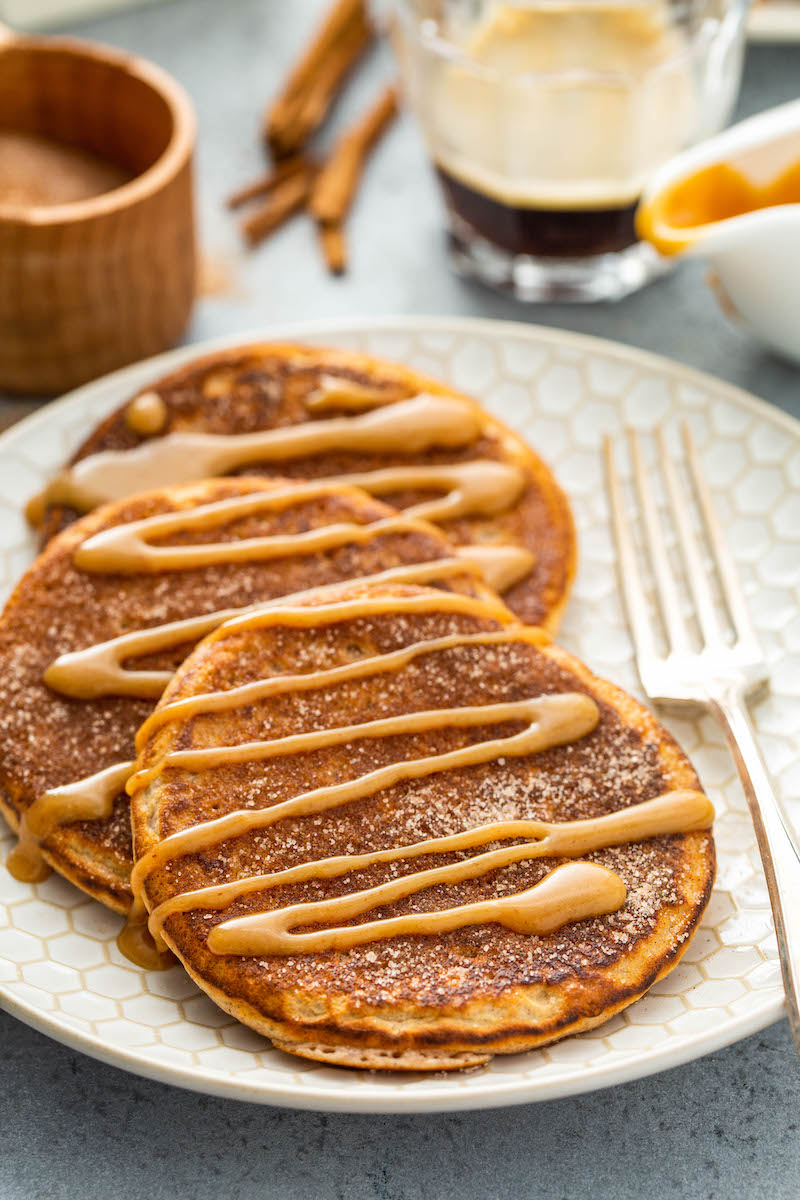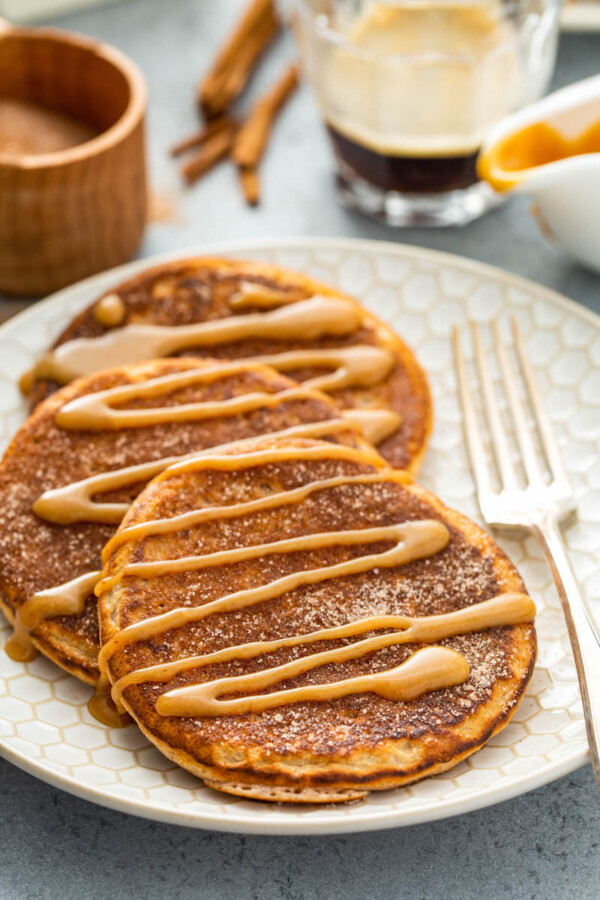 If you're a pancake lover (like me and my family), make sure you check out my favorite easy Fluffy Pancakes recipe for tips on making the most fluffy pancakes every! You also might just love these other pancake recipes: Easy Pumpkin Pancakes, Banana Chocolate Chip Pancakes, and for those living a healthy lifestyle try my Low Carb Pancakes.
Head on over to Dixie Crystals to get the full recipe I developed for them by clicking the button below:
This post may contain affiliate links. Read my disclosure policy.