Cinnamon Roll Pancakes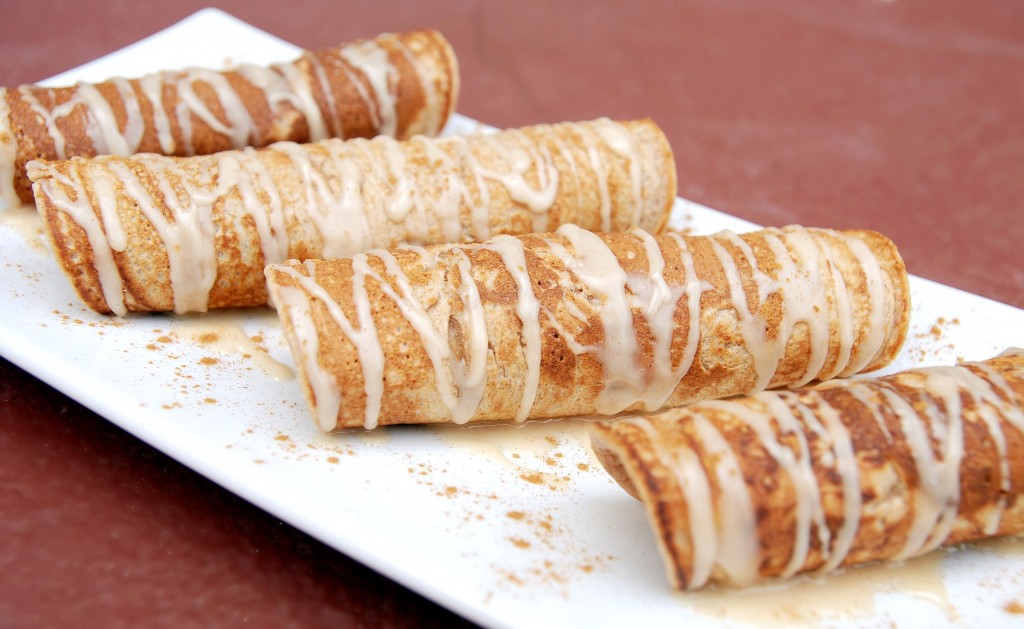 Cinnamon Rolls remind me of my childhood and happy times. My great, great grandmother, who spoke hardly any English used to make homemade cinnamon rolls that were the best I have ever had (and trust me, I have had lots of them in my lifetime). She would make them completely from scratch, in her tiny kitchen, and everyone knew her for them. She passed away when I was young, but I will forever remember sitting in her kitchen with her eating one of those delicious, hot out of the oven cinnamon rolls.
Then when I was in highschool, my Mom, got a bread machine…and she started making cinnamon rolls. Now, they were not as good as my Great Grandma Sally's cinnamon rolls…but they were still absolutely delicious. You could smell them when they were rising and when she would put them in the oven the whole house would smell like a giant cinnamon roll. And now in my adult life, when I smell cinnamon rolls, I am filled with good memories and warm feelings….and so when my friend Christina was staying with me, I wanted to make her feel welcomed with a yummy breakfast. I would have preferred to make her actual cinnamon rolls, but seeing as they took longer then I had that morning…I instead made these Cinnamon Roll Pancakes! They were delicious and filled us up for the day, but I think next time, I will make sure and have some delicious, homemade cinnamon rolls ready!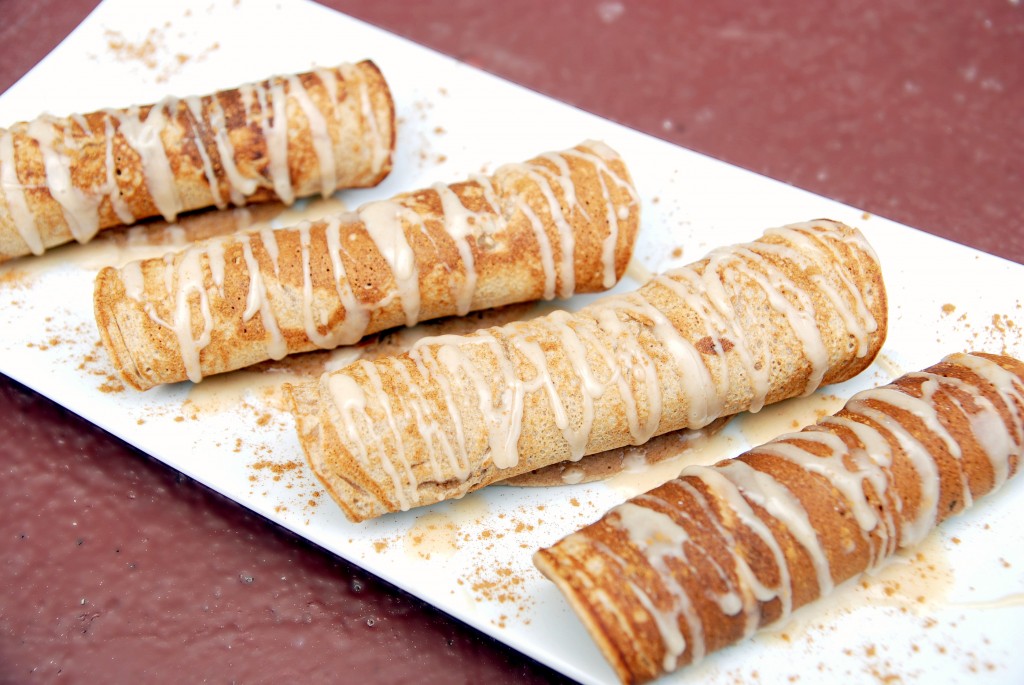 Cinnamon Roll Pancakes
Ingredients:
Pancake:
1 egg
1 cup buttermilk
1 tsp vanilla
2.5 Tbsp brown sugar
1 cup flour
2 tsp cinnamon
1.25 tsp. baking powder
1 Tbsp butter, melted
Filling:
2/3 cup pecans
3 Tbsp maple syrup
Icing:
1/2 cup powdered sugar
1 tbsp vanilla
1/2 tsp cinnamon
milk
Directions:
Preheat your griddle or pan and grease if necessary. Beat the egg and mix it with the milk, vanilla and brown sugar in a large bowl. Sift in the flour, cinnamon, and baking powder. Add the butter and mix lightly together with a spatula. Spoon out the batter in equal amounts onto the hot griddle. Cook until you start to see bubbles forming around the edges and a little on the top. Flip the pancakes and finish cooking on the other side.
Meanwhile, toast your pecans in a dry skillet over medium heat until they become fragrant. Put them in a mini food processor with the syrup and pulse until well combined and paste-like (adding more syrup, if you wish).
To make the glaze, sift the powdered sugar into a bowl. Then add the cinnamon, followed by the vanilla and a little milk until you get the proper consistency.
To plate, place a little bit of the pecan-maple paste in the center of a pancake and roll pancake and drizzle with the glaze. Lastly add a little more cinnamon on top and enjoy!