Cinnamon Sweet Potato Biscuits
These warm and delicious Cinnamon Sweet Potato Biscuits are so easy to make and go great with any holiday meal! Whip up a large batch and eat the leftovers as a quick breakfast.
These homemade biscuits go great with Instant Pot Turkey & Gravy and Thanksgiving Turkey!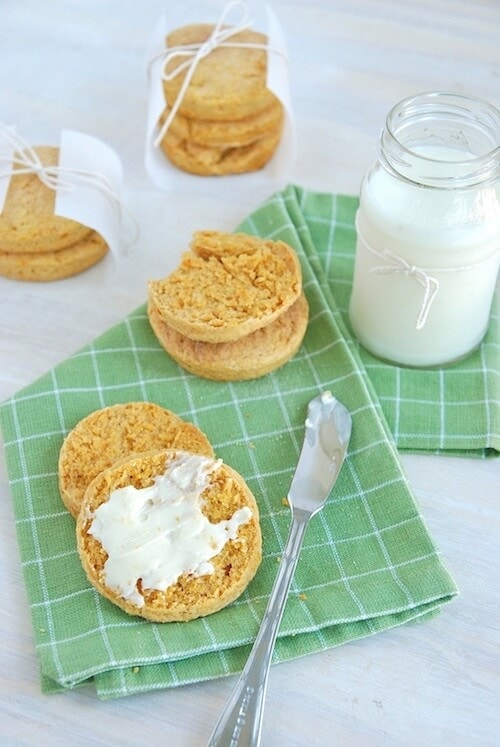 Cinnamon Sweet Potato Biscuits
I am full of excuses. I swear, I really was going to post the other biscuits for biscuit week while I was in Puerto Rico. I really, really was. I had such high hopes. However when my baggage arrived in PR, I went into vacation mode. Yes there was wifi at the hotel. Sure I could have been writing recipes and editing photos instead of watching House Hunters International…but where's the fun in that?
And of course I meant to play catch up on Monday when I got home. I even had thought of what I was going to write about. However, I caught a nasty cold from the woman who was sitting in front of me on the plane. I swear she hacked up an entire lung on the flight back. So instead, I spent Monday on the couch in a Nyquil induced haze. Then on Tuesday, it was time for Triple Chocolate Malt Cookies for Amy's shower. I couldn't flake out on her! Pregnant women have crazy hormones…and there was no reason to deny the pregnant lady cookies! That's just dangerous!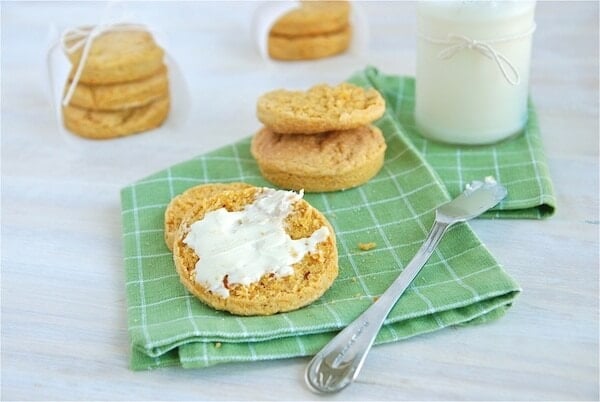 These Homemade Biscuits Will Make Your House Smell Like Thanksgiving
So here we are, 5 million excuses later, with Cinnamon Sweet Potato Biscuits. When these biscuits come out of the oven, they smell like Thanksgiving. I mean, if there were to be a Glade candle named "Thanksgiving", this is what it would smell like. After smelling these babies baking, it is the ultimate prize to slice into one and slather it with some Cinnamon Honey Butter. There is truly nothing better.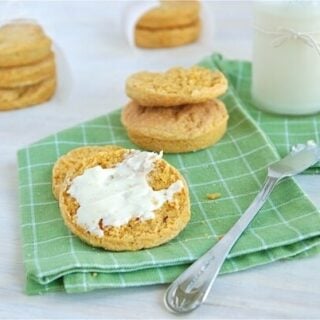 Cinnamon Sweet Potato Biscuits
Yield: 18 Biscuits

Prep Time: 25 minutes

Cook Time: 12 minutes

Total Time: 37 minutes

These Cinnamon Sweet Potato Biscuits will make themselves at home at the breakfast or dinner table. When served warm with a slathering of Cinnamon Honey Butter, they are pure heaven.
Ingredients
2 cups all purpose flour, sifted
2 1/2 teaspoons baking powder
1 teaspoon baking soda
1 teaspoon cinnamon
1/4 teaspoon freshly ground nutmeg
1/2 teaspoon salt
1/4 cup crisco shortening
4 tablespoons butter, chilled but soft*
1/4 cup packed brown sugar
1 cup pureed baked sweet potato, chilled
1/2 cup buttermilk
Instructions
Preheat oven to 400 degrees. Line a baking sheet with parchment paper or a silpat.

Combine the flour, baking powder, baking soda, cinnamon, nutmeg, and salt in a bowl and set aside.

In a stand mixer, cream together shortening and 4 tablespoons butter. Mix in brown sugar until smooth. Add flour mixture, with mixer on low, until small peas of dough form. This will take a few minutes and you will need to scrap down the sides/bottom of the bowl.

With the stand mixer still on low, carefully add in the pureed sweet potato and slowly pour in the buttermilk. Mix until the dough just comes together, do not over mix, and then turn onto a floured surface. Using the palms of your hands, gently pat the dough into a 1/2 inch thick disk. Using a 1 1/2 inch biscuit round cutter, cut out biscuits and place them on the lined baking sheet.

Carefully rework the leftover dough back into a disk and cut out biscuits once more. Your second batch of biscuits will never be as fluffy as your first batch. Each time you work with the dough, you press out more air. They will still be tasty, just not as perfect as your first batch.

Generously brush the tops of each biscuit with melted butter and sprinkle with additional cinnamon & sugar. Bake for 12-14 minutes, or until slightly browned. Remove from oven and serve immediately, trying hard not to burn your tongue. Serve them with more homemade cinnamon honey butter and any other fixin's your heart can dream of.
Notes
TNCB Original

**Chilled but Soft: So WTF does that mean? What I am trying to say...is to have your butter sitting on the counter for about 45 minutes to an hour before you use it. You don't want the butter to be room temperature...but you also don't want it hard from the fridge. Somewhere in the middle...where it is kinda soft...but still cold. Somebody really needs to come up with a name for this middle ground stage of butter.
Nutrition Information:
Yield: 18 Serving Size: 1
Amount Per Serving: Calories: 122Total Fat: 6gSaturated Fat: 3gTrans Fat: 0gUnsaturated Fat: 2gCholesterol: 9mgSodium: 235mgCarbohydrates: 16gFiber: 1gSugar: 4gProtein: 2g

P.S. If you didn't buy them the first time I mentioned them, save yourself the trouble and pick up some cheap biscuit cutters!
**the flavor idea for these biscuits came from the lovely Food Plus Words**