Two cobbler recipes, Pumpkin Pecan Cobbler and Caramel Apple Cobbler, are baked together in one casserole dish and served warm with ice cream for the ultimate dessert.
If you love cobbler, be sure to also try my Skillet Berry Cobbler and my Classic Berry Cobbler recipes.
You Can Bake Apple Cobbler And Pumpkin Cobbler In One Dish
Did you know you can make cobbler, two different ways, in one 9×13 casserole dish?
I've teamed up with McCormick to bring you this easy, flavorful Thanksgiving dessert recipe made in the same casserole dish.
All you need is some parchment paper and a little help from a paper clip to ensure that your recipes can cook togehter at the same time and temperature.
This Easy Cobbler Recipe Is Perfect For Thanksgiving
I made two Thanksgiving cobbler versions in one casserole dish. The first is a Caramel Apple Cobbler with soft, spiced apples, chewy caramel and lots of McCormick Ground Cinnamon and McCormick Ground Nutmeg.
The second is a Pumpkin Pecan Cobbler flavored with my favorite McCormick Pumpkin Pie Spice and McCormick Pure Vanilla Extract.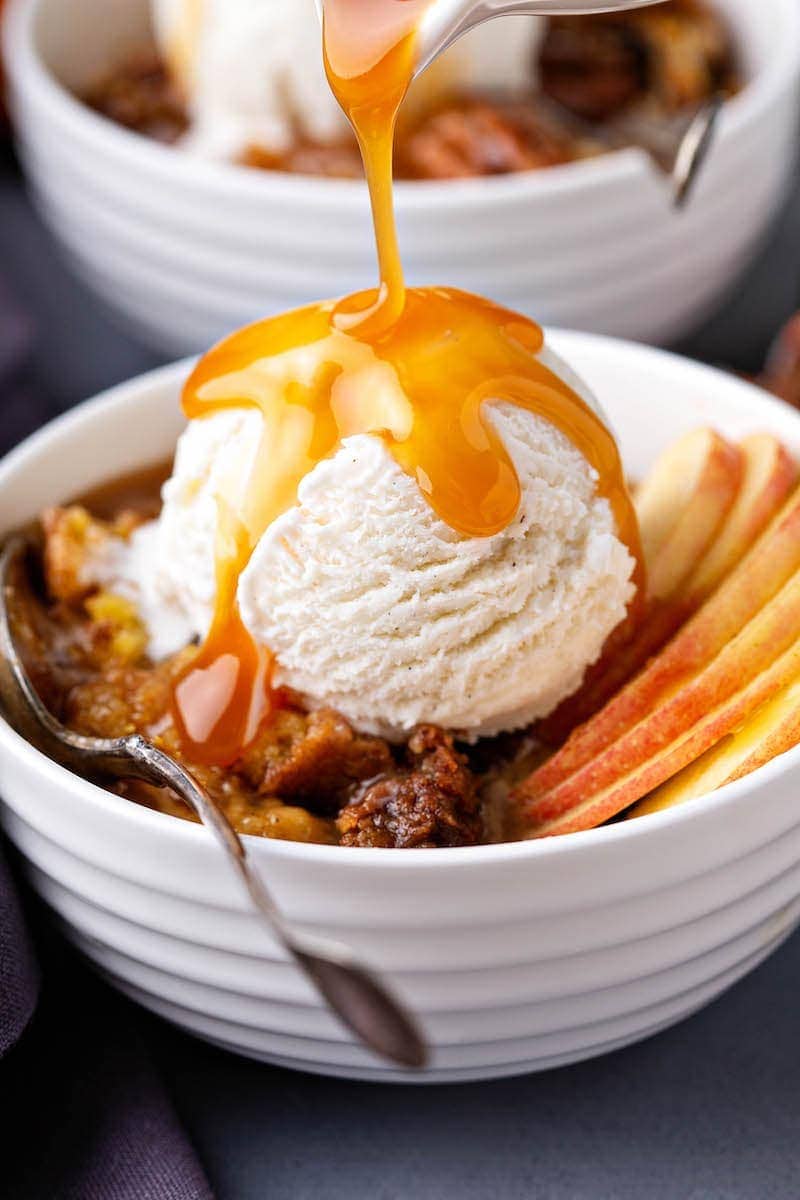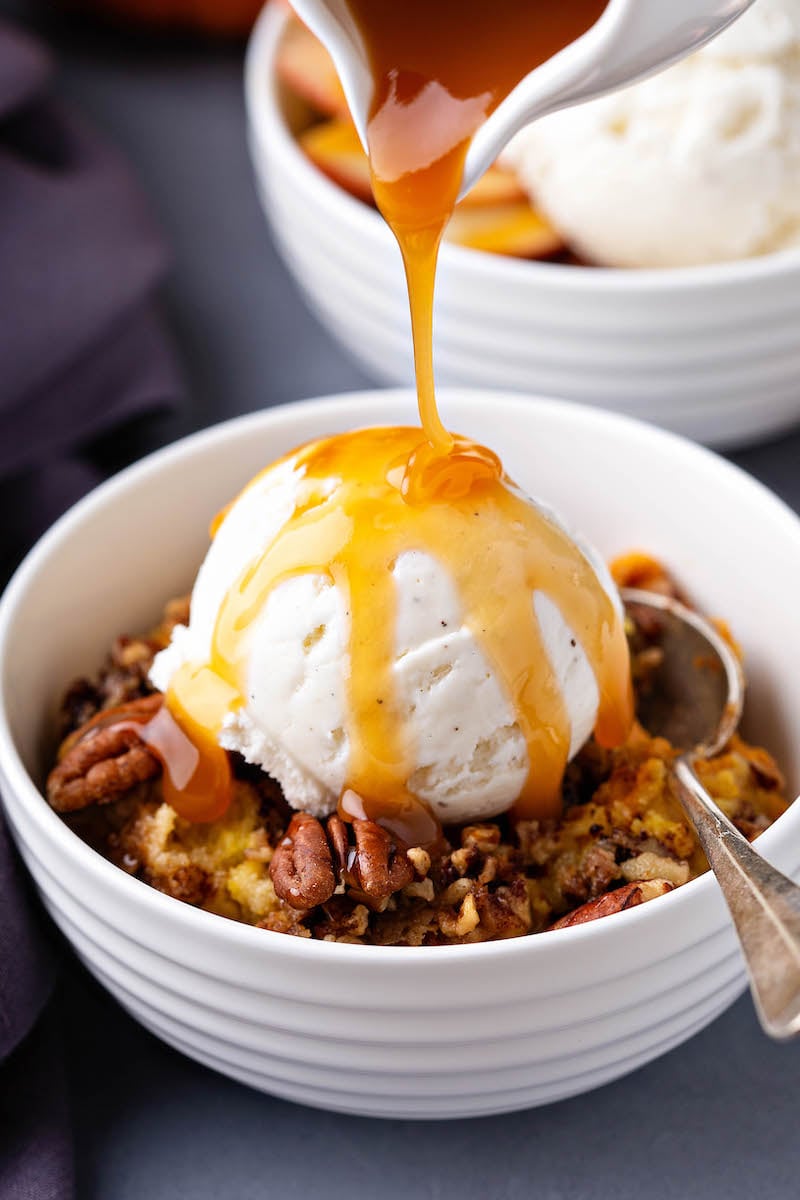 These Cobbler Recipes Will Satisfy Pumpkin And Apple Lovers
Everyone always has a favorite Thanksgiving dessert, but it's also nice to add something new to the table each year.
This "twice as nice" cobbler lets you do both! And the spices inside pair perfectly to share a casserole dish together.
It's impossible for me to pick a favorite between these two cobblers. Both are so good and feature my two favorite fall flavors.
Pumpkin vs Apple is always such a big debate! I stand firmly in the middle, loving both equally!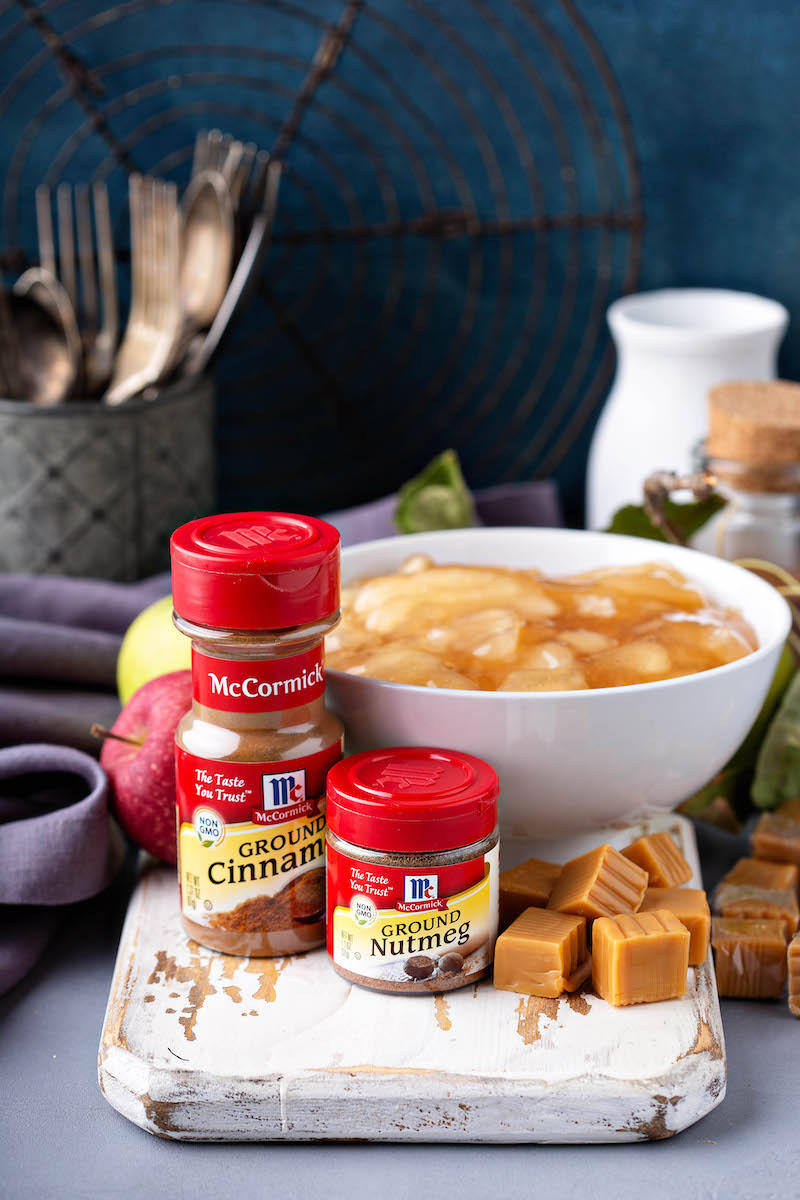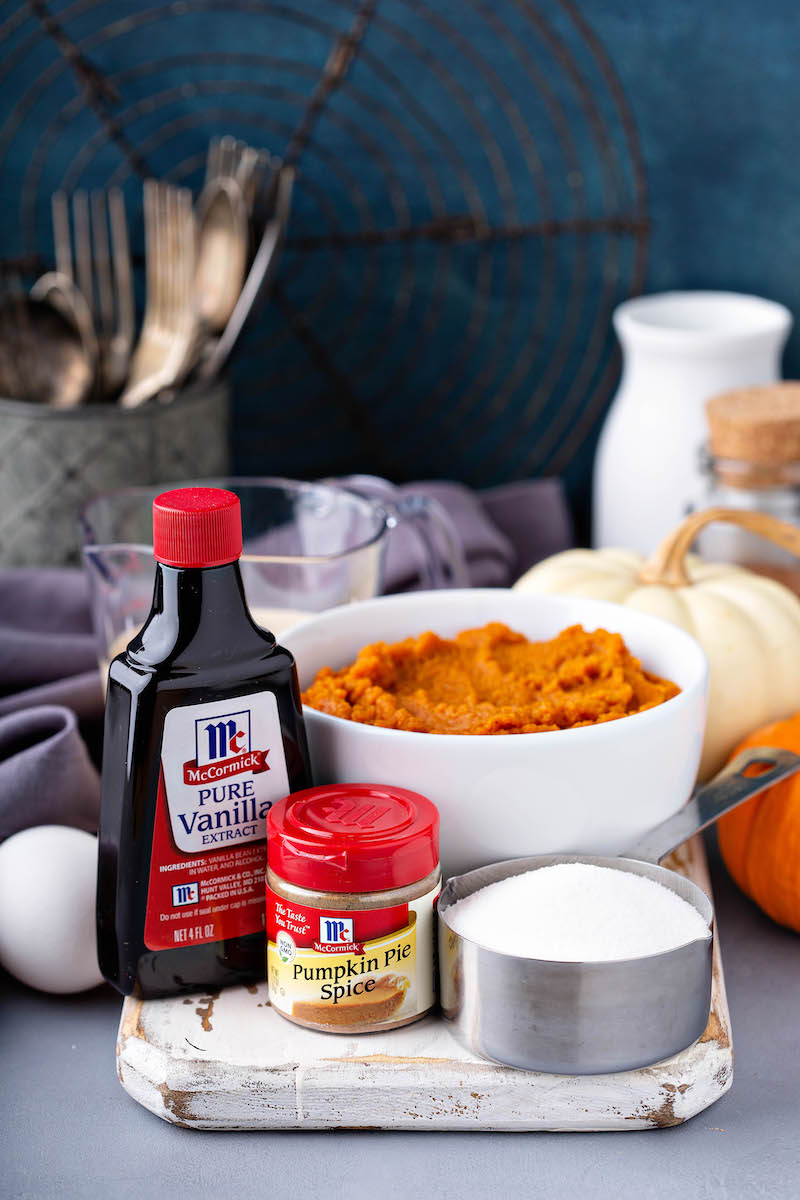 How To Make These Easy Cobblers
The Caramel Apple Cobbler is the easier of the two to make because it requires fewer ingredients.
However, the Pumpkin Pecan Cobbler just needs everything whisked together and poured into the casserole dish.
Both recipes share the same topping, so it keeps it uncomplicated.
I used some of my favorite Thanksgiving dessert seasonings from McCormick to give everything those comforting flavors.
In the Caramel Apple Cobbler, we have McCormick Ground Cinnamon and McCormick Ground Nutmeg.
For the Pumpkin Pecan Cobbler, I went with McCormick's Pumpkin Pie Spice and McCormick Pure Vanilla Extract.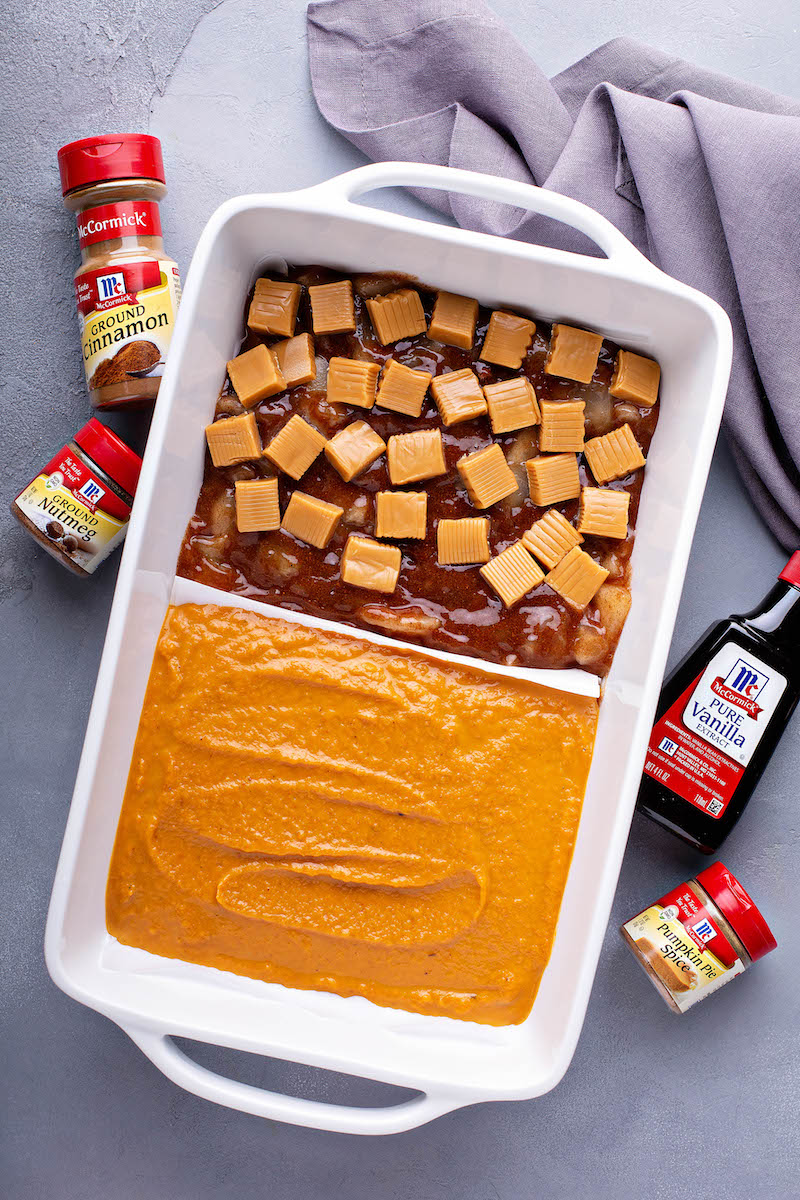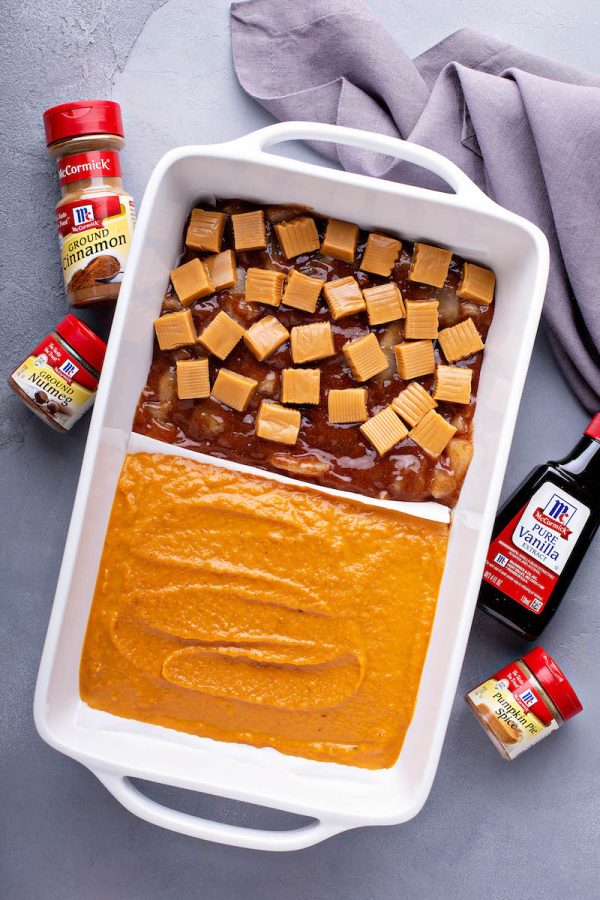 Cake Mix Makes The Cobbler Topping So Easy To Make
For the topping of the casserole, we use just three important ingredients.
First, yellow cake mix! Are you surprised? It gives this cobbler a sweet crumbly topping that you would never expect.
You don't have to mix the cake mix together, you just sprinkle it dry right on top of the cobbler fillings.
Then we add a ton of McCormick Ground Cinnamon on top of the cake mix layer. It gives it the perfect spiced topping.
And lastly, we pour two whole sticks of melted butter all over the top and bake it until warm and bubbly!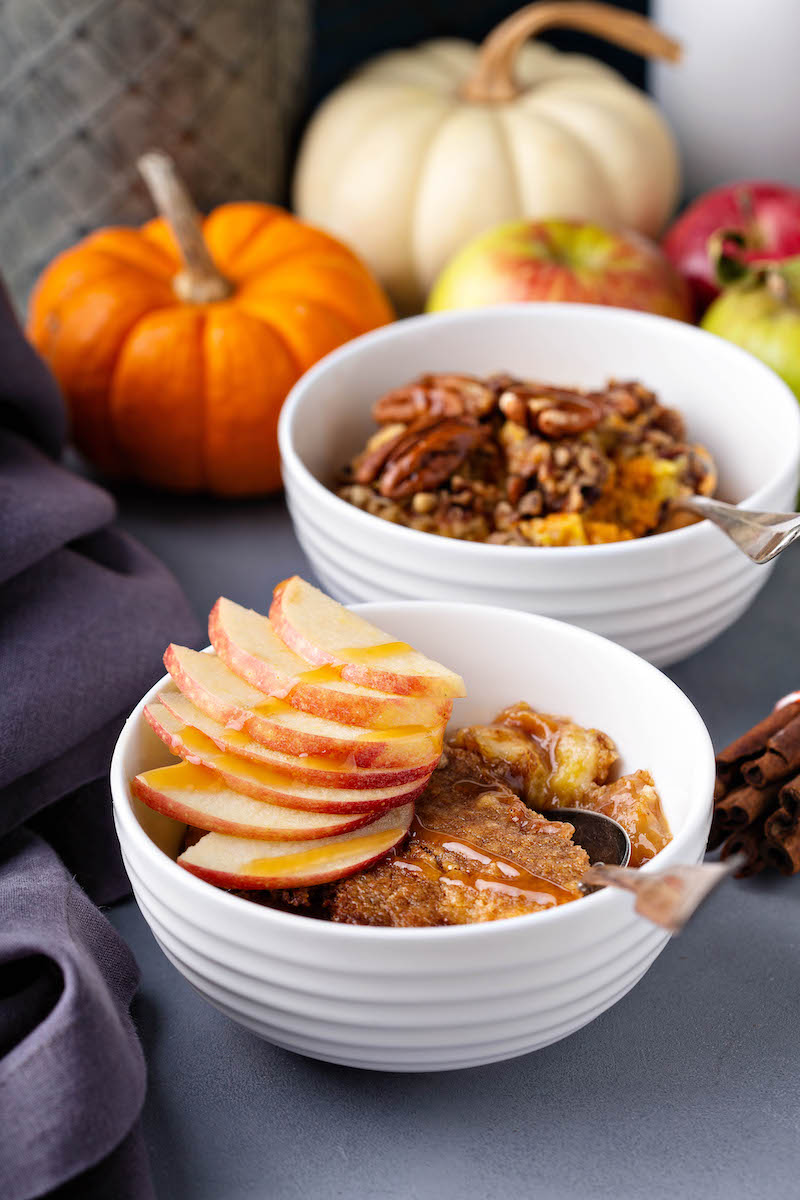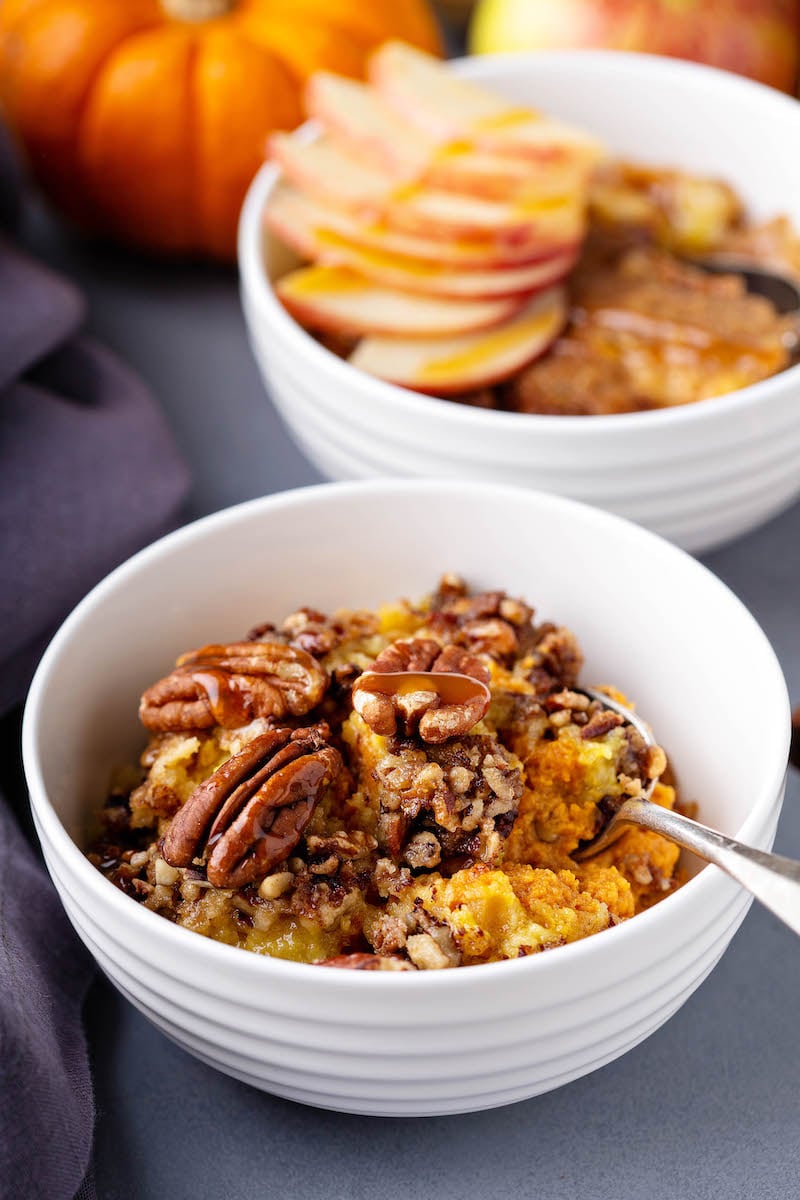 How Do You Set Up The Casserole Dish For These Recipes?
Watch the video below to see how easy this double cobbler in one casserole dish is to make.
I show you exactly how I fold my parchment paper and where I place the paperclip to hold the parchment paper in place as a divider.
You can also use foil instead of parchment paper. The foil is easier to work with, just not as pretty of a final dessert.
Cobbler Two Ways: Pumpkin Pecan Cobbler and Caramel Apple Cobbler
Two cobblers, Pumpkin Pecan Cobbler and Caramel Apple Cobbler, are baked in one casserole dish together and served warm with ice cream for the ultimate dessert.
Ingredients
Cobbler Topping:
1

package yellow cake mix

1

tablespoon

McCormick Ground Cinnamon

⅓

cup

diced pecans

1

cup

2 sticks unsalted butter, melted

Optional toppings:

vanilla ice cream

caramel sauce for drizzling on top
Instructions
Preheat oven to 350°F. Line a 9x13 casserole dish with one sheet of parchment paper (or foil), creating a small divider in the center. (Watch recipe video to see how I fold mine. If needed, secure middle with a paperclip.)

In a medium bowl, mix together apple pie filling, cinnamon, and nutmeg. Pour into one side of the prepared casserole dish. Top with caramel squares. 

In a medium bowl, whisk together all pumpkin filling ingredients until smooth: pumpkin puree, sugar, evaporated milk, egg + egg yolk, vanilla extract, pumpkin pie spice and salt. Pour into remaining empty side of casserole dish. (If you used a paperclip, remove it now. The cobblers will hold the parchment paper in place at this point.)

Sprinkle the yellow cake mix evenly over the top of both casseroles, followed by the cinnamon. On the pumpkin side, sprinkle the pecan chips on top. Then drizzle the melted butter over the top of both sides, making sure to distribute it as evenly as possible. 

Bake for 45 minutes or until the top is lightly browned and the edges are bubbling.

Scoop into serving bowls and serve topped with vanilla ice cream and optional caramel sauce.
Nutrition
Serving:
1
,
Calories:
739
kcal
,
Carbohydrates:
117
g
,
Protein:
8
g
,
Fat:
29
g
,
Saturated Fat:
16
g
,
Polyunsaturated Fat:
11
g
,
Trans Fat:
1
g
,
Cholesterol:
94
mg
,
Sodium:
687
mg
,
Fiber:
4
g
,
Sugar:
81
g
It's the perfect dish to serve at Thanksgiving to please just about everyone in one easy, shared casserole dish!
This post is sponsored by McCormick. All opinions are, as always, 100% my own. Thank you for supporting the brands that I love!
This post may contain affiliate links. Read my disclosure policy.