Cookie Dough S'mores (& cookbook giveaway!)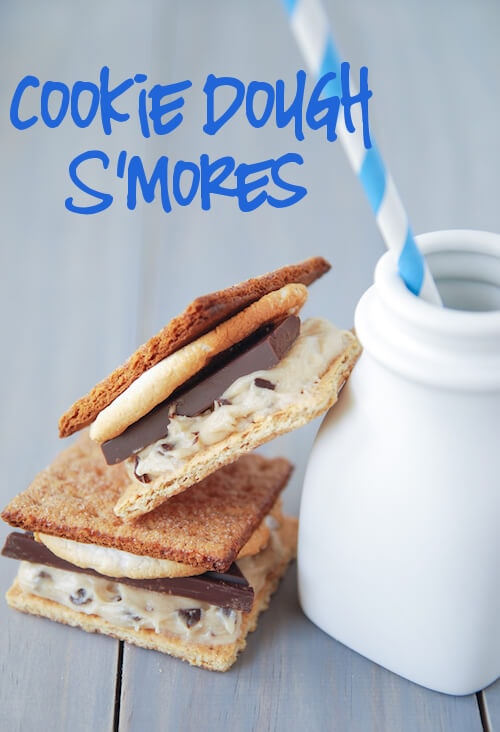 When my friend, web designer, and one of my favorite bloggers Lindsay, of Love and Olive Oil, told me she was writing a cookbook, I was so excited for her. When she told me it was all recipes that had or tasted like cookie dough, I was ecstatic…for myself! I have been a batter eating fool my whole life. After the threat of salmonella started going around, I laughed in the face of danger and dug in with two spoons instead of one. 😉
But thanks to Lindsay's brilliant cookie dough filled mind, I can now whip up a batch of eggless cookie dough to eat all by itself. Better yet, I can now make Chocolate Chip Cookie Dough Bread Pudding…. or Malted Cookie Dough Milkshakes ….or even better, Cookie Dough-Stuffed Cinnamon Rolls. Seriously y'all, my jeans just can't take all of this magic!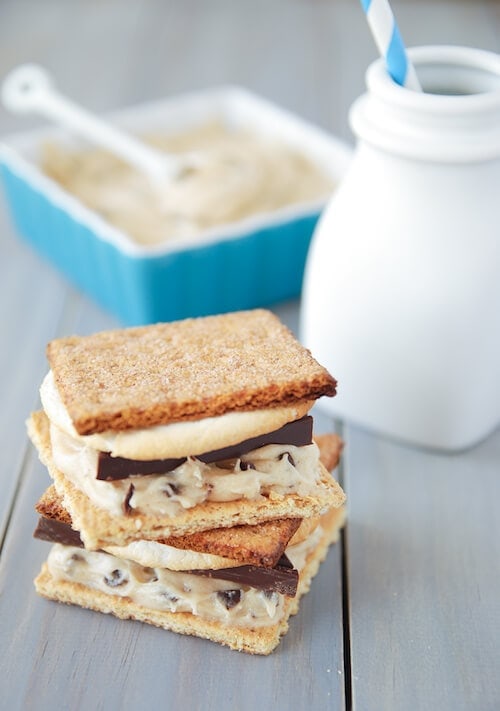 The Cookie Dough Lover's Cookbook is full of amazing recipes and beautiful, bright photos of sugar-laden, cookie dough filled desserts. Each page reveals another delicious surprise and I am looking forward to baking my way through this book!
My first recipe I tried were these Cookie Dough S'mores. Did you read that?? I said, COOKIE DOUGH S'MORES. I told you this girl was genius! I would have never thought to dress up a s'more, but now I can't stop imagining the possibilities. The cookie dough flavor shined and paired wonderfully with the melted marshmallow, chocolate, and crisp graham crackers. I saved the remaining cookie dough for a late night snack this week…who doesn't like using their blow torch at midnight? 😉
Cookie Dough S'mores
Recipe Note: I added mini chocolate chips to the cookie dough batter for a double chocolate effect. Otherwise I made the recipe exactly as posted below!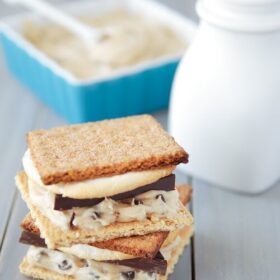 Ingredients:
1/4 cup (1/2 stick) unsalted butter, room temperature
2 tablespoons granulated sugar
1/4 cup light brown sugar, packed
1/2 teaspoon vanilla extract
2 tablespoons milk or cream
1/2 cup all-purpose flour
1/8 teaspoon salt
12 graham cracker sheets, broken in half
2 (1.55 ounce) bars milk chocolate
12 marshmallows
Directions:
In a mixing bowl, beat together butter and sugar with an electric mixer on medium speed until light and fluffy, 2 to 3 minutes. Add vanilla and milk. Mix in flour and salt and beat on low speed (or by hand) until incorporated.
Spread about 1 tablespoon of dough onto 12 of the graham cracker halves. Break chocolate bars into 12 equal pieces, and center one piece atop each mound of cookie dough.
Toast marshmallows over an open flame until golden brown or charred to your liking. Place a hot marshmallow on top of cookied dough and chocolate and top with remaining graham crackers. Gently press until marshmallow begins to ooze out the sides. Let sit for 30 seconds -or as long as you can stand- to let the chocolate get sufficiently melty. Enjoy immediately.
Easy Indoor S'mores:
For a flameless version of this campfire favorite, place marshmallows on graham crackers and broil for 30 to 60 seconds, or until golden brown and gooey. Or microwave marshmallows for 8 to 10 seconds, or until puffed.
Giveaway Closed.