Cosmopolitan Cupcakes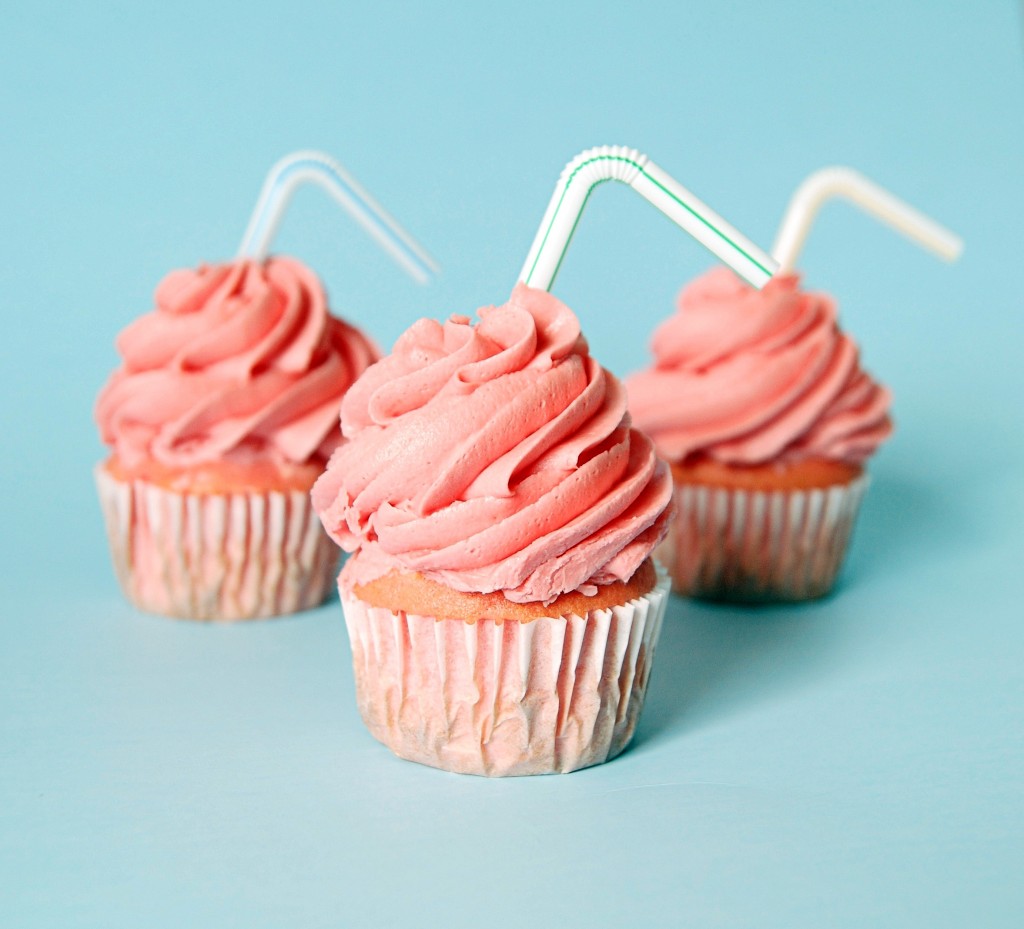 These are not just regular cupcakes, no, they are alcoholic Cosmopolitan cupcakes! To celebrate Sex And The City 2!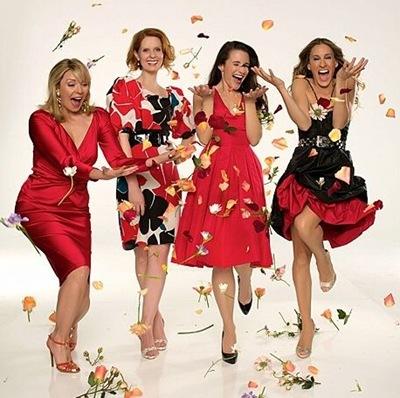 This being a food blog, I figured just sharing how to make a Cosmo (which I hope you already know how to make) would not be enough of a celebration…but Cosmo Cupcakes…well those are cause for celebration all by themselves! I have been a Sex And The City fan since as early as they started running reruns on TBS and I could watch it without my mother knowing. And of course as soon as I got out of the house, I rented the DVD's and caught up on what was really going on. And to this day, I will watch reruns when they come on, even though my husband always rolls his eyes and leaves the room. But whatever, his loss! I should have not allowed him near these cupcakes either…but they were just so good I wanted to share with him too!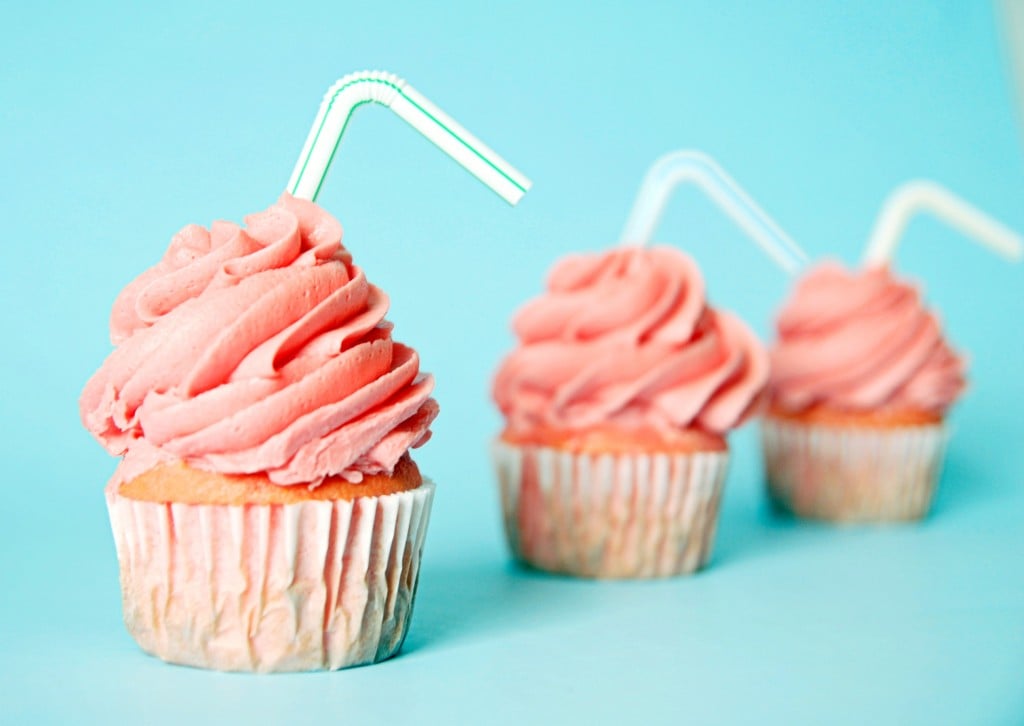 I am really happy with the way these turned out! I loved the color I got, and I am slowly getting better at my swirls of buttercream. I also thought they were pretty delicious and great excuse for drinking a Cosmo (you didn't really think I was going to throw out the extra did you?!). I added a straw on top, which I think is cute, but what I really wanted to do was to add a little drink umbrella! I just did not have time to run to the store in time, and I already had straws! But if you get the chance, a little drink umbrella would be adorable on top of these!
Cosmopolitan Cupcakes
-CUPCAKE-
You will need:
1 stick butter, room temperature
2 1/4 cups sugar
2 eggs, room temperature
1/2 tsp salt
2-1/2 tsp baking powder
3 cups all-purpose flour
1/4 cup buttermilk, room temperature
1 1/4 cup Cosmopolitan (recipe below), room temperature
zest of 1 lime
Red food coloring
Preheat the oven to 350F. Line muffin pans with cupcake papers.
With a mixer, beat together the butter and sugar until fluffy. Add the eggs 1 at a time and beat until well combined. Add the lime zest. Combine salt, baking powder, and flour in a separate bowl and set aside.
Make the cosmopolitan and measure out 1 ½ cups in a separate bowl.
Add in 1 cup each of the dry ingredients and cosmo mixtures alternately, beating on low until the whole mixture is well combined. Last, slowly add the red food coloring until you achieve the desired color. I choose to keep my cupcakes on the lighter hot pink side, but do whatever color you would like!
Fill cups with batter two-thirds full. Bake at 350 F for 18-22 minutes or until cupcakes
spring back in the middle when touched lightly. Cool for 10 minutes in pan.
-GLAZE-
You will need:
1/2 cup cosmopolitan
Heat the cosmopolitan in a sauce pan over med heat until thickened and slightly reduced. Allow to cool slightly and then brush glaze on the tops of each cupcake while the cupcakes are still slightly warm. Allow the cupcakes to completely cool before frosting with Cosmo Buttercream.
-COSMO BUTTERCREAM-
You will need:
3 sticks butter, room temp
4 c confectioner's sugar
1 tbsp meringue powder (optional)
a pinch of salt
3-4 tbsp of the Cosmopolitan (or more until you reach desired consistency)
red food coloring
Cream the butter until light and fluffy. Stopping to scrape down the sides of the bowl as necessary. Add the powdered sugar one cup at a time beating well with each addition. Add the meringue powder and the salt. Add the Cosmopolitan one tablespoon at a time until you reach desired consistency. And lastly add red food coloring, slowly, again until you reach your desired color. Pipe onto cupcakes, and top with a straw or a drink umbrella!
Adapted from: A Cup Full Of Cake
Now for those of you who need the Cosmopolitan cocktail recipe, I am ashamed of you! 😛  But don't worry, I will help you out! You will need a little over 5 of these to complete this recipe, I made 6…and had no problems figuring out what to do with the leftovers…and I am sure you can figure it out too! Also, this says to shake over ice, which you should do with your leftover bit that you are going to drink yourself, but for the cupcakes it needs to be room temperature, so do not shake over ice. Just shake by itself!
Cosmopolitan
You will need:
1 (1.5 fluid ounce) jigger cranberry flavored/infused vodka
1/2 fluid ounce cointreau
1 teaspoon fresh lime juice
1 1/2 fluid ounces cranberry juice
1 twist lime zest, garnish
Pour all the ingredients into a shaker with lots of ice. Shake vigorously for several seconds and strain into a cocktail glass. Garnish with a lime twist.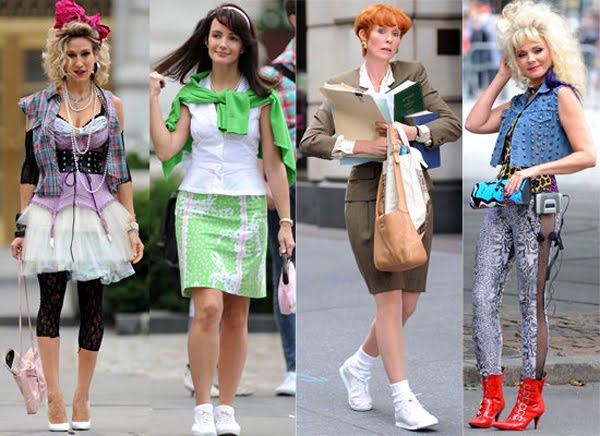 P.S. Are you planning on seeing the second movie? Any parts you are anticipating seeing? Big surprise, but I am going with my girlfriends to the midnight showing! And I can not WAIT to see the above scene! I am loving their 80's outfits. The Walkman Kim/Samantha is wearing is hysterical and Cynthia/Miranda's socks and tennis shoes with her suit is just awful! And I am thrilled to see Aiden is back. I was always a fan of him and Carrie! It is going to be a blast and I plan on having a real Cosmo that night! 😀