Cranberry Squash Quick Bread is an easy change from all of the typical pumpkin recipes at this time of the year! Enjoy this cranberry bread recipe over coffee in the morning or for dessert
Looking for more cranberry bread recipes to try? Check out this Pumpkin Cranberry Buttermilk Bread and this yummy Cranberry Orange Bread.
This Quick Bread Is Great For Holidays Or Just For A Snack!
I am flying out to California in a little over 24 hours. I have nothing packed, I need to do laundry, I am pretty sure the cats are out of food, and I am not even really sure if my flight leaves in the morning or at night.
However, thanks to this little gem, I am now seriously going through the list in my head of things I was planning on packing. Because if I get a note in my bag next to my spanx saying "Get your grub on girl!", I may very well have to drive back home from California.
I was already a little nervous about what to wear to the airport. The last time my Mom and I flew to Texas, she wore a pair of jeans that had a couple of studs along the pockets. We were going through security and they pulled both of us to go through the new stand like your getting a spray tan booth or scanner or whatever they are calling it. You know what I am talking about. That new thing that people were getting all upset about because they thought you could see them naked. Which, by the way, I looked and you can't actually see someones naughty bits. It's just a boring outline of your body. Boo.
But annnnyyyways, so my Mom went through the scanner first and because of the studs on her jeans, they had to check her for "fake buttocks". The checking for a fake ass included a nice feeling up and checking for bomb residue on her hands. So obviously, wearing jeans (i.e. the only thing clean) is out of the question. Unless I want to be felt up…which might be nice depending on the TSA agent I luck out with.
So after considering my options, I am thinking I may go ahead and just slide in some slices of this Cranberry Cushaw Bread along the top of my suitcase. It will serve the main purpose, like to distract a nosy TSA agent, and provide a tasty snack for when Jorge is undoubtably late to pick me up from the airport. As for the jean issue, at this point I am just considering wearing my swimsuit. At least then they won't be worried I have "fake buttocks".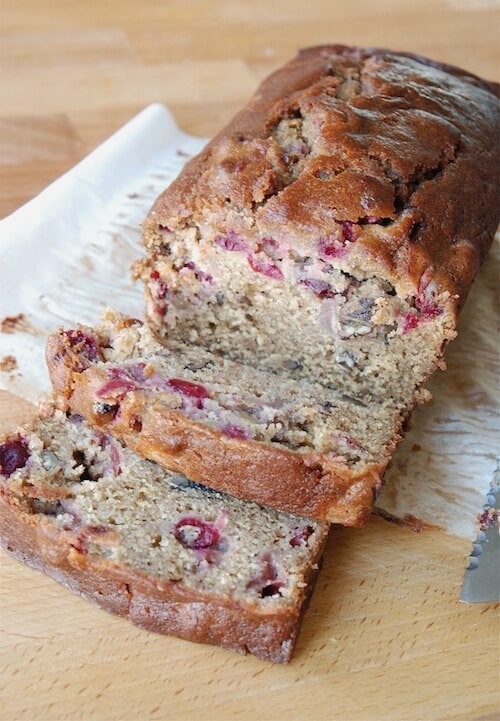 How Is This Bread Recipe Different From Pumpkin Bread?
This Cranberry Cushaw Squash Bread is a wonderful change from the Pumpkin Breads that are so popular this time of year. It is just as moist as all of your favorite quick breads, but has a lighter flavor. I used half whole wheat and half all purpose flour to make it a little more acceptable…but of course I also added brown sugar and regular granulated sugar. Ying and yang people, a little of both.
What Else Can I Use To Make This Quick Bread Recipe?
If you haven't been able to find a cushaw yet, don't fret! You can still try out this recipe! I personally think that this particular recipe would go wonderfully with pumpkin or apples! Apple Cranberry Bread? Oh ya!
If you are using Pumpkin, you will need to add in a couple of tablespoons of milk since cushaw puree has more liquid than canned pumpkin. If you are adding applesauce, make sure it is natural and unsweetened! Happy Baking!
Cranberry Cushaw Bread
This Cranberry Squash Quick Bread is similar to fall pumpkin breads. It is just as moist as all of your favorite quick breads, but has a lighter flavor!
Ingredients
1 ¼

cup

whole wheat flour

1

cup

all purpose flour

1

teaspoon

baking soda

½

teaspoon

baking powder

1

teaspoon

cinnamon

½

teaspoon

freshly grated nutmeg

¼

teaspoon

allspice

a pinch of cloves

½

teaspoon

salt

2

eggs

½

cup

vegetable oil

1

teaspoon

vanilla

1

cup

packed brown sugar

1

cup

cushaw puree

1 ½

cup

fresh or frozen whole cranberries

½

cup

chopped pecans
Instructions
Preheat oven to 350 degrees. Grease and line a 9 inch loaf pan with parchment paper, leaving 1 inch of parchment paper hanging over two sides of the pan. Set aside.

In a large bowl, combine the first 9 ingredients.

In a medium bowl, whisk together eggs, vegetable oil, and vanilla. Add brown sugar and cushaw puree, whisking until well combined.

Create a well in the center of the dry ingredients and pour the wet ingredients into the center. Using a large spatula or wooden spoon, gently fold together until there are no lumps. Then carefully fold in the cranberries and pecans.

Pour batter into prepared pan and bake for 55-65 minutes, or until a toothpick inserted in the center comes out clean. Be careful not to over bake this bread or it can become dry. Let bread rest in the loaf pan for 20 minutes before removing.

Slice and serve warm with a smear of butter or store it in an airtight container for up to a week. You can also wrap it super tight in saran wrap and then a layer of foil and freeze for up to 3 months! It's a totally go with the flow type of bread.
Nutrition
Serving:
1
,
Calories:
322
kcal
,
Carbohydrates:
41
g
,
Protein:
5
g
,
Fat:
16
g
,
Saturated Fat:
2
g
,
Polyunsaturated Fat:
14
g
,
Cholesterol:
37
mg
,
Sodium:
276
mg
,
Fiber:
3
g
,
Sugar:
19
g
Categories:
This post may contain affiliate links. Read my disclosure policy.