Cranberry Orange Caramel Corn is a delicious twist on traditional caramel corn with crunchy pecans and tart cranberries. This homemade caramel corn recipe truly outstanding!
If you enjoy this popcorn recipe then you might also like these Caramel Popcorn Cookies or this Sweet & Salty Kettle Corn.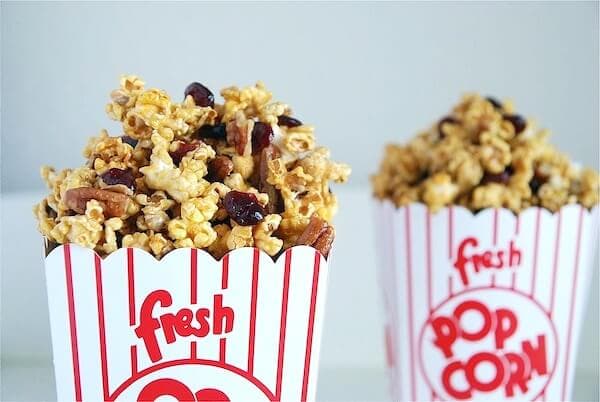 This Is The Best Recipe For Homemade Caramel Corn
A day late and a dollar short. It's the story of my life.
Halloween was, of course, yesterday…and I had a post written talking all about Halloween. I talked about how much I love that America condones going out and asking strangers for candy. I wish Halloween was every day of the year. Wouldn't it be nice to stop by houses of people you don't know, on a random Tuesday, and ask them for a Kit Kat? I think I might try it out tomorrow…if I don't show back up here in a few days please call the police.
But instead of the post going live on Monday morning like it was scheduled to do…it sat hidden from everyone. My love of Halloween still not voiced…and the best damn Caramel Corn ever, still not shown to all of you. While I should have noticed that the post never went up yesterday…I spent the day recovering from an overnight flight back from San Francisco.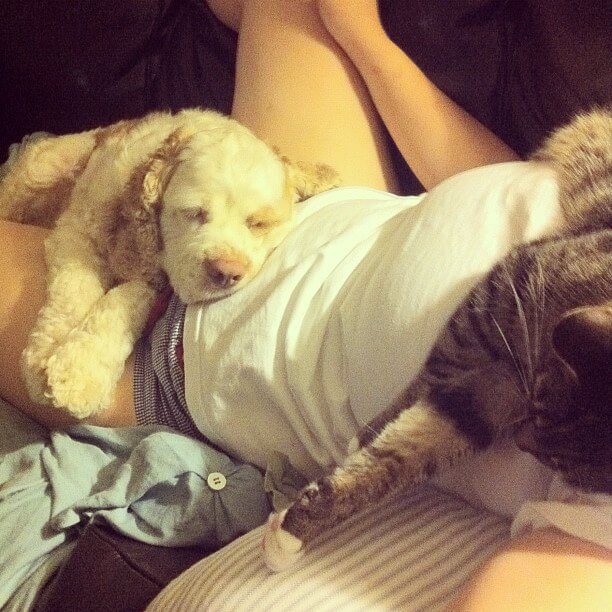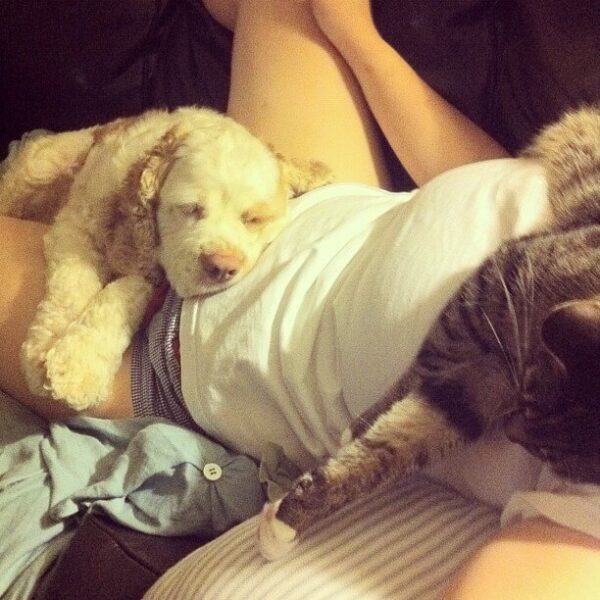 And by recovering, I mean buried below 40 pounds of fur. While most people come home to family or kids, I returned to 4 lonely cats and one extremely tired dog from his stay at Poochies. So we slept and forgot all about Caramel Corn. I actually didn't even remember it was Halloween until around 5pm yesterday when I saw the best Halloween movie ever, Hocus Pocus, come on.
I quickly dressed and hurried to the store and bought a few bags of some candy I don't like…so I wasn't tempted to eat it all before the trick or treaters showed up. I rushed home expecting to have a line of princesses, buzz lightyears, and harry potter's at my door demanding candy. But as of 10 pm last night, I had all of 1 trick or treater.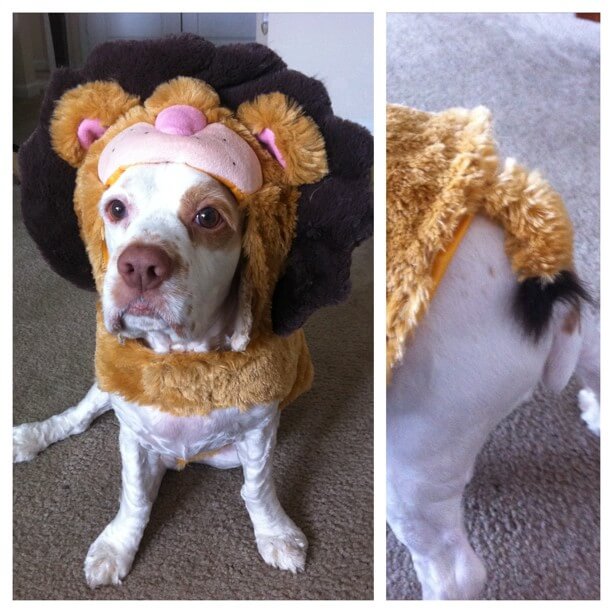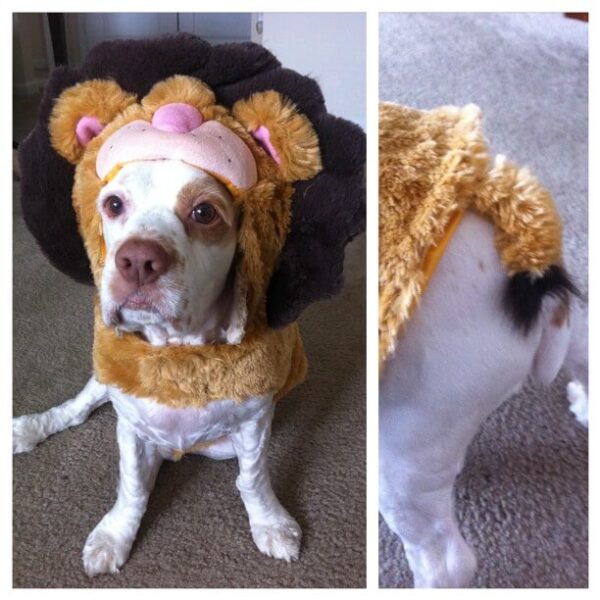 Brody sure does make one adorable Cowardly Lion! And while he may not have said Trick or Treat, he totally got a Twizzler. I still have 3 bags of candy sitting by my front door waiting to be handed out. I am considering placing it outside of the apartment where I know a little girl lives…would that be creepy? Do you think her parents would let her have it? Should I leave a note? And then what would the note say?…
Hey Apartment 305,
I'm not a weirdo or anything. And this candy is totally drug and needle free…but no kids came by my house and I Trick or Treated with my dog instead. So um anyways, this candy is for the little girl that lives here.
I swear I am not creepy,
Apartment 205
Again…if I don't show back up in a few days, please call the police. I was arrested for being a creeper and giving the little girl above me candy. Please show the police this post so they can see that I totally just wanted to rid myself of the candy, that I don't even like, but that still keeps calling my name.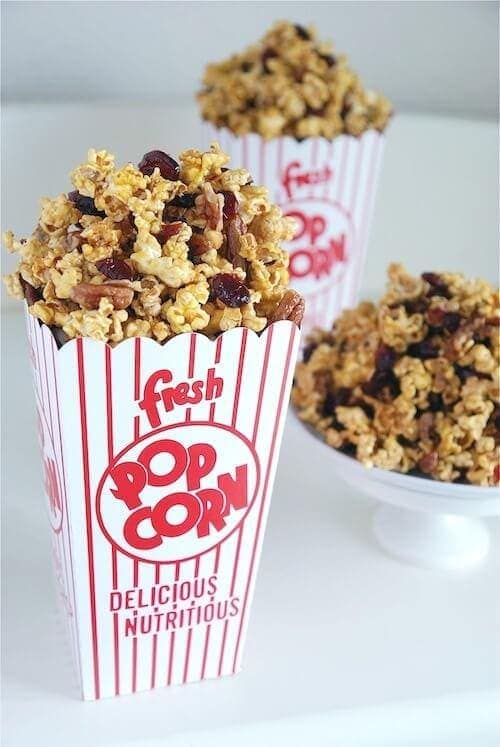 Caramel Corn Balls Were My Favorite Halloween Treat
While Halloween may have already passed, you should still try out this Cranberry Orange Caramel Corn! It's one of the best Caramel Corns I have had in a long, long time. Growing up my Mom used to surprise my baby sister and I as we came home from school with homemade caramel corn balls. They were warm and sticky and one of my favorite parts of Halloween.
Cranberries And Nuts Mix Perfect With Caramel Popcorn
So last year when my Mom brought me a bowl of caramel corn instead of a ball, I was already disappointed. Then when I looked in the bowl and saw she had added cranberries and nuts…I questioned her sanity. You just DO NOT mess with my caramel corn! It is supposed to be popcorn and caramel only, Mom. That's it. What is wrong with you?
And then I tried it. Five or six gigantic handfuls later, I told her it was freaking amazing and that I needed the recipe. Make this tonight, I promise you will fall in love.
Yield: Makes 6, 1 cup servings
Cranberry Orange Caramel Corn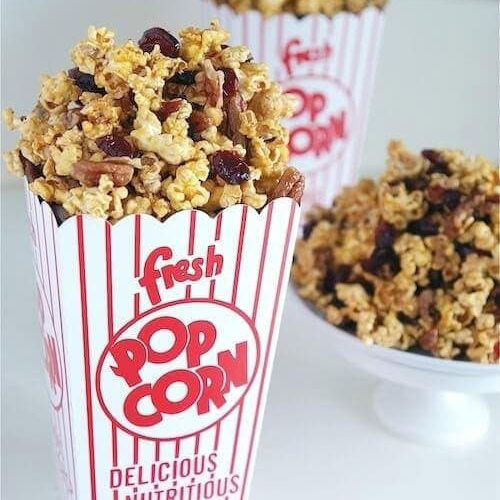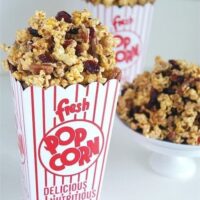 This Cranberry Orange Caramel Corn is a delicious twist on traditional caramel corn. The crunchy pecans and tart bites from the cranberries help make this homemade caramel corn recipe truly outstanding.
Ingredients
6 cups popped popcorn (about 1/4 cup kernels)
3/4 cup dried cranberries
1/4 cup roughly chopped pecans
5 tablespoons butter
1/3 cup packed brown sugar
1/3 cup light-colored corn syrup
1 tablespoon fresh squeezed orange juice
1 teaspoon vanilla
1/4 teaspoon baking soda
Instructions
Preheat oven to 275 degrees F. Spray a baking sheet with Pam or grease with butter.
In a very large bowl combine the popped popcorn, cranberries, and almonds; set aside.
In a small saucepan stir the butter, brown sugar, and corn syrup over medium heat until butter is melted. Stir in orange juice. Bring to boiling over medium heat. Boil at a moderate, steady rate for 2 minutes. Remove from heat. Stir in vanilla and baking soda (mixture will foam up).
Pour the syrup mixture over the popcorn mixture in bowl; stir to coat well. Transfer to a large baking sheet. Bake for 20 minutes, stirring twice. Transfer caramel corn to a large sheet of waxed paper or parchment paper; cool.
Notes
Adapted from Better Homes & Gardens
Nutrition Information:
Yield:
6
Serving Size:
1 cup
Amount Per Serving:
Calories:

316
Total Fat:

16g
Saturated Fat:

7g
Trans Fat:

1g
Unsaturated Fat:

8g
Cholesterol:

25mg
Sodium:

204mg
Carbohydrates:

46g
Fiber:

2g
Sugar:

39g
Protein:

1g
Want to Save This Recipe?
SaveSave
This post may contain affiliate links. Read my disclosure policy.