This Creamy Tomato Soup recipe is a family favorite – especially when served with a big buttery grilled cheese sandwich! An easy homemade soup that's a copycat of Panera's Creamy Tomato Soup.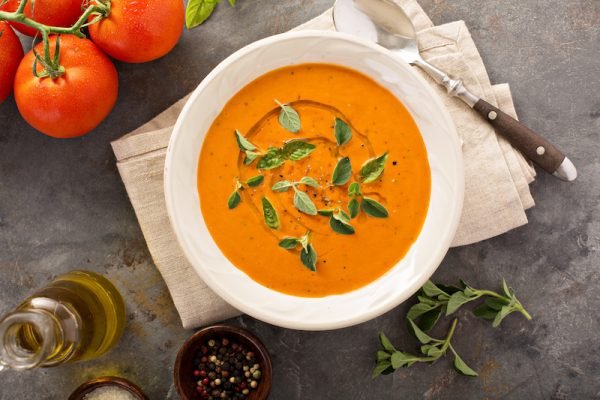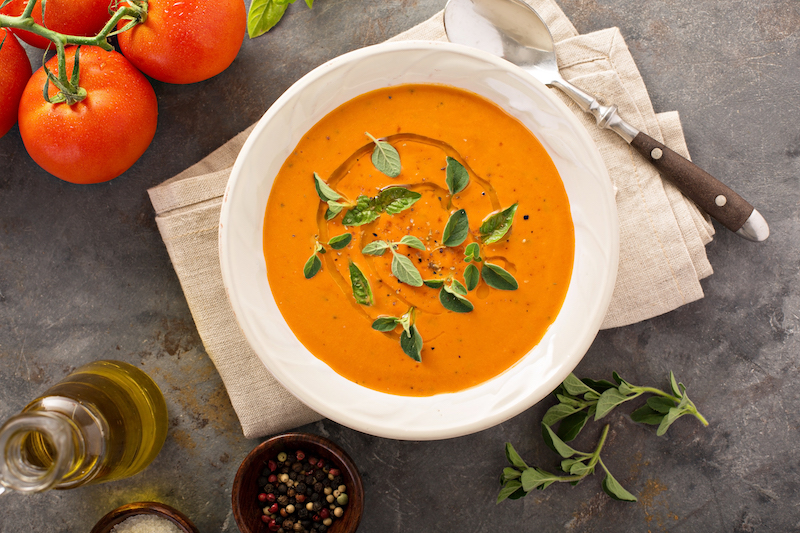 Homemade Panera Creamy Tomato Soup
Despite the heat, my mind and body have already decided it is Fall. Like full on FALL — even if it is still in the 90's here in Florida. And that's why I am brining you this Panera Creamy Tomato Soup Copycat Recipe in September!
I have been asking anybody and everybody I know to go to Hobby Lobby to buy Fall decorations for my house.
I am also fighting myself on getting a Pumpkin Spice Latte from Starbucks.
How can I drink a pumpkin flavored hot coffee in this weather? It's just not ok.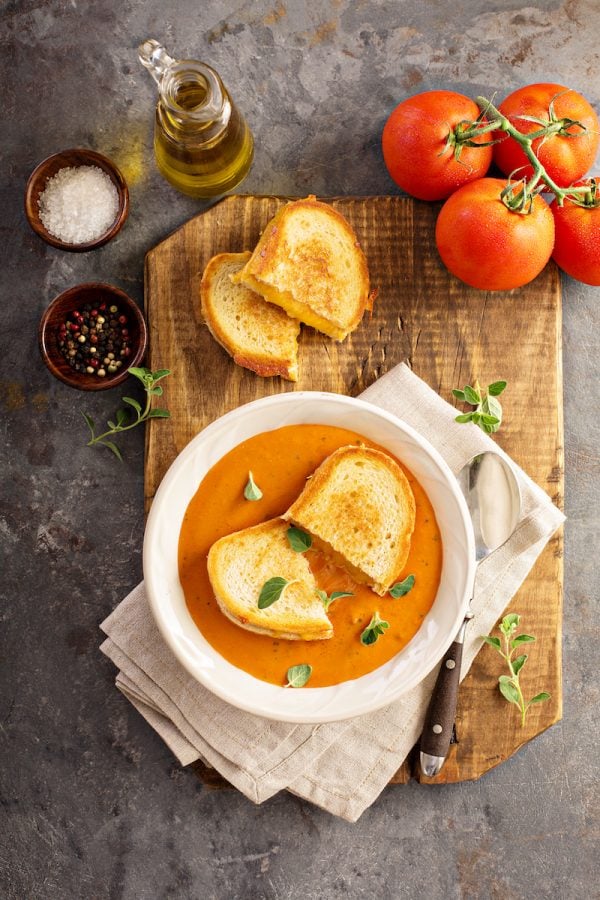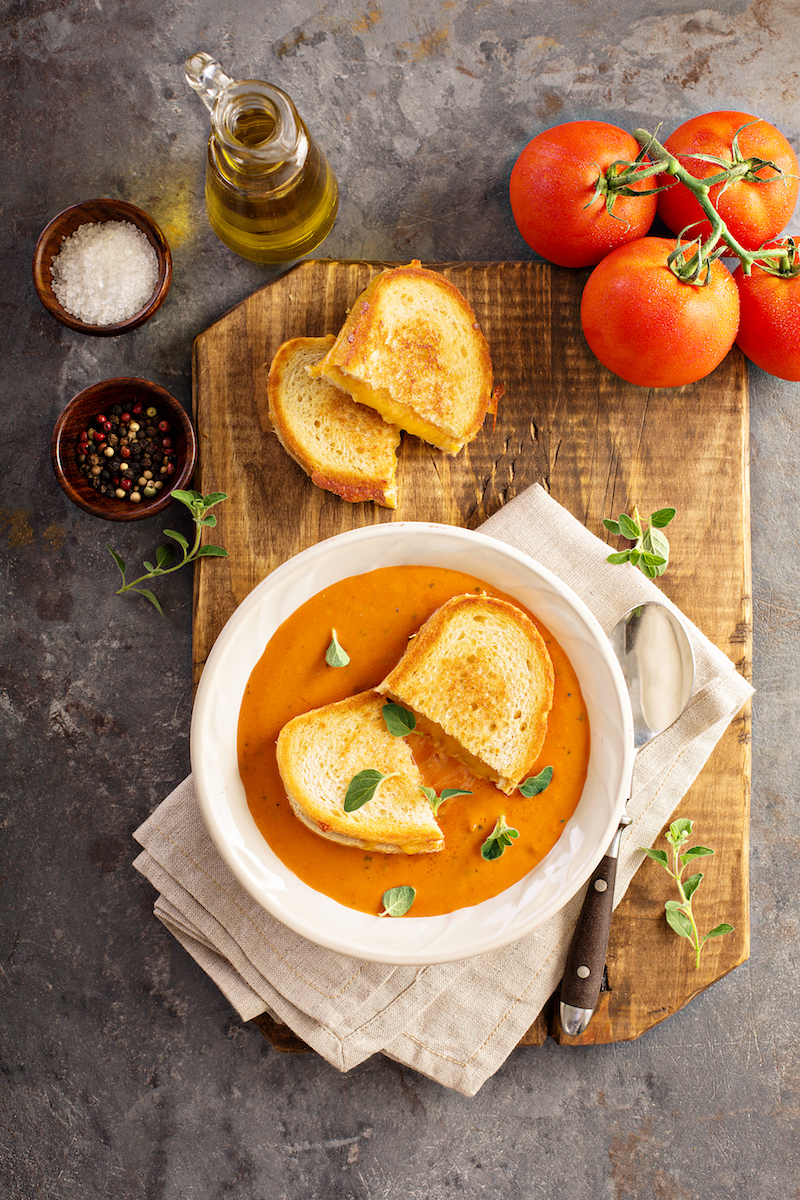 Somehow my craving for soups is even stronger than my craving for pumpkin spice lattes and fall decorations.
I have a notebook where I keep ideas of recipes I want to make.
If you look at it today, it has 11 soups in a row — no joke.
I keep asking Jorge if he will eat soup for dinner yet…and his answer is "NO." every. single. time.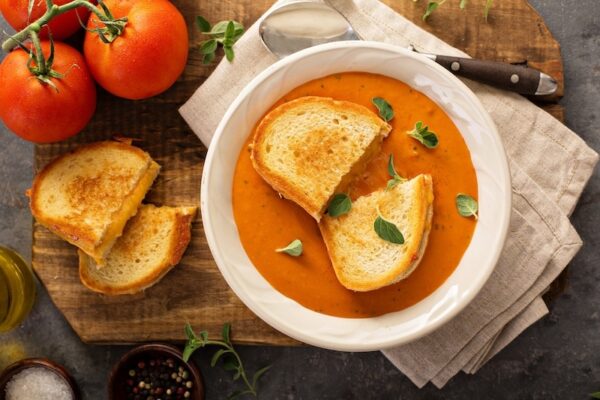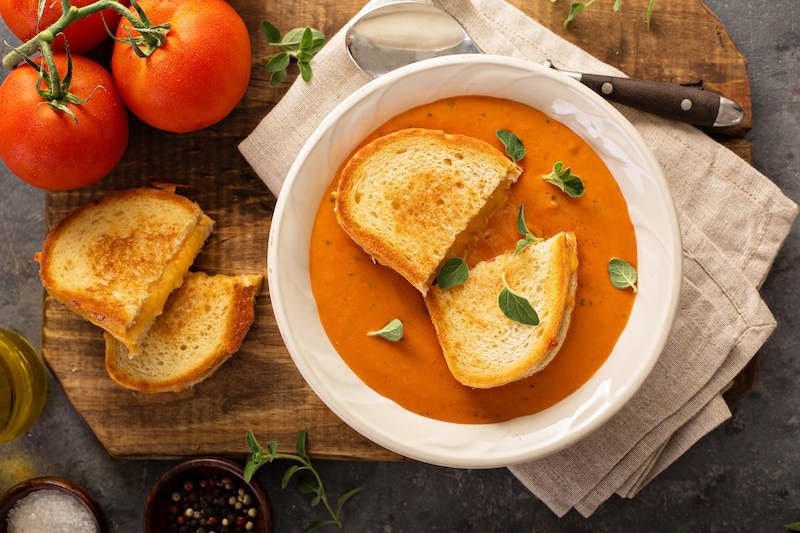 I always ask back, but what about your favorite Taco Ranch Chicken Chili?? No!
Ok, how about my favorite, One-Pot Bacon Corn Chowder?? NO! No soup until it's under 80 degrees!
He is SUCH a kill joy.
(Pssst! You can find all my soup recipes right here.)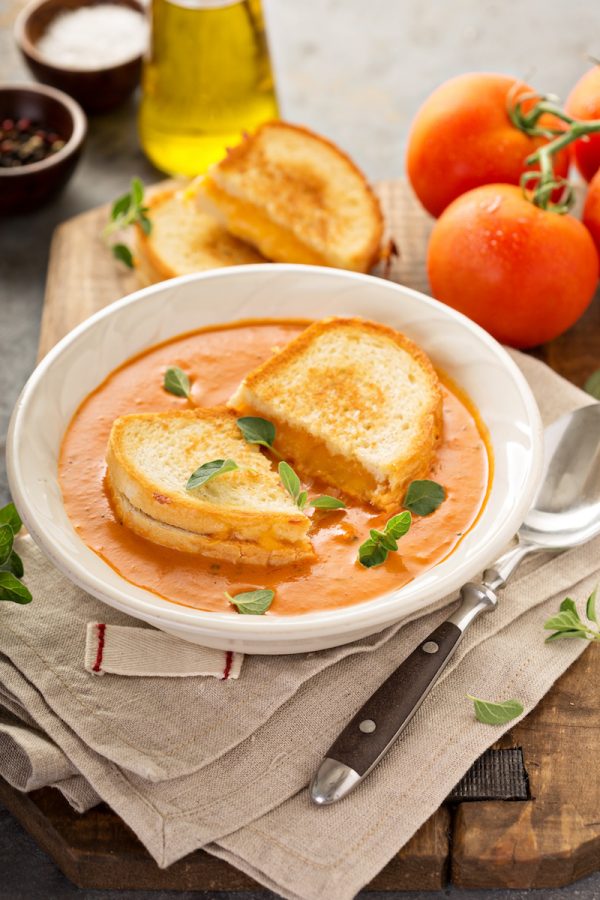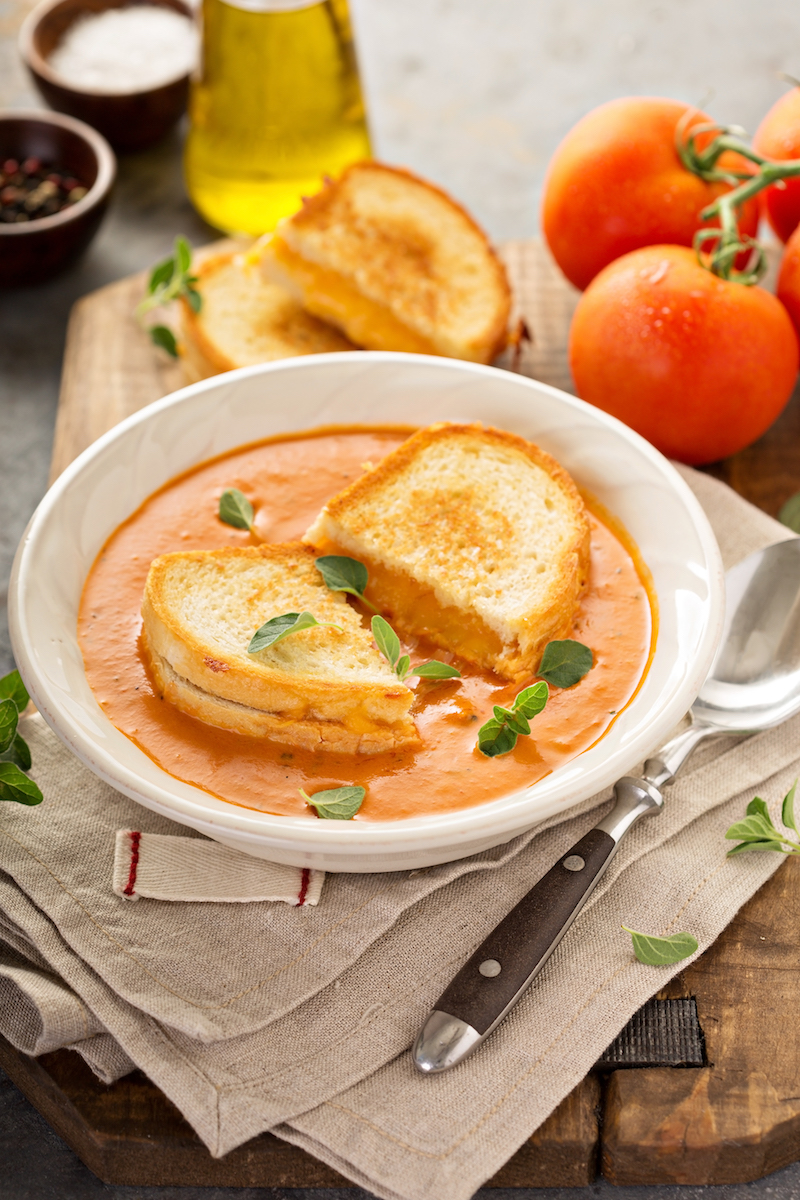 So I finally said screw you, I'm making soup. Tomato Soup just like at Panera and you can't have any!
Well ladies and gents, guess who ate a big bowl of this amazing tomato soup and a big grilled cheese?? Jorge. The soup naysayer.
This tomato soup is a recipe that has been a long time in the making.
I tried using fresh tomatoes, but it was double the time and the flavor wasn't close enough to the one I love to get at Panera.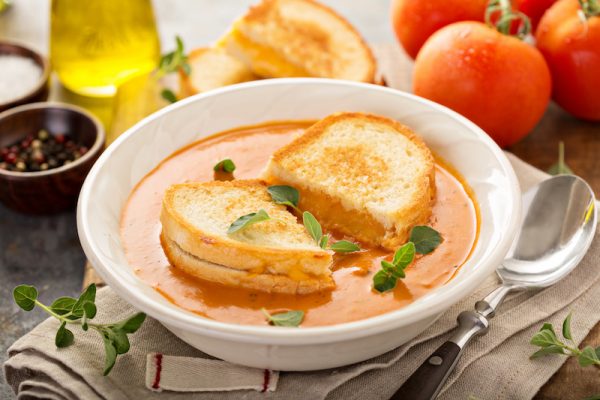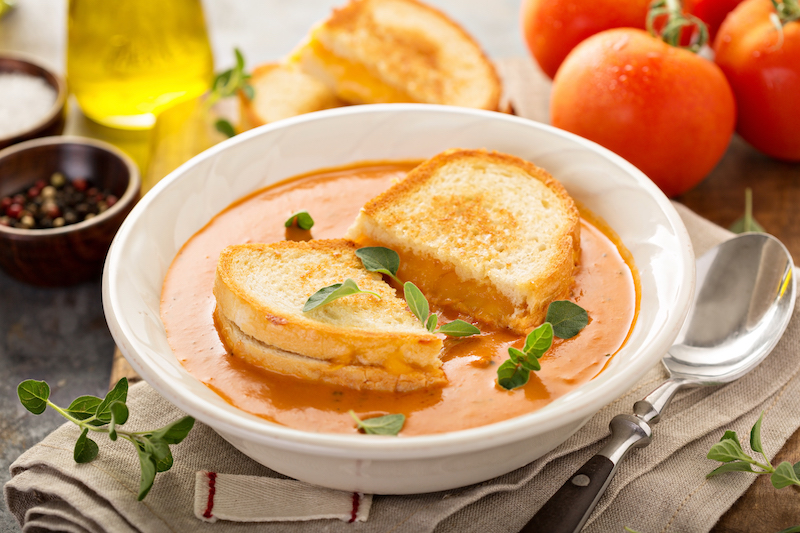 "Creamy" is in the name, but the soup at Panera is really not all that creamy. So I learned to use only a little cream.
I also add a little sugar to cut the acidity of the tomatoes and not too much basil. And I add a little parmesan cheese – but it's totally optional.
Is this the exact same soup you get from Panera? No, probably not exactly. However, it is dang close to it! And bonus? It only takes 30 minutes to make!
The next time I make it, I plan on making a triple batch to have extra to freeze the leftovers.
That way whenever I am in the mood, I can just pull a bag out from the freezer!
UPDATE: Panera changed their soup recipe a while back a little. But scroll down to read the reviews…this tomato soup still ROCKS and you must make it asap.
Yield: 4 Servings
Copycat Panera Tomato Soup Recipe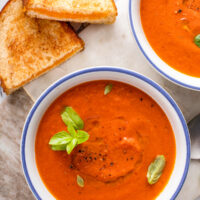 This Copycat Panera Tomato Soup Recipe is a family favorite – especially when served with a big, buttery, grilled cheese sandwich! An easy homemade soup made with San Marzano tomatoes, ready in 30 minutes.
Ingredients
2 tablespoons olive oil
4 garlic cloves, minced
1 large yellow onion, sliced
2 (28 oz) cans San Marzano peeled tomatoes
1 cup chicken stock (or vegetable stock)
1 tablespoon sugar
1/4 cup heavy cream
8 large fresh basil leaves, roughly chopped
1/4 teaspoon dried oregano
1/2 teaspoon of red pepper flakes
kosher salt and freshly ground black pepper, to taste
1/3 cup shredded parmesan cheese, optional
Instructions
In a heavy bottomed pot (or Dutch oven), heat olive oil over medium-high heat. Add garlic and saute for 30 seconds - until fragrant. Add onion and cook, stirring as needed, until translucent - about 8 minutes.
Add San Marzano peeled tomatoes (juice and all), chicken stock, and sugar. Bring to a low simmer. Cook uncovered, for 12 minutes or until it has thickened.
Add the heavy cream, basil, oregano, red pepper flakes and season to taste with salt and pepper.
Using an immersion blender (or carefully transfer soup to a blender), puree soup until there are no large chunks left.
OPTIONAL: stir in parmesan cheese and serve topped with buttery croutons.
Store in an airtight container in the fridge for up to 5 days or in the freezer for up to 3 months.
Notes
Fresh Tomatoes: You would think that using fresh, ripe tomatoes would make the best soup, but that's not necessarily the case! I tried using fresh tomatoes, but it was double the time and effort, and the flavor was actually less complex and tasty as the soup I made with canned tomatoes.
About the Cream: Creamy" is in the name, but the soup at Panera is really not all that creamy, when you come down to it. So I learned to use only a little cream, and that helped a lot!
Add Sugar: This is an old trick for balancing dishes that may have too much bitterness or acidity. You can add a pinch or two of sugar to your greens, rutabagas, cabbage, etc. I added a spoonful to the soup to balance the natural tangy flavor of the tomatoes.
Basil: As with the cream, you can have too much of a good thing. So be careful with the basil and don't overdo it. 
Parmesan: Adding a bit of parmesan cheese was the perfect finishing touch for my family– but it's totally optional, so do what works for you.
Refrigerating: Cover the soup tightly or store it in an airtight container, and keep in the fridge for up to 5 days.
Freezing: Cool the soup down, and pack it into freezer bags or containers, leaving a small amount of space for the soup to expand as it freezes. Freeze for up to 3 months, and thaw in the fridge before you reheat it.
Reheating: To reheat, place the desired amount in a saucepan over medium heat, and let the soup heat until piping hot.
Nutrition Information:
Yield:
4
Serving Size:
1
Amount Per Serving:
Calories:

197
Total Fat:

15g
Saturated Fat:

6g
Trans Fat:

0g
Unsaturated Fat:

8g
Cholesterol:

23mg
Sodium:

279mg
Carbohydrates:

12g
Fiber:

1g
Sugar:

7g
Protein:

5g
Categories
This post may contain affiliate links. Read my disclosure policy.