Creamy Turkey Hand Pies: warm flaky turnovers are stuffed with a delicious turkey filling made with herbs, gravy and vegetables and then baked until golden!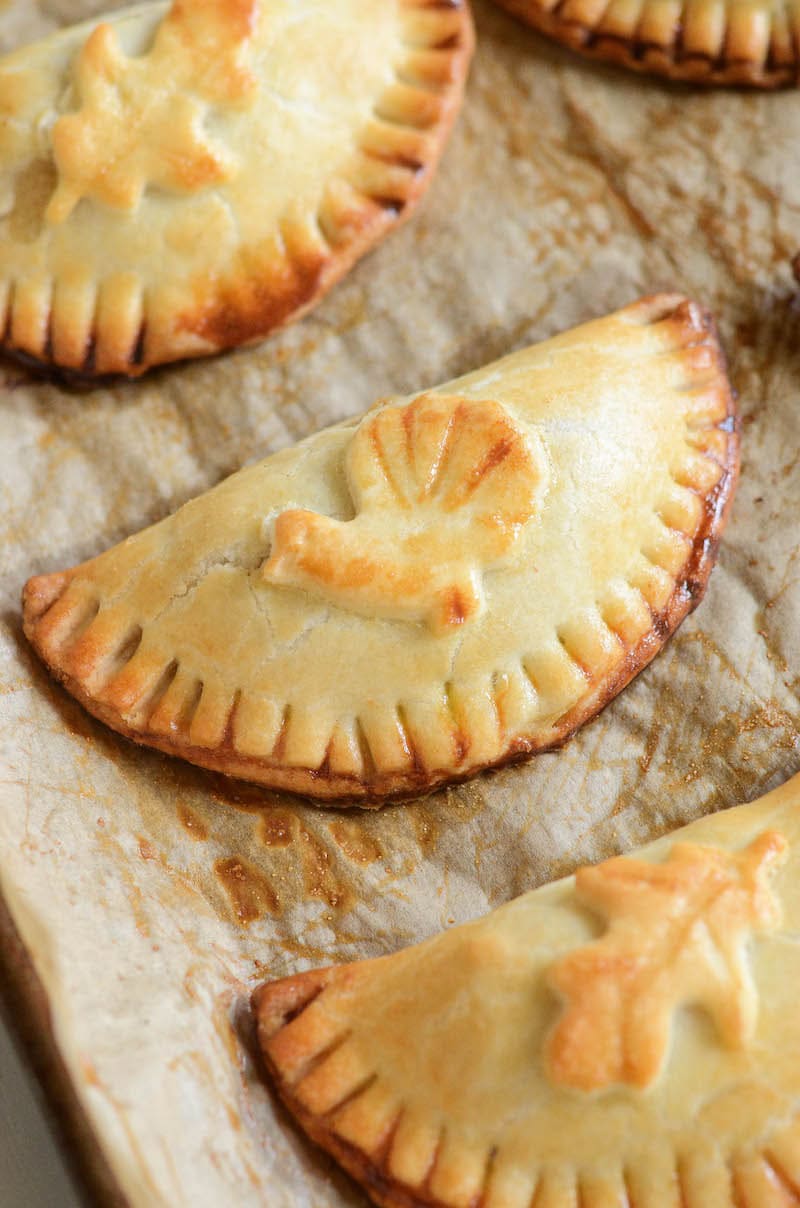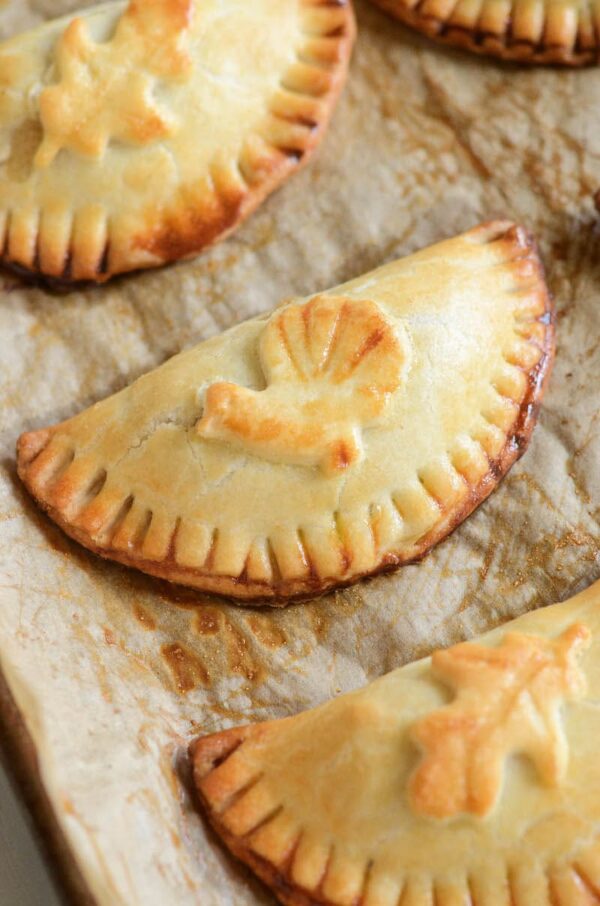 Thanksgiving is still a few weeks away, but my turkey loving has only just begun. I know some people wait until Thanksgiving to start cooking turkey, but in my family we enjoy it much more often.
After discovering the awesome way to cook turkey in the instant pot, we have been enjoying turkey almost every week. I had some leftover chopped turkey on hand last week and had an idea to make Creamy Turkey Hand Pies.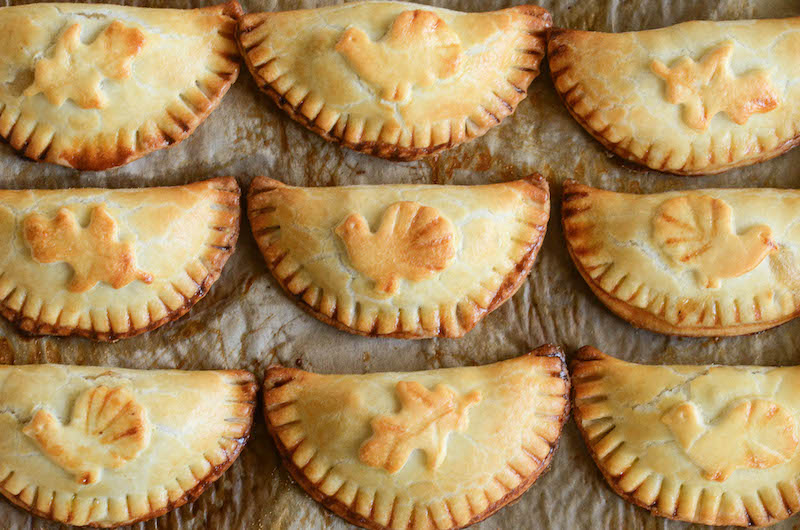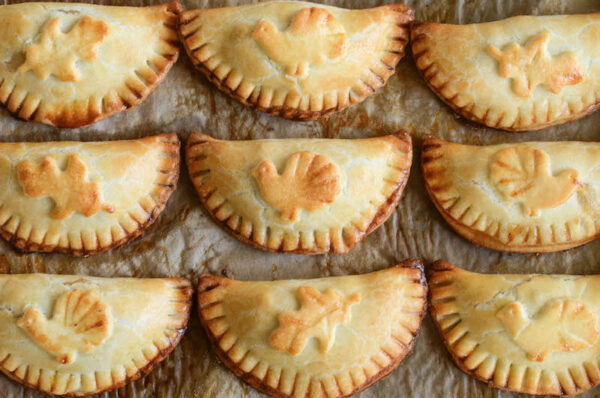 In just a few minutes, my whole house smelled like roasted turkey and fresh baked pie crust. I turned around from the oven and there were three sets of eyes staring at me. No need to call my family to dinner, we just let our noses do it for us. 😉
The hand pies were perfectly golden and the little turkey and leaf pie crust decorations I placed on top looked adorable. I used the mini pie crust cutters my Mom bought a million years ago and a butter knife to draw the lines — couldn't have been easier! Here are some similar Autumn Pie Cutters on amazon.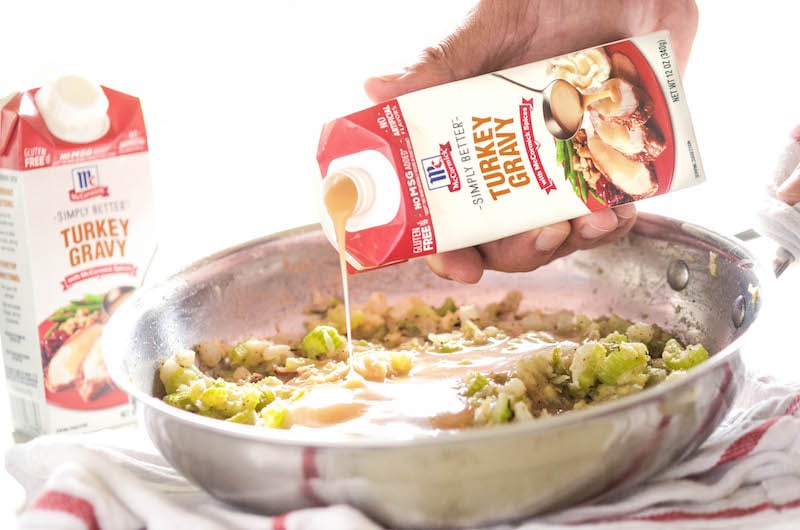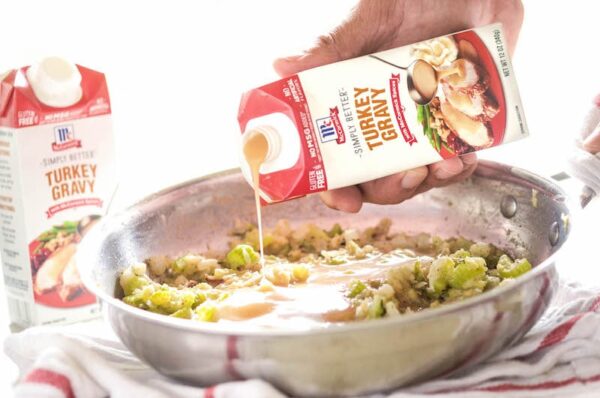 To keep my hand pies quick to make and full of unbelievable flavor, I used McCormick's Simply Better Turkey Gravy! This gravy is my new favorite dinner helper for when I need dinner on the table quickly but don't want to sacrifice on flavor.
These McCormick Simply Better Gravies come in three awesome flavors: turkey, chicken and beef. They are all gluten-free, have no artificial flavors, no added MSG and they come with an easy-to-pour, re-sealable spout!
I have used them on everything from turkey meatballs to salisbury steak. They are crazy tasty and are made with real ingredients, including stock and McCormick herbs and spices. It's just simply better, like the name says!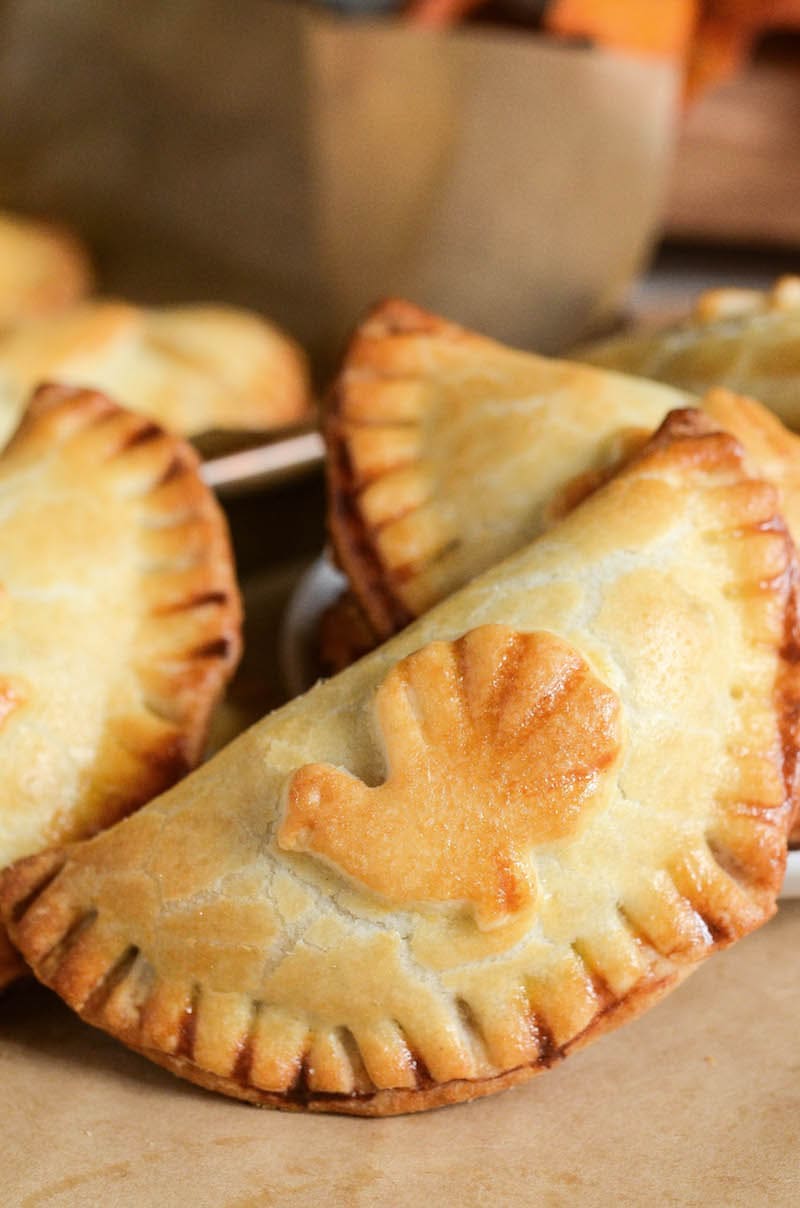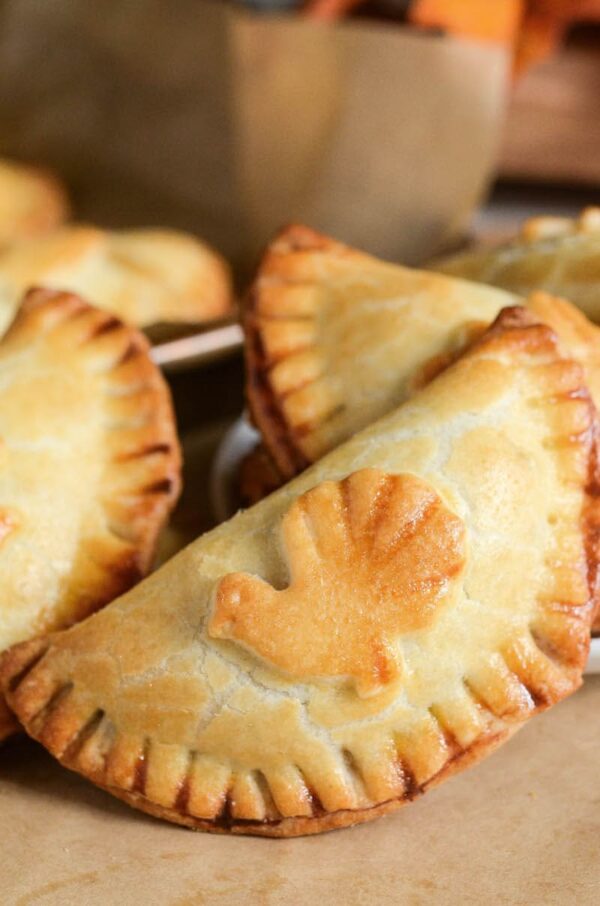 These Creamy Turkey Hand Pies are as easy as they are delicious. The filling is packed with flavor and it's all wrapped up in a buttery, flaky, golden crust! I used my favorite homemade pie crust recipe, but you can also use store bought pie dough in a pinch.
They make an awesome lunch, a cute Thanksgiving appetizer, or fun hand held dinner.
Bonus: the leftovers store great too. To reheat, I just wrap them in a paper towel and microwave them for about 30 seconds.
This recipe is wonderfully versatile and you can switch it up to fit your family's tastes. We have made it with chicken many times and occasionally I will add different veggies like green peas or carrots.
I hope your family enjoys these Creamy Turkey Hand Pies as much as mine does!
Yield: 24 servings
Creamy Turkey Hand Pies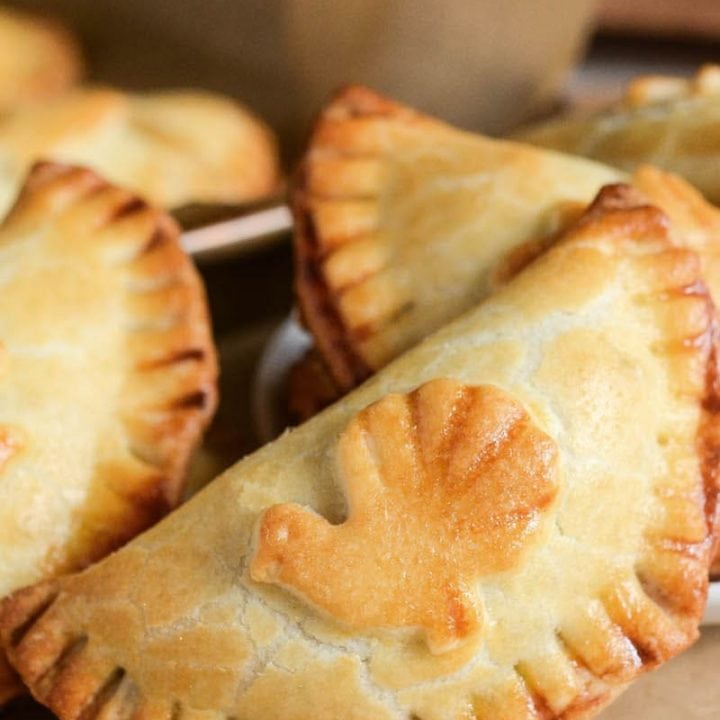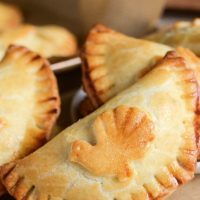 CREAMY TURKEY HAND PIES: WARM FLAKY TURNOVERS ARE STUFFED WITH A DELICIOUS TURKEY FILLING MADE WITH HERBS, GRAVY AND VEGETABLES AND THEN BAKED UNTIL GOLDEN!
Ingredients
4 tablespoons unsalted butter
1 large yellow onion, diced
4 stalks celery, diced
4 cloves garlic, minced
2 tablespoons all purpose flour
1 tablespoon minced fresh thyme
1 teaspoon pepper
1 (12oz container) McCormick Simply Better Turkey Gravy
1 heaping cup chopped cooked turkey
4 (9 inch) homemade pie crusts (or store bought)
1 egg
1 tablespoon water
Instructions
Preheat oven to 400°F. Line two baking sheets with parchment paper, set aside.
In a large deep skillet or dutch oven, melt butter over medium-high heat. Add in onion, celery and mixed veggies. Cook until softened, about 7 minutes. Add garlic and sauté for 30 seconds.
Stir in flour, thyme and pepper until well combined, continue cooking for 2 minutes.
Slowly add McCormick Simply Better Turkey Gravy. Let cook until thickened, about 3 minutes. Stir in turkey and remove from heat.
Unroll pie crusts and cut circles from each crust using a 4-inch biscuit cutter. You may roll the pie dough scraps to get the extra circles, if you choose.
Fill the pie dough circles with 2 heaping tablespoons of the turkey mixture. Fold pie dough over to create a half moon shape and use the prongs of a fork to seal the edges. Using a sharp knife, cut a small slit in the top for air to escape.
Beat egg and water in a small bowl. Brush over the tops of each pie. Place on parchment paper-lined baking sheets and bake for 13 to 15 minutes, until golden browned.
Remove from oven and let rest for 5 minutes. Serve warm!
Nutrition Information:
Yield:
24
Serving Size:
1
Amount Per Serving:
Calories:

43
Total Fat:

3g
Saturated Fat:

1g
Trans Fat:

0g
Unsaturated Fat:

1g
Cholesterol:

19mg
Sodium:

72mg
Carbohydrates:

2g
Fiber:

0g
Sugar:

0g
Protein:

2g
This post is sponsored by McCormick. All opinions are, as always, 100% my own. Thank you for supporting the brands that I love and that keep The Novice Chef running!
This post may contain affiliate links. Read my disclosure policy.