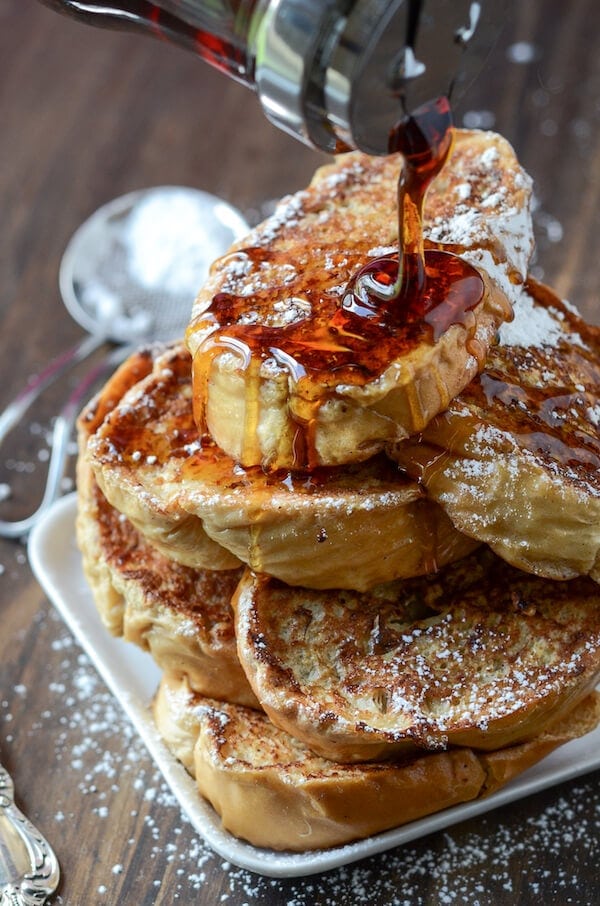 Are there certain things you don't cook yourself — but you order all the time at restaurants? French Toast is one of those things for me. I am the self appointed queen of pancakes (self appointed means that I told Jorge to call me the Queen of Pancakes and he said ok). I feel completely comfortable whipping them up anytime, anywhere. For example, there are 12 different pancake recipes on this blog already! So it was about time I made some French Toast – Cuban French Toast to be specific!
To be honest, I am not as comfortable with French Toast as I am other breakfast foods. I can make it…just not as good as I can get in a restaurant. Then I learned the secret — stale bread. Apparently EVERYONE knew that you had to use stale bread to make good restaurant style french toast, except me. I had no idea!
I found out the – not so secret – stale bread tip from a girl I overheard talking on her phone. She was complaining about wanting french toast, but not wanting to wait for the bread to go stale. I had a total AH-HA moment in the middle of Publix. I immediately turned to my friend Google and found out that stale bread = prefect french toast. Who knew?! Well, apparently every one but me knew. 😉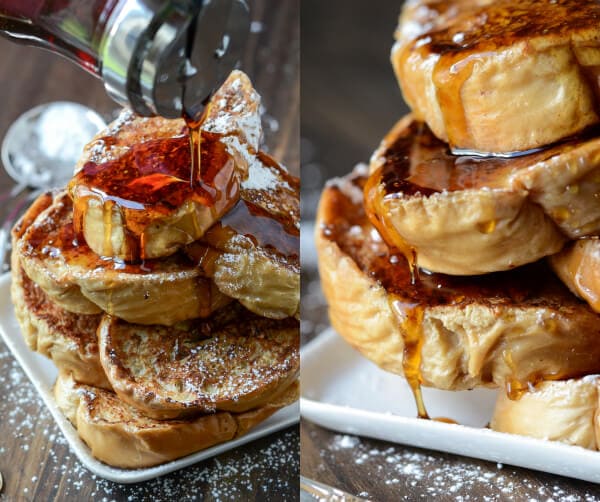 Now that I know the secret to the prefect French Toast, there is no stopping me! And for my first recipe, I really wanted to recreate a Cuban Bread French Toast I had in Miami about 4 years ago.
I haven't been able to find a similar french toast dish near me and am really excited to finally be able to have it without having to drive 5 hours to Miami! If you like regular french toast and you like cuban bread, you will for sure love the combination of the two. You should also check out my Donut French Toast for a fun spin on this recipe!
Yield: 4 servings
Cuban Bread French Toast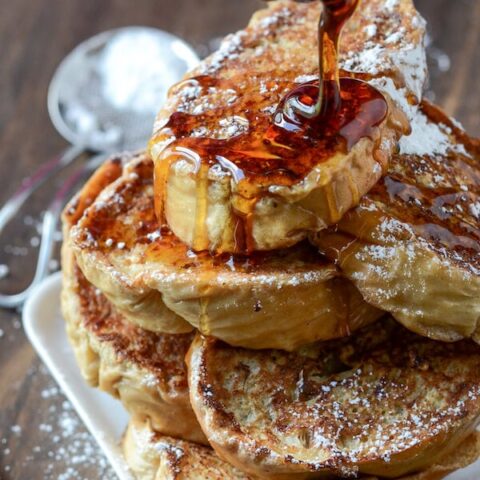 Cuban Bread French Toast is the perfect way to use up that stale bread you forgot about... now you can treat yourself to some homemade french toast drizzled with maple syrup!
Ingredients
1 cup half-and-half
3 large eggs
2 tablespoons honey
1 tablespoon vanilla extract
1 teaspoon cinnamon
1/4 teaspoon salt
8 (1-inch) slices day-old/stale cuban bread
4 tablespoons butter
powdered sugar and maple syrup for serving
Instructions
In a large bowl, whisk together the half-and-half, eggs, honey, vanilla extract, cinnamon and salt.
Over medium-low heat, melt 1 tablespoon of butter in a 10-inch nonstick skillet.
Dip bread into mixture, allow to soak for 20 seconds on each side, and then place in skillet.
Cook 2 slices of bread at a time in the pan and cook until golden brown, approximately 2 to 3 minutes per side. Repeat with all 8 slices.
Serve immediately with powdered sugar and/or maple syrup.
Nutrition Information:
Yield:
4
Serving Size:
1
Amount Per Serving:
Calories:

436
Total Fat:

22g
Saturated Fat:

13g
Trans Fat:

1g
Unsaturated Fat:

8g
Cholesterol:

195mg
Sodium:

360mg
Carbohydrates:

52g
Fiber:

1g
Sugar:

44g
Protein:

8g
Want to Save This Recipe?
This post may contain affiliate links. Read my disclosure policy.