Cuban Bread French Toast is the best for easy family breakfasts! You'll love this homemade French Toast recipe made from crusty Cuban bread, drizzled with classic maple syrup and dusted with icing sugar. Ready to garnish with fresh fruit or any toppings of your choosing!
The Best Homemade French Toast
As the self-appointed Queen of Pancakes, I love whipping up a sweet breakfast stack whenever opportunity calls. This time, it's my best recipe for homemade French Toast, made with crusty Cuban bread, drizzled with classic maple syrup and dusted with icing sugar.
French Toast is one of my favorite restaurant breakfasts. That's why I'm so thrilled with this easy Cuban Bread French Toast, as it's practically restaurant-worthy. The secret? Stale bread! Before making this recipe for the first time, I was clueless as to the fact that day-old bread was the key to making perfect restaurant-style French Toast at home. The game has officially changed!
This quick French Toast recipe is the best for family breakfasts; thick slices of Cuban Bread dipped into a deliciously sweet egg wash and cooked to golden brown perfection in no time at all. Ready to be garnished with the toppings of your choosing!
For another fun spin on classic French Toast, check out my Donut French Toast.
What is Cuban Bread?
Cuban Bread is actually very similar to French Bread: crusty and golden on the outside, soft and fluffy on the inside, and made from similar ingredients in the shape of a baguette. Cuban Bread is a traditional Latin American version where lard is added to the bread dough for a flavorful, fresh bread that also happens to make wonderful French Toast the following day!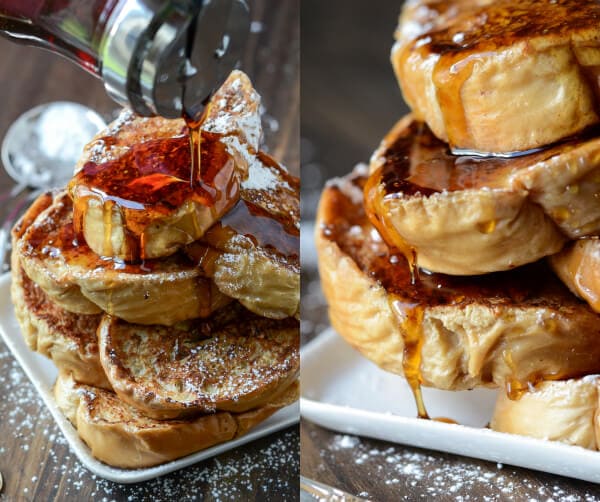 Recipe Ingredients
What makes this Cuban Bread French Toast so quick to pull together on a weekend morning? The list of simple ingredients, for starters! Here's what you'll need:
Half-and-Half: To combine into the egg wash for a rich consistency. You can also use regular whole milk or buttermilk.
Eggs: 3 large eggs should be enough to coat about 8 slices of bread.
Honey: To sweeten the egg coating.
Cinnamon: A hint of spice for that cinnamon French Toast flavor.
Cuban Bread: A day-old, stale loaf cut into 1-inch slices.
Maple Syrup & Powdered Sugar: For serving. Pure maple syrup is always the first choice, but honey or golden syrup are good alternatives.
Salt
Butter
Vanilla
How to Make Cuban Bread French Toast
Here's how to make up a batch of this fresh homemade French Toast in about 20 minutes:
Whisk the Egg Wash: Combine the half-and-half, eggs, honey, vanilla extract, cinnamon and salt and stir well to make the egg wash coating. I like to make the wash in a large baking dish since it's easiest to lay the bread into, but any large bowl will suffice.
Coat the Bread: Dip or lay the Cuban bread slices into the egg mixture, allowing the slices to really soak on each side before transferring them to a preheated non-stick skillet.
Cook: Cook the French Toast slices until they're golden brown on both sides. Depending on the size of the pan, I'd recommend cooking 2 slices of bread at a time, for at least a couple minutes per side.
Serve: Once all the French Toast slices are cooked and golden, serve immediately from the pan and top them with powdered sugar and/or maple syrup.
That's it! Don't forget to serve alongside or top with other ingredients like fresh fruit to your preference.
Tips for Success
Make It Dairy Free: Swap the milk in this recipe for a dairy free alternative like almond, oat, or coconut milk.
Use Day-Old Bread: Stale bread is the key to restaurant-style, homemade French Toast! Ask your local bakery for yesterday's bread; not only is an older loaf likely discounted, but stale, day-old Cuban bread is best for soaking up the egg wash.
Let the Egg Wash Soak In: Make sure to give your bread slices enough time in the egg bath so that the mixture can really saturate the bread.
Topping Ideas & Serving Suggestions
Like pancakes, the toppings for French Toast are next to endless! Here are some suggestions of ingredients to dress up your Cuban Bread French Toast:
Cinnamon, mixed spice (a.k.a. Pumpkin Pie Spice), nutmeg, cardamom
Chantilly cream
Berries, bananas, clementines, chopped apples and pears, and other seasonal fresh fruit
Lemon or citrus zest
Crushed nuts (pecans, walnuts, almonds, hazelnuts, etc.)
Peanut butter, Salted Caramel Sauce, Chocolate Sauce
Shredded cheddar or gouda cheese, for a savory twist!
Try these other breakfast dishes to serve alongside this deliciously sweet French Toast:
Steak And Sweet Potato Hash
Honey Almond Yoghurt Breakfast Bowl
If you're looking for a full daytime feast, definitely check out these 50 Easy Brunch Recipes!
How to Store and Reheat Leftovers
Store leftover cooked French Toast slices in an airtight container in the fridge if you'll be reheating them within 3 days.
You can also freeze leftover French Toast for a later time! Pre-freeze the cooked French Toast slices in a single layer on a baking sheet, and then transfer the frozen slices to a freezer bag or freezer-safe container to store. These will keep frozen for up to 3 months!
Reheat the slices from the fridge or freezer in a 350º F oven covered in foil, on the stovetop over low heat, or in a toaster oven until heated through, then serve as usual.
More Easy Breakfast Ideas
Cuban Bread French Toast
Cuban Bread French Toast transforms day-old bread into a decadent family breakfast! An easy homemade French Toast recipe drizzled with maple syrup, ready to garnish with your favorite toppings!
Ingredients
1

cup

half-and-half

3

large eggs

2

tablespoons

honey

1

tablespoon

vanilla extract

1

teaspoon

cinnamon

¼

teaspoon

salt

8

1-inch slices day-old/stale cuban bread

4

tablespoons

butter

powdered sugar and maple syrup for serving
Instructions
In a large bowl, whisk together the half-and-half, eggs, honey, vanilla extract, cinnamon and salt.

Over medium-low heat, melt 1 tablespoon of butter in a 10-inch nonstick skillet.

Dip bread into mixture, allow to soak for 20 seconds on each side, and then place in skillet.

Cook 2 slices of bread at a time in the pan and cook until golden brown, approximately 2 to 3 minutes per side. Repeat with all 8 slices.

Serve immediately with powdered sugar and/or maple syrup.
Nutrition
Serving:
1
,
Calories:
436
kcal
,
Carbohydrates:
52
g
,
Protein:
8
g
,
Fat:
22
g
,
Saturated Fat:
13
g
,
Polyunsaturated Fat:
8
g
,
Trans Fat:
1
g
,
Cholesterol:
195
mg
,
Sodium:
360
mg
,
Fiber:
1
g
,
Sugar:
44
g
Categories:
This post may contain affiliate links. Read my disclosure policy.