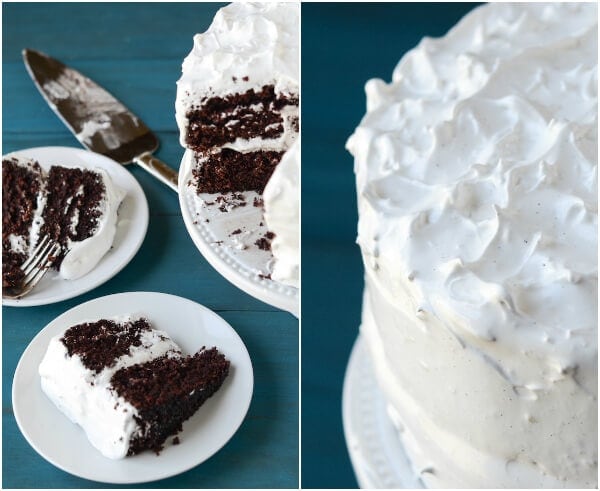 My biggest pet peeve in the world — well, when it comes to Cake — is a dry cake. There is nothing worse than biting into a dry cake. If you have to drown it with a glass of milk to make it edible, it's a waste of perfectly good sugar! Jorge and I hit up a cupcake shop a while ago and after paying $4 for another DRY cupcake, I was over it.
I posted a sneak peek of this cake last week, so I know y'all must have been counting down the days until I posted the recipe. I made this cake as a thank you for all the help my Mom & Dad did with our recent move. My Mom's one and only request was Chocolate. I didn't want to let her down, so I made a super chocolate, super moist Chocolate Cake. Not gonna lie, I think I finally came up with a chocolate cake that beats the classic Hershey recipe. I'm seriously throwing down the gauntlet here, try it and tell me I'm wrong. I dare ya. ;)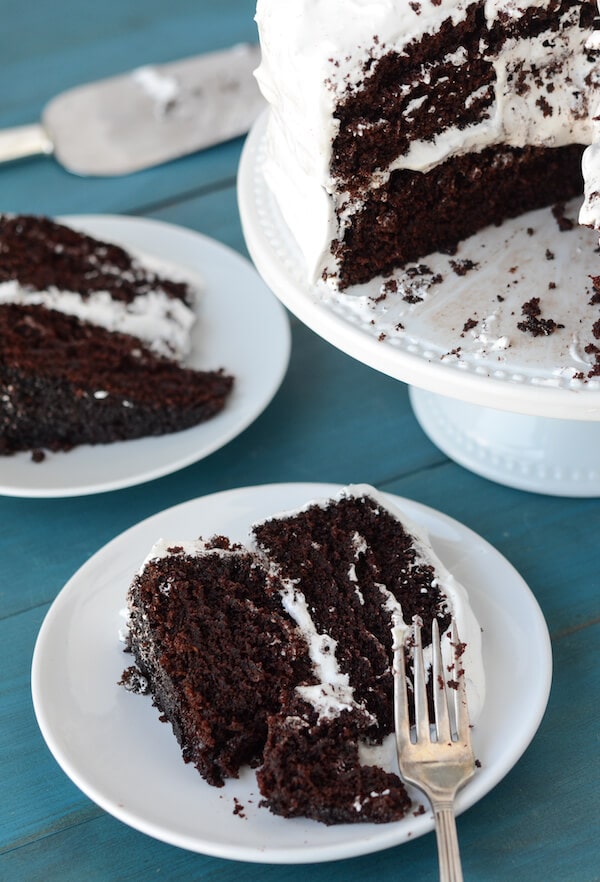 Honestly, I thought I was going to pair this cake with a chocolate buttercream…you know, to truly deliver on the single request of CHOCOLATE….but I was out of butter — the horror!! After considering running out for some butter, I decided to turn to one of my absolute favorite frostings, Marshmallow Frosting. Instead of just adding vanilla extract to it, I scraped in a vanilla bean. Whoa baby, so good.
I am glad I didn't go with a chocolate buttercream…it really would have been too much chocolate. This cake is much better suited to a lighter frosting and I am already dreaming of pairing it with this maple frosting or this salted caramel buttercream. The Marshmallow Frosting was the perfect pairing, however it is not as stuff as a buttercream frosting and tends to move around on the cake. Next time, I will serve the cake in slices with a big dollop of marshmallow frosting on top instead! :)
Yield: serves 16
Dark Chocolate Vanilla Bean Marshmallow Dream Cake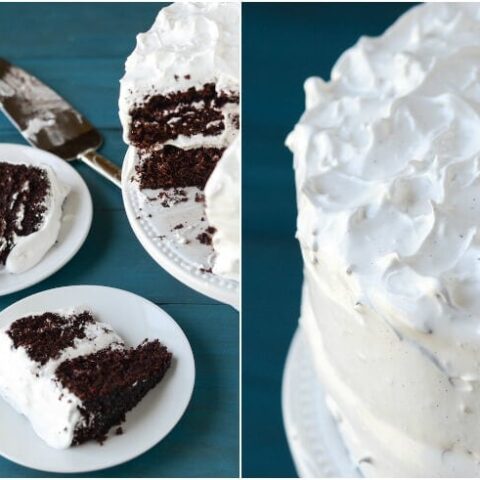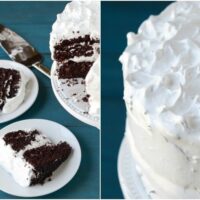 Dark Chocolate Vanilla Bean Marshmallow Dream Cake is truly that - the cake of your dreams! This divine mixture of rich dark chocolate cake and sweet marshmallow frosting is beyond delicious.
Ingredients
For the Cake:
2 cups all purpose flour
1/4 cup cocoa powder
2 teaspoons baking powder
2 teaspoons baking soda
1 teaspoon salt
2 cups water
2 cups sugar
5 oz dark chocolate, chopped
6 tablespoons unsalted butter
2 tablespoons vegetable oil
1 teaspoon vanilla extract
2 large eggs
For the Marshmallow Frosting:
4 large egg whites
1 cup sugar
1/4 teaspoon cream of tartar
1 vanilla bean, scraped (or 2 teaspoons pure vanilla extract)
Instructions
Dark Chocolate Cake:
Preheat oven to 350°F. Butter two 8 inch round cake pans. Set aside.
In a medium bowl, whisk together flour, cocoa powder, baking powder, baking soda and salt.
In a medium saucepan over medium high heat, combine water and sugar. Bring to a boil and stir until sugar dissolves, about 1 minute. Remove from heat and add chocolate and butter, stirring occasionally, until melted.
Whisk in vegetable oil and vanilla extract. Quickly beat in eggs into the chocolate mixture until combined. Whisk in dry ingredients, until smooth.
Divide batter evenly between prepared pans and bake for 25-30 minutes, or until a toothpick inserted in the center comes out clean.
Let cakes cool in pans until cool to the touch, then frost with marshmallow frosting.
Marshmallow Frosting:
Place egg whites, sugar, and cream of tartar in a double boiler over medium heat. Or if you do not have a double boiler, place a metal bowl over a pan of boiling water.
Whisk egg white mixture constantly, until sugar has dissolved and the whites are warm to the touch, 3 to 4 minutes.
Transfer egg white mixture to a stand mixer, fitted with the whisk attachment. Beat, starting on low speed, gradually increasing to high, until stiff, glossy peaks form. Add the scrapings from the vanilla bean, and mix until combined.
At this point you can frost the cake and serve immediately, or as I mentioned above, serve a slice of cake with a dollop of frosting on top (like you would a dollop of coolwhip!)
Nutrition Information:
Yield:
16
Serving Size:
1
Amount Per Serving:
Calories:

325
Total Fat:

10g
Saturated Fat:

5g
Trans Fat:

0g
Unsaturated Fat:

4g
Cholesterol:

35mg
Sodium:

378mg
Carbohydrates:

56g
Fiber:

1g
Sugar:

42g
Protein:

4g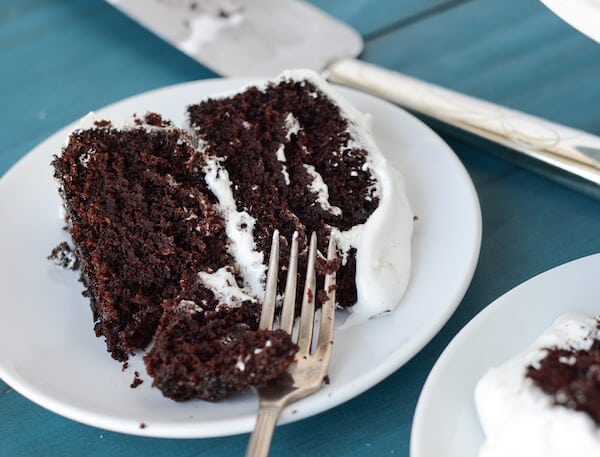 This post may contain affiliate links. Read my disclosure policy.