Dark Chocolate Peanut Butter Banana Bites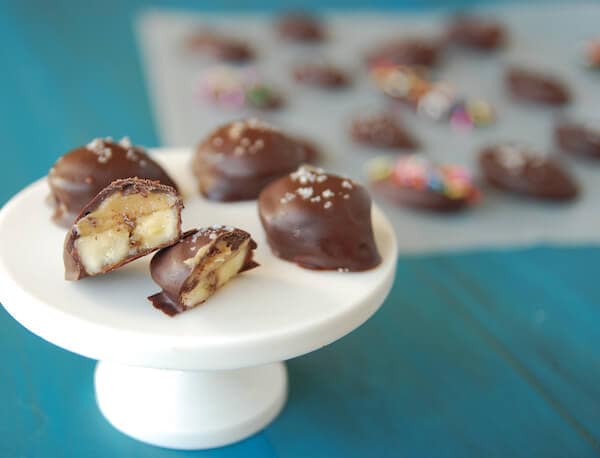 I have a sweet tooth the size of my ass. Or should I say, my ass is the size it is because of my insatiable sweet tooth? Either way, I can't go a day without having something sweet. I tried to go sugarless for a week once and it wasn't pretty. I only made it 4 days…and my marriage barely survived. I woke up to Jorge pouring simple syrup down my throat and praying to the sugar gods that I would be nice again.
So I have learned that Me – Sugar = Evil. It's just a fact that I have learned to live with. It doesn't have to be a whole slice of cake, or a giant cookie the size of my head, although I would really like it to be! It can be something small…like 1 cookie, a spoonful of honey, or a fun size candy bar. Just a little something to get me through the day. 🙂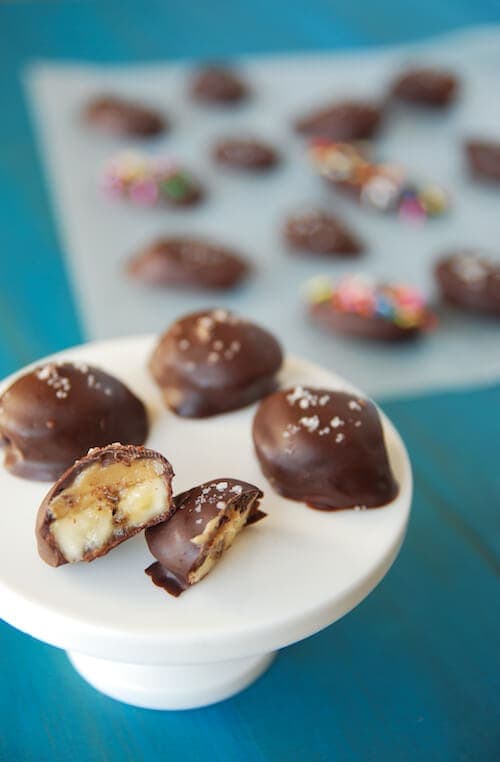 These Dark Chocolate Peanut Butter Banana Bites are exactly that, just a little something to get you through the day! I love that I can make up a big batch of these and freeze them for when I need a quick sugar fix. They are tiny and not total diet killers (i.e. these babies are totally ass friendly at only 49 calories a piece!).
There are so many options for this idea and you can change them around to fit your taste. For the recipe below, I made them my favorite way…dark chocolate, banana, peanut butter filling and fleur de sel on top! Then I store them in the fridge (they are best cold) and grab a couple whenever my blood sugar drops below 5 bajillion points.
There are many other ways to make these though! My sister likes them frozen instead of just refrigerated…so they are like little frozen bites. She also likes them topped with multi-colored sprinkles. I also think you could add some chopped salted peanuts to the top for a fun crunch! Or you can keep it simple and skip the peanut butter layer for a plain chocolate-y banana treat. The opportunities are endless, let your imagination run wild!
Yield: approximately 20
Dark Chocolate Peanut Butter Banana Bites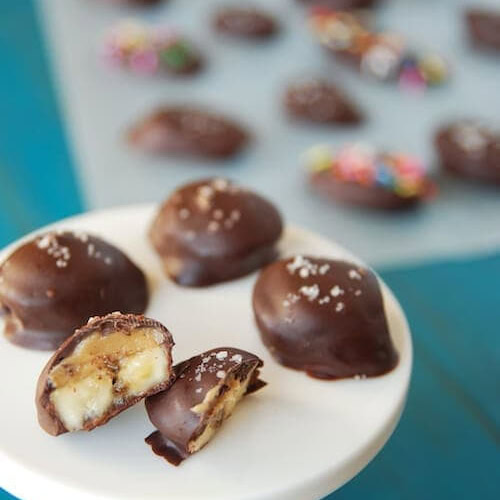 Dark Chocolate Peanut Butter Banana Bites are sweet little bite-size desserts. Enjoy these chocolate-covered banana slices with peanut butter!
Total Time
2 hours
20 minutes
Ingredients
2 large bananas, sliced 1/2 inch thick rounds
1/4 cup powdered sugar
2 tablespoons creamy peanut butter
1 tablespoon heavy cream
4 oz 62% cocoa chocolate, chopped
Fleur de Sel (fancy, flaky, French sea salt), to taste
Instructions
Line multiple cookie sheets with wax paper. Place banana slices in rows. Set aside.
Whisk together powdered sugar, peanut butter, and heavy cream until smooth. Transfer to a ziplock baggie and cut off the tip. Pipe on to the top of the banana slices. Set aside.
In a double boiler (or glass bowl) over simmering water, melt 2 oz of the chopped chocolate. Stir with a spatula until completely melted. Once melted, continue cooking until the chocolate reaches a temperature of 115°F.
Immediately remove double boiler from the heat. Begin slowly adding in the remaining 2 oz chopped chocolate, stirring constantly. Continue stirring until chocolate cools down to 90°F.
Using a spoon and toothpicks (or whatever works for you) coat the peanut butter topped bananas with the tempered chocolate and return to the wax paper. Lightly sprinkle the tops with some Fleur de Sel. Continue until all the bananas have been coated.
Then transfer the cookie sheets to the fridge and let harden for 2 hours.
At this point you have a few options:
1. Eat Immediately: This one is pretty self explanatory! 😉
2. Eat Gradually: If you are going to eat them throughout the week, transfer to an airtight container (or a ziplock baggie) and grab them whenever you need a sweet treat. If you are storing them longer than 7 days, freeze them instead.
3. Freeze: Transfer to an airtight container (or a ziplock baggie) and freeze for up to 3 months. Eat directly from the freezer if that's your thing, or let cool on the counter for 15 minutes before eating!
Nutrition Information:
Yield:
20
Serving Size:
1
Amount Per Serving:
Calories:

55
Total Fat:

2g
Saturated Fat:

0g
Trans Fat:

0g
Unsaturated Fat:

1g
Cholesterol:

1mg
Sodium:

8mg
Carbohydrates:

9g
Fiber:

2g
Sugar:

3g
Protein:

2g
Want to Save This Recipe?
This post may contain affiliate links. Read my disclosure policy.