Day 1: Double Chocolate-Peppermint Crunch Cookies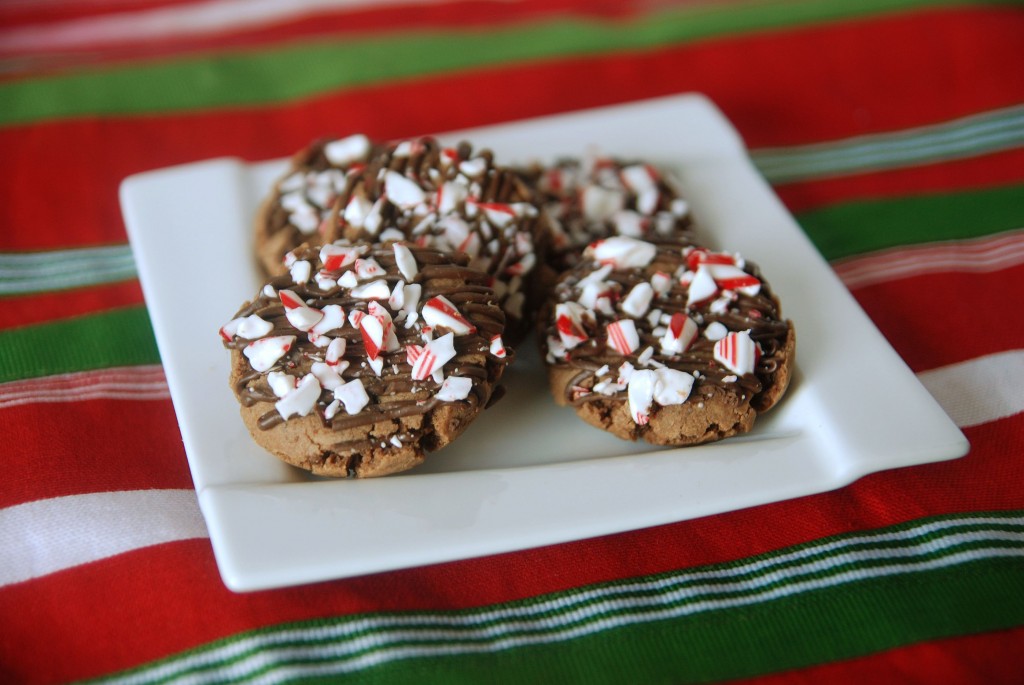 On the first day of Christmas, I gave myself COOKIES! Last week I was considering what I can do to celebrate Christmas here on el blogo. But I made a promise to myself that I will not eat horrible things all holiday season long. Yes, on Christmas DAY I will eat everything and anything. But on all the days leading up to the big day…I will be good and count my calories. So I decided to make it my mission, to do 12 Days of Ass Friendly Christmas Cookies! So for the next 12 days, there will be a new, under 100 calorie, cookie featured here.
Today's cookie tastes so much more indulgent then just 87 calories (or 2 WW points). I already love the combo of mint and chocolate, but these were extra delicious! Also, these would be the perfect addition to any Cookie Exchange this year!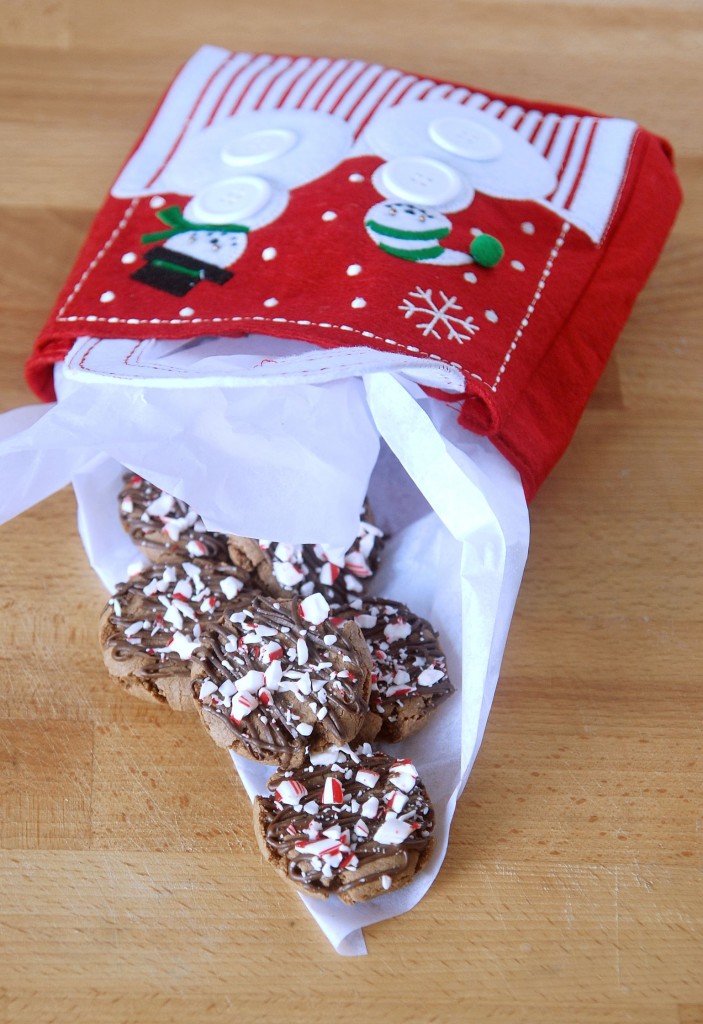 Double Chocolate-Peppermint Crunch Cookies
Ingredients:
1 cup bittersweet chocolate chips (do not exceed 61% cacao; 15 to 16 ounces), divided
3/4 cup all purpose flour
1/8 cup natural unsweetened cocoa powder
1/2 teaspoon baking powder
1/2 teaspoon instant espresso powder
1/4 teaspoon salt
1/4 cup (1/2 stick) unsalted butter, room temperature
1/2 cup sugar
1/2 teaspoon vanilla extract
1/2 teaspoon peppermint extract
1 large egg
2 candy canes, coarsely crushed
Directions:
Preheat oven to 375°F.
Line 2 large rimmed baking sheets with parchment paper. Stir 1 cup chocolate chips in medium metal bowl set over saucepan of simmering water until melted and smooth. Measure 1/3 cup melted chocolate; transfer to small metal bowl and reserve for drizzling.
Whisk flour, cocoa powder, baking powder, espresso powder, and salt in medium bowl. Using electric mixer, beat butter in large bowl until creamy. Add sugar and both extracts; beat until smooth. Add eggs; beat to blend. Beat in melted chocolate from medium bowl. Add dry ingredients; beat just to blend. Measure 1 level tablespoonful dough; roll dough between palms to form ball. Place on prepared baking sheet. Repeat with remaining dough, spacing cookies 1 1/2 inches apart. Then using a flat bottomed glass, press ball into a disk.
Bake cookies until cracked all over and tester inserted into center comes out with large moist crumbs attached, 8 to 9 minutes. Cool cookies on baking sheet 5 minutes. Transfer cookies on parchment paper to racks to cool completely.
Rewarm reserved chocolate over small saucepan of simmering water. Using fork, drizzle chocolate over cookies. Sprinkle crushed candy canes over, arranging some pieces with red parts showing. Chill just until chocolate sets, about 20 minutes. DO AHEAD: Can be made 3 weeks ahead. Store airtight in freezer. Bring to room temperature before serving.